Sports Betting with Bozz: Catching Up

---
It's been a bit of a rough go for me over the past several weeks. I haven't had a ton of luck betting. That's when I have even gotten around to actually placing bets. I have just been so busy and it hasn't really been top of mind for me.
Which is odd given the fact that the NCAA tournament is right around the corner.
I was going to move some money out of my Venmo account the other day, but I guess now I should keep it active in case I need to send some money over to someone for my tournament brackets.
I think I mentioned before that I have hit a sudden snag with my Sportbet.one account. It seems the content filter where I work is blocking that site since it has to do with gambling. Sadly, even though I am the manager of the IT department, that is one system I don't have access to. Pretty ridiculous right?
I need to get it up and running on my phone at some point. Until then, betting with crypto is off the table right now. Besides all the pseudo betting we all do on a daily basis with crypto, but that's a different post...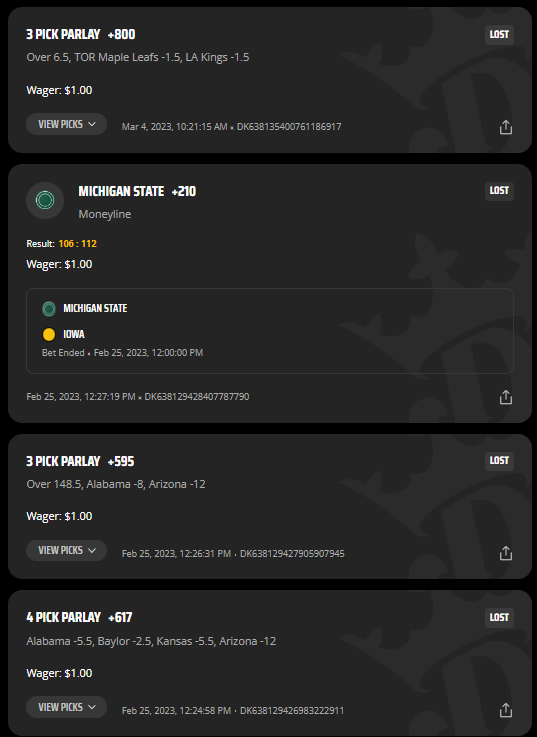 ---
I was watching over my mother who just had a knee replacement, so I didn't get to write a post last week. As you can see, you didn't miss too much. I had a hockey parlay that fell flat for me. Likewise, I put some money on the Spartans for them to win over Iowa, but sadly they did not. Finally, I placed another couple of parlay bets on college basketball only to be blanked.
It was a rough weekend in more ways than one.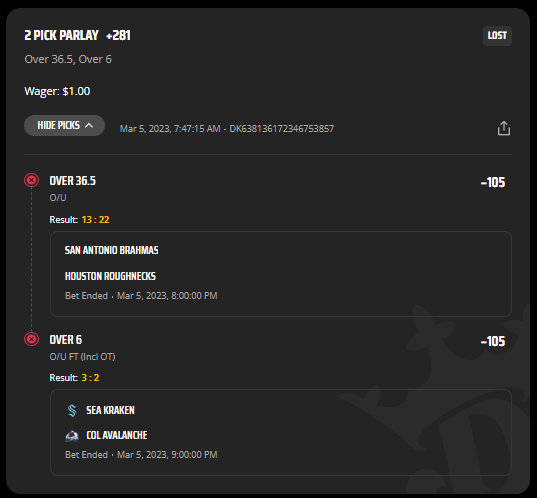 ---
That lack of luck carried over into this past weekend as far as Draft Kings is concerned. I placed a bet on some XFL football scores an they didn't work out in my favor. I have only watched a little bit of the XFL, but it seems a bit interesting.
The problem is, by the time the Superbowl wraps up, my wife is pretty much done with football for the year, so I have to be careful about diving into another season right away. I might end up sleeping on the couch!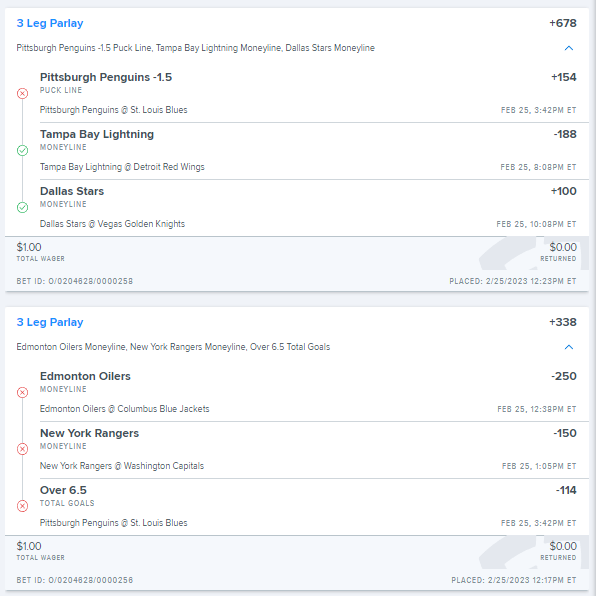 ---
Fan Duel wasn't much kinder to me over the past two weekends. I've been trying to do some more hockey betting as you can see, but it has been a struggle for me. That first parlay came pretty close, but the second one was just a hot mess. I almost feel like I would be better off betting on soccer!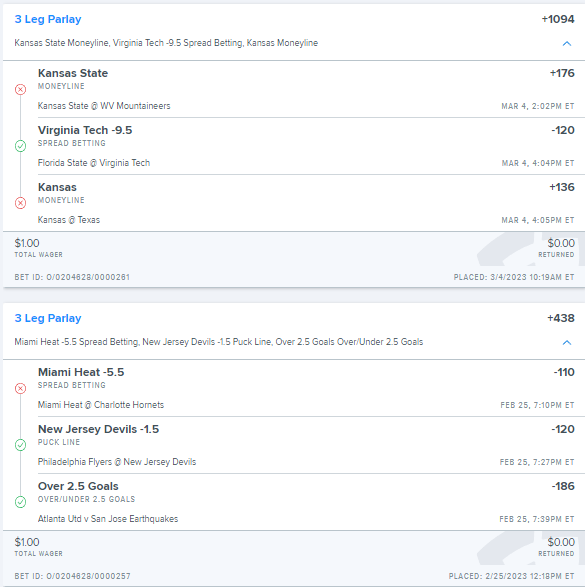 ---
I used the Pickswise site and I placed a parlay bet on college basketball as well as a split parlay across the NBA and the NHL. As you can see above, the results weren't much better. Just a whole lot of blah.
I am glad I am only betting $1 per bet, but those $1 losses add up over time. I am afraid this is just going to be a slow crawl to 0 eventually...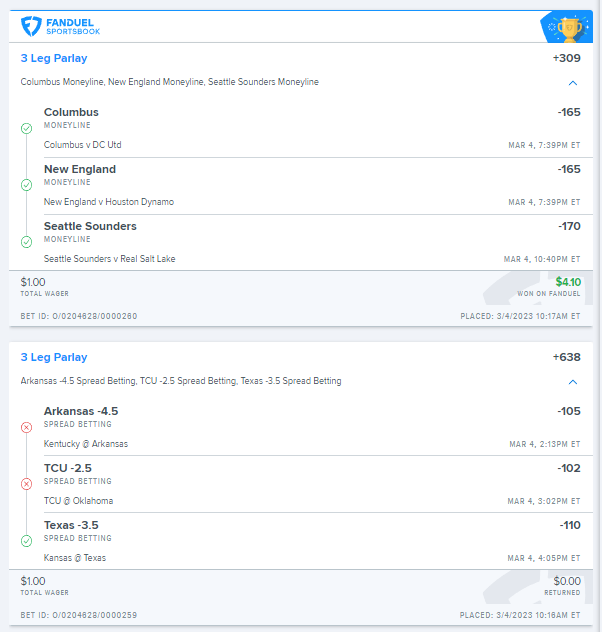 ---
Imagine that, I did have a little bit of luck betting on some Major League Soccer this past weekend. Who would have guessed. A quick $1 bet won me $4.10, so I guess I can't really be too sad about that. It was a nice boost for my account. I'd still like to see myself closer to $200 than $150, but I guess you just have to be patient.
Meanwhile, college basketball continues to confound me. I wish I could remember how I ended up winning so much a couple of years ago to put me where I am at today. I'd love to have a repeat of that this March.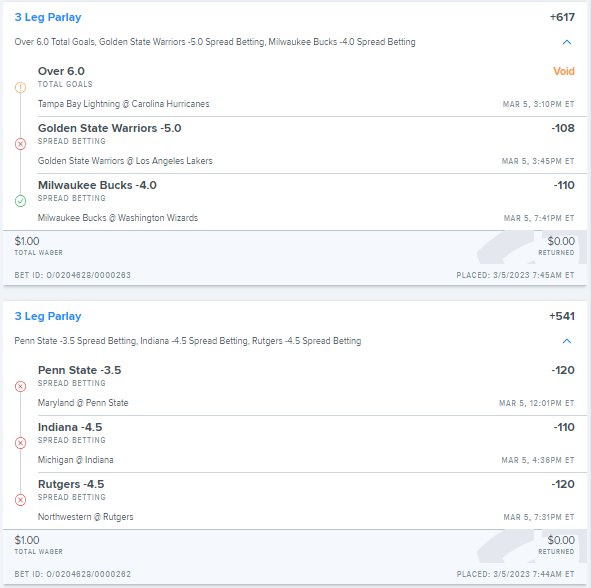 ---
Finally, a couple more parlays that didn't turn out for me. I don't feel like there is any one sport that I feel confident betting on. It seems like just when I think I have the NHL, NFL, or NBA figured out, I get handed a big heaping plate of humility.
That was definitely the case here. Spread betting has been a bit of a hard concept for me to grasp. Just take a look at that last parlay and you will see what I mean.
Oh yeah, take a look at the first parlay above. I have never seen something voided like that before. I am not sure what happened there. I don't think the game went into overtime, but I could be wrong. I am not even sure what would trigger a "Void". The app doesn't give you a lot of information either.
I guess it doesn't really matter, a loss is a loss right.
Time to start doing some research for the conference tournaments and the upcoming NCAA tournament. Wish me luck!
---
---

---
All pictures/screenshots taken by myself or @mrsbozz unless otherwise sourced
---
---