Sports Betting with Bozz: Conference Tournaments

---
I've been on a bit of a slide lately with my sports betting. The success that I had last year during the tournament hasn't quite rubbed off to this year yet. I am hoping things can turn around starting today as we enter the heart of the games.
There are something like 16 games being played today in the NCAA men's tournament, and I think I bet on maybe half of them. It was a combination of different parlays and things like that. I don't want to share them because I am really just stabbing in the dark here and as I said, my track record hasn't been that good lately.
I don't remember betting on quite so many parlays last year but I don't know how else I could have padded my account so much on just straight bets.
All of the bets that I placed for today are parlay bets with the one exception of betting on Texas to win the tournament. The odds were something like 1500 to 1 on that, but I am willing to take the shot.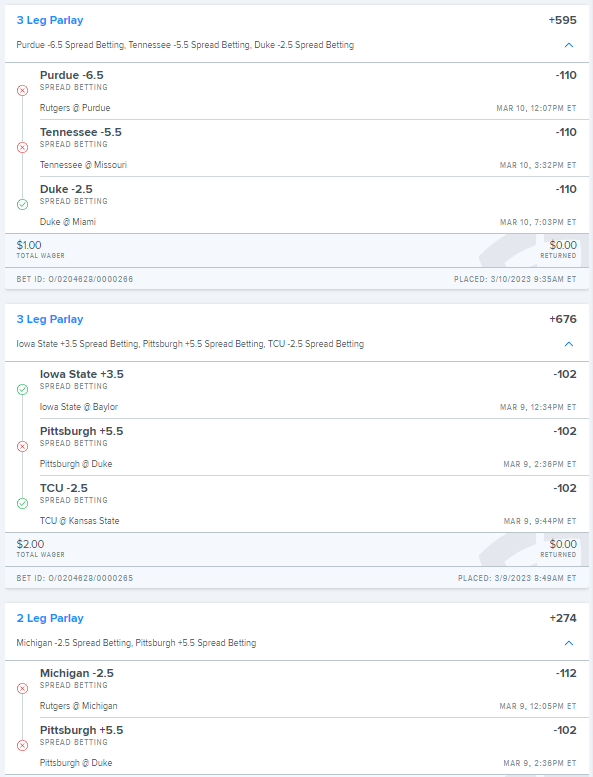 ---
Like I said, it doesn't take much to see that I am struggling quite a bit. These bets were from the conference tournaments that took place last weekend. I'm still trying to master spread betting. It feels like it keeps coming back to bite me every time I try it.
Tennessee couldn't cover the spread in that first bet and neither could Purdue. That was actually a pretty close game between Rutgers and Purdue.
Likewise in the second bet, Pitt let me down and didn't cover the spread. I am pretty sure those parlays were selected with Pickswise, so the fault doesn't solely lie on me, but I can't say I would have done any better on my own.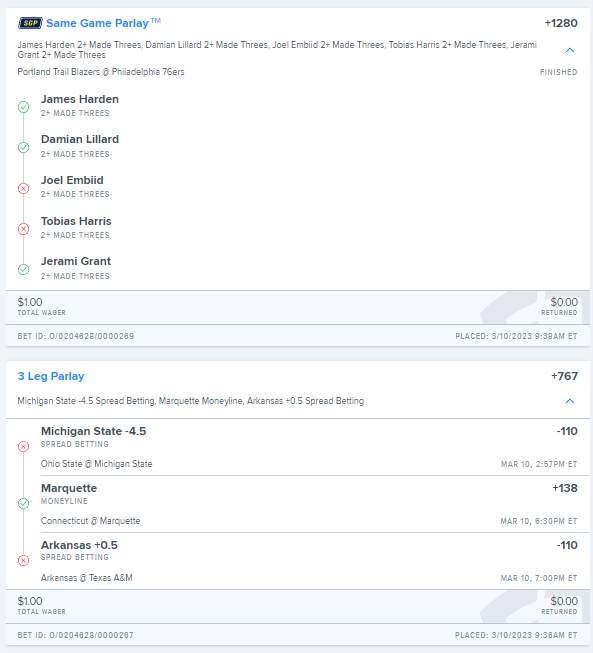 ---
This top parlay was something inside the app that I selected on my own. It was a same game parlay offered by Fan Duel. Sometimes these actually work out for me. Most of the time, they don't. This was one of those cases. It could have been a nice $12 win if Embiid and Harris had just made a couple of threes.
Then, Michigan State let me down by losing to Ohio State in the Big Ten Conference Tournament. Arkansas also screwed me by not covering the spread against Texas A&M.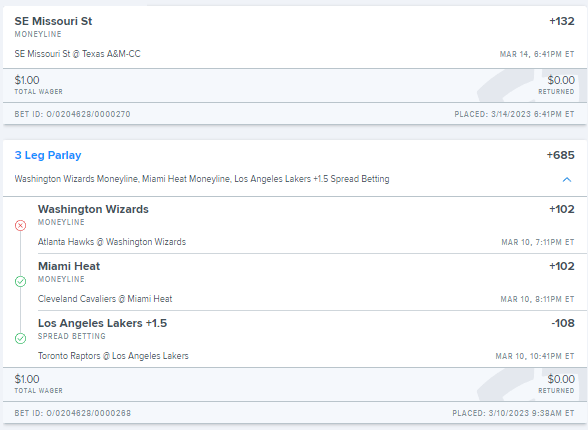 ---
Finally, I placed a single bet on the NBA that just about hit for me and would have given me a nice $7, but at the end of the day the Wizards just couldn't work any magic for me. I'm really starting to realize just how dangerous parlay betting can be.
I bet the platforms are making a killing on people missing a win by just a single errant leg. It's frustrating!
I put in a whimsical bet on the play in game the other night. There was something I liked about SEMO,but they just couldn't get a cohesive run against Texas A&M CC. It would have been cool to wake up to a small win, but I guess I will just have to wait until the next time.
I have about three or four bets in place for today. I am looking forward to seeing if they hit or not. You better believe I will be watching the games in anticipation.
YouTube TV game subscribers preview access to the quad view technology they have been developing. I am pretty excited to try it out with the tournament.
---
---

---
All pictures/screenshots taken by myself or @mrsbozz unless otherwise sourced
---
---