Sports Betting with Bozz: Outside my comfort zone

---
It was a pretty horrible week for me as far as bets are concerned. If you follow my main account, you know that I was struggling with a crashed server at work. It would seem that luck was not with me on a variety of fronts.
The good news is, I stuck with my plan to not bet like crazy as I have in the past. I only did a handful of bets and to some degree I tried to stay away from parlays. I say to some degree because I actually did horrible at not betting on parlays this weekend. I tried though and that is what counts. As long as I keep trying, maybe I can turn things around.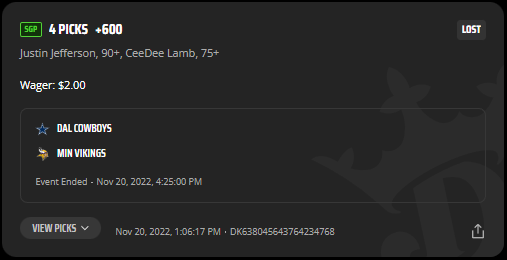 ---
As you can see, I only place done bet through Draft Kings this past weekend. It was a parlay, and surprise surprise, it didn't pay out for me. Can you imagine that? Well, maybe next time I guess...
I really thought that this would be a high scoring game with lots of offense from the players I needed, but that just didn't seem to be the case. Okay, to be fair, Dallas beat the Vikings 40 to 3. I guess it is pretty clear my parlay players were on the Minnesota side of things...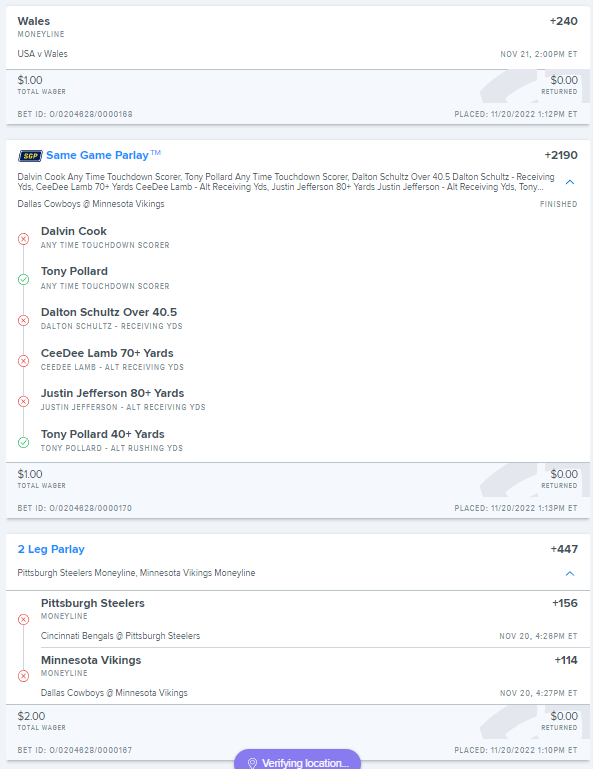 ---
As I mentioned, I stepped outside my comfort zone this past week and I decided to place a bet on a soccer match. Yep, you heard that right, I bet on a soccer match. Much to my dismay, USA ended up in a tie with Wales and that cost me. I almost feel like betting on soccer is harder than most other sports due to the propensity for ties in the game.
I guess I don't know too much about the sport because in my opinion a tie means you are still in the running. According to the articles I was reading the other day, they pretty much said USA fell short once again. I don't see it that way, but what do I know. If you lost you fell short, if you tie, you still have a chance. Am I wrong?
Looking at my other bets, you can see that I once again fell to the temptation of parlays. Parlays that didn't even come close to hitting. I really need to stop throwing my money away I think!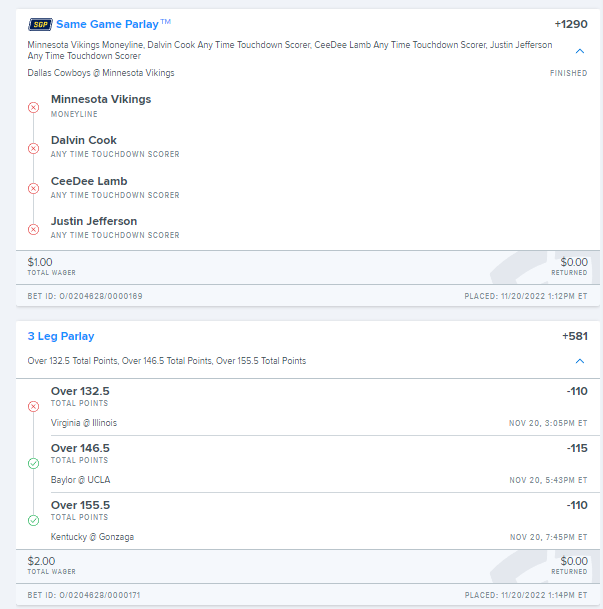 ---
Once again, that Dallas/Minnesota game really did me in. I should have known better than to bet on the same game on two different platforms, but apparently I am an idiot! On the flip side of things, I tried to make my own parlay with college basketball scores and as you can see, I came pretty close to winning. I might have to start focusing on basketball more now that the season has started.
I apparently know a bit more about that than I do football. At least when it comes to betting. I wouldn't be shocked next week to see the majority of my bets happening in basketball games.
Who knows though, I might even bet on some more World Cup games. Got any good lines to throw me for the weekend? Let me know in the comments!
---
---

---
All pictures/screenshots taken by myself or @mrsbozz unless otherwise sourced
---
---