Sports Betting with Bozz: The National Championship Saved Me

---
It was not a great weekend as far as my bets were concerned. Once again I had a handful of parlays that missed by just one leg. That is pretty frustrating if you ask me. I think I did a better job of managing my funds this past weekend. The main reason for that was the fact that I didn't really bet much.
I intended to, but I got busy doing some home repair stuff and before I knew it, it was too late for me to place any bets. The one saving grace was a parlay bet I put on the College Football National Championship. That was my sole source of income for the weekend.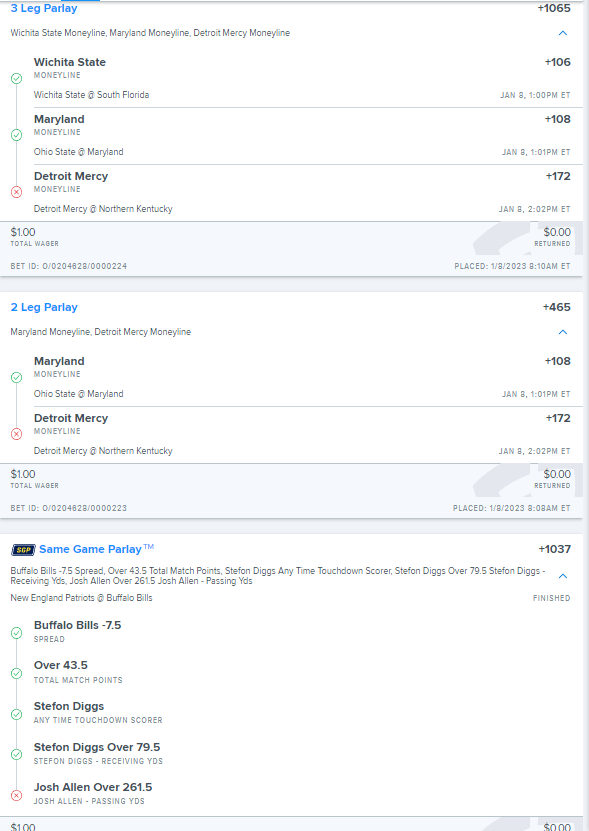 ---
As you can see, I put some money down on a three leg college basketball parlay. Maryland and Wichita State came through for me, unfortunately, Detroit Mercy did not. What makes that so bad is the fact that I think they only lost by one point I was two points away from winning $10. Ugh.
Remember how I said I did a good job of managing my money. Apparently I lied because as you can see I did another two leg parlay on the same teams. Too bad I hadn't gotten it wrong the other way right? I at least could have come away with $5!
Then we have the Buffalo game that I bet on. All I needed was for Josh Allen to have 262 passing yards. As you can see, he did not. Every other leg hit though. What a let down!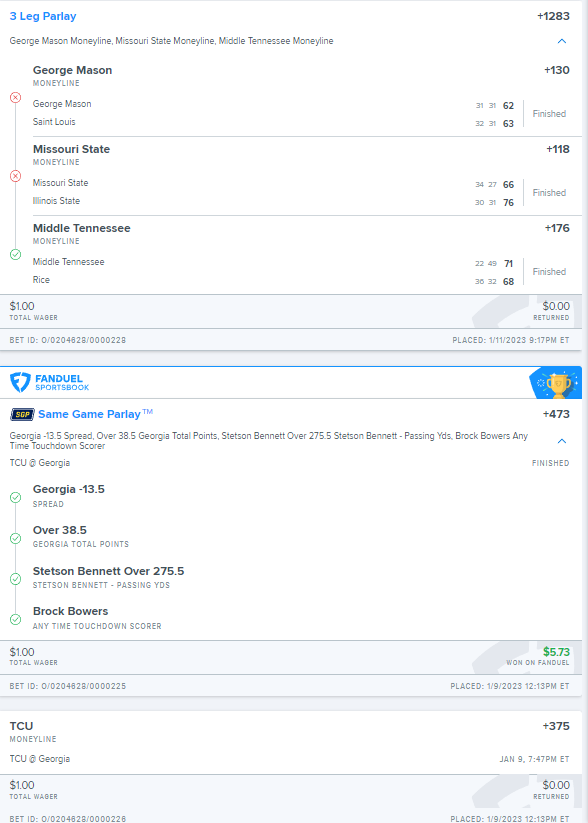 ---
Later in the weekend I put in another three leg parlay on some college basketball games. As I said before, I like to find games that should be close and then go with the underdog. Alone those bets may not pay you too much, but when you combine them into a two or three leg parlay, the rewards can really get boosted should you win.
Finally, we have the College Football Championship game. I put some money on TCU just in case. I knew they didn't have a shot, but on the off chance they were to pull out a miracle, I could have won $4 or so. Instead, my Georgia heavy parlay played out and I ended up winning $5 from that.
That college basketball parlay is one I placed last night. I am heading out of the state this weekend and I figured I should get my bets in now since I don't think I can place bets in Ohio yet.
I have a handful that are waiting to hit and then I will likely try to place some NFL bets when I get back into town.
I should have put some money on the Spartans the other night. They had an awesome upset win against Wisconsin. I will talk more about that tomorrow!
---
---

---
All pictures/screenshots taken by myself or @mrsbozz unless otherwise sourced
---
---