Sports Betting with Bozz: Tournament Troubles

---
Abysmal! That's the word I would use to describe how my betting has been going on the NCAA Tournament so far this year. Just absolutely horrible. I can't seem to pick a winner to save my life. As you will see, I have actually backed off on my betting for a bit just to give myself a breather. Instead of throwing all my money away chasing a win, I figured it was better to just stop.
The Sweet 16 games start today and I am not even sure if I am going to place any bets. I kind of want to put some money down on Michigan State beating KState, but then again, I am not sure I should.
It's just been a hot mess and I am not sure how to fix it at this point. I have a feeling a lot of people are probably in the same boat. This tournament has been absolutely unpredictable. I have a feeling there are some people who made some really good money on a handful of long shots.
I'd probably be placing more soccer bets if my ISP hadn't started blocking the Sportbet.one site that I was using to bet with my crypto. Since I am on a computer all day at work, I usually don't feel like cracking my laptop open when I get home to bet.
Plus most of the soccer games in the world are usually over by the time I get home from work!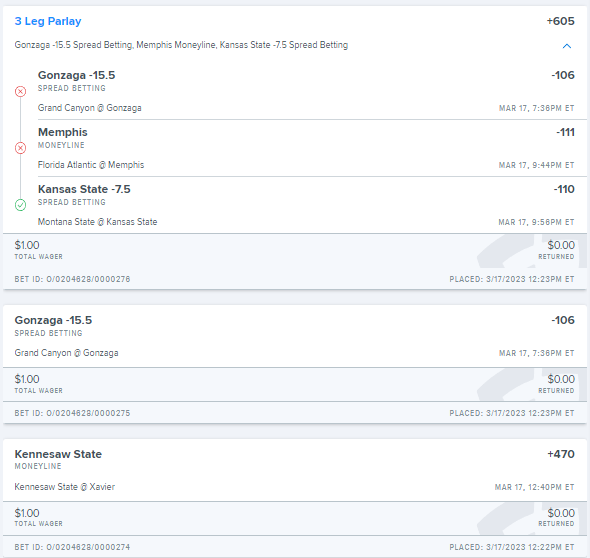 ---
As you can see in the photo above, I still have a love/hate relationship with spread betting. Gonzaga didn't cover but Kansas State did. Meanwhile, Memphis didn't win their game against Florida Atlantic.
I'm not really sure how that second Gonzaga bet got in there. I am guessing I must have screwed up somewhere. There is a $1 that I am never going to get back. I know last year when I was betting, I wasn't sticking to my strict $1 bet's only. That made it pretty easy for me to get some big wins and propel me into the $200 range.
This year, I would be in pretty bad shape if I was making $5 bets.
Kennesaw State would have been a nice boost to my bottom line. They did their best, but they just came up short against Xavier. Most of the second half of the game it looked pretty set that KS was going to come away with the upset and continue on in the tournament.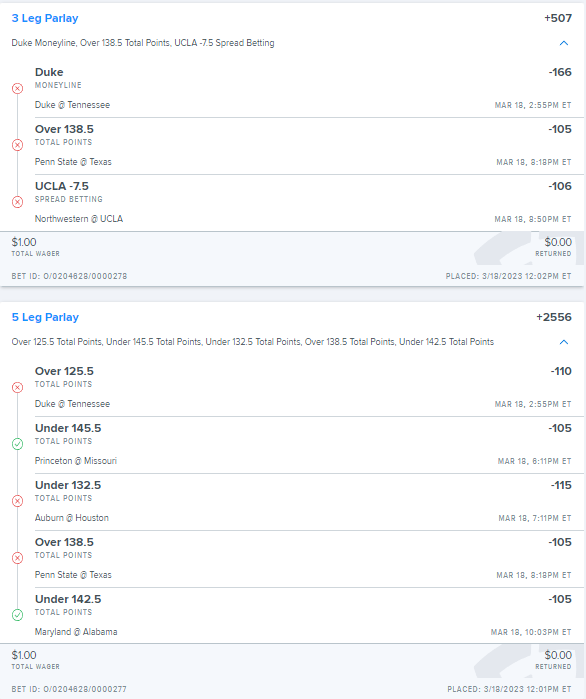 ---
Finally, we have my last two bets that I made last weekend. I really thought Duke was going to make it further in this tournament. They had a lot of momentum coming in with a young team. It seemed pretty certain that they were going to make some big moves and bust some brackets.
Unfortunately, that wasn't the case. Don't get me wrong, I can't stand Duke, but this didn't do my bets any favors. I am happy Tennessee made it to the next round. I'd like to see them get to the Final 4 if not farther.
There isn't a lot to be happy about in either of these parlay bets. I just did horrible. I can't even put it in words how disappointed I am.
As you can see in the second bet that combined score metric really caused me some issues. It's always bit hard to determine how tough the offense or defense is going to be each contest. I guess that is why they call it gambling.
I'm looking forward to trying out some baseball betting this summer. Now that the World Baseball Classic is over, we should be starting the regular MLB season soon.
I should also mention. I do have an outstanding bet on the table. I put a $1 on Texas winning the tournament. It should give me a decent payout if it ends up happening. We will see though.
---
---

---
All pictures/screenshots taken by myself or @mrsbozz unless otherwise sourced
---
---