Sports Betting with @bozz.sports: Trying a new platform

---
This past week I only placed a total of seven bets. You might think that would lessen my chances of actually winning, but I actually did pretty good all things considered. I tried out a new betting platform that @fullcoverbetting told me about which uses crypto. As you will see, I didn't have a ton of luck with that bet, but I did get a little greedy and I was betting on soccer which I really know nothing about, so that could have been part of the problem.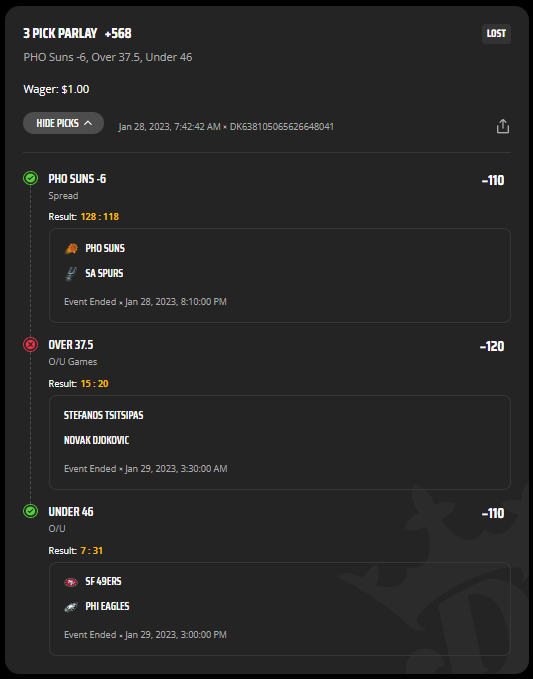 ---
I've been trying to work on building up my Draft Kings account again. I think I was up to $70 or $80 at one point and it has been a steady downhill battle from there. I was at a low point of $30 when I finally won a little bit of money this past weekend.
It wasn't on the best you see above. That was a PicksWise bet I made that I was hoping would turn out a little better. As you can see, I only fell short by one part of the parlay. This was my first time betting on tennis, so I wasn't really sure what I was doing.
Since Djokovic pretty much skated through the entire Australian Open, it didn't leave a lot of wiggle room for some of the bets. In the end, it bit me in the butt.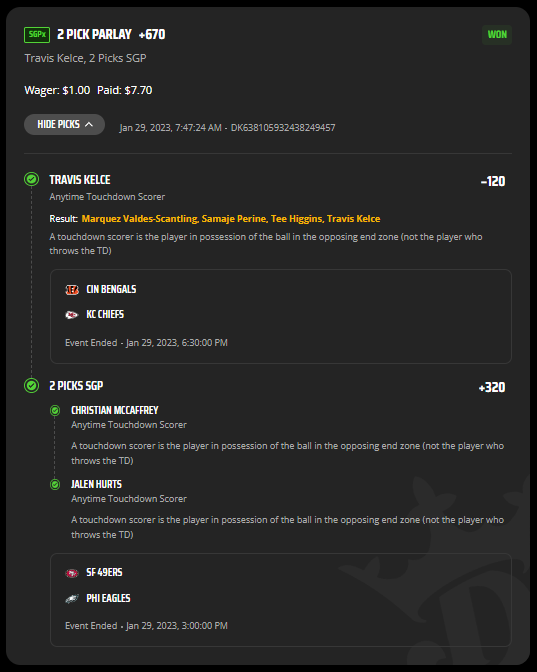 ---
The AFC/NFC championships in the NFL were a little kinder to me. As you can see, I picked up this parlay that was being offered in the app. While I have had better luck with PicksWise picks lately, every now and then just going with your gut works out.
That was the case here and I ended up winning $7.70 on a $1 bet. Thank you very much Kelce, Mccaffrey, and Hurts for each scoring a touchdown and handing me the win!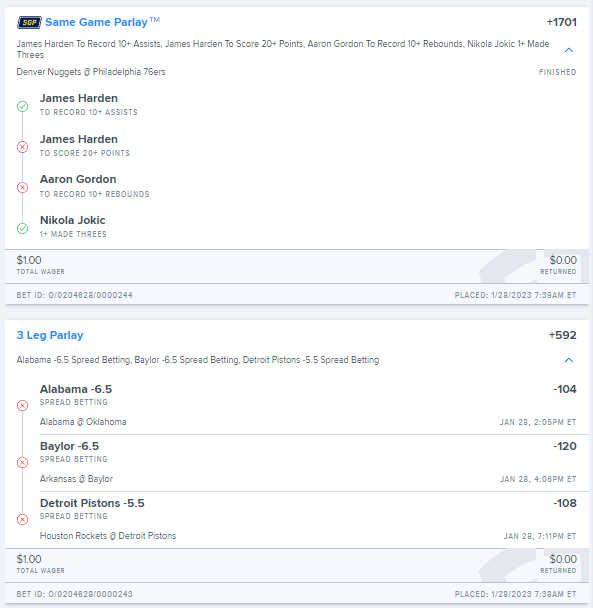 ---
As you can see here, my weekend actually didn't start out too well on Fan Duel. I had a horrible NBA bet that only hit on two of the legs. It was kind of a long shot anyway, but that $17 win would have been really nice.
Then, I did a PicksWise parlay and none of the legs hit. That was kind of a crushing blow for me. I mean, that Alabama game was just a joke. They got absolutely destroyed. I don't know as though anyone saw that coming.
Meanwhile Baylor didn't cover the spread as well as the Pistons. It was pretty disheartening.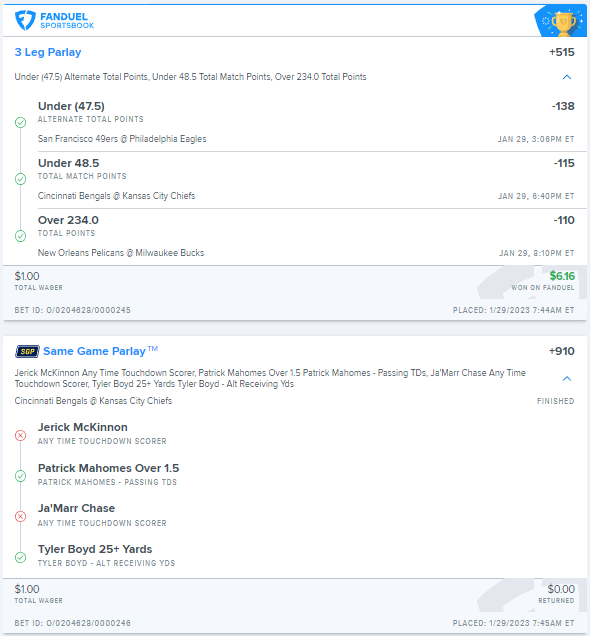 ---
Not one to give up that easily, you can see that I placed another same game parlay on the Bengals Chiefs game. It didn't really work out for me. I guess my records is just about half and half for picks that the betting app recommends to me versus picks that I find on PicksWise.
Thankfully, PicksWise came through and as you can see, my bet on the NFL playoffs and a lone NBA basketball game paid off for me. I won $6.16 on my $1 bet and put myself in a nice place to make some more bets this weekend. Probably tonight actually.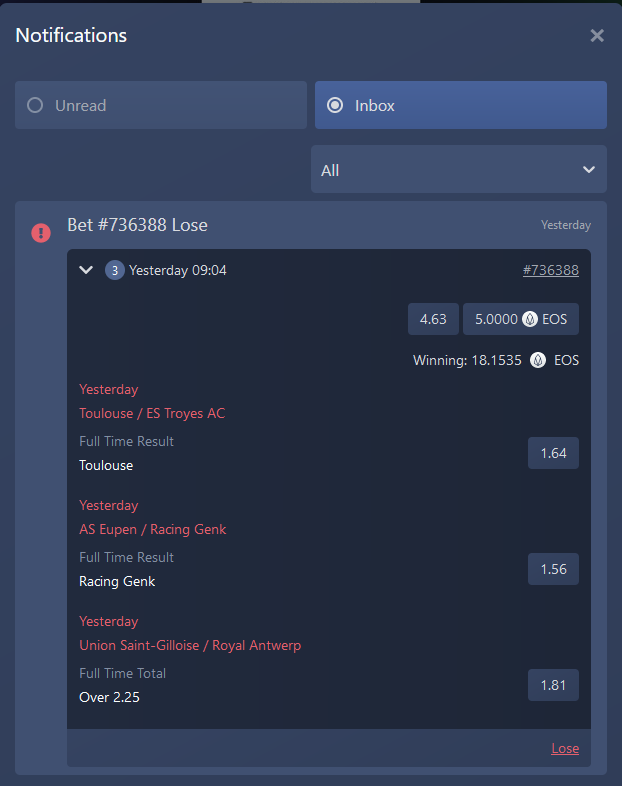 ---
Finally, we have the bet I placed through Sports Bet One. I ended up following the soccer bet that @fullcoverbetting also placed a bet on the other day. I followed it as closely as I could. Some of the numbers he gave didn't quite match up with what I was seeing.
I ended up losing this bet and I am not quite sure why. They don't do a very good job of telling you what hit and what didn't. Unless all of them didn't hit I guess. I don't know.
I was a bit of a fool and I bet a full 5 EOS on this parlay. I should have known better and just stuck to 1 EOS. I won't make that mistake again. I like the platform, I just wish it was a bit more intuitive. It gives me access to some of the other soccer leagues that my main platforms don't, so that is kind of cool. I can at least now follow along when FCB bets on his Belgium League stuff!
---
---

---
All pictures/screenshots taken by myself or @mrsbozz unless otherwise sourced
---
---