Who's your money on?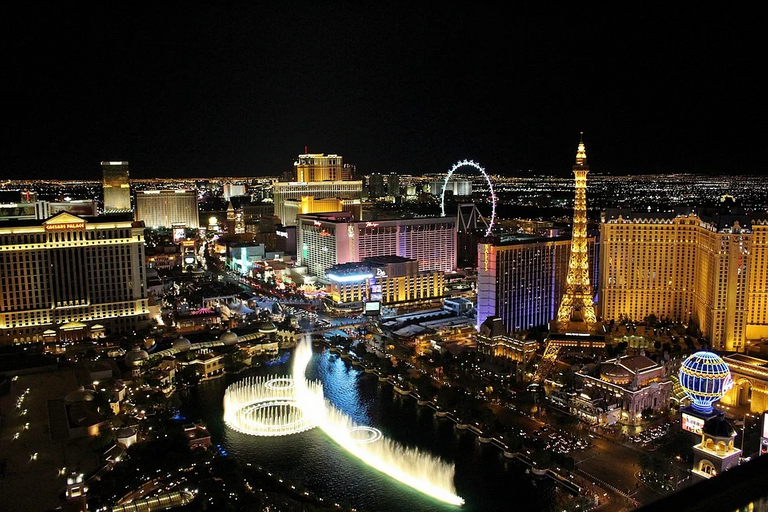 ---
A week or so ago I wrote a post talking about some of the bets that I had made on NCAA and NFL football using the FanDuel app on my phone. I am lucky(?) enough to live in a state were sports betting is legal.
For good reason the casinos have put a lot of work into their apps and making sure they integrate with your location services to ensure that you are only betting where it is legal to do so. For example, even though it is legal to bet in my state, if I were to travel to a state where it wasn't, I don't think it would let you do so in the app.
Something very important to keep in mind if you plan on doing any traveling. Either make sure you can bet where you are heading or make sure you have your bets in ahead of time.
As I mentioned in the other post, I have been doing quite a bit with parlay's lately. They can be a bit riskier, but when they pay off for you the rewards are much greater. It is pretty exciting. I've had my fair share of wins and losses already this season. I find that I am staying pretty even keel as far as my winnings go. I have been ending up at the same place I have started the past couple of weeks.
It is frustrating and encouraging all at the same time. One of the biggest issues I have had is trying to do things on my own. I find that I do much better when I just rely on the pre-made parlays from other users of the platform. Apparently they are much smarter than me when it comes to betting.
In the comments of that last post, someone asked for an example of what I bet on. I took some screenshots this past weekend and today I am going to share them with you.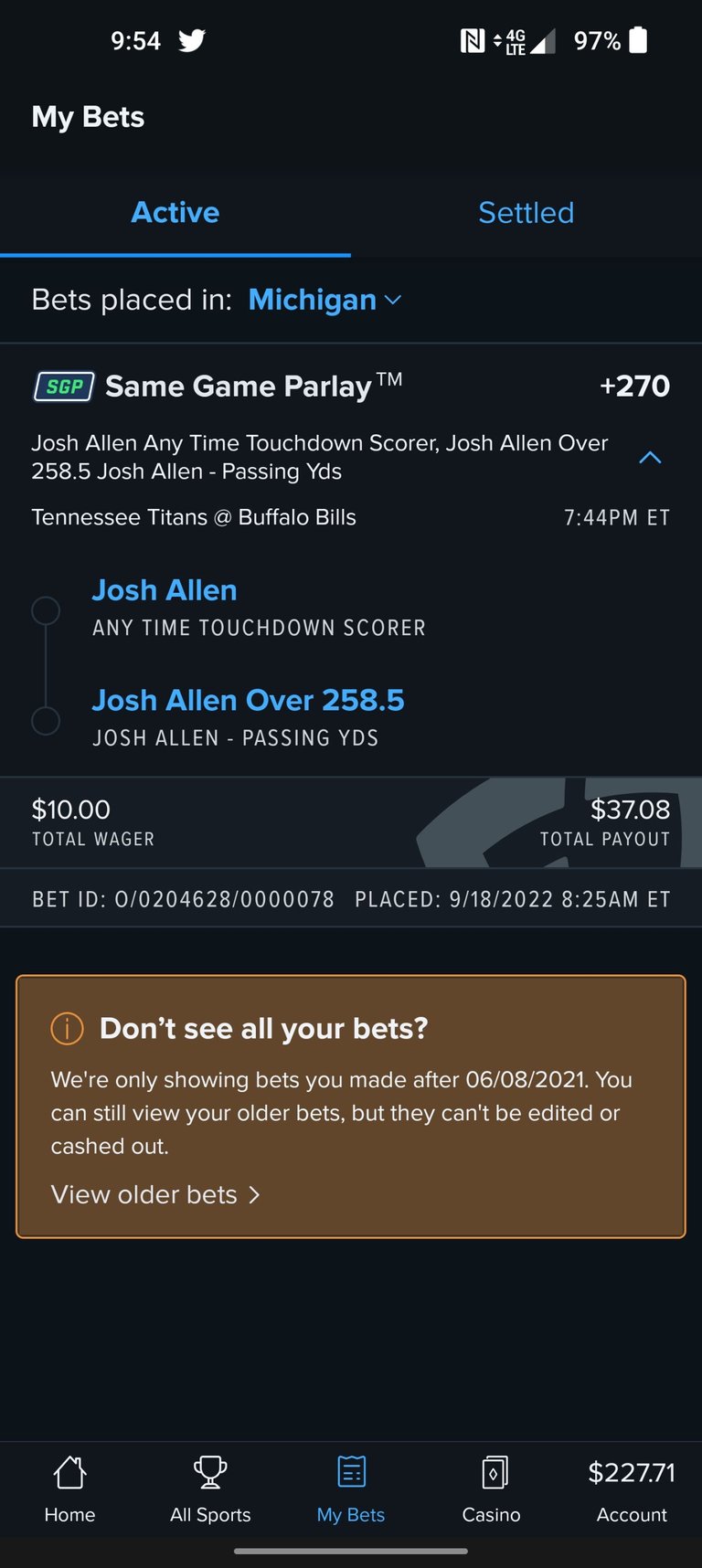 This was actually one of the last bets I made this past weekend. I was looking for just a little something more to boost my earnings. I was hoping to get my account up to that $250 mark. Unfortunately, it didn't turn out too well for me. Allen passed for much more than 258 yards, but he didn't take a single ball into the end zone himself.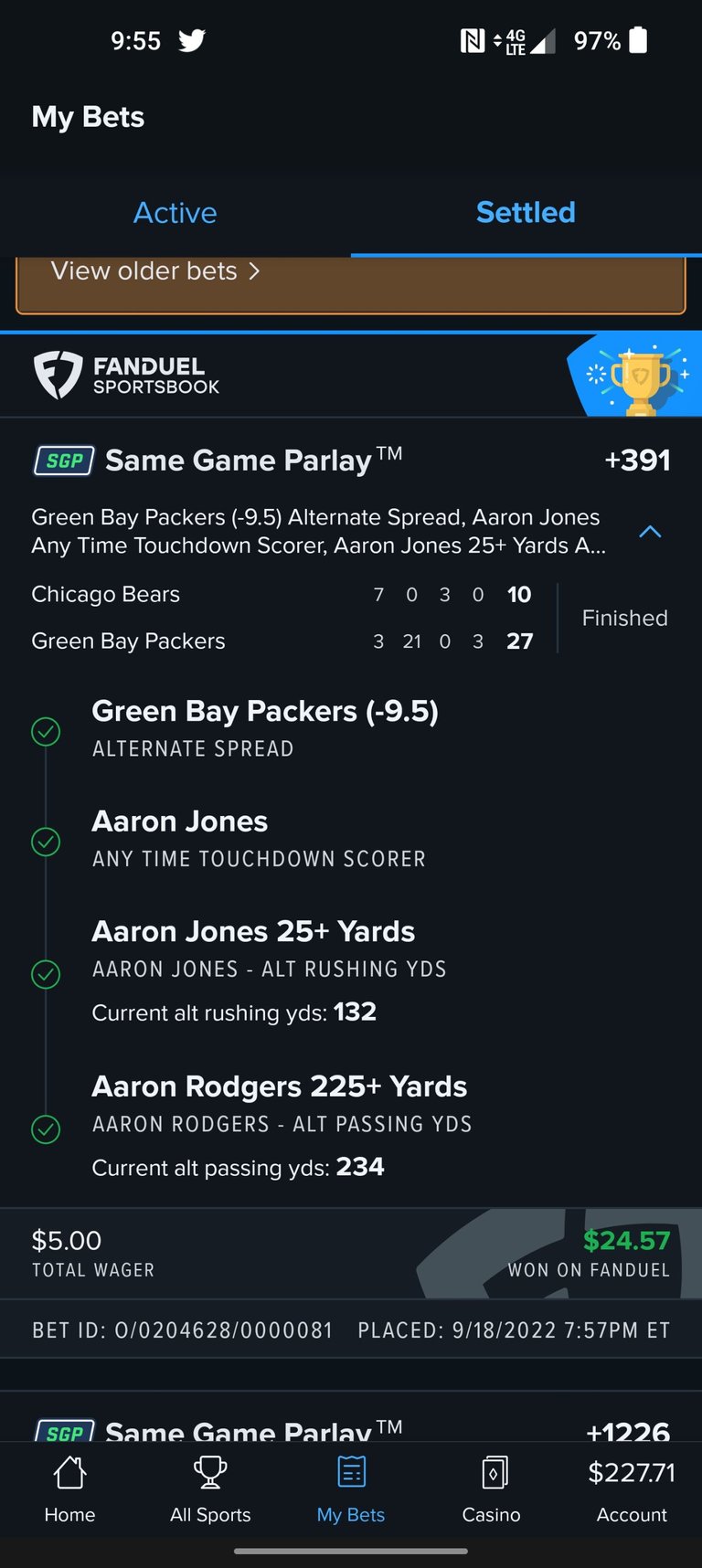 ---
This one went a little better for me. You can see that I bet $5.00 and I was able to pull in $24.57 from that five dollar bet. Just about 5x my money. Not too bad... As much as I really can't stand the Packers, they had a pretty decent game and that propelled me into the money on this one.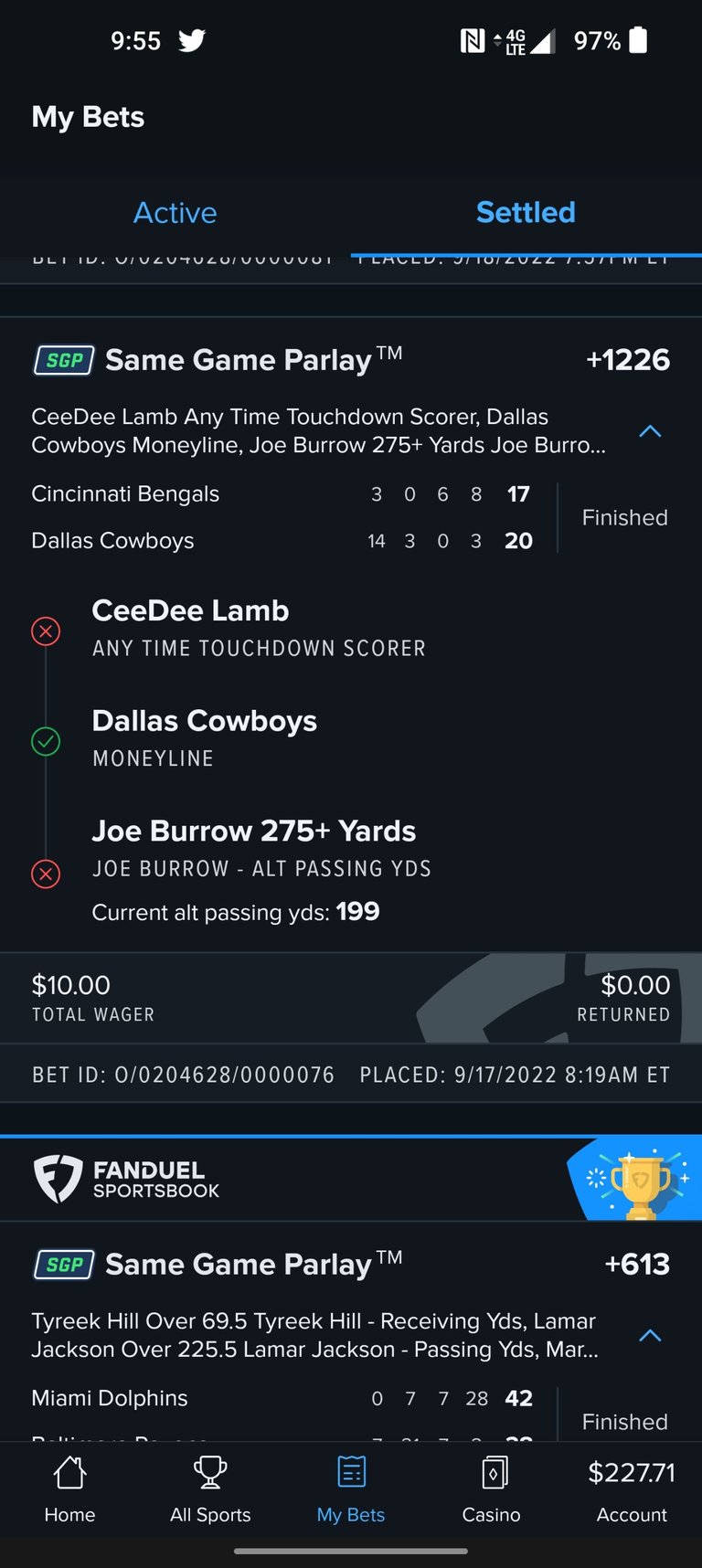 ---
This one was a bit more of a stretch. I should have just stuck to $5 instead of $10, but I remembered someone talking about DeeDee Lamb and how they should be doing much better than they are. I thought this might be the week he broke out and so I decided to throw some money that way.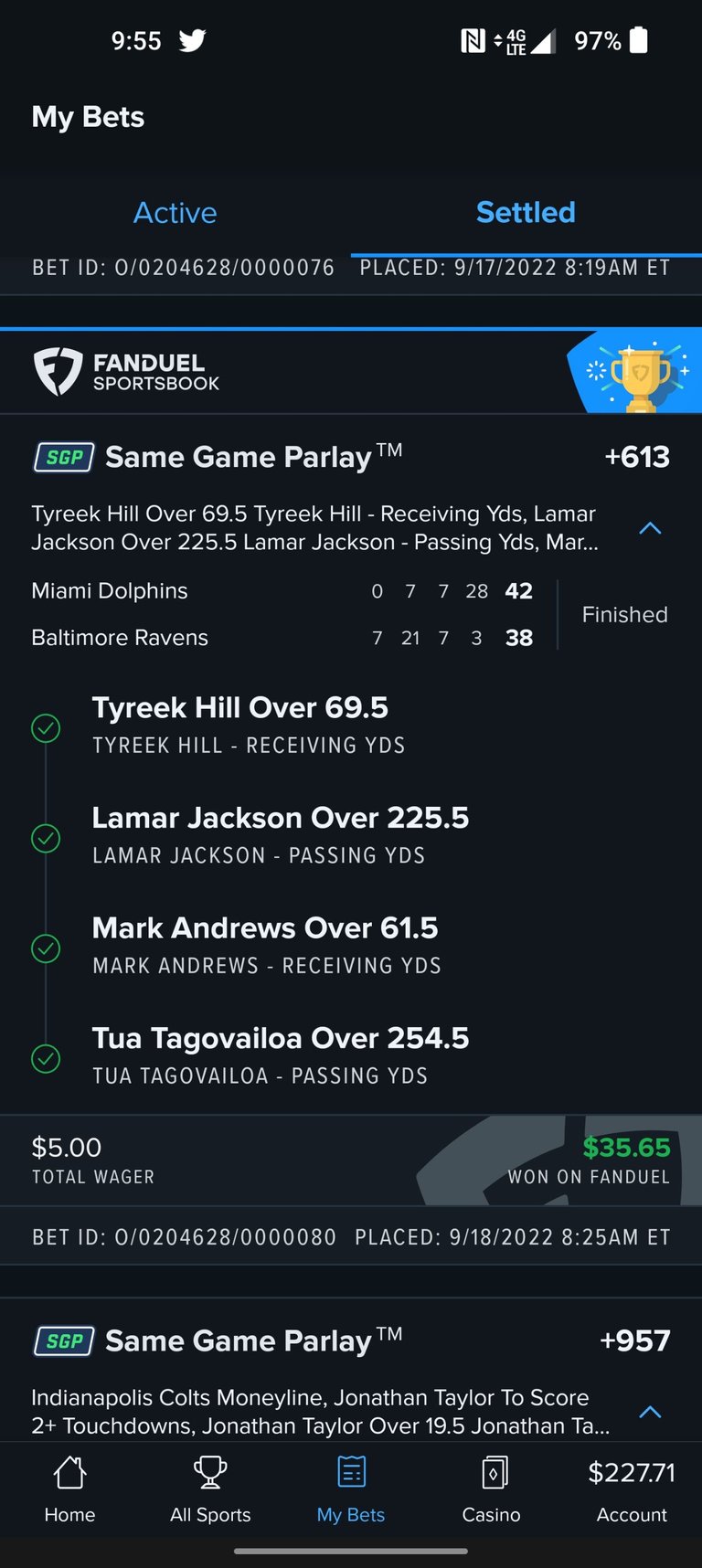 ---
It seems maybe I should stick to the $5 bets, because this one turned out pretty well for me. Either that or I am just destined to lose the $10 bets and win the $5 ones. Things fell into place for the Dolphins over the Ravens. That and the fact that it was a high scoring game on both sides gave me the victory and a 7x win on my initial investment.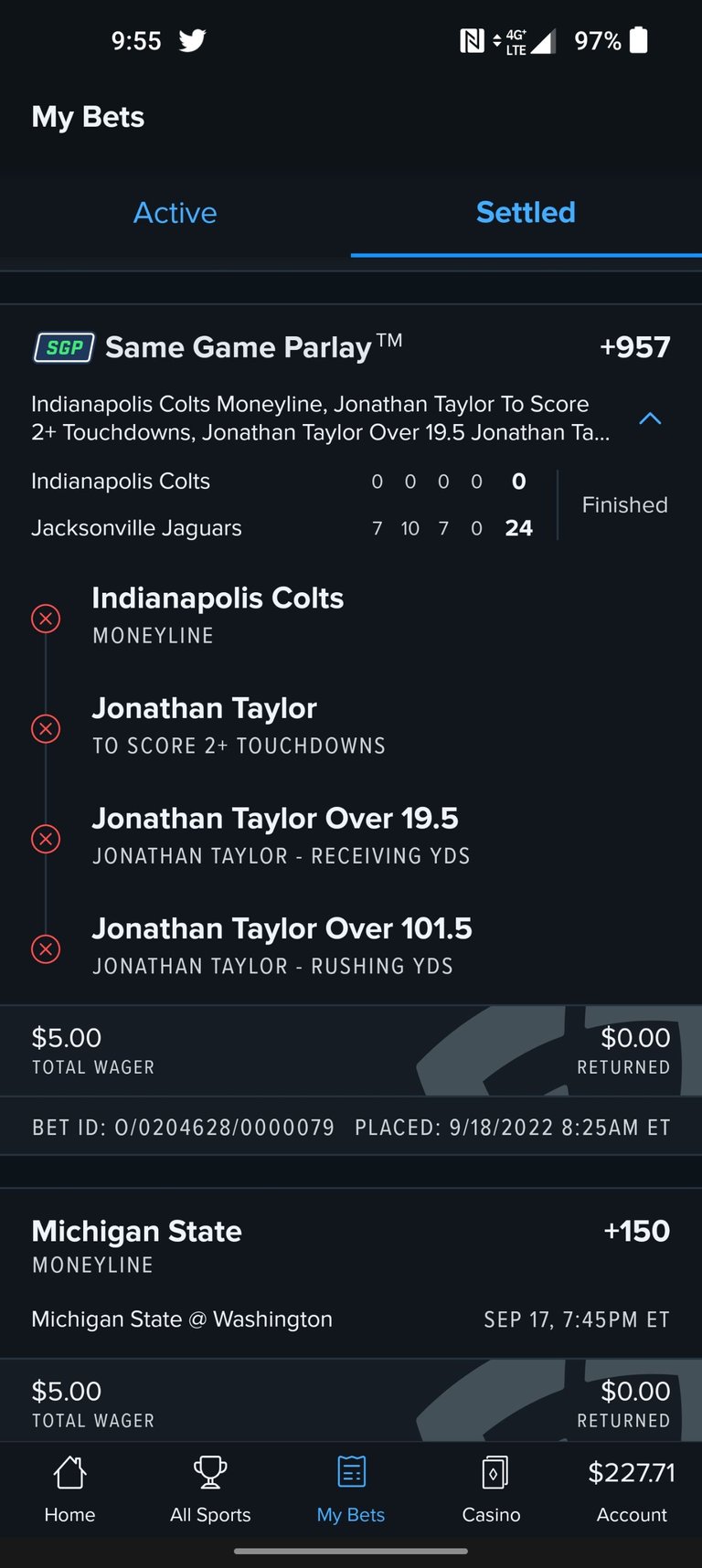 ---
This is the case where a $5 bet went very very badly for me! As you can see I didn't meet any of the requirements of this parlay. It was destined to fail from the beginning. The Colts just had a bad day all around this past weekend!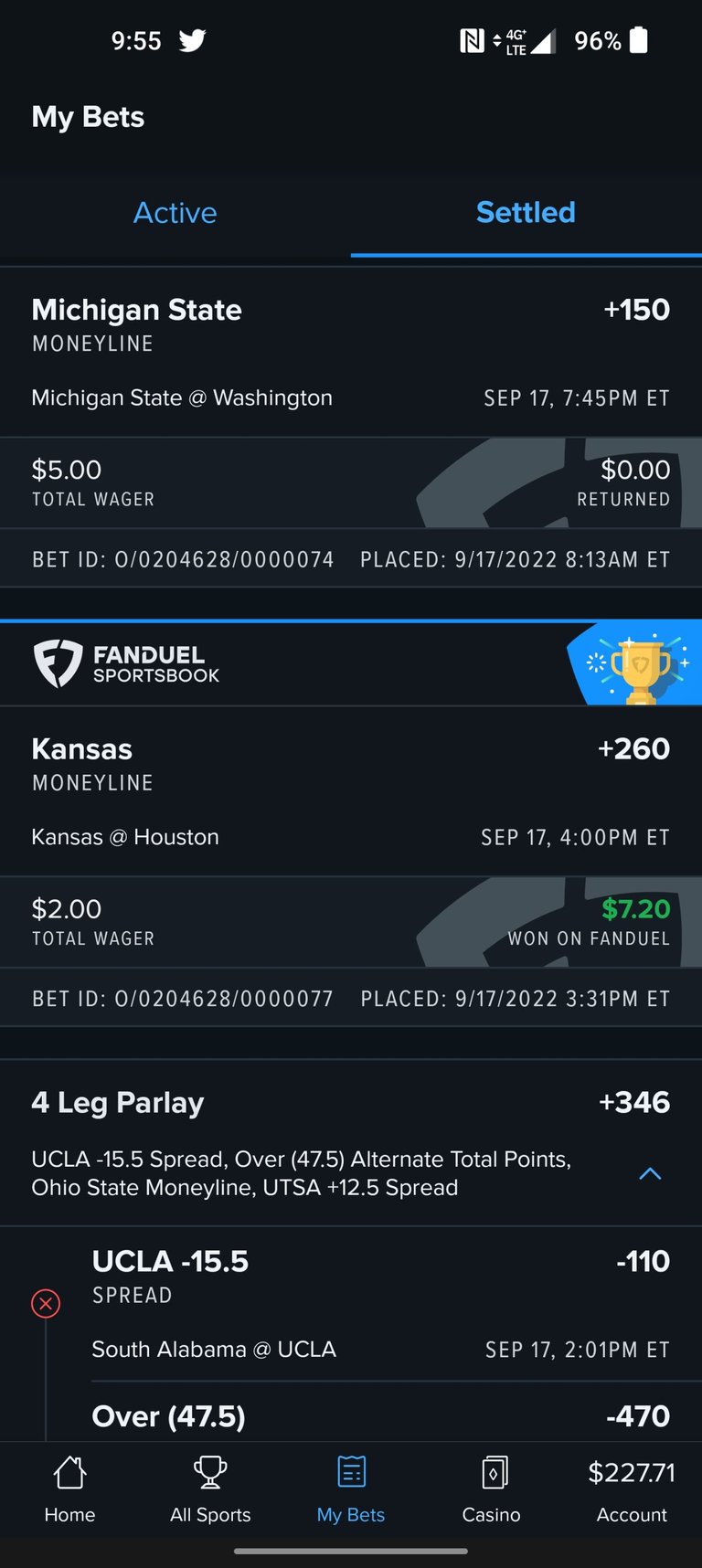 ---
Just for fun I threw $2 on Kansas over Houston on Saturday for some NCAA football. Turned out well for me and I did a little over 3x on my bet. I can totally understand why people get addicted to gambling. I am not saying I am, but the thrill of winning (even if it is just moderate) is pretty cool.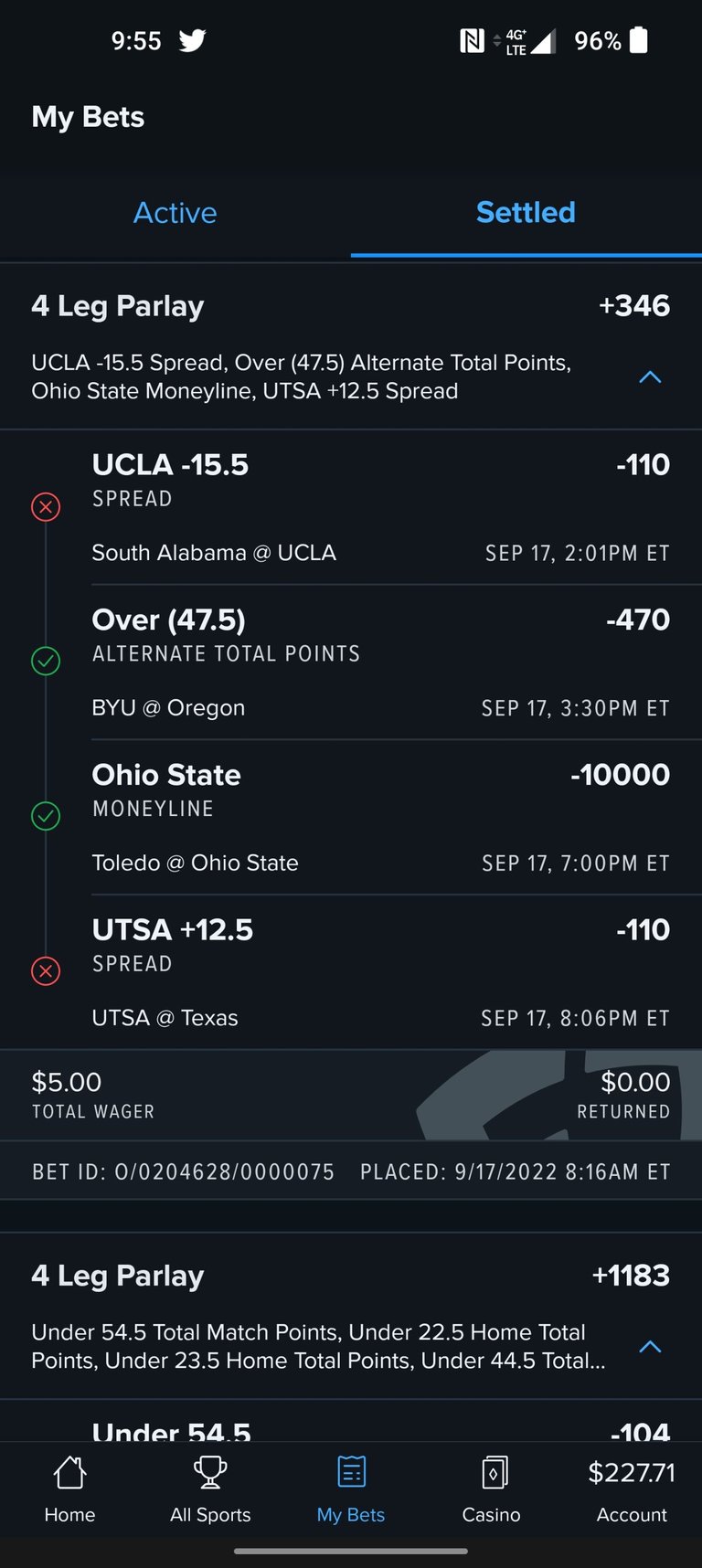 ---
This is the last one I will share. Again, it was from a parlay that I did on Saturday for college football. It was another $5 bet that didn't turn out so well for me. You can see I made two of the legs okay, but the other two didn't quite turn out for me. I never really understood what "covering the spread" was all about when people would talk about it, but I am definitely starting to now!
If @fullcoverbetting has some advice for betting on American Football, I am all ears!
My goal is to get my bag up to at least $300 by the end of the season. Right now I seem to be maintaining and equilibrium, but I have the feeling a big weekend of getting rekt is in my future. A couple bad games and I will be below my comfort zone of $150 in my account. Either that or I might need to start dropping my bets to $2. I think either way I am going to be sticking with more $5 and less $10 bets from now on!
---
---

---
All pictures/screenshots taken by myself or @mrsbozz unless otherwise sourced
---
---