Family League Fantasy Football Week 2 Analysis


---
Another year, another 2 - 0 start, another week, another loss... Much the same as last year, this is really starting to sound like a broken record. It doesn't make it hurt any less, but when I get to the breakdown of what happened this weekend, you will see that things could have turned out much differently.
Lot of good that does me now...
I need to remember that this is just all for fun, it is a game and I shouldn't take it too seriously. I tell you what though, it sure doesn't feel like fun and games at the end of each season when I need to spend my hard earned money on prizes (a fifth of alcohol) for someone besides my wife and myself. Year after year after year.
This week I played one of my other sister in laws who by the way was the champion of last season despite having a worse record than the sister in law I lost to last week.
It just goes to show you how things can change on a dime when you get to the playoffs.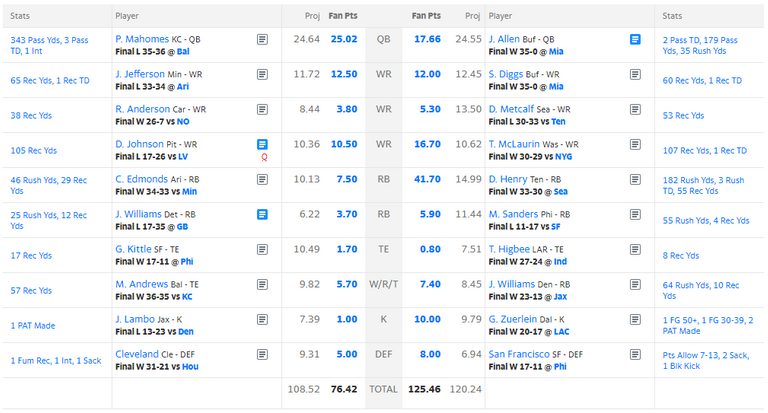 ---
First things first, Mahomes was pretty consistent as you would expect. 25 points isn't a career game or anything, but it is consistent and that is all I can really ask for at this point. Jefferson was impressive and I have a feeling he will be a regular in my starting lineup.
Anderson and Kittle on the other hand were pretty pathetic. Williams from Detroit was quite the disappointment as well. I have a feeling I am going to be in the market for a new tight end, running back, and wide receiver soon.
I can't really complain about my kicker. It is rare that they score more than a couple points per game anyway. My defense on the other hand was a bit of a joke. I will explain that when I get to the bench players.
Take a look at the opposite side of the scores... This actually would have been a pretty manageable game for my team had Henry not put up an insane 41 points on the day. That is just a hurdle that is pretty impossible to surmount.
To be fair, I was projected to lose this week anyway, but I really think I could have pulled this one out had I made a couple different decisions.

---
I had Buffalo slated to play at the defense position. At the last minute I changed them because Cleveland was projected to score more points than them. I should have just stuck with my gut and I might have been okay. Add to that the fact that Sutton was sitting on my bench and I likely could have made this a fairly close matchup.
Take away the 41 points from Henry on the opposing side and this would have been a win for me.
Talk about bad luck! I need to stop second guessing myself.
If Barkley is getting back to 100%, there is a good chance he will be back in my lineup next week. Likely in place of Williams or even Andrews in my flex spot.
I'm not a fan of just cleaning house after a bad week, but I also know how quickly the season can get away from you if you keep hoping your players just need one more week to get things together.
Anyone else out there play fantasy football? How did your team do this week? Any sleepers I should be looking for out on the waiver wire? Any dead weight you can see that I should be dumping and not thinking twice about? Clearly I am no expert at this and I will take all the advice I can get!
---
---

---
---