Fatass Journal... 2021#275 - October 2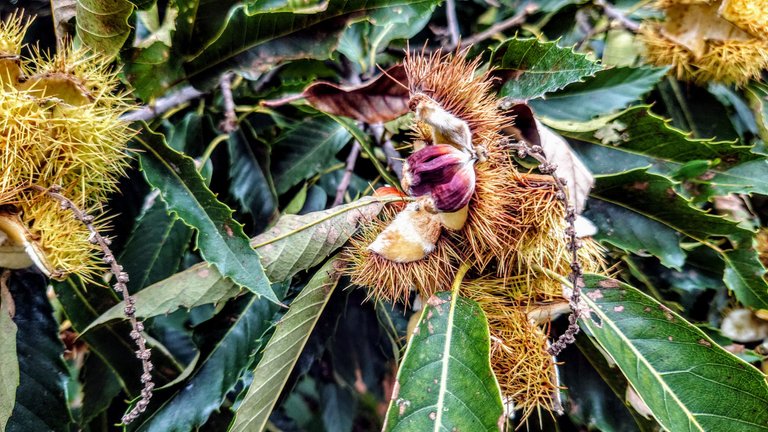 Rano musiałem odespać nocną zmianę, ale już około południa byłem gotowy ruszyć na sobotni spacer. Dobrze, że akurat pogoda dopisała, wiał silny wiatr ale nie padało, a to najważniejsze. Wiatr wiał tak mocno, że gdyby nie noise-cancelling w słuchawkach to bym nie mógł słuchać audiobooka.
[ENG] In the morning I had to sleep off the night shift, but around noon I was ready to set off for the Saturday walk. It was good that the weather was fine, there was a strong wind but it didn't rain, which is the most important thing. The wind was blowing so hard that if it hadn't been for the noise-cancelling headphones I wouldn't have been able to listen to the audiobook.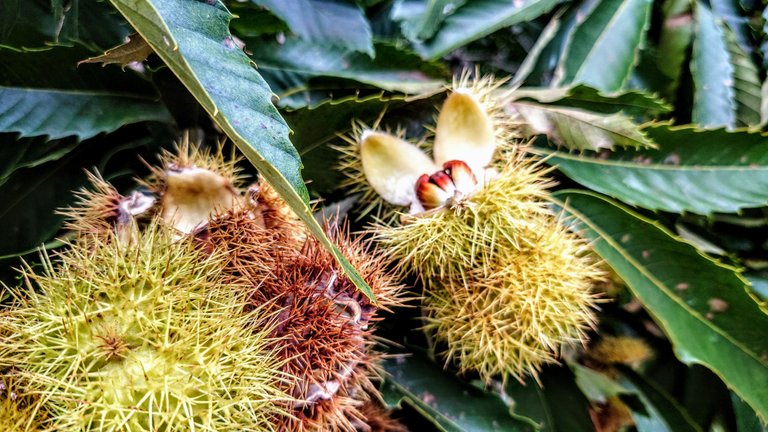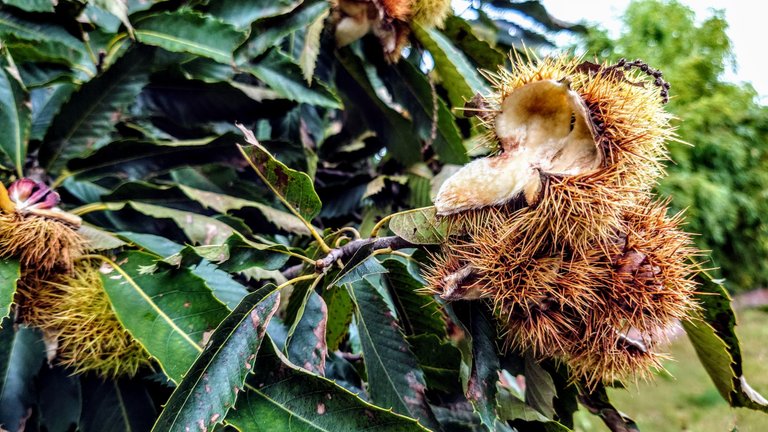 Na drodze w lesie Havre spotkałem belgijskiego kuzyna @bucipuci :) chwilę porozmawialiśmy, ale, że bardzo był nieśmiały, to rozeszliśmy się każdy w swoją stronę.
[ENG] On the road in the forest of Havre I met a Belgian cousin of @bucipuci :) we talked for a while, but as he was very shy, so we went our ways.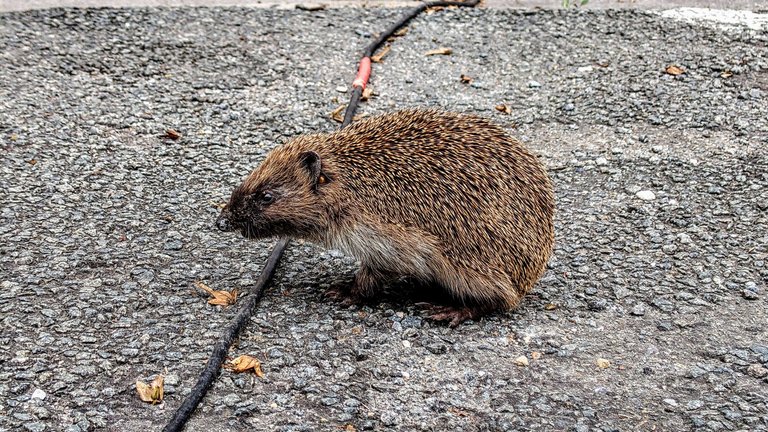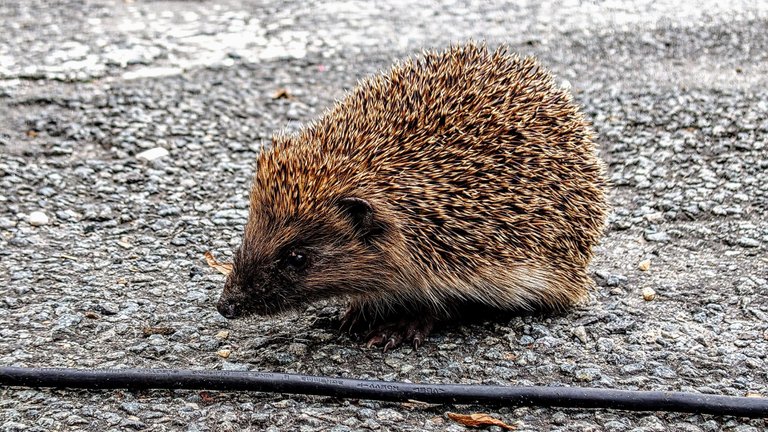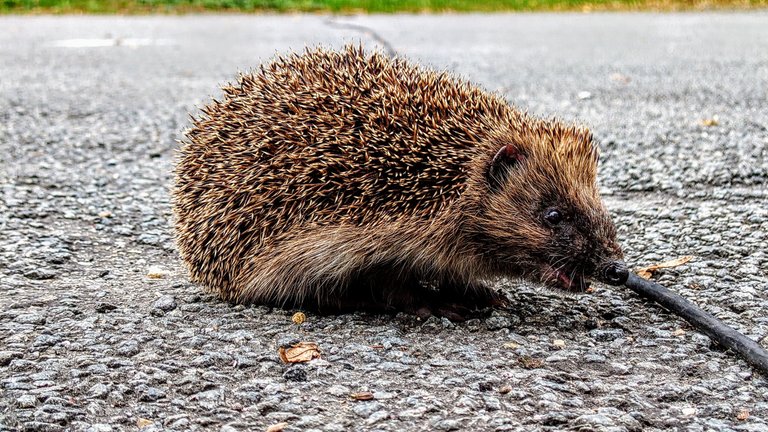 Nieco dalej w lesie zauważyłem prekursora karawaningu, który mozolnie podążał do celu swojej podróży. Niestety, kiedy tylko mnie wyczuł zaczął chować się do swojego domku. Najwidoczniej doszły go słuchy, że mieszkają tu ludzie, którzy mogliby go zjeść.
[ENG] A bit further into the forest I spotted a precursor to a caravan, which was laboriously making its way to its destination. Unfortunately, as soon as he sensed me, he started to hide in his hut. Apparently, he had heard that there were people living here who could eat him.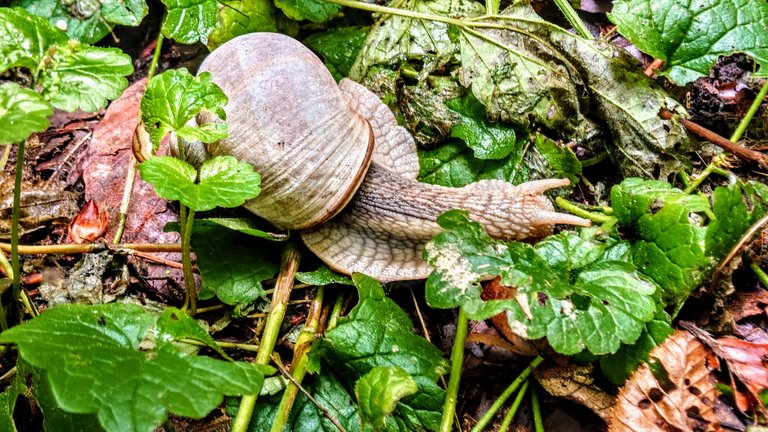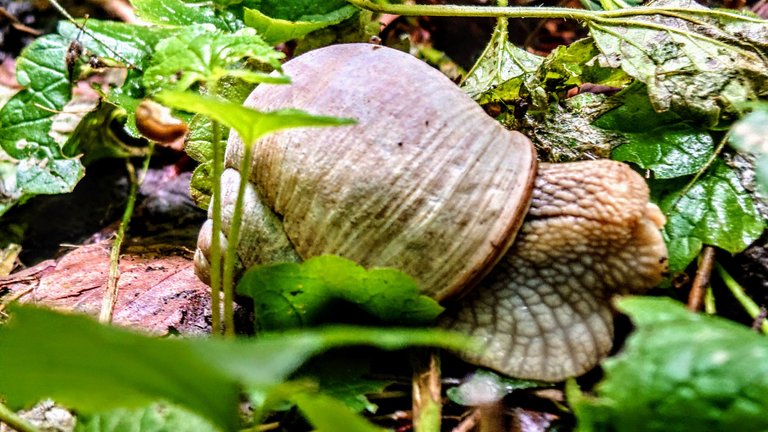 Wczoraj głównie chodziłem po dzikszej części lasu w Havre, stąd te wszystkie znaleziska i spotkania z naturą. Znalazłem też sporą kępę grzybów z rodzaju opieniek, bynajmniej takie mam wrażenie, na wszelki wypadek zostawiłem je dla dzikich zwierząt.
[ENG] Yesterday I mainly walked in the wilder part of the forest in Havre, hence all the finds and encounters with nature. I also found a large clump of mushrooms from the genus of thymes, at least that's my impression, just in case I left them for the wildlife.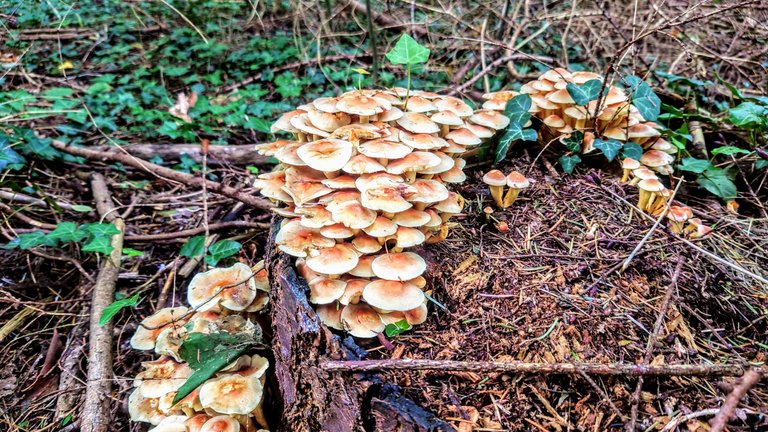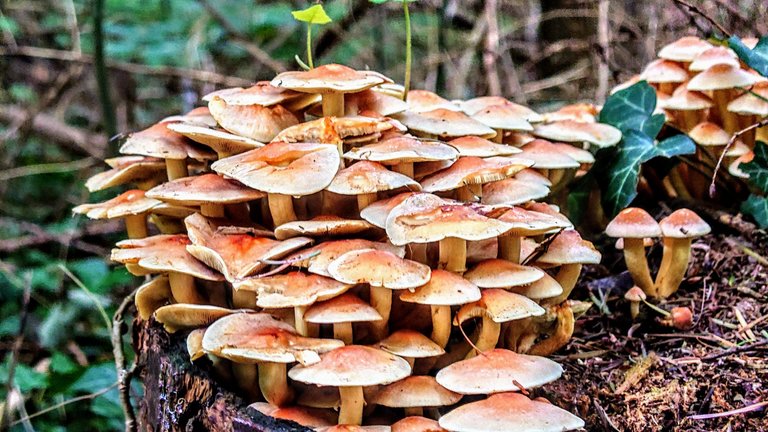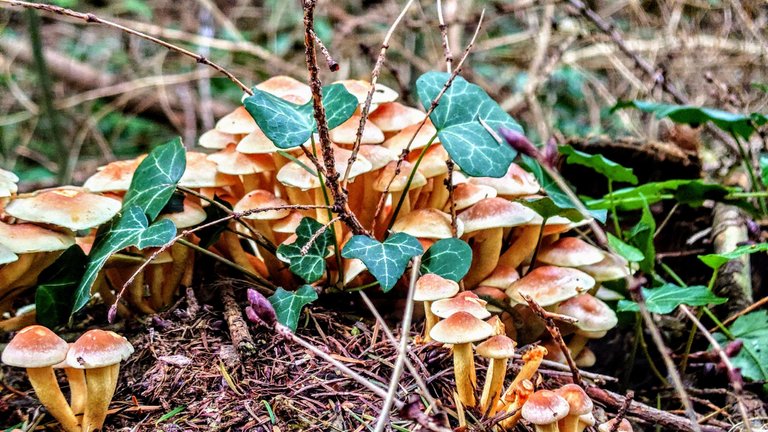 ---


Dystans pokonany w 2021 roku: 3480,97 km - z podziałem na dyscypliny:
| Dyscyplina | Dystans |
| --- | --- |
| Spacer / Marsz / Nordic Walking | 2619,93 km (18,70 km) |
| Kolarstwo / Rower MTB | 676,99 km |
| Jogging / Bieganie | 184,05 km |
---

LEAGUE ONE:
Mimo tego, że zostało jeszcze kilka kolejek do końca, to mam świadomość, że przegrywając z @ilodz24hd pozbawiłem się szans na wygraną w turnieju. Sześć punktów straty do lidera będzie bardzo trudno odrobić. W końcówce turnieju @practicaleric odrabia straty, w poprzedniej rundzie zdecydowanie pokonał lidera - @manuvert, teraz jego wyższość musiał uznać @masoom, z którym zrównał się punktami. Zapowiada się ciekawa walka o czwarte miejsce do końca turnieju, bo nie wykluczam, że @flaxz może właczyć się jeszcze do walki. Na Nagrody po 100 AFIT za aktywność w rundzie 26 otrzymali: @practicaleric (najlepszy wynik) i @masoom (pechowy przegrany).
[ENG] Despite the fact that there are still a few queues to go, I am aware that losing to @ilodz24hd deprived me of the chance to win the tournament. Six points loss to the leader will be very difficult to make up. At the end of the tournament @practicaleric is making up for losses, in the previous round he decisively beat the leader - @manuvert, now his superiority had to be recognised by @masoom, with whom he equalled in points. It promises to be an interesting fight for fourth place until the end of the tournament because I do not rule out that @flaxz may still join the fight. Prizes of 100 AFIT each for activity in Round 26 went to @practicaleric (best score) and @masoom (unlucky loser).
Ponieważ League One skończy się osiem dni wcześniej niż League Two, to szkoda by było bezczynnie czekać. Proponuję zabawę w "znikające krzesła", która będzie polegała na eliminowaniu każdego dnia najsłabszego ogniwa, dla którego nie będzie już "krzesła" w następnej rozgrywce. Cała szesnastka zaczyna 6-tego października, ale po pierwszym dniu "znika 8 krzeseł", więc 8 z najgorszymi wynikami zostanie wyeliminowanych, pozostała ósemka przechodzi dalej. W następnych dniach tylko jeden "z najgorszym wynikiem" odpada, pozostali walczą dalej, aż do momentu, kiedy zostanie jeden zwycięzca.
[ENG] As League One will finish eight days earlier than League Two, it would be a shame to wait idly. I propose a game of 'disappearing chairs', which will be based on eliminating the weakest link each day, for whom there will be no more 'chairs' in the next game. All sixteen start on the 6th of October, but after the first day "8 chairs disappear", so the 8 with the worst scores will be eliminated, the remaining eight move on. On the following days, only the one "with the worst score" is eliminated, the others continue to fight until there is one winner left.
Ranking table for LEAGUE ONE after Round 26:
Tomorrow's pairs:
The full tournament schedule for #POLIAC League One has been generated:
https://tournamentscheduler.net/schedule/MTE3ODUwODAxODY
LEAGUE TWO:
Nagrody po 100 AFIT za aktywność w rundzie 26 otrzymali: @pagane (najlepszy wynik) i @racibo (pechowy przegrany).
[ENG] Prizes of 100 AFIT each for activity in round 26 were given to @pagane (best score) and @racibo (unlucky loser).
Ranking table for LEAGUE TWO after Round 26:
Tomorrow's pairs:
The full tournament schedule for #POLIAC League Two has been generated:
https://tournamentscheduler.net/schedule/MTE3ODU1MzY5NTE
Thank you all

This report was published via Actifit app (Android | iOS). Check out the original version here on actifit.io




44449

Daily Activity, Photowalking, Walking
---
---