3 Ideas to Make The European Super League Work
Disclaimer: This post is satire. Follow me and subscribe to the Comedy Open Mic Community for more:

Image source
After its failure by popular demand, the European Super League, currently led by Florentino Perez, Joan Laporta, Andrea Agnelli, and 17 empty chairs, is considering trying their luck one more time. The reason for that is because Florentino Perez wants to save football. Here at Burning Coal News, we believe that Florentino Perez is correct and agree that having only 20 clubs make the big money would in fact save football as a whole.
The Reason
We believe that Perez's Madrid along with Joan Laporta's reason isn't unreasonable. After all, they are saving football. The two clubs are struggling financially as they managed to only spend 1 billion Euros each during the last decade. A total of around 900 million in net speed (Total spent on buying - total made in selling).
We find it disgusting that these clubs only managed to spend so much on players. The reason the ESL began is that, as Perez himself said, generation Z isn't following football as the previous one. And that is what led to the creation of the Super League to keep their interest.
In order to save football, you have to give big clubs all the money. Here is a picture of what the club has spent in the last twenty years.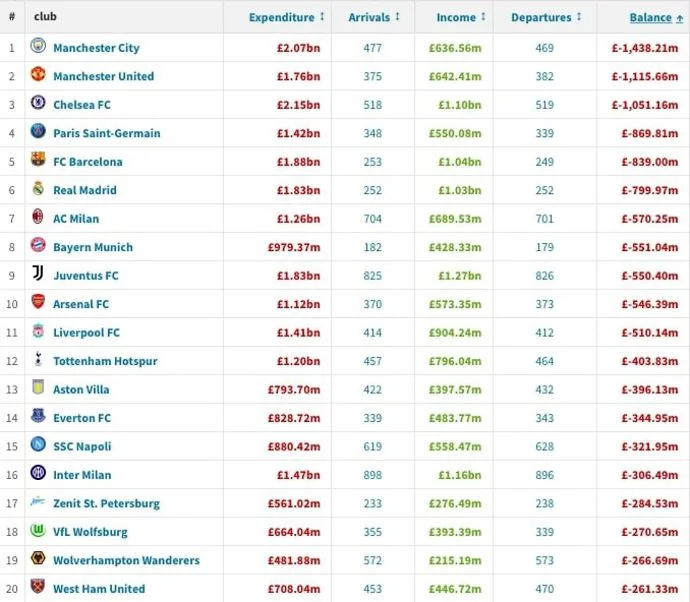 Image source
It is an absolute disgrace that these clubs don't get to waste more money on Gareth Bale's gulf career, Umtiti and Dembele's hospital bills, and the exaggerated salaries that deemed their players unsellable.
Real Madrid should have the right to pay Bale 31.2 million a year and not have to deal with consequences. Yes, they won titles for the signings, but they shouldn't have to deal with the consequences like Parma and other lowlife teams. Sunderland and Stoke City got relegated into oblivion so they wouldn't be bankrupt and waste money, but they're not like AC Milan who spent 50 million to bring in Leonardo Bonucci from Juventus only to send him back the next season in a swap deal for a player they sent on a loan. That's not fair.
Barcelona earned their right to buy Coutinho (A Cam), Dembele (RW), and Griezman (CF/RW), along with Malcom (RW) who was sold for less the next season, for 420 million to replace Neymar (LW). Why should these clubs bother with silly things like analyzing the player. his role, and whether he fits into the team before buying him?
The Result
We have established, without a shadow of a doubt, that clubs who started the Super League deserve their rights to make more money. Yes, it will be the clubs that these teams buy their players from, but who cares? Football is fine as long as these top teams are fine.
Ways to make the ESL work?
Here are 10 ways the ESL's comeback could work (Hopefully). Ways that match the ESL idea in its brilliance. These ways will be segments happening during the matches to keep generation Z interested as Perez wished.
1- The TikTok Penalties Super League
This will be a league to replace the Ligue 1, it will consist of the 20 ESL clubs that Perez had in mind when he started taking on each other in penalty shootouts. However, the players used will be all the players the big clubs have purchased for millions and paid 10s of millions to sit on the bench.
2- The Super League Royal Rumble
This one will happen during the half an hour it takes Manchester City to stop passing and shoot the ball. Managers will compete in a 30 men Royal Rumble in order to get the honor of being considered to manage a team in the ESL
3- The Super League Squid Games
In this segment, captains of teams seeking to survive and join the ESL will play a 1-on-1 basketball game that lasts the three minutes it takes Juventus to build up an attack. During the time period, the captain that scores the most points will qualify along with his team. The losing team will get its assets sold and the money of it will go to the league, all the people in the club will be shot.
Those are our suggestions
While small clubs seem to operate and evolve slowly within their means. Other clubs manage to win a title or two as they focus on players they need only and pay them reasonable salaries creating excitement, everyone should join the ESL's effort to completely eliminate these kinds of clubs.
I have been your respected analyst and I am totally not paid by the ESL's propaganda team.
---
---