WORLD CUP DRAW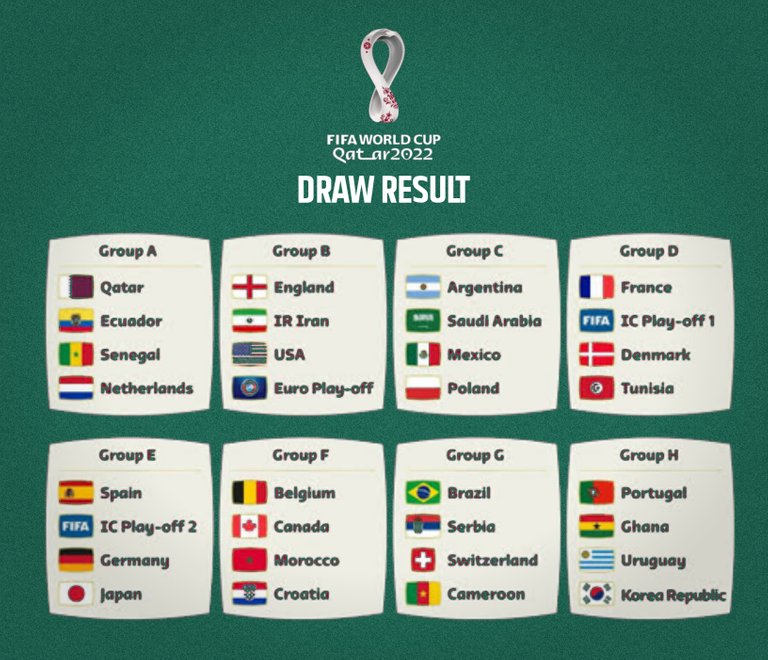 Image was designed by my using pixellab
Good day and let me use this opportunity to wish you, yes you a happy new month and welcome you to the Month of April. How time flies, can still remember when we entered the year and now we are already at the fourth month. The year have a notable event that will take place later in the month of June and that's what I want to talk about. The event is the FIFA world cup that will take place in Qatar 2022.
FIFA is the football world body and highest body that oversee the affairs of football in the world. They are responsible for organizing the almighty FIFA World cup. I know the world cup is always hyped and it's the dream of any play to play at the world cup and lift the trophy. For an event that happens every four years, I think it deserve the hype and prestige giving to it by the football world. I know people who do not like football or not interested in football may not know the impact of world cup and what it means to the fans.
Prior to any world cup, there are activities that take place in preparation. These activities are voting for the country that will host the next one and this is usually a battle among interested countries. Another activity is qualification phase were different countries contest for limited slots to partake in the competition. A total of 32 teams will partake in the this year world with 29 teams confirmed already.
It's a pity my country flag will not fly in Qatar in this year world cup. Nigeria was knocked out by fellow West Africa Rival, Ghana on a two legged games. The team had what it take to qualify but they didn't live up to expectation and they ended up disappointing everyone. Nigeria is a football nation and we value football very well. So it was a heartbreak to us to know our national team will not be in Qatar to represent us. This is the first time since 2006 that the Super Eagles will not compete in the tournament. Meanwhile another North Africa Egypt didn't make it too. Egypt was denied the spot by the same that denied them the Africa cup of Nation trophy Senegal. The Pharaoh's of Egypt was denied the spot on penalty shootout. This means that Mo Salah will not be in the Qatar 2022.
Another interesting development is that one of the greatest player will take part in this year's edition making it his 5th world cup tournament appearance. He took part in the 2006, 2010, 2014 and 2018 edition. I'm talking about Portuguese Cristiano Ronaldo. it was not easy for them but they pulled through to secure their spot at the world cup.
32 teams will take part in this edition for the last time before it will be expanded to 48 teams in 2026 edition. Below is breakdown of how each continents are represented.
Africa has 5 spots, North America has 4 spots, Europe has 13 spots, Asia has 5 spots, South America has 5 spots and Oceania has 1 spot.
The draw took place yesterday at Doha in Qatar and the teams that qualified were grouped. It was the Brazilian legend Cafu that was in charge on the spin and draw. There is a total of four teams per group and a total of eight groups. The who teams was grouped and fixtures drafted. Every team now knows who they will be playing against in the group stage of the tournament. Going through this groups, you will noticed that some group are not going to be tough as others. Some teams will have easy ride while some will have to ones.
Group G and H will be an interesting groups and I expect excellent performance from the members of the group. England, Argentina and France are in easy groups and this mean it will be easy for them to qualify to knockout stage. In group E I see Spain and Germany making it to next stage. We can only predict the outcome of the events but we are not sure if it will happen as predicted. I expect surprises in this year's world cup.
My question is which group is group of death to you and who are the contenders of this year's edition?.
---
---