Chelsea beat Stubborn Watford at Vicarage Road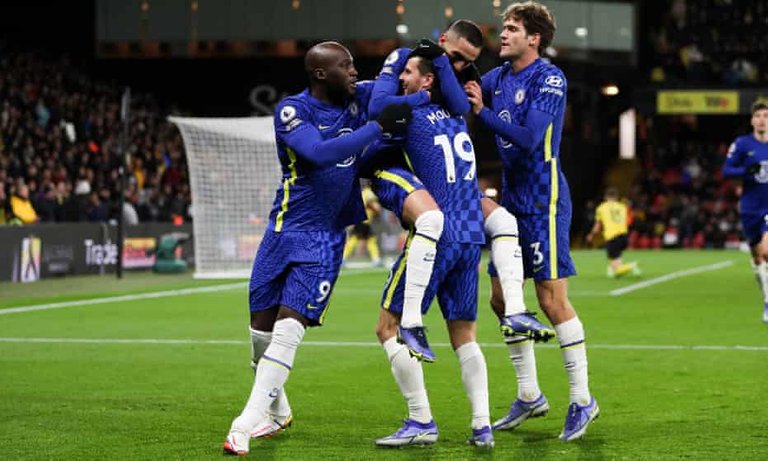 Image source
It's another round of the English Premier league and again another tough match which was never an easy one for Chelsea to win. Chelsea managed to win 2-1 against Watford to continue to stay on the first position. Chelsea was not that fearful with the Lineup made by Thomas Tuchel as there was no Jorginho and Kante in the midfield and also Having Adreas Christensen, Trevor Chalobah and Rudiger was not a good combination. The was a lot of error from the defense because Antonio Rudiger was well known for not staying at the back and loves to move out of his comfort zone.
This really affected this young player which resulted in pressure, if there is Thiago in the Starting line-up it could have been a stable defense but it was not easy to conquer Watford. There is no doubt that Watford are proving to be strong as they defeated Manchester United some weeks a go which resulted in fast sacking of Ole Gunnar Solskjaer when Manchester United Humiliated and the team couldn't bear it.
Chelsea, however didn't play well in this match despite having an Opening from Mason Mount in the first half but it's unfortunate that the game later resulted in 1-1 draw in the first half. But when they went for break there was a lot of talk to the players which had a possible impact on them as Niguez Saul was substituted after he didn't show well in the match. When Thiago Silva, Hakim Ziyech there was a good changes to the game and they were able to hive Chelsea a winning with 2-1. Romelu Lukaku came in there to perform his magic but he wasn't allowed to see the net.
---
---