My Participation in the Tournament Clove71 Twitch Giveaway Live Stream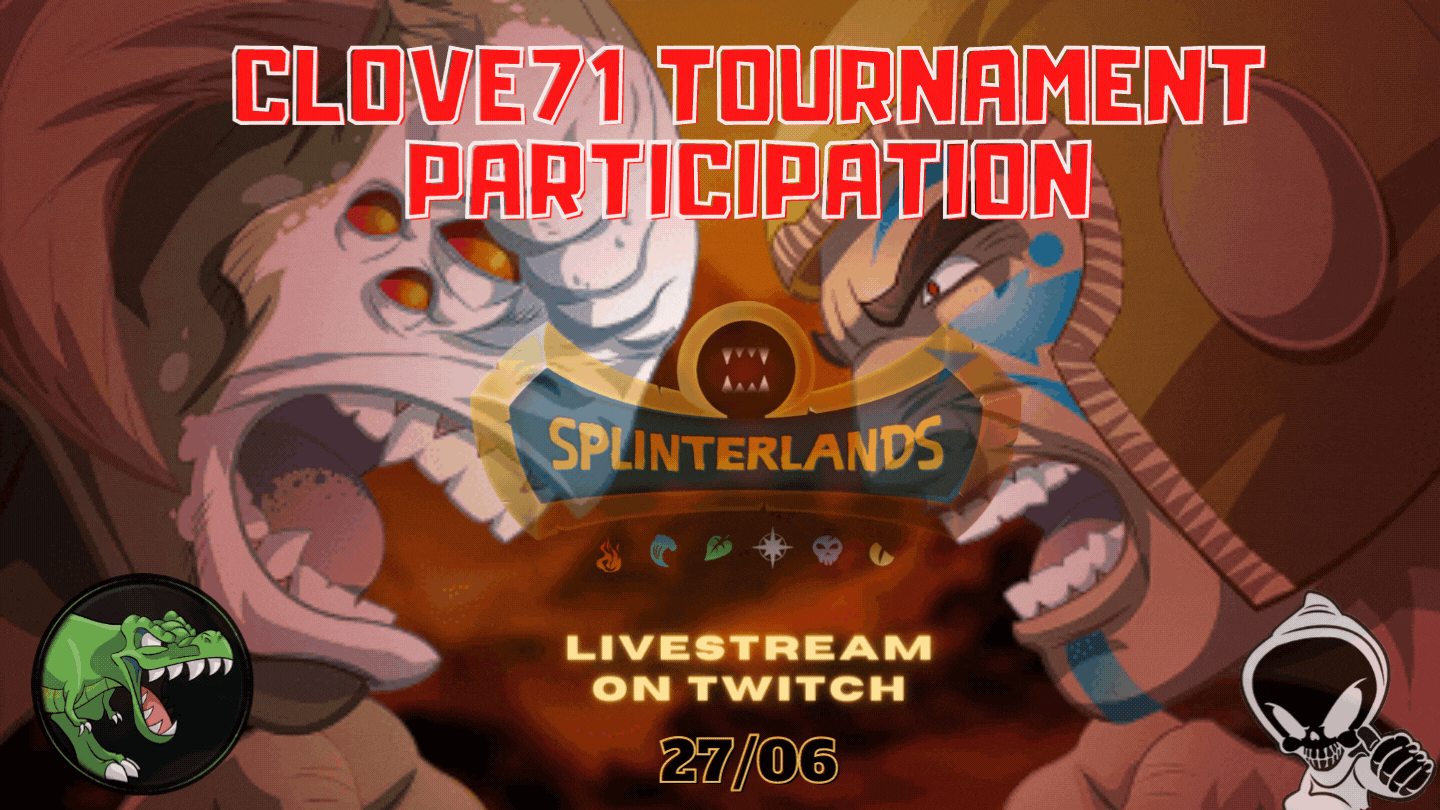 Tournaments in Splinterlands are one of the best opportunities for players to make huge profits.
But the reality is that many of these tournaments are impossible for new players or even old ones that don't have specific collections or a lot of staked and invested values to participate.
But @clove71 does tournaments every week with a low entry cost (1 DEC) giving everyone the opportunity to participate.
I participated in a Tournament, and despite the great dispute, I did well, considering my low deck power I have.

TOURNAMENT RULES
| | All Cards Playable may be used. |
| --- | --- |
| | This event has Silver League level caps for Summoners and Monsters |
TOURNAMENT REWARDS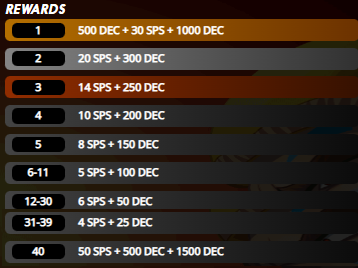 --- 1º BATTLE PHASE ---
BEST OF 1

Opponent: A player of my 70k POWER level and fighting in the silver league, it won't be hard to beat him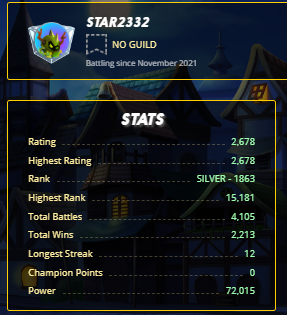 BATTLE

Details: Thinking that the opponent would come with the magic summoner so I used the MUSHROOM SEER to decrease the attack of all magic opponents, and that was decisive for my victory.


--- 2º BATTLE PHASE ---
BEST OF 3

Opponent: A player with POWER far superior to me. I fight in the diamond league and with great experience in the champion league, but that doesn't move me, because Splinterlands is a strategy game.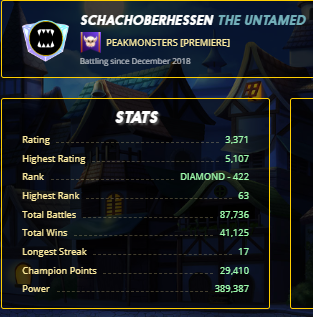 1ª BATTLE

Details: I rented the summoner YODIN ZAKU to do the daily quest, and then he made me have more strength with my choices and he was the one I chose for this match, my tank didn't suffer from the negative effect of Noxious Fumes, and with the explosions I managed to win- it.

2ª BATTLE

Details: Again I chose YODIN ZAKU and my opponent with his dragon deck, and again I got the advantage, because my attack power was much higher, with the possibility of monsters from a distance to attack in the first position, the explosion made my opponent's every attack suffer irreversible damage and managed to overcome it and advance to the next phase.


--- 3º BATTLE PHASE ---
BEST OF 3

Opponent: Another very strong opponent, diamond league player and with a lot of experience in the champion league. This player's Power makes me look like a mosquito to face him, but as you can see, I got through this phase with a lot of 2v1 fight.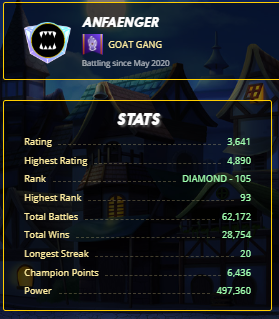 1ª BATTLE
Details: I chose to focus on NECTAR QUEEN but the enemy tank had damage reduction managing to defend many attacks and surviving the earthquake, not giving my strategy a chance in this battle.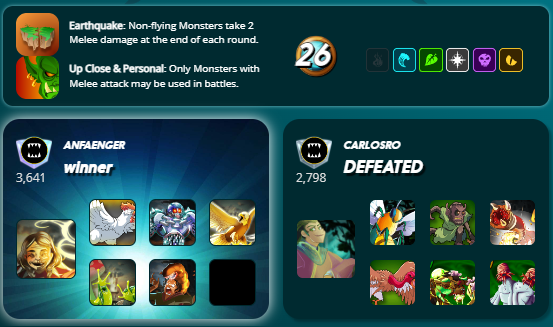 2ª BATTLE
Details: A hard fought battle, the enemy KRON seemed to be invincible because his healing was working very well, but each round his health got smaller. I was lucky that in the last round SILENT SHA-VI went into a rage and increased its attack, managing to annihilate KRON.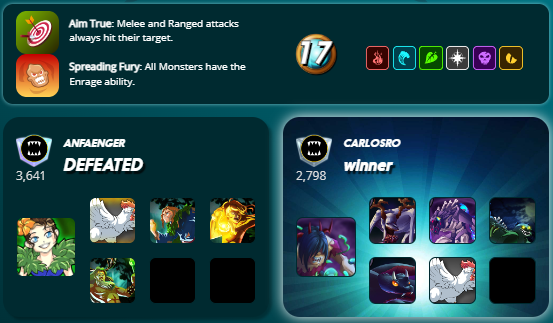 3ª BATTLE
Details: YODIN was my chosen to leverage the attacks in this battle, I managed to surprise the opponent with the explosions and damage caused, leaving no chances, and winning this phase.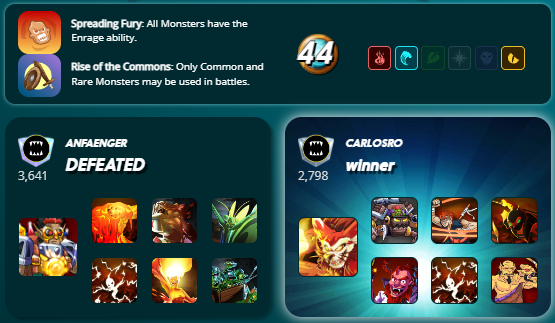 --- 4º BATTLE PHASE ---
BEST OF 3

Opponent: A diamond league player opponent, but with low POWER, so it could be a good contest, but as you can see I couldn't advance and the tournament ended for me at that stage. 😭

FINAL CONSIDERATIONS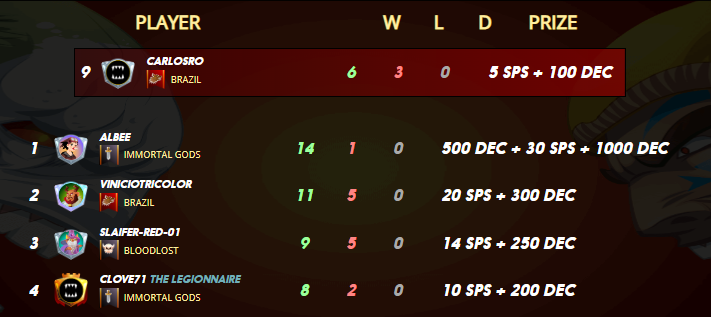 Out of 184 entries I finished the Tournament in 9th earning 5 SPS + 100 DEC remembering that it only cost me 1 DEC to participate
In addition to playing the tournament, I was on the live broadcast on Twitch interacting with clove and everyone in the chat, and in this Live Stream it is possible to win gifts and I was drawn. I got a letter: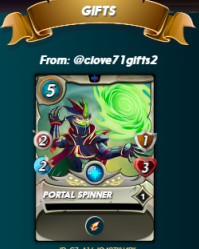 So what are you waiting for to participate in tournaments and have the opportunity to win rewards and gifts, don't waste time, there are several ways to win in Splinterlands
Here is the Next Tournament Clove71 Twitch Giveaway Live Stream
♥️ Thanks for reading ♥️

Let's go on this adventure together?
Enter the Game Here: Splinterlands
Follow me on Social Media
Twiter
Instagram
Facebook

---
---