Strengthening the deck with new cards - Splinterlands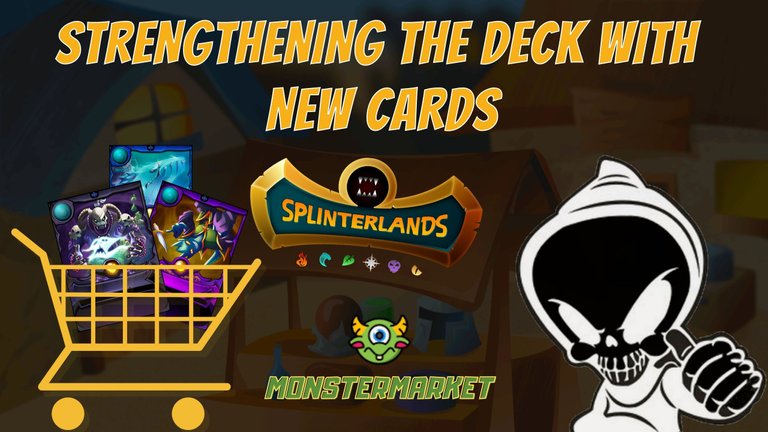 Hello everyone, everything good?
I come here to tell you the news about my journey in Splinterlands

After all the changes that have been implemented recently in Splinterlands, I'm more motivated and willing to stick with the game and also here on the blog, as it's a great source of fundraising to invest in the game.
With the rank rank split, and looking at my deck, I see that it's viable to continue Wild Ranked for now, even though Modern mode is giving a higher return in DEC per battles.
I'm not the one who buys PACKs, I see how much the card can serve me, its efficiency and I research the market. So I do an analysis on all the purchases I intend to make, and of course, taking advantage of market down cycles is essential.
I believe that Splinterlands has a lot to grow and is currently at great prices to acquire cards and reinforce my deck, so I went shopping.
Aiming to participate in Modern CHAOS LEGION tournaments, I focused on looking for cards I didn't have to help me in battles or just to compose my deck and have as an option if I need to.
| QUIX THE DEVIOUS very powerful legendary dragon summoner. 💵($15.98) DEC 25318 | |
| --- | --- |
| BAAKJIRA legendary monster of the Water Element. 💵($5.57) DEC 8825 | |
| RIVER HELLONDALE legendary monster of the Water Element. 💵($4.19) DEC 6648 | |
| WAVE BROOD epic monster of the Water Element. 💵($1.38) DEC 2192 | |
| TEMPORAL MASTER Life Element epic monster. 💵($0.25) DEC 401 | |
| INSIDIOUS WARLOCK Epic Death Element monster. 💵($0.27) DEC 436 | |
| DJINN MUIRAT Legendary monster of the Death Element. 💵($3.95) DEC 6261 | |
TOTAL PURCHASES 💵($31,60) DEC 50.081
How I bought in monstermaket, I received cashback on the purchase of 1581 DEC
My deck is now like this

Number of cards: 1593
🔘Common: 1123 🔘Rare: 351 🔘Epic: 82 🔘Legendary: 37
Alpha: 0
Beta: 12
Promo: 2
Reward: 1143
Untamed: 201
Dice: 51
Gladius: 10
Chaos: 174
Gold cards: 43


All cards are extremely important and will help me a lot in my battles
There are still a few cards left to complete the CHAOS LEGION collection, but I'm already planning to buy them. And then evolve them.
I also completed at Stake 600 SPS and now I can participate in the Tournament Summoners' Novice Beginner Training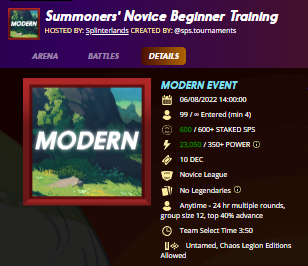 Now it's time to practice and battle. Come on!
♥️ Thanks for reading ♥️

Let's go on this adventure together?
Enter the Game Here: Splinterlands
Follow me on Social Media
Twiter
Instagram
Facebook

---
---