Weekly Challenge (SHARE YOUR BATTLE) - DRAGONS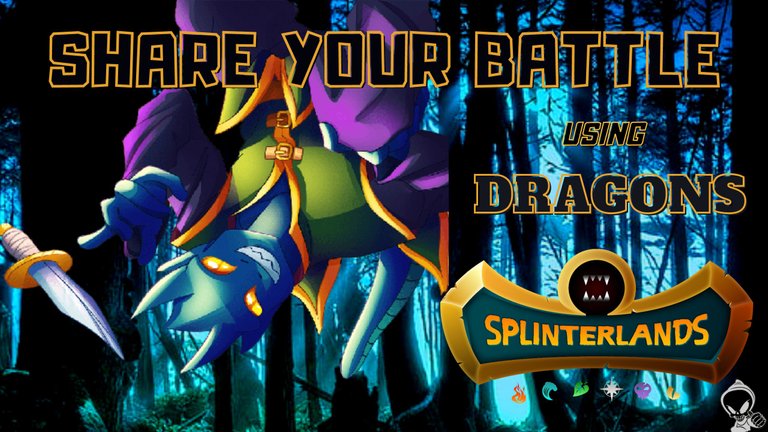 Hello guys,
I will share with you a battle that I used DRAGONS to enter the
Weekly Challenge - SHARE YOUR BATTLE

THEME: DRAGONS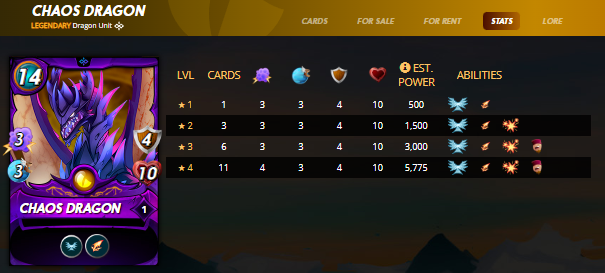 My opinion about DRAGONS
Dragons are the most terrifying and fearsome monsters in Splinterlands. I think it's the most complete and powerful element.
Do I have card DRAGONS?
Yes I have some dragons, and I always try to buy when a new one comes out. Like my recent acquisition, legendary summoner from the CHAOS LEGION collection.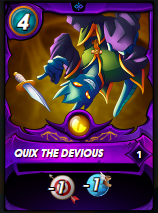 ------ RULES BATTLE------
| | MANA CAP |
| --- | --- |
| | Noxious Fumes: All Monsters start the battle Poisoned. |

------ CHOSEN ELEMENT ------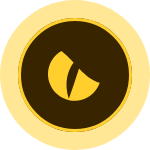 ------ SUMMONER ------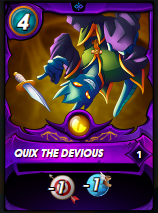 ------ MONSTERS AND POSITION ------
| | | | | | |
| --- | --- | --- | --- | --- | --- |
| 1ª POSITION | 2ª POSITION | 3ª POSITION | 4ª POSITION | 5ª POSITION | 6ª POSITION |

------- STRATEGY DETAILS ------
I chose the Dragon summoner QUIZ THE DEVIOUS to delay the enemy's attacks and I get who knows how to be faster for killing one of them.
1ª POSITION: GRUM FLAMEBLADE will be my tank, with its high health and armor it can hold many mostly magic attacks.
2ª POSITION: CHAOS DRAGON is a very powerful and fearless dragon. Its random attacks can surprise enemies from any position.
3ª POSITION: CREEPING OOZE will further slow enemies down, thinking only of the first round as the poison will kill.
4ª POSITION: SAND WORM will try to kill the last enemy or at least deal a lot of damage and let the poison finish killing him.
5ª POSITION: LAVA LAUNCHER has great armor and can do great attacks on the enemy tank.
6ª POSITION: ETTIN SPEARMAN has the ability to pierce enemy armor and can help break any armor if it hits, with its high health it can be useful.

------ BATTLE ------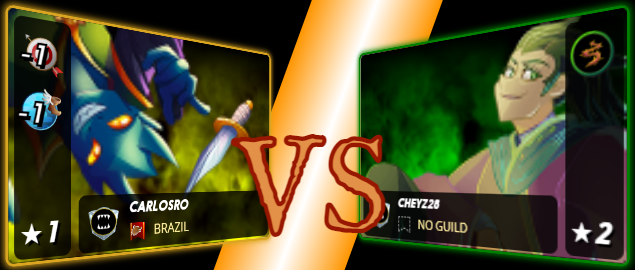 👆CLICK ON THE IMAGE TO SEE THE BATTLE 👆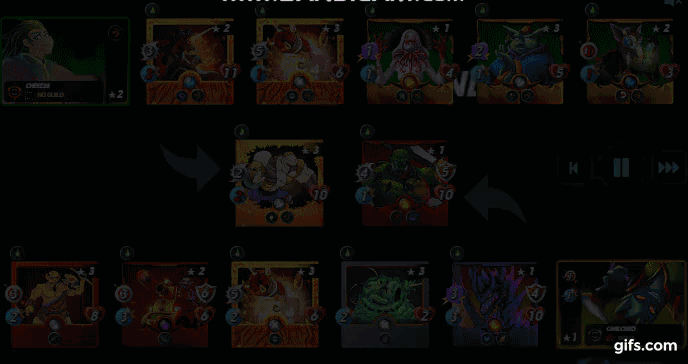 👆 My strategy of slowing down the enemy has worked and my monsters will attack first. The THORNS can hinder me in this battle but my tank is very strong against most enemy magic attacks.
👆1º Round: The enemy team was punished a lot with my attacks, but the healing ability made it recover almost all the damage I did.
👆2º round: The poison made almost all the battle monsters fragile, and as my team attacked first it could take advantage and kill some enemy monsters. The dodging of the enemy tank made me doubt if I would still win this battle.
👆3º round: Once again the poison punished all the monsters but as I have the best speed in the game I was able to kill 2 more enemy monsters leaving only 1 for the next round.
👆4º round: Even with magic damage reduction the enemy monster suffered from the Dragon's magic damage, my armor protecting me from its fierce attack.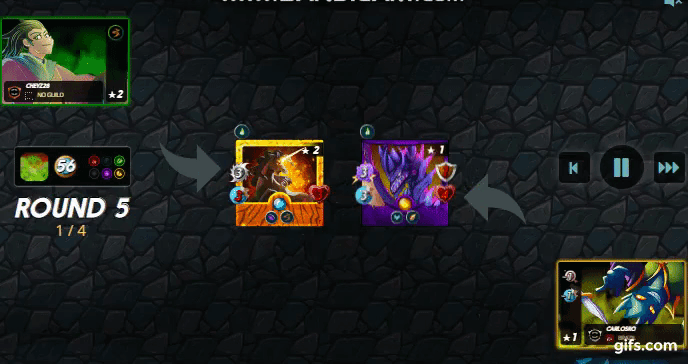 👆5º round: With the enemy's health low my Dragon is faster and can finish and consecrate me in this battle.


------ FINAL CONSIDERATIONS ------
This battle was very difficult, as the opponent came with monsters focused on surviving as long as possible with their healing abilities, and with armor. But my strategy of delaying his attacks and getting to attack first was the differentiator.
The summoning Dragons QUIX THE DEVIOUS and CHAOS DRAGON were essential in this battle, as together they became very effective, making the enemy weaker round by round even with the healing.
I love to use dragons in battles, the legendary summoner makes it possible to use evolved monsters and it was my best recent purchase, I believe it will value a lot for the future, because it is very good, at least in the minor leagues.
♥️ Thanks for reading ♥️

Let's go on this adventure together?
Enter the Game Here: Splinterlands
Follow me on Social Media
Twiter
Instagram
Facebook

---
---