Weekly Challenge (SHARE YOUR BATTLE) - FLYING SQUID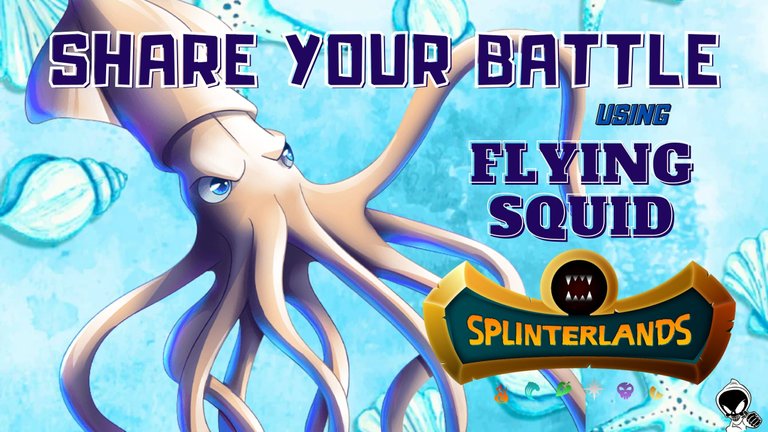 Hi people,
Will share with you a battle that I used FLYING SQUID to enter the
Weekly Challenge - SHARE YOUR BATTLE

CARD THEME: FLYING SQUID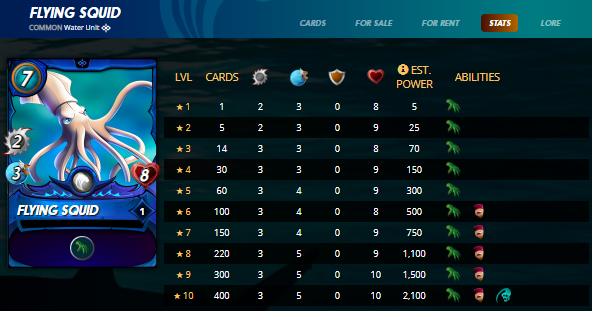 My opinion about FLYING SQUID
FLYING SQUID is a very efficient and usable card in my ranked battles. It is a great "sub-tank", as it has great attack speed and health values in its stat. Although it has a high MANA cost, it can compensate with its efficiency in battles.

Do I have card FLYING SQUID?
Yes, I have FLYING SQUID at level 3. Most of the time I choose the Water element it is summoned. It's a card that I'm going to try to evolve it because at higher levels it improves your stats and abilities a lot.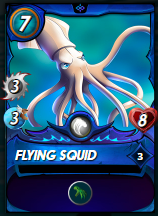 ------ RULES BATTLE------
| | MANA CAP |
| --- | --- |
| | Explosive Weaponry: All Monsters have the Blast ability |

------ CHOSEN ELEMENT ------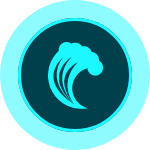 ------ SUMMONER ------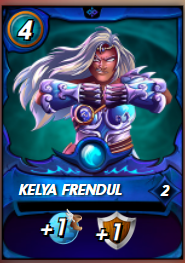 ------ MONSTERS AND POSITION ------
| | | | | | |
| --- | --- | --- | --- | --- | --- |
| 1ª POSITION | 2ª POSITION | 3ª POSITION | 4ª POSITION | 5ª POSITION | 6ª POSITION |

------- STRATEGY DETAILS ------
High mana and explosion rule benefits a lot using Keyla as a summoner because it adds more armor being able to defend against explosion damage, and I also believe that the water element has the fastest monsters. Because in this game, whoever attacks first can be closer to victory.
1ª POSITION: THE KRAKEN is a tank of respect. With his ability to focus attacks on him, he can defend many attacks and leave all friendly monsters unconcerned.
2ª POSITION: FLYING SQUID is the weekly challenge card, it's a great monster for this battle because it will receive a lot of explosion damage, and its high health will be very useful.
3ª POSITION: DEEPLURKER has OPPORTUNITY as an ability and goes straight to the lowest health monsters, causing the explosion to damage weaker enemies.
4ª POSITION: SAND WORM is a monster eater from the back line, with its high attack it can destroy the last enemies.
5ª POSITION: AZMARE HARPOONIST with his ranged attack can hit and knock down any flying enemy.
6ª POSITION: AXEMASTER in the last position because it's fast, and when KRAKEN dies, if he's the target, try to dodge. In addition to attacking twice in the same round, it is a monster that I use a lot.

------ BATTLE ------
👆CLICK ON THE IMAGE TO SEE THE BATTLE 👆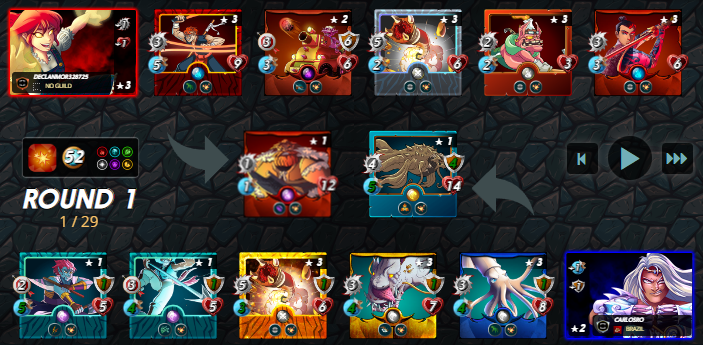 👆 My opponent chose the fire element, which can be very good for having a considerable increase in attack, but it can be bad in speed and health, which in this battle is very important, so my strategy of attacking the fastest and my armor can be the key piece.
👆1º Round: A real battle with a lot of damage involved in this first and fiercest round. My monsters attacked and blasted the enemy, causing the tank to melt and its back line to suffer greatly. THE KRAKEN maintained its supremacy and defended all incoming attacks, FLYING SQUID also held back the damage caused by the explosion.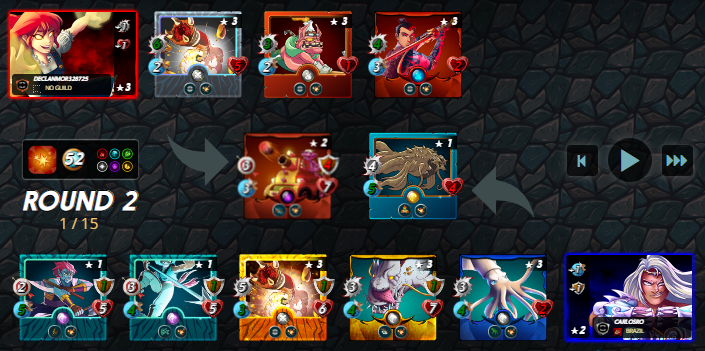 👆2º round: Everything progressed quickly and overwhelmingly, there was no time to even let it attack and my team has already massacred the enemy.


------ FINAL CONSIDERATIONS ------
My strategy made the enemy have no chance to react. The quick and accurate attacks made the difference, as the explosion rule dealt irreversible damage to all enemy targets.
FLYING SQUID is a monster that I use a lot, and I will definitely evolve more and more, as I find it very strong with its high health and ability to attack from second position.

♥️ Thanks for reading ♥️

Let's go on this adventure together?
Enter the Game Here: Splinterlands
Follow me on Social Media
Twiter
Instagram
Facebook

---
---