Weekly Challenge (SHARE YOUR BATTLE) - SCAVO FIREBOLT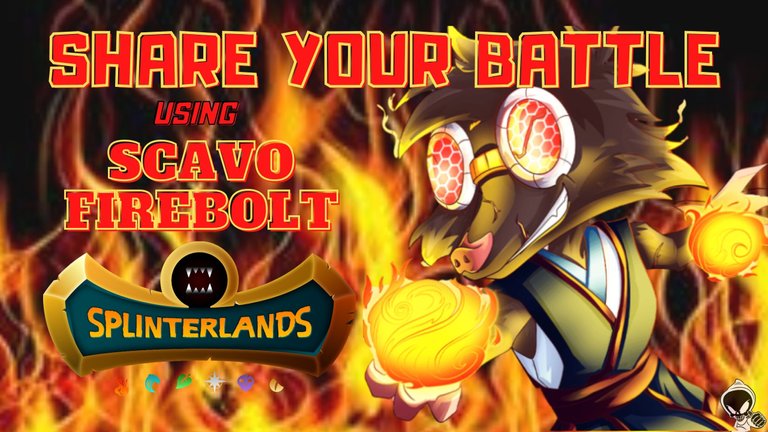 Hi my friends,
Will share with you a battle that I used SCAVO FIREBOLT to enter the
Weekly Challenge - SHARE YOUR BATTLE

CARD THEME: SCAVO FIREBOLT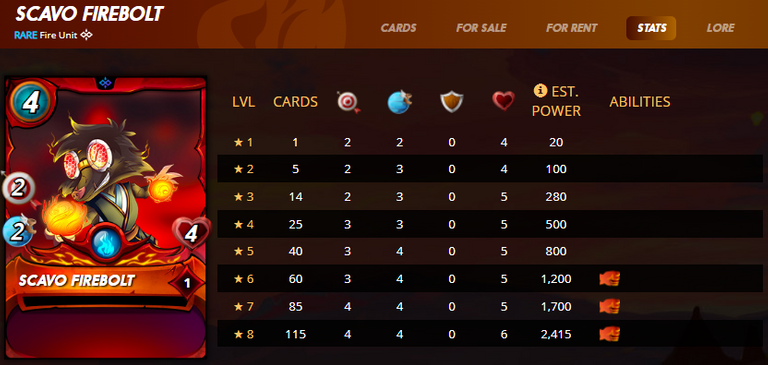 My opinion about SCAVO FIREBOLT
I think SCAVO FIREBOLT is a reasonable monster in terms of stats, as it has a cost of 4 MANA, giving 2 attack and 4 health already at its level 1. But the card's lack of skill makes its use questionable, too. because it is of the fire element, that the summoner I use increases melee attack, making me choose more melee monsters. Maybe SCAVO FIREBOLT would be a great monster if it was full up and with the Yodin Summoner combo, which would increase its attack.

Do I have card SCAVO FIREBOLT?
Yes, I have SCAVO FIREBOLT in my deck, I think everyone should have it, because despite not having skills, it can help the team with its attack in the back line


------ RULES BATTLE------
| | MANA CAP |
| --- | --- |
| | Holy Protection: All Monsters have the Divine Shield ability. |
| | Taking Sides: Neutral Monsters may not be used in battles. |

------ CHOSEN ELEMENT ------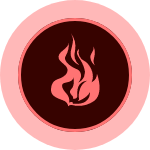 ------ SUMMONER ------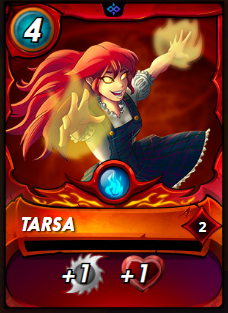 ------ MONSTERS AND POSITION ------
| | | | | | |
| --- | --- | --- | --- | --- | --- |
| 1ª POSITION | 2ª POSITION | 3ª POSITION | 4ª POSITION | 5ª POSITION | 6ª POSITION |

------- STRATEGY DETAILS ------
TARSA will be my summoner, and I will focus on choosing melee monsters for this battle to take advantage of their Buff in attack and have this advantage to crush the enemy team
1ª POSITION: LIVING LAVA will be my tank because its damage reduction skill can hold a lot of attacks in the front line, leaving my other monsters carefree. But it's very vulnerable against magic monsters, so I'll be apprehensive in that regard.
2ª POSITION: RADIATED BRUTE in the second position and helping in the attack, as the summoner's attack buff makes it very powerful
3ª POSITION: SERPENTINE SPY he is the one who will be my first monster to attack and this can be essential for the battle, as it destroys the enemy's protection that is as a rule in this battle, thus leaving it vulnerable
4ª POSITION: KOBOLD MINER will be the one to focus on the enemy's back line, to look for those ranged attackers who may have little health
5ª POSITION: SCAVO FIREBOLT it's the monster of the week, and it will be the damage dealer in this game, it has a high health but I chose this position to protect it
6ª POSITION: SCORCH FIEND then it will be in the last position, it will be my bait for any enemy SNEAK or OPPORTUNITY monster. Since I don't have any MANA cost to use it, I use it as bait.

------ BATTLE ------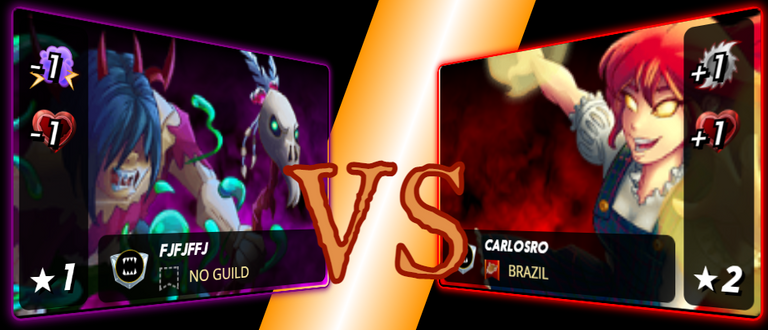 👆CLICK ON THE IMAGE TO SEE THE BATTLE 👆
👆 My opponent chose the Death element, reducing magic and health, but as my summoner increases health, there was no difference, and I didn't choose magic monsters either. Thus making my choice of Fire better.
👆1º Round: At the beginning of the battle we realized that my strategy of placing SCORCH FIEND was very good, as it managed to serve as bait for 2 enemy attacks. The enemy tank with its THORNS skill managed to disable the protection of some of my monsters, and to finish LIVING LAVA still misses its attack on him 😢
👆2º round: SERPENTINE SPY defeated an enemy with his precision and SCAVO FIREBOLT managed to hold back the incoming attacks, again the spikes punish RADIATED BRUTE and LIVING LAVA is lost in battle because his slowness doesn't let him hit his attack on the enemy 😤
👆3º round: At the end I manage to kill the enemy tank, but after the spikes my front line is injured and LIFE SAPPER getting stronger with each round sucking the health of my tank.
👆4º round: SERPENTINE SPY is the name of this battle, its speed, together with its high attack power, manages to finish off one more enemy, but now I have to duel with 2 magic monsters.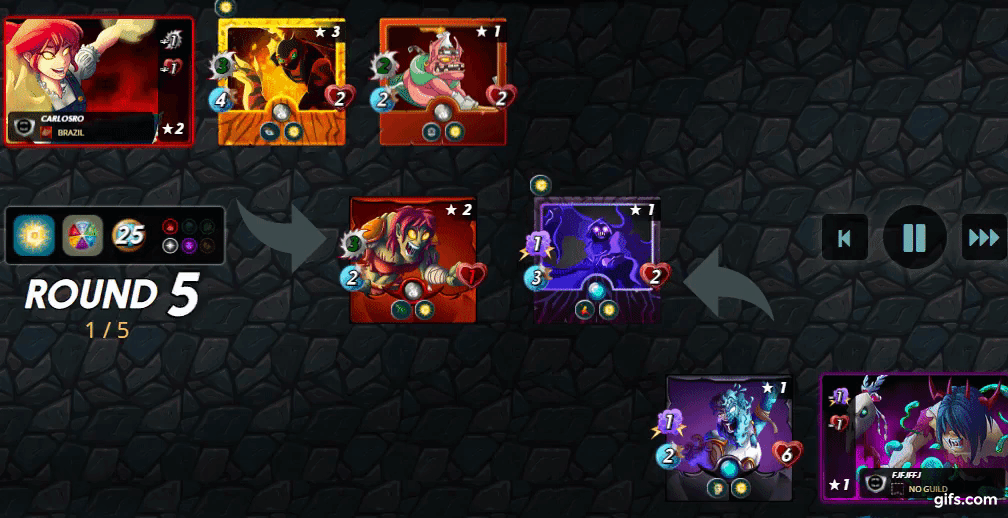 👆5º round: I can take my enemy's protection and leave him vulnerable for the next round, but that's a problem because SERPENTINE SPY is also on the front line without protection.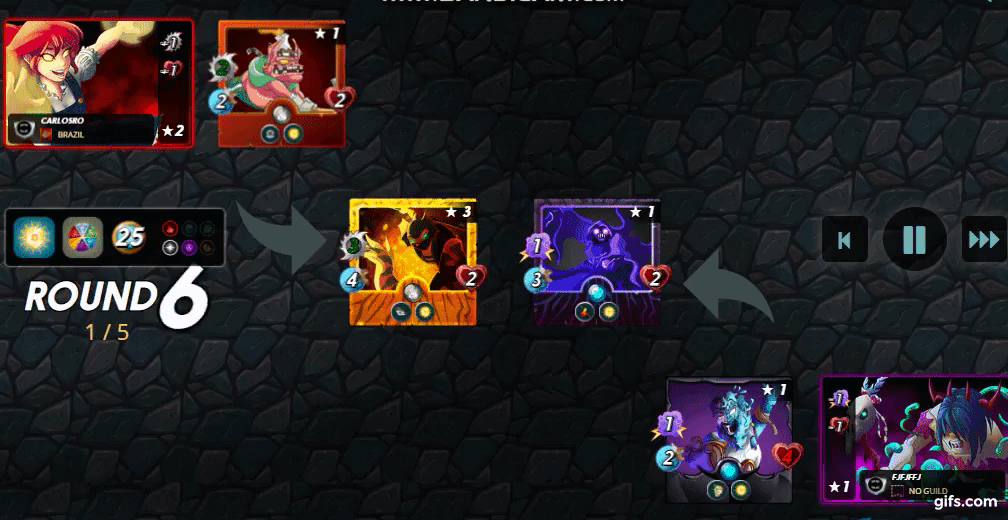 👆6º round: I can finish an enemy, but now the last one is missing, I can hold it for one more round by being very lucky, because my enemy only has 1 magic attack power
👆7º round: SERPENTINE SPY's speed was essential to this victory, dealing massive damage and massacring all of its targets in every battle. 😎🎉

------ FINAL CONSIDERATIONS ------
The battle was very close, the enemy tank did a lot of damage with its THORNS skill on my monsters, but still my high attack power along with the speed of SERPENTINE SPY was important to finish my opponent.
Regarding the SCAVO FIREBOLT it was also very important in this battle, as its high health in the back line managed to defend good enemy attacks. It's not a monster I'm going to focus on leveling up, as it doesn't benefit me with any skills, only at higher levels.

♥️ Thanks for reading ♥️

Let's go on this adventure together?
Enter the Game Here: Splinterlands
Follow me on Social Media
Twiter
Instagram
Facebook

---
---