Bonnet Orchid Day in Ku-ring Gai Chase NP: January 27 2023
Another one of those "What did I do this morning days?" Was hot and humid after overnight rain. Work day for my wife working at home. She is at war with the dog we are looking after. He sleeps all day and is mobile all night. Guess I wrote up investing stuff.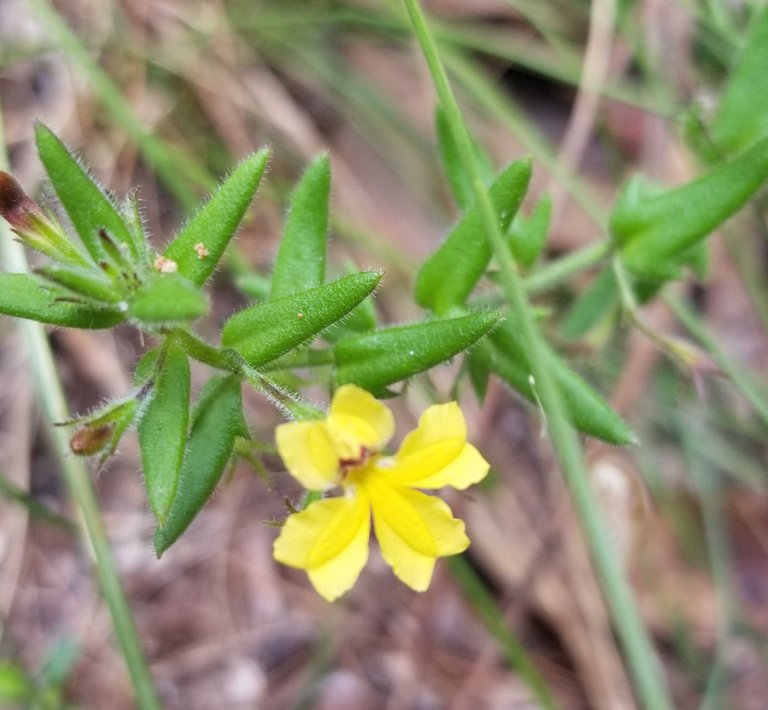 Ride down the hill to walk a track looking for wasp orchids - known locations and the season is coming. The disappointing part is the lower slopes have been blown to smithereens with heavy duty leaf blowers. Got to make do with other things - variable-leaved goodenia. Did take lots of other small flower photos - too small for good photos - deleted the lot.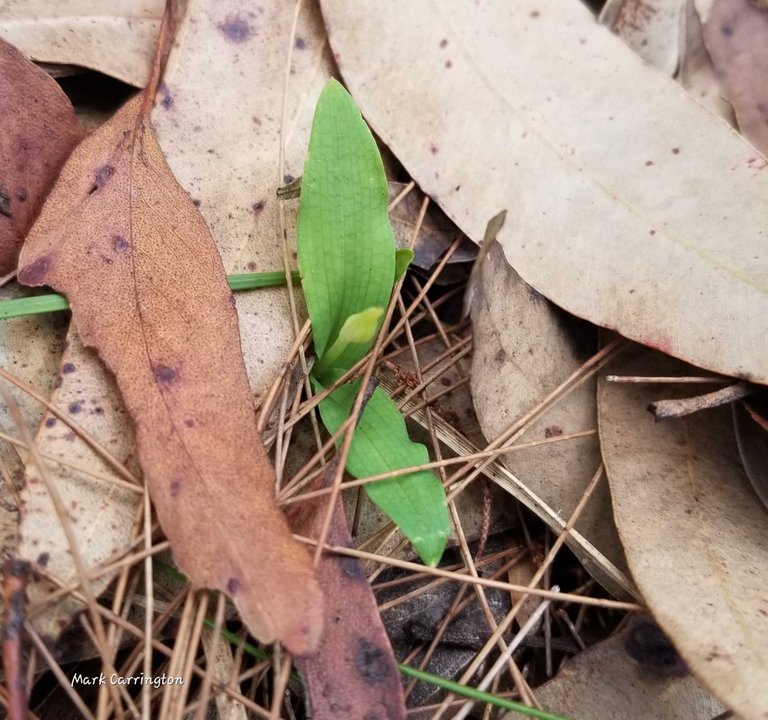 Did find one budding wasp orchid - only one or two leaves seen. Were hundreds last year.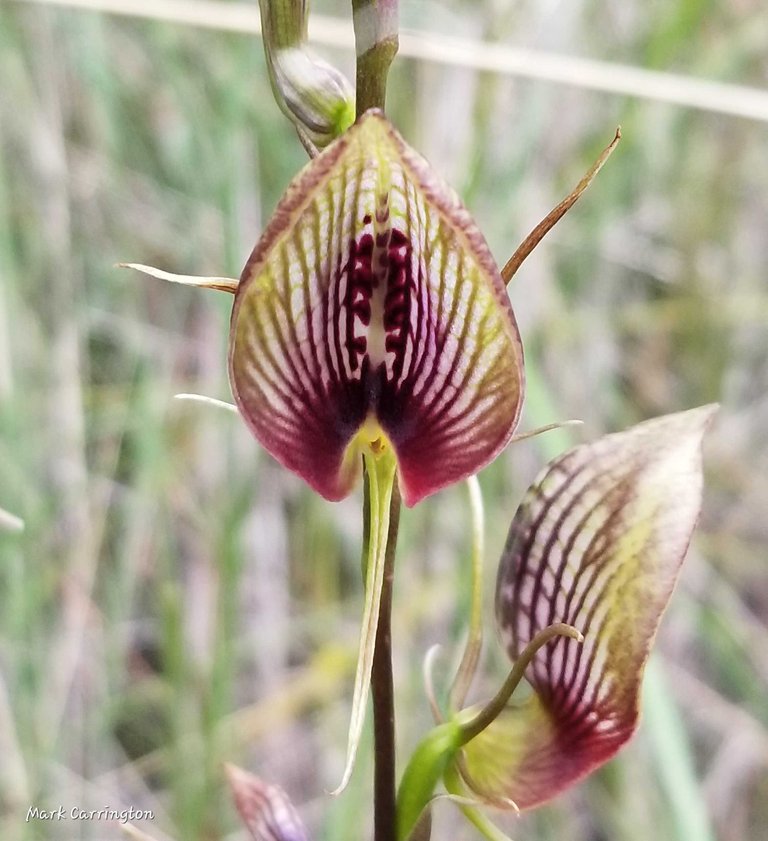 Bonnet orchid standing tall above the grass with no sign of the leaf below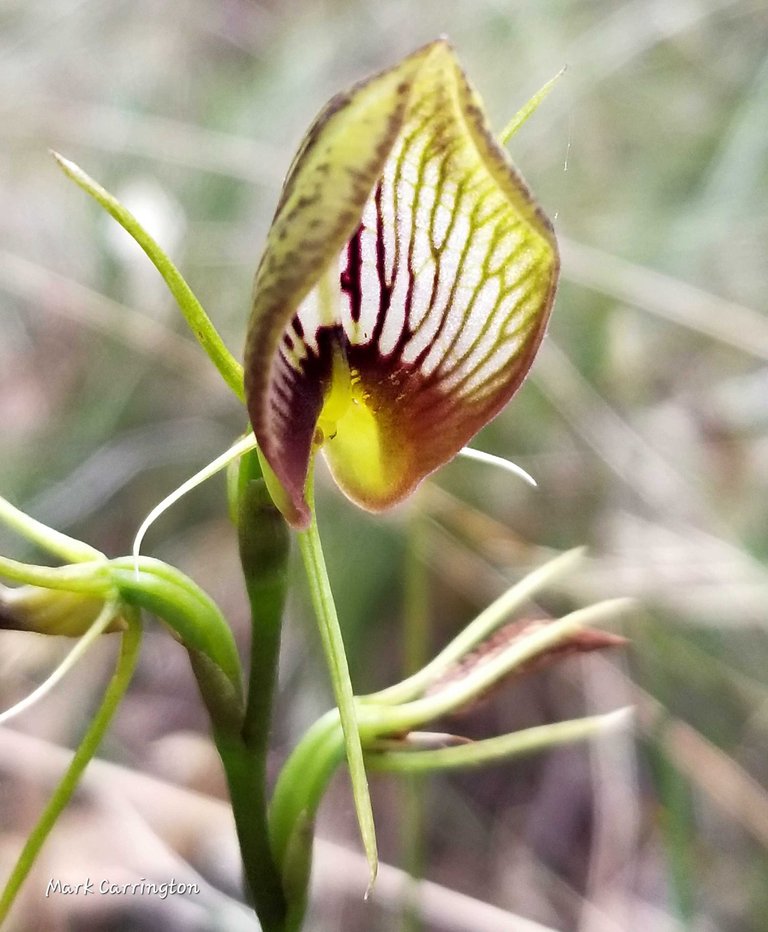 This was the first orchid of the day - quite a few in new spots going up to Regional Office and further up to Kalkari Visitor Centre track - cryptostylis erecta
Spotting is easy - looking for the single leaf with a tinge of burgundy - then find the flower spike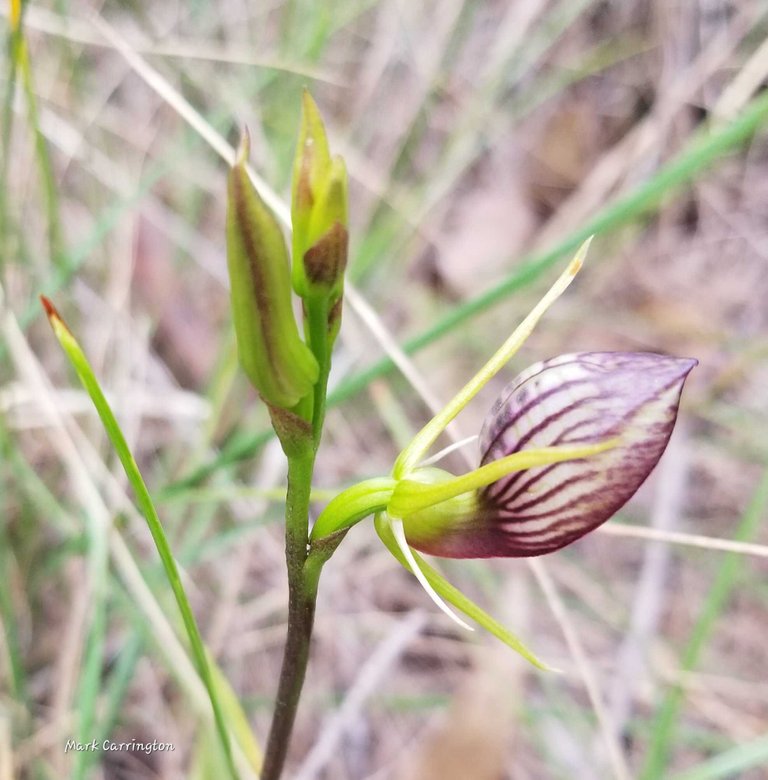 Side on - a bit like the Opera House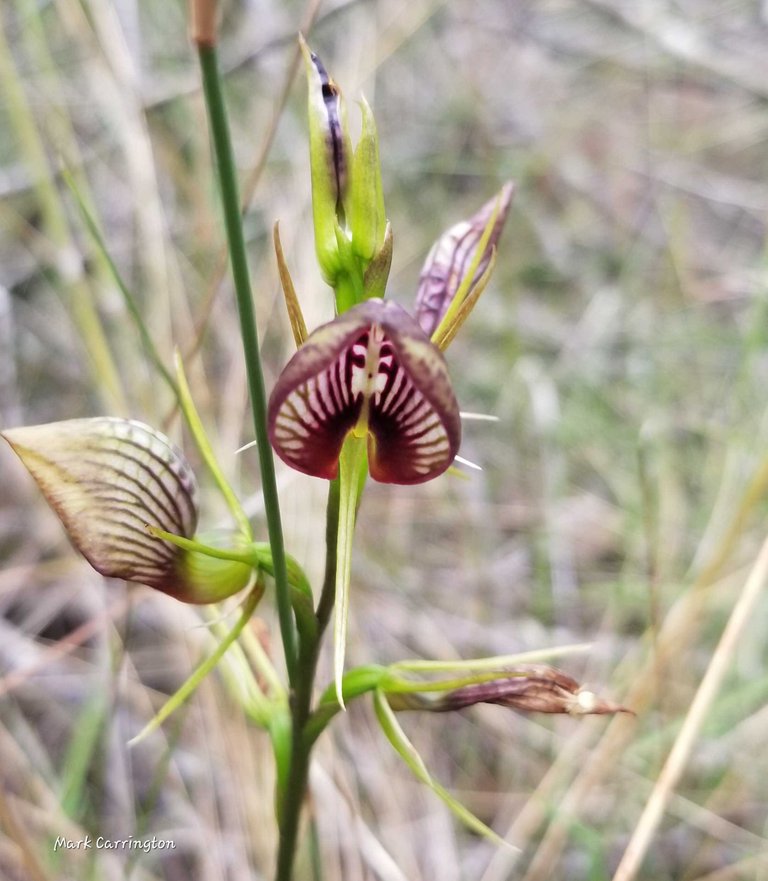 Front on - cryptostylis erecta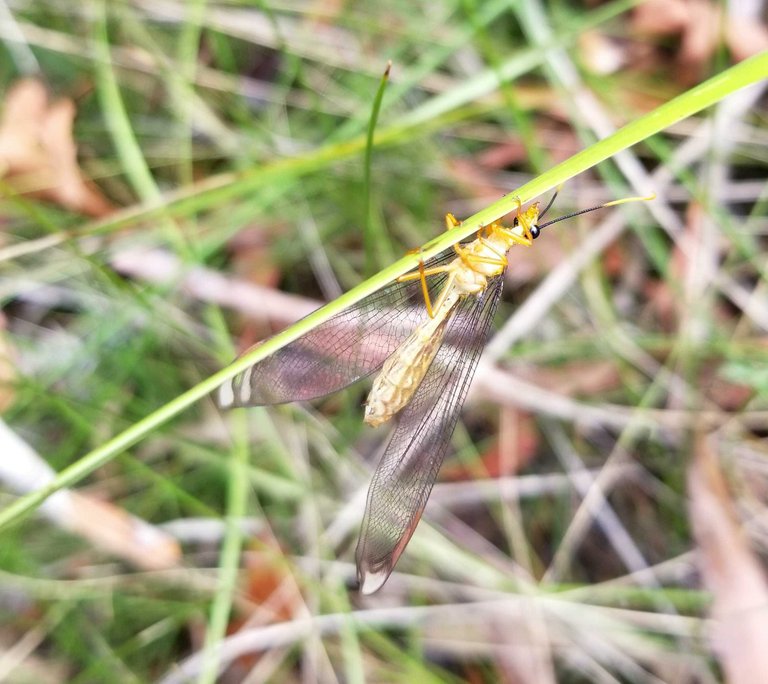 Saw a flip-flap of wings - same bug I saw the day before. This time I got a photo in focus as the bug picked a grass spike facing to the sky - blue eyes lacewing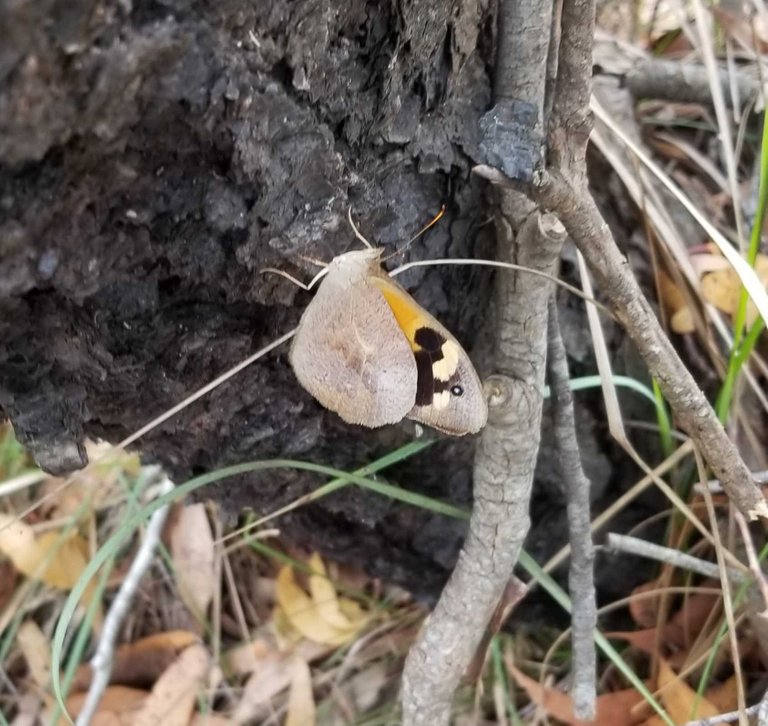 Was a day for butterflies too - not sure I have the patience to photograph them. Need a big lens and to keep following. I follow maybe 20 metres till they stop. Then I give up.
I have noticed that orchids do not like areas with casuarina or she-oak trees - the needles they drop are too acidic for orchids
Just to prove the rule this bonnet orchid is growing totally in casuarina leaf litter.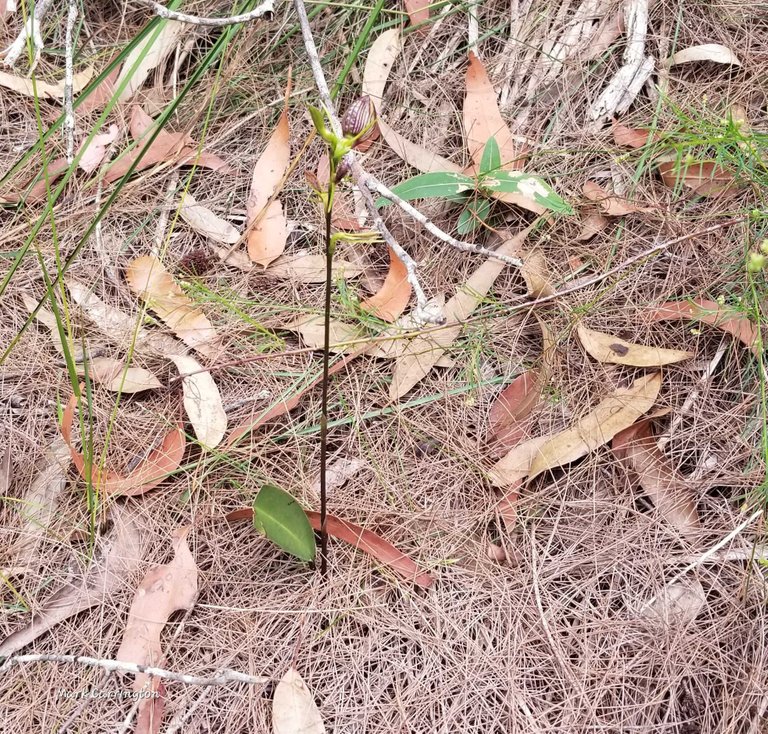 Reached the track that comes down from the Kalkari Discovery Centre - I hate seeing these markers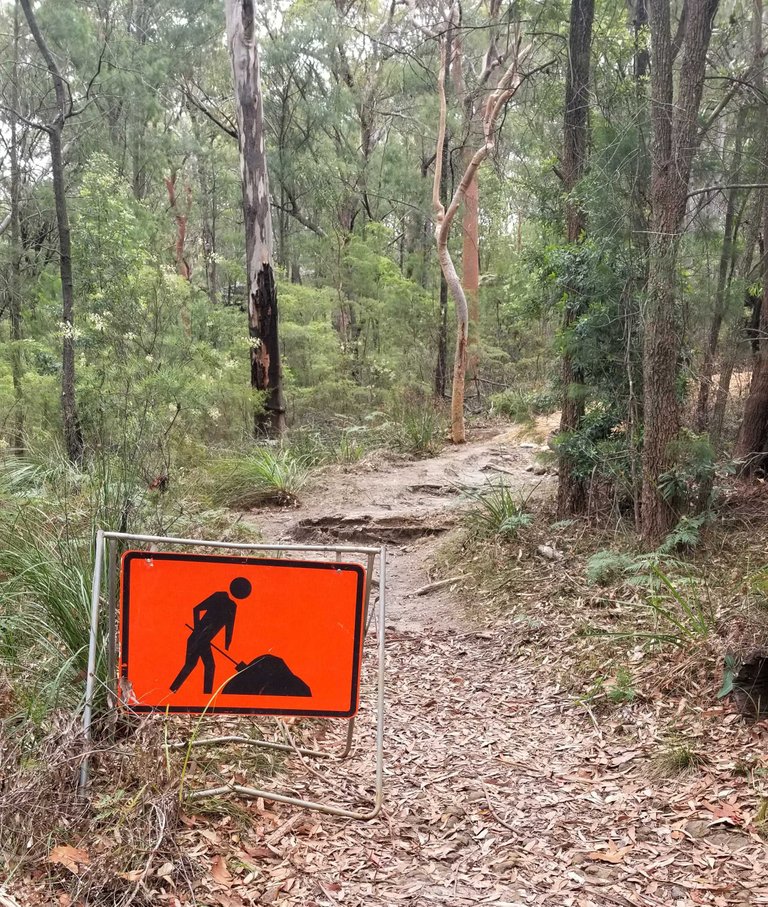 Up the track a bit where they have laid a new section. I have marked where there was a step built in - just to the right of that was a colony of bearded orchids.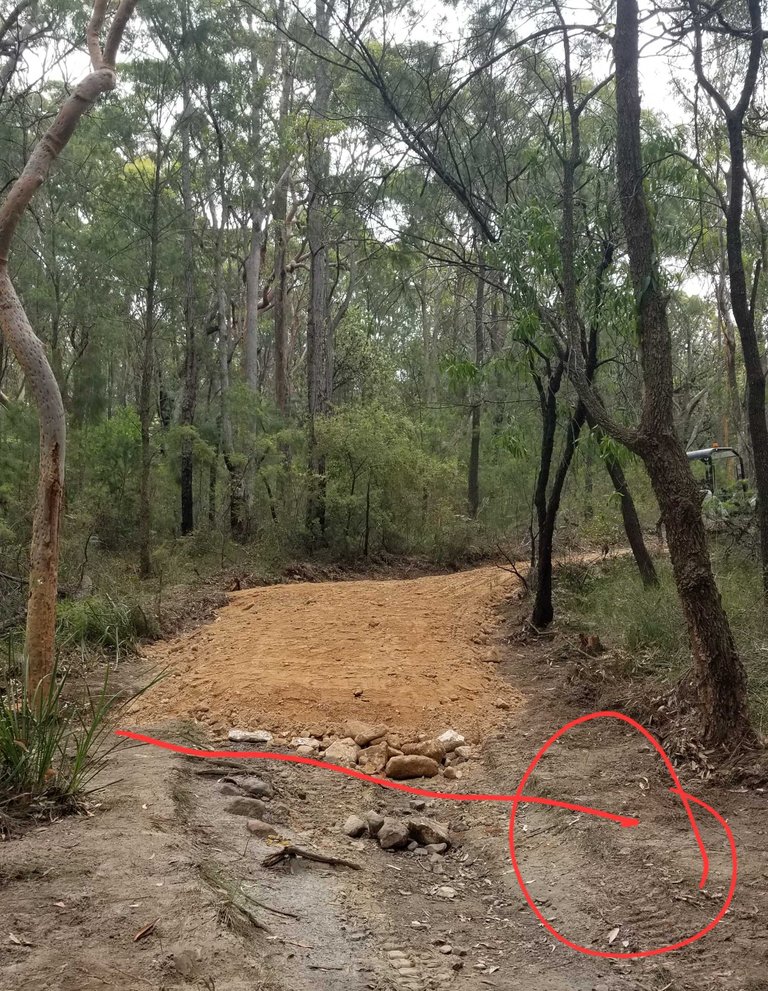 The circle is where they were - gone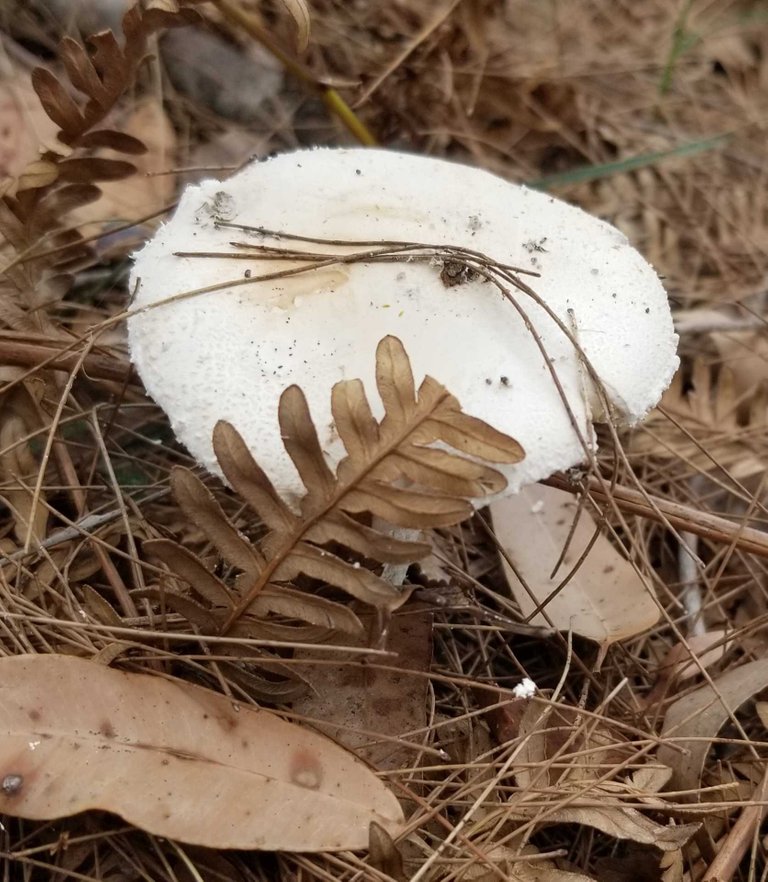 Had some rain enough to get mushrooms emerging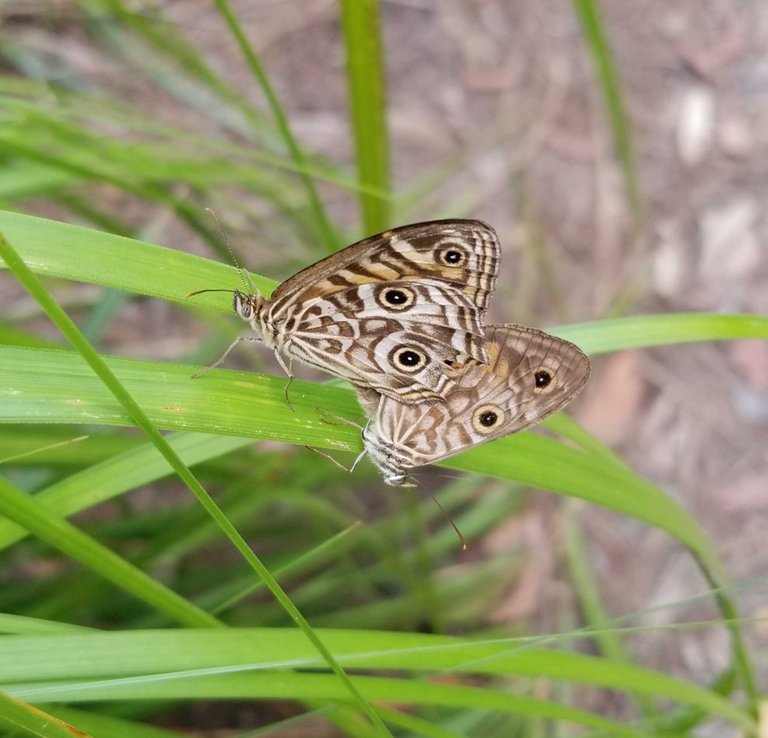 I did wait for these butterflies - saw them fly, stop, fly and stop again. They are mating while they fly - flying fucks has a new meaning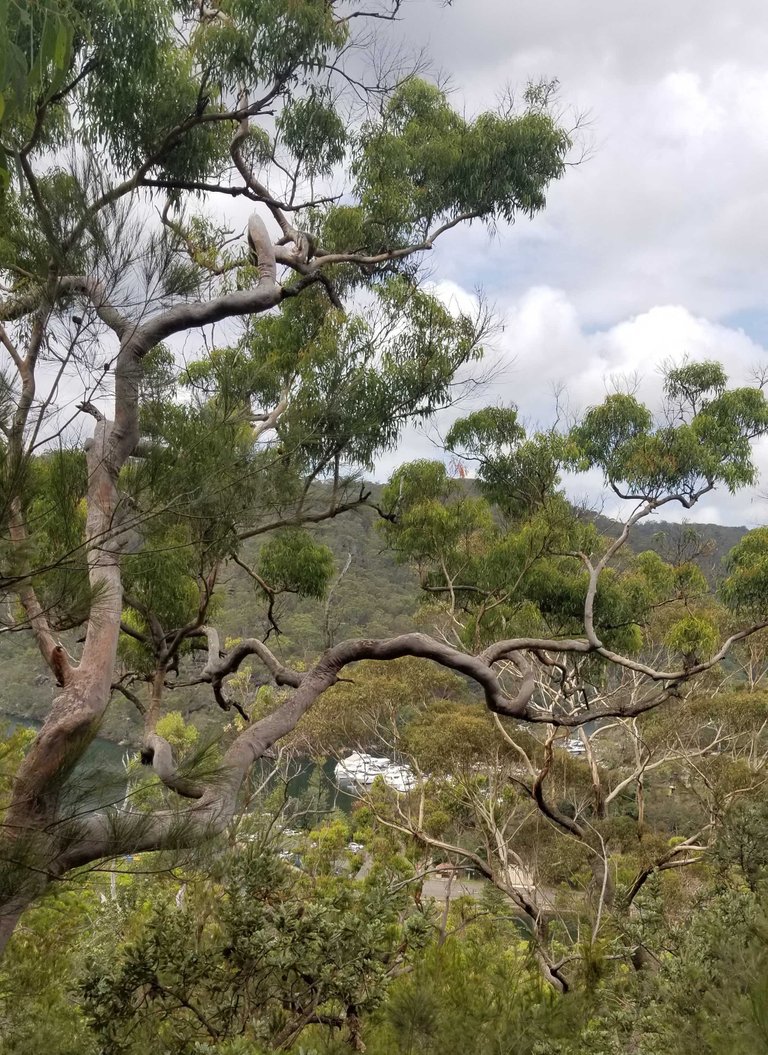 A few scene photos - looking down to Empire Marina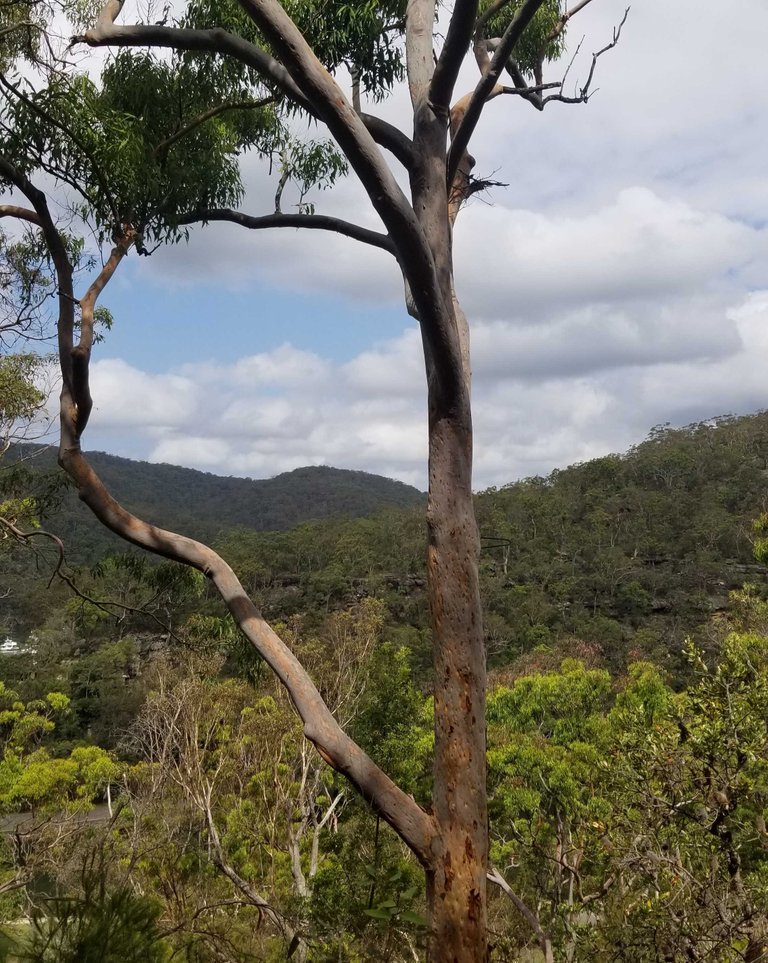 A view of the mountain across the creek framed in the V of the tree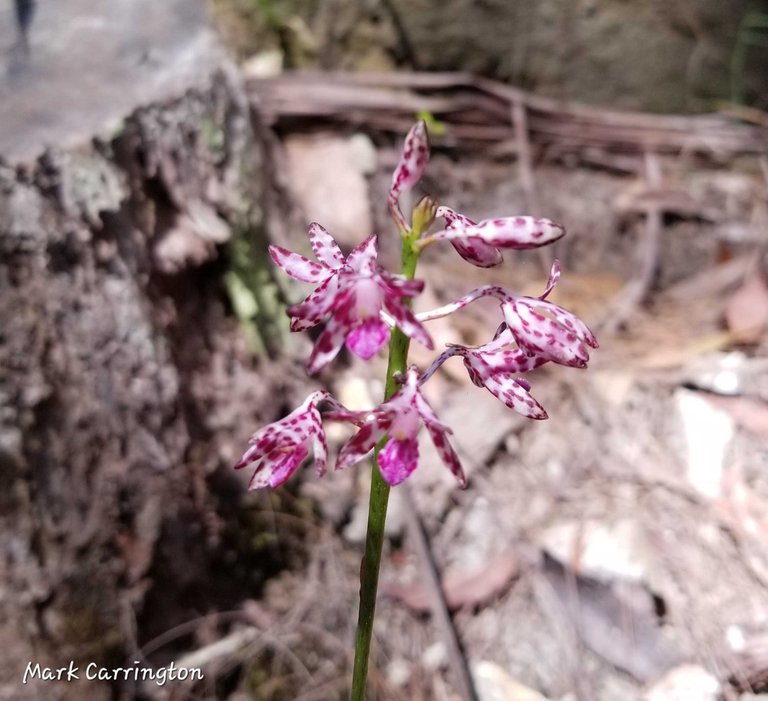 Did find orchids on the road as I cycled up the hill - dipodium variegatum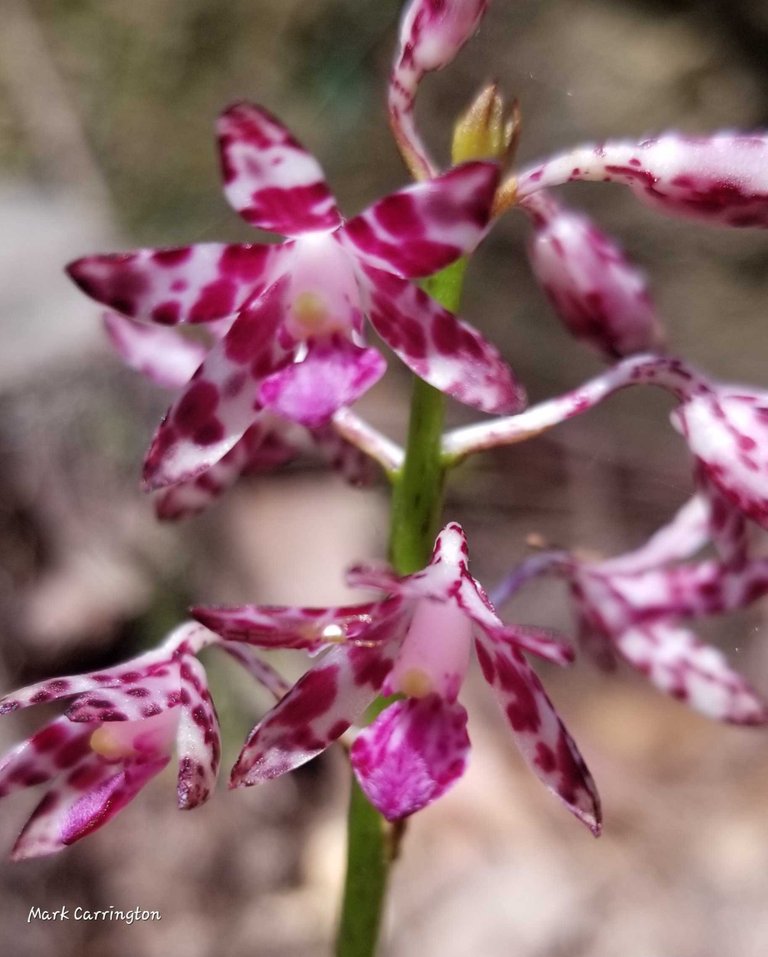 Close up. Photos of the tongue orchids were too hard in the sun - deleted out of focus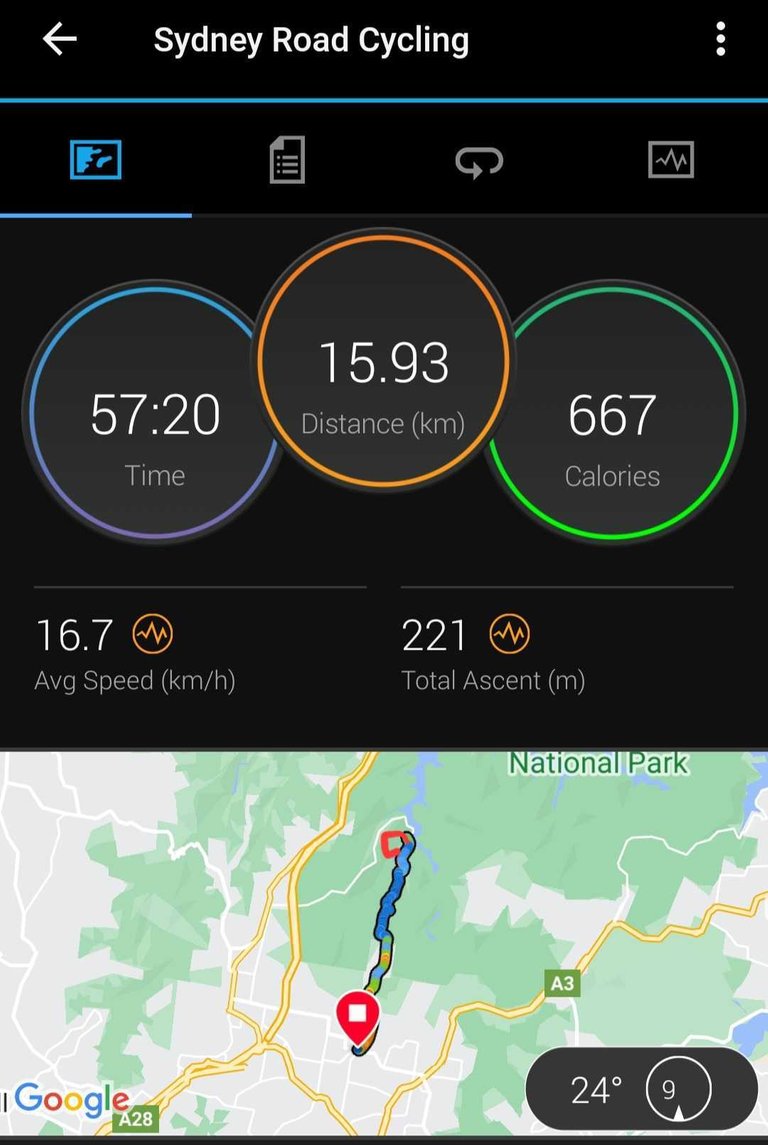 Been a while since riding a big hill - took it easy to keep the heart stuff in control
It was hot and humid - yuk - but not hot like summers past
Dinner: Chicken cashew stir fry
Trade action: Oil - Bought AMLP, BKR. Lithium- PKX. Credit spreads on AWK, QS
This report was published via Actifit app (Android | iOS). Check out the original version here on actifit.io




27/01/2023

14560

Cycling, Daily Activity, House Chores, Photowalking
---
---