Walked New Track in Ku-ring Gai Wildflower Garden : March 17 2023
A slow start day after a late night adjusting trades ahead of options expiry. Another hot day forecast. Headed out around midday to walk Ku-ring Gai Wildflower Garden with two missions. See if there are any brittle midge orchids opened since last visit and walk down to rainforest to look for autumn orchids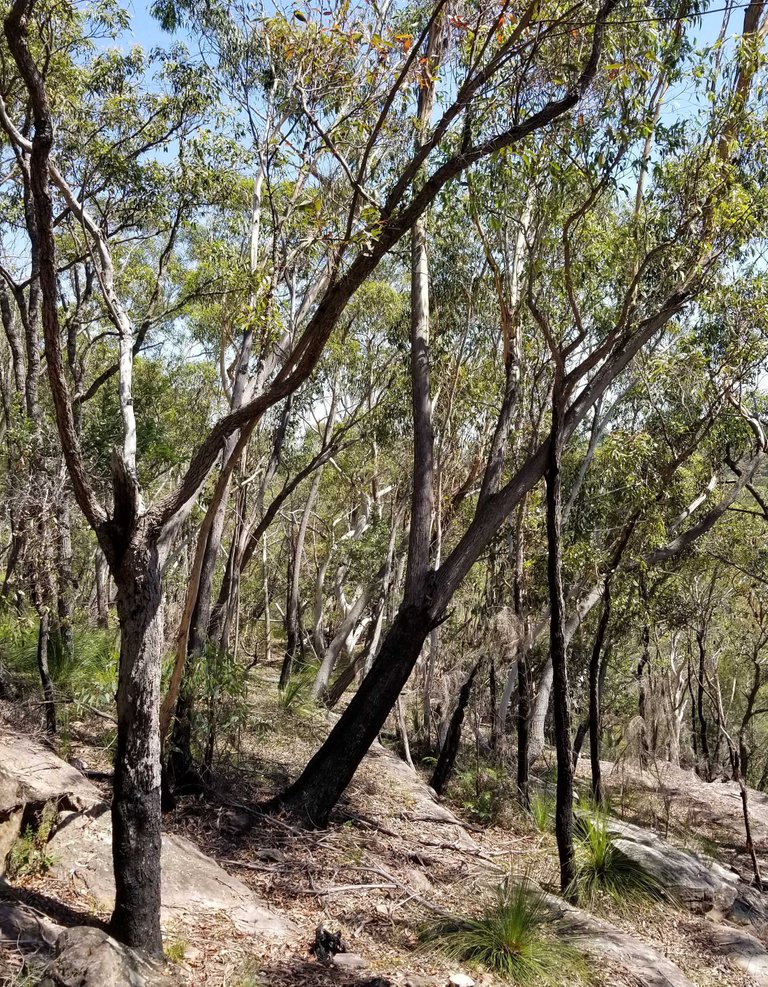 Walked top track first - view across the creek - hard to capture the size of the slope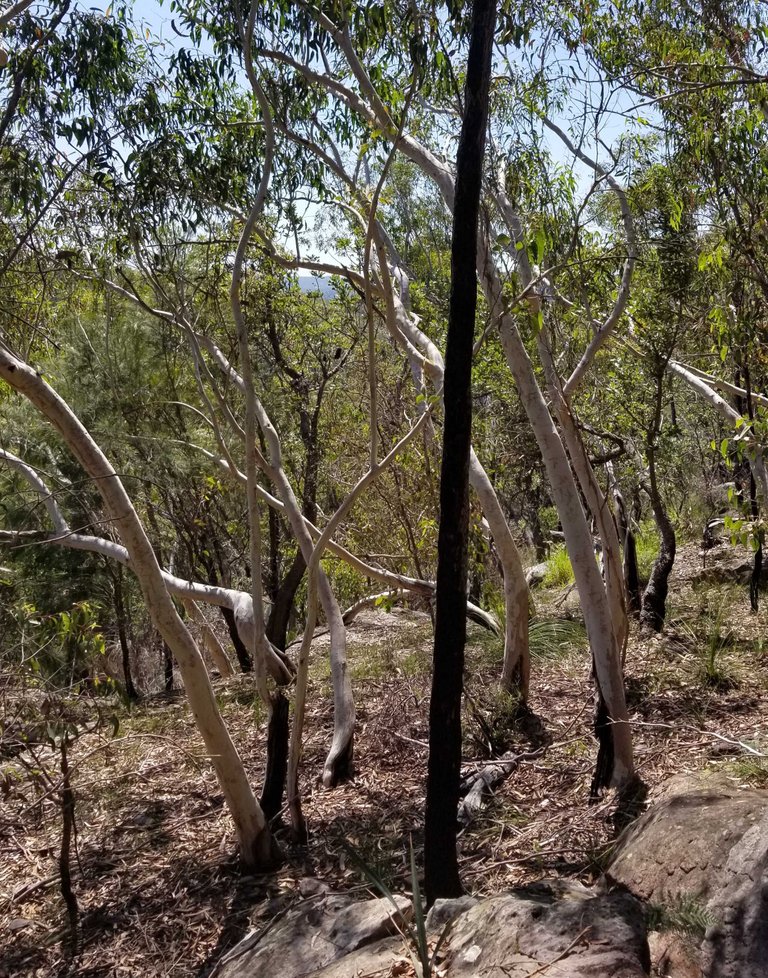 Looking towards where we live - did not find the brittle midge orchids. There is a new marker where I found the last one a few weeks ago - lurking in the grass is a little yellow stake - was not there last time. The silver tab was - latest date on it is 2021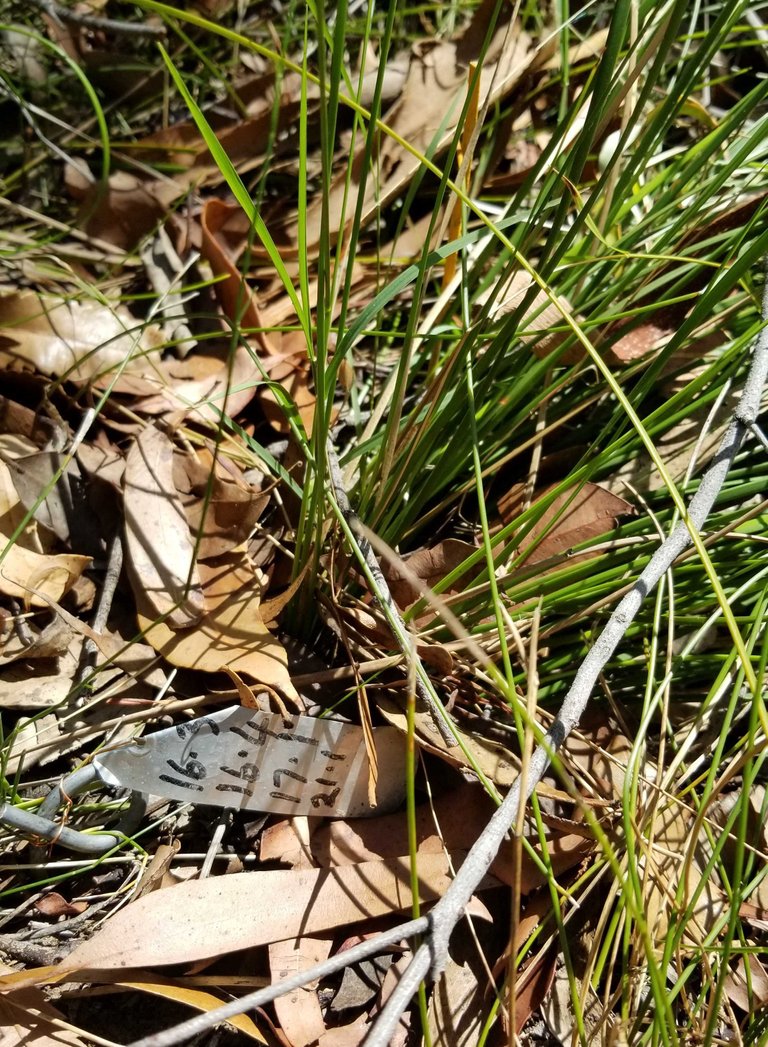 Walked the rest of the top loop - maybe a late summer orchid still open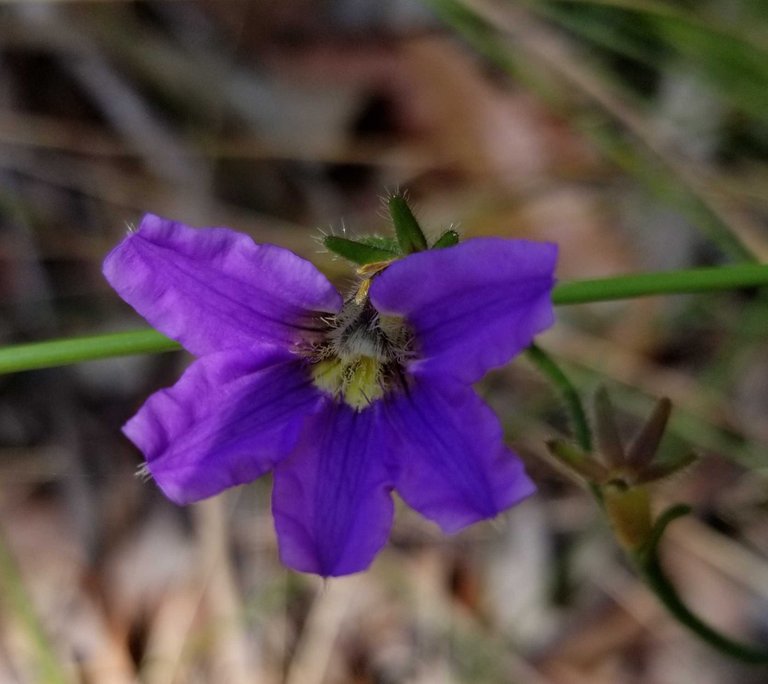 Purple fan flower - still a few going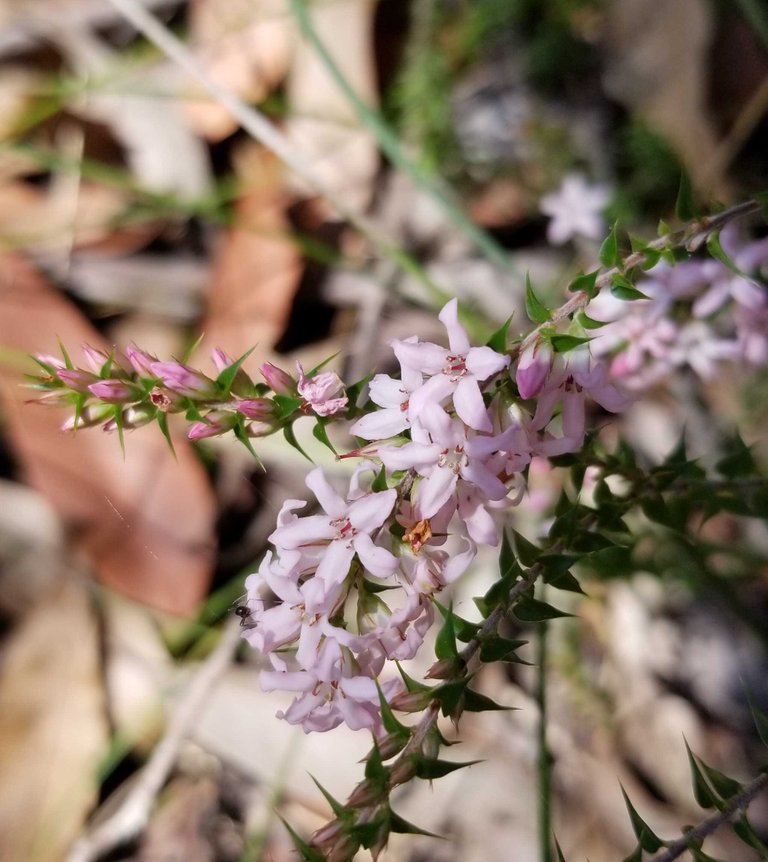 NSW coral heath flower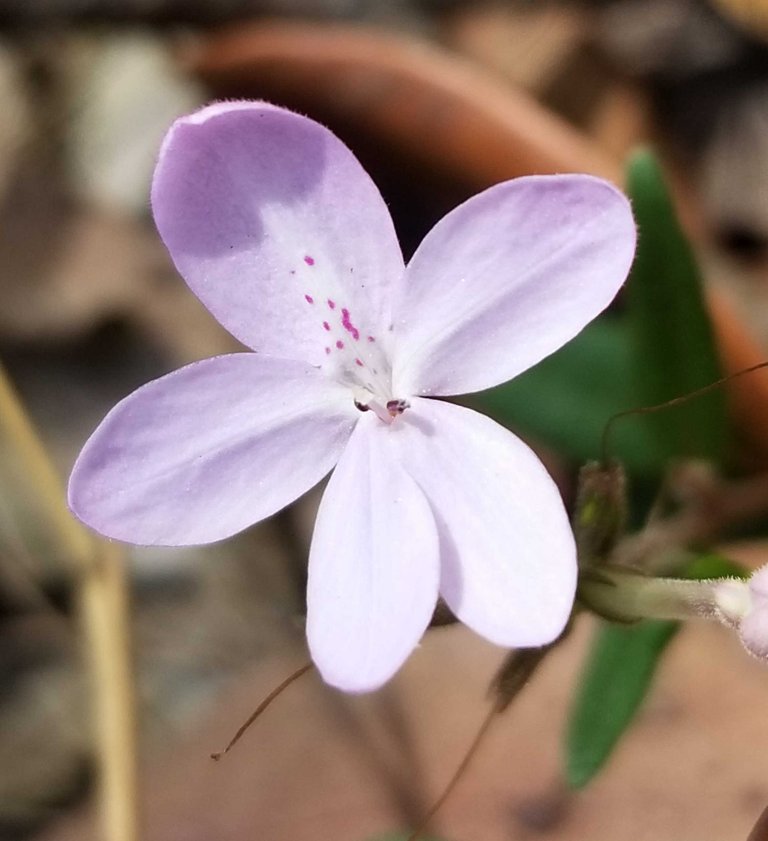 New find - not pinned down an ID yet. Flower is about the size of a US penny.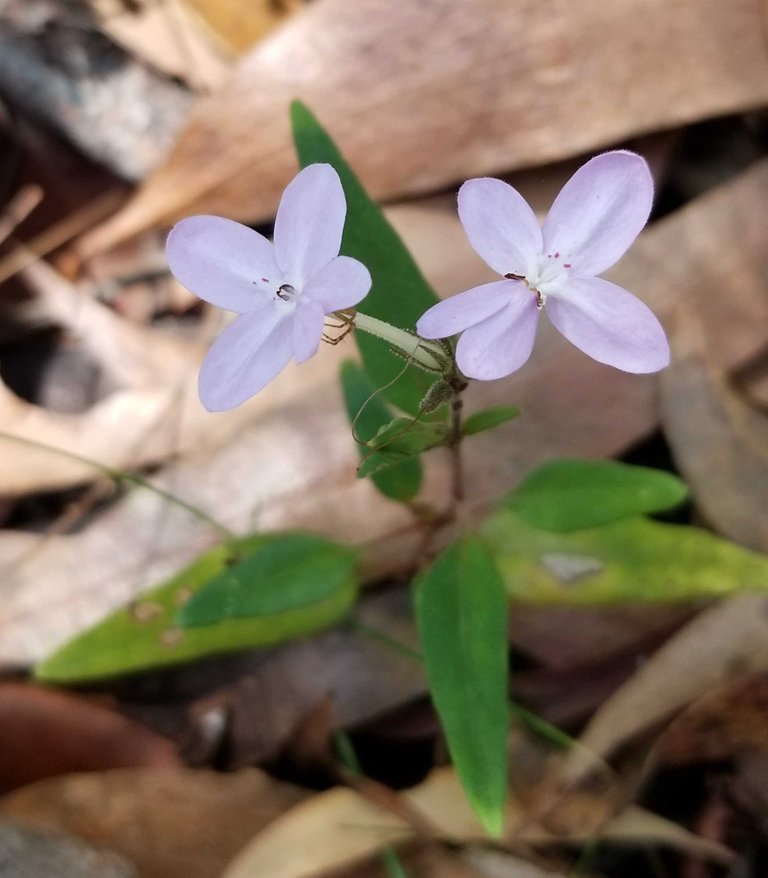 Next photo shows the leaf as well - and a spider lurking behind one of the flowers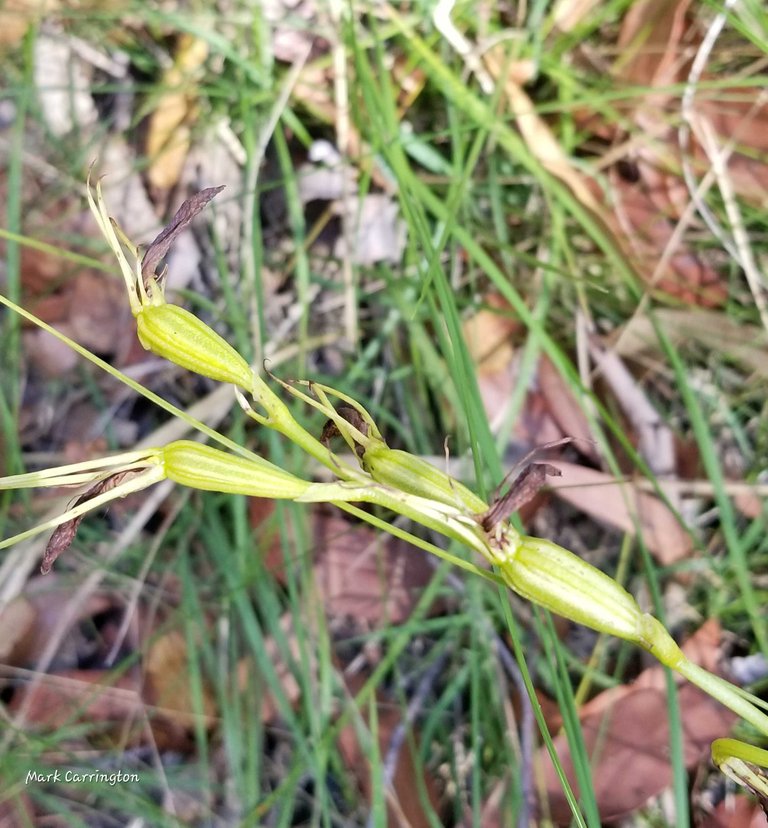 The summer tongue orchid has seeded
Drove down toward Lamberts Clearing and then walked down Solander Trail to access the track into the rainforest. Walk down produced a few banksia openers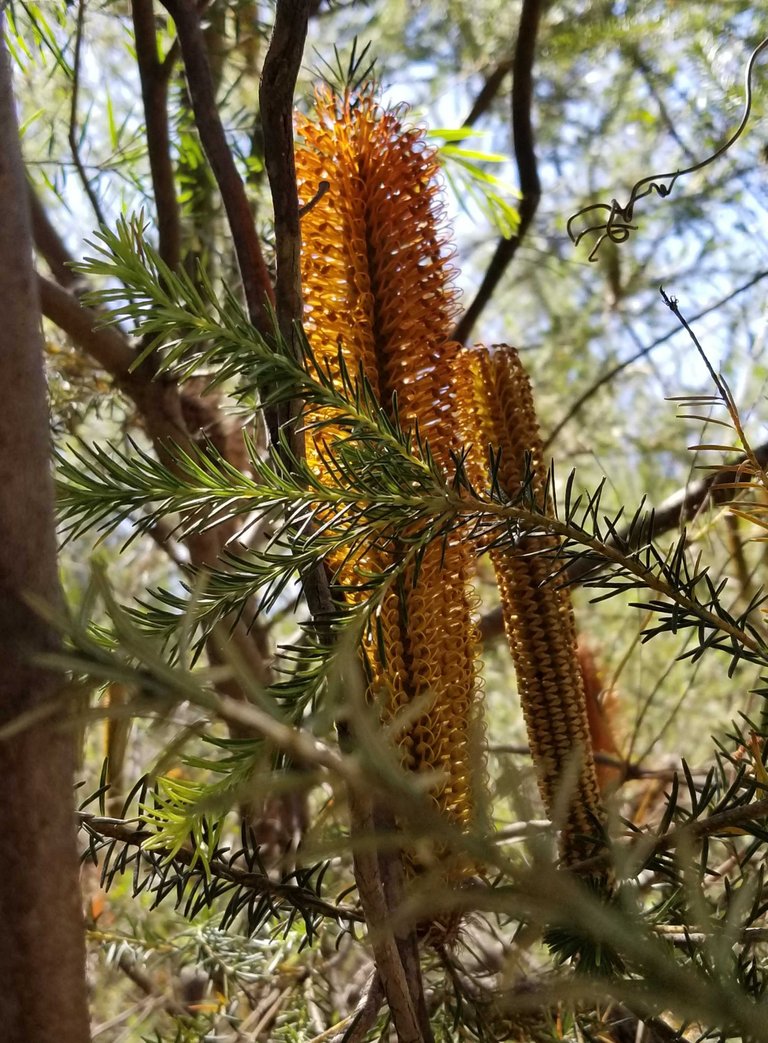 Twins - maybe time to start to ID banksia as well - it is flowering season building now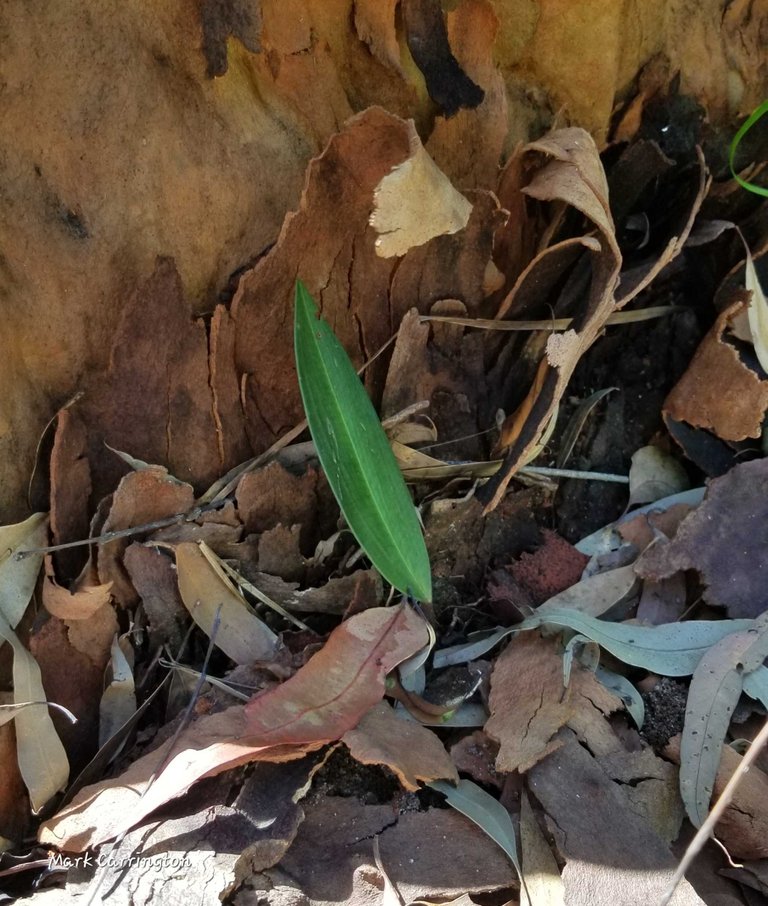 Only orchids showing down this side are summer orchids. Nice setting for this one in the bark at the foot of the shedding eucalyptus tree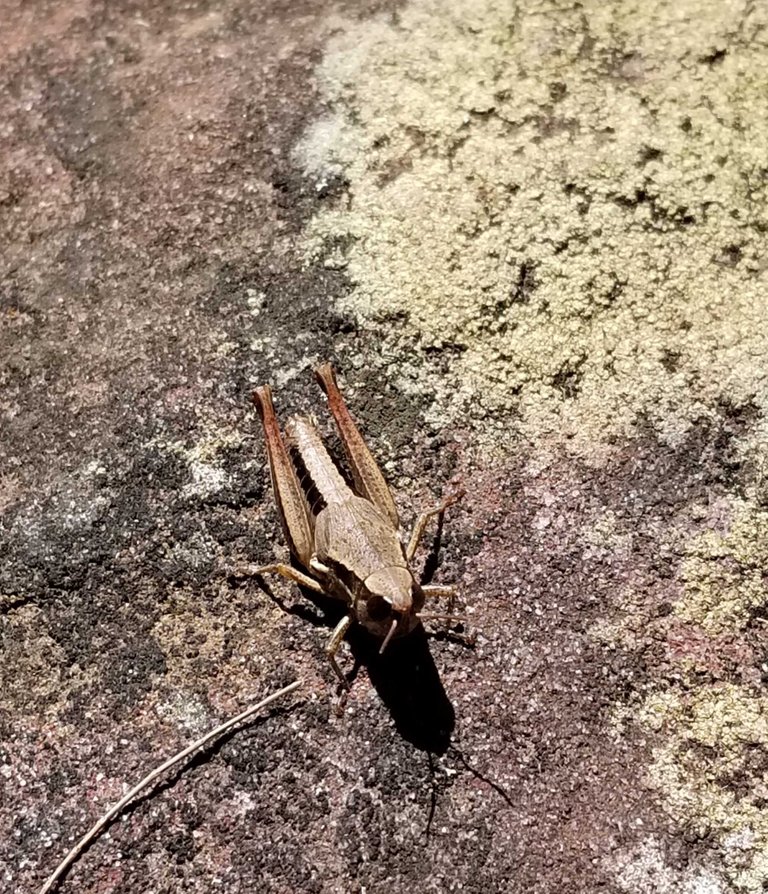 This grasshopper stayed still for a close up photo - normally they scoot off.
Mueller Track drops down along a creek to the creek below. Lots of ferns and a few waterfalls. Loved the flow from pool to pool to the drop below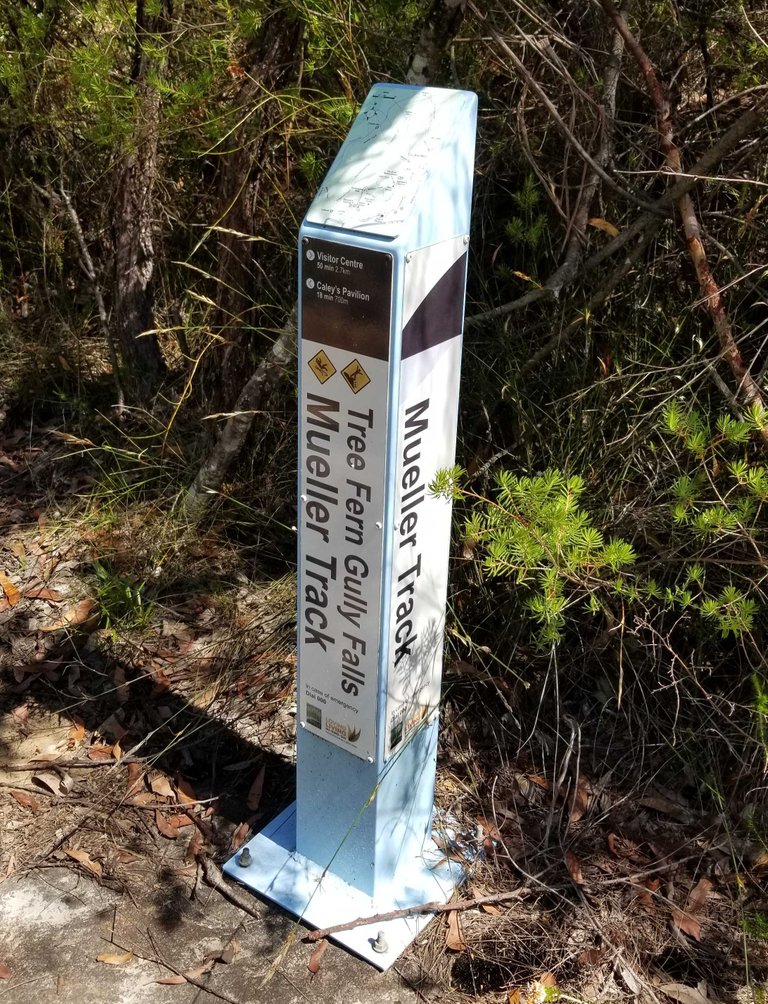 Location shot - Tree Fern Gully Falls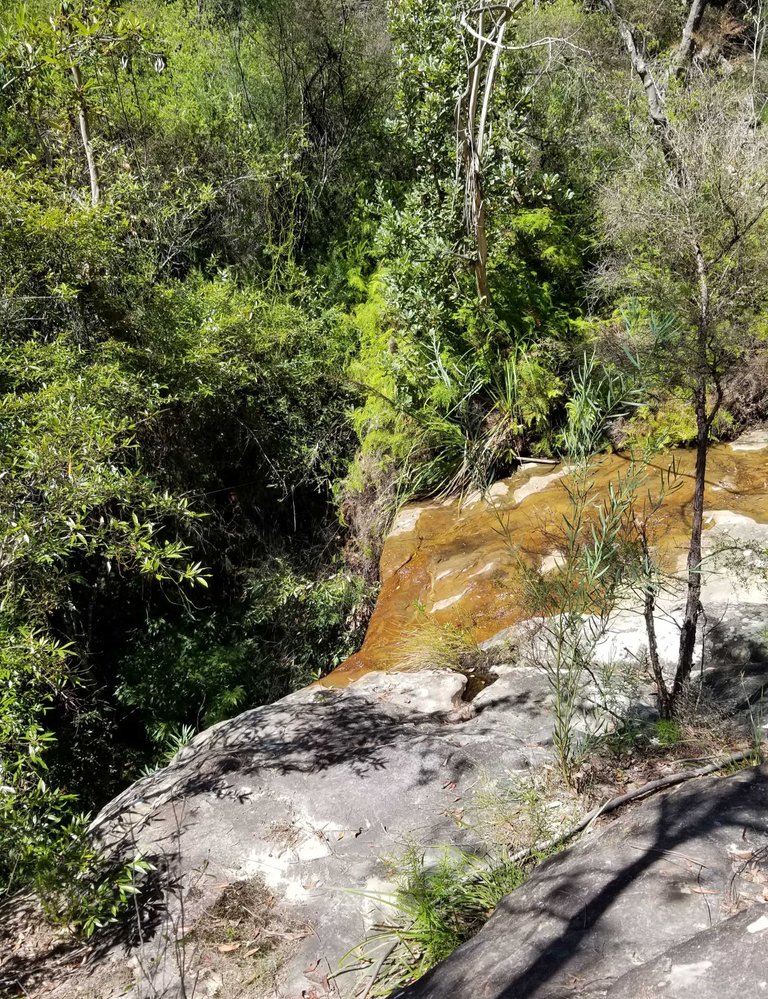 Next falls have a bigger drop. Must be impressive when there is big rain. Track will be hard work though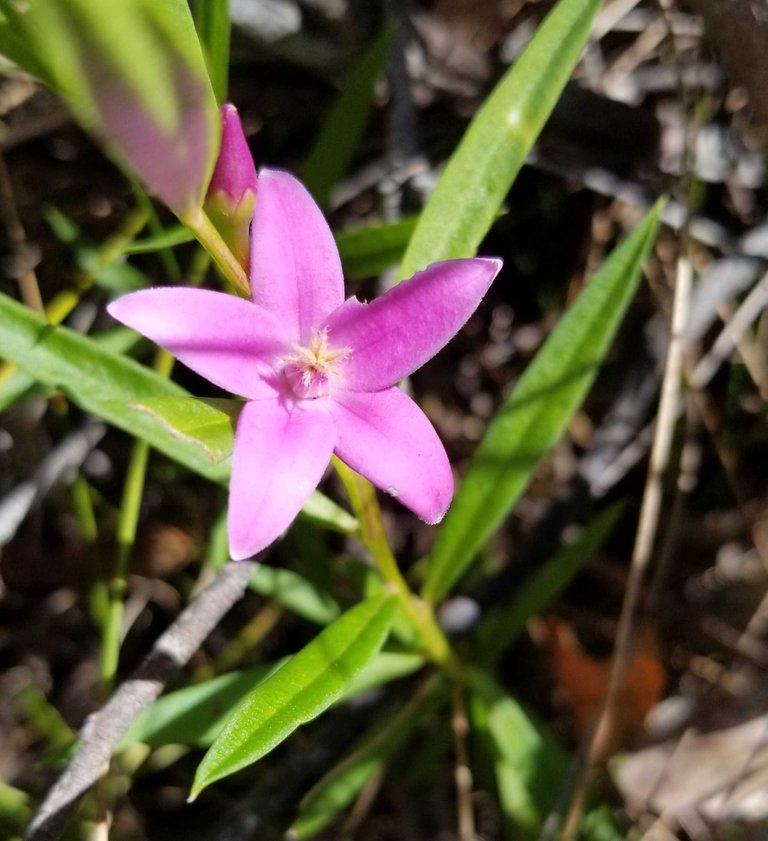 Waxflower - a few emerging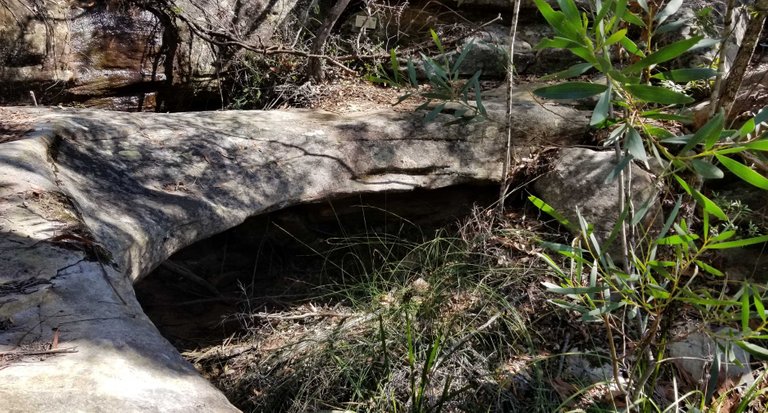 Rock bridge across the creek - Billy Boyd Bridge I think its name was. Not long after was the loop back up to Solander Trail - chose that rather than walk the whole Mueller Track. Sadly no autumn orchid signs in the rainforest segment below. Maybe too steep.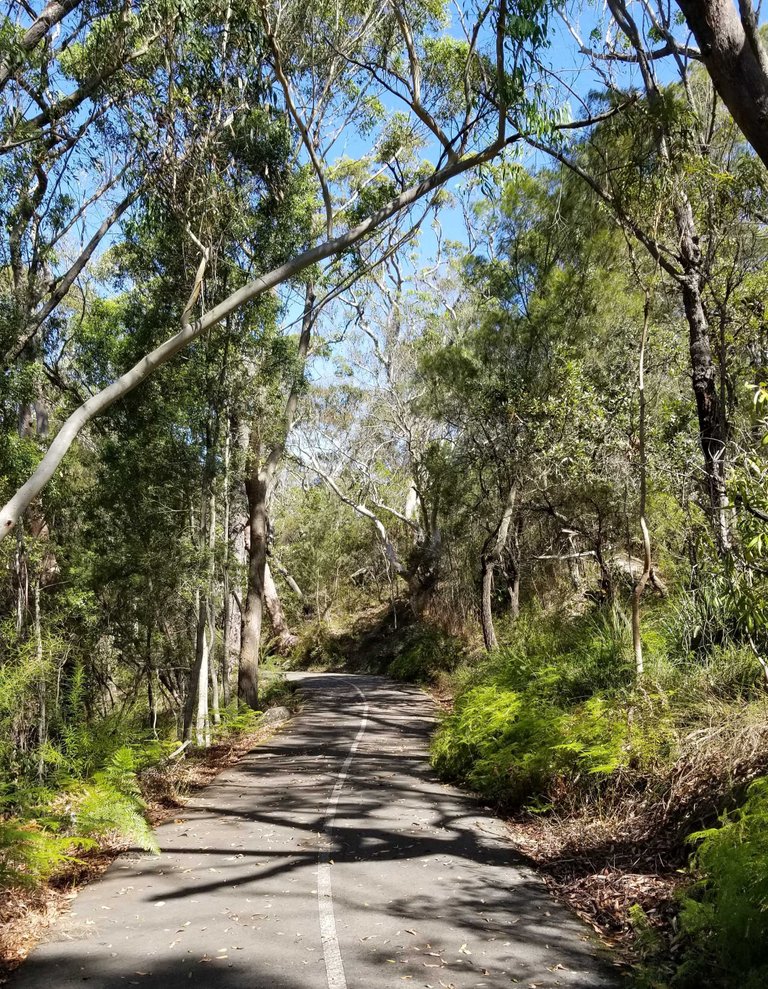 Nice easy walk back along Solander Trail.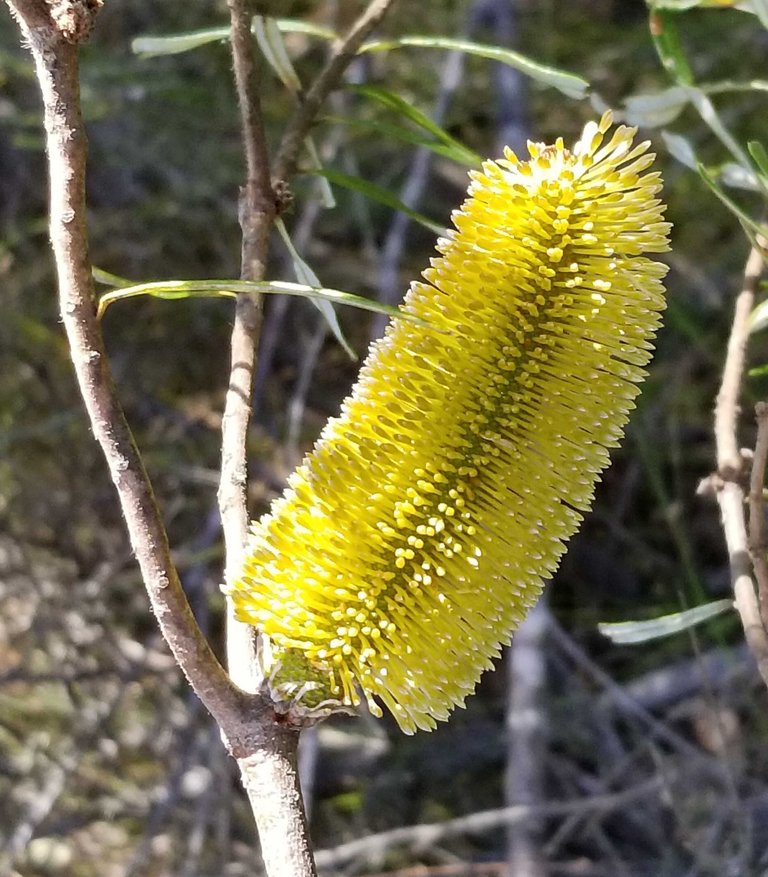 Banksia serratum
Good to walk a slice of track not walked before - was a super peaceful place with dripping water sounds and signs of Aboriginal living in the overhangs
Popped into shops to deposit a cheque. Was driving right by - fuel cost to get in and park was not worth the A$0.60 cheque. It is a principle thing
We have a friend coming to dinner to join our other friend. Plan is roast duck - my wife found the duck in the supermarket where I said it would be. Saved me shopping. And our friend is going to cut my hair. Did the prep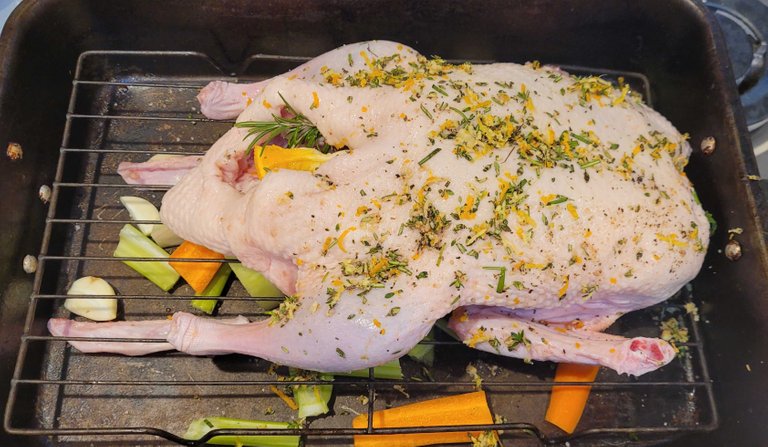 Cooking process is to put duck on the rack with the drip tray on shelf below. It has garlic, onion, celery, carrots, fresh rosemary and the chopped up neck and wing tips. Seasoning for duck - salt, pepper, grated ginger, lemon and orange zest, chopped fresh rosemary and thyme
Haircut done once the first 15 minutes of the cook done - that is when cooking temperature went down from 200C to 180C
Two phase cook. One hour dripping to drip tray. Then take the drip tray ingredients after skimming off the fat and make a jus - add port and a little stock. Jus will take 10 minutes to reduce at the end - separate out the lumpy bits for that stage. Second hour - part boiled potatoes in a little duck fat in the drip tray below the duck.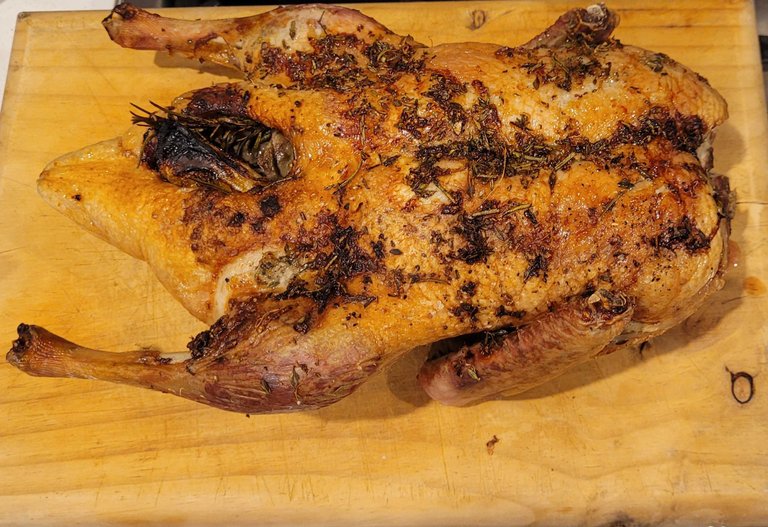 Rest the duck for 10 minutes - that is time enough to make the veges and finishing the jus reduction. 20 minutes prep - two hours cooking and 10 minutes resting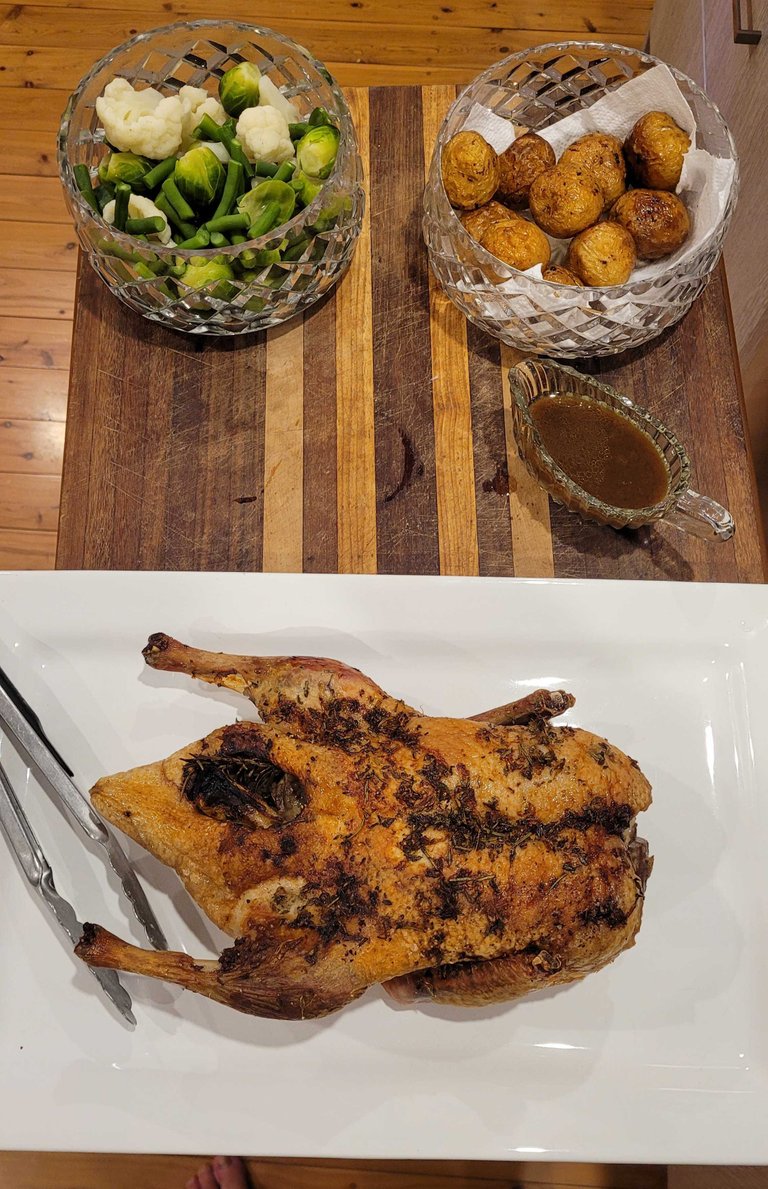 Fab dinner. Serving is fun - do not carve - just rip in with a fork and tongs. Duck was nice and tender - could taste the seasoning. Veges were all fresh including beans from the garden.
Turned into a late night as our friend who has been staying with us needed to let blood on some of her troubles. We chatted well after midnight
Became a very long night as I stayed up for US markets open. Trade action: Bought BAC, COTY, VMC. Adjusted spreads on ABNB, FVRR, AMN, YOU

This report was published via Actifit app (Android | iOS). Check out the original version here on actifit.io




17/03/2023

10947

Daily Activity, House Chores, Photowalking
---
---