Entrenamiento de Caminata la vuelta al Samán - 6km [ESP/ENG]
Saludos amigos de Hive y
@fulldeportes
, hoy les voy a compartir un entrenamiento que realicé en la ruta La vuelta al Samán de mi comunidad, fue una experiencia gratificante estar en contacto con la naturaleza. Espero que les guste mi caminata.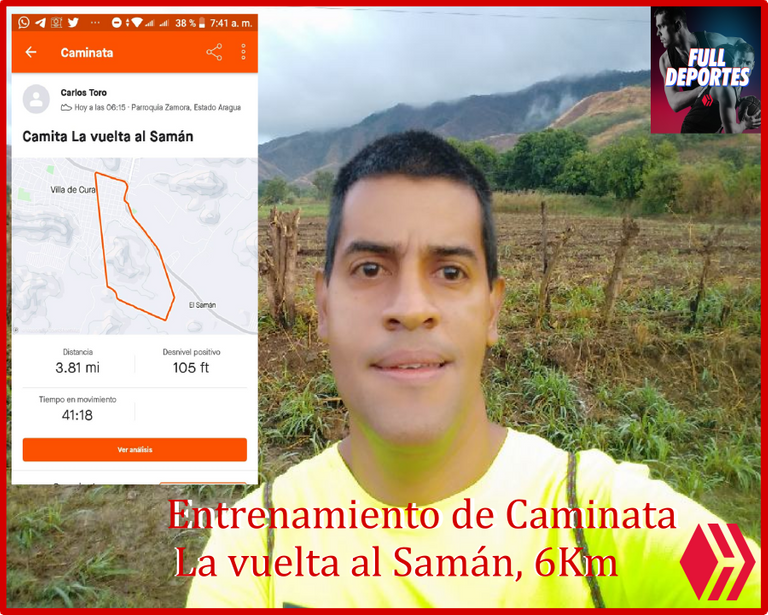 Este entrenamiento no lo tenía previsto el día de hoy, pero debido a las lluvias el día de ayer no pude salir a entrenar a la montaña, entonces para no perder la secuencia de esta actividad, me dispuse a caminar esta ruta que inicie a la 6:15 am de la mañana, el clima estaba bastante fresco y había un poco de frío hasta neblina se pudo apreciar en esta ruta.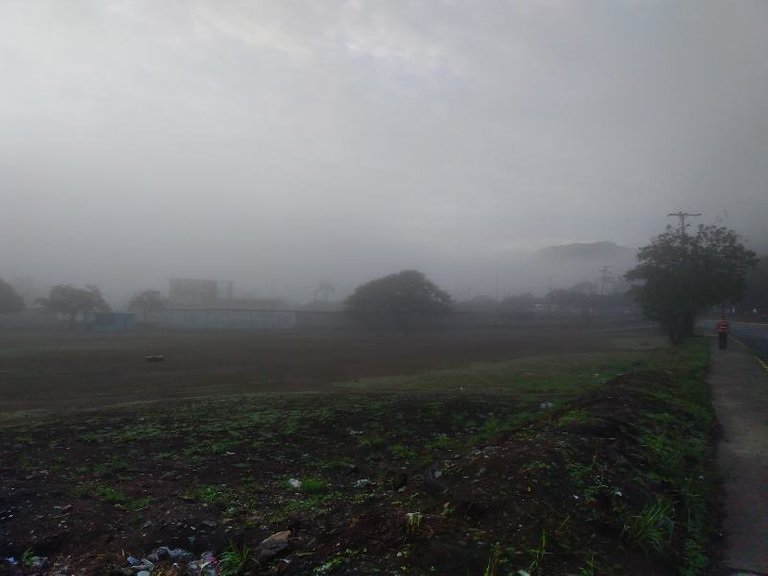 Recordándoles a todos ustedes los corredores y caminantes, que debemos hacer un calentamiento durante 10 o 15 minutos antes de comenzar el entrenamiento, con ejercicios de estiramientos para preparar nuestro cuerpo para la actividad física y de esta forma podemos evitar cualquier tipo de lesión física.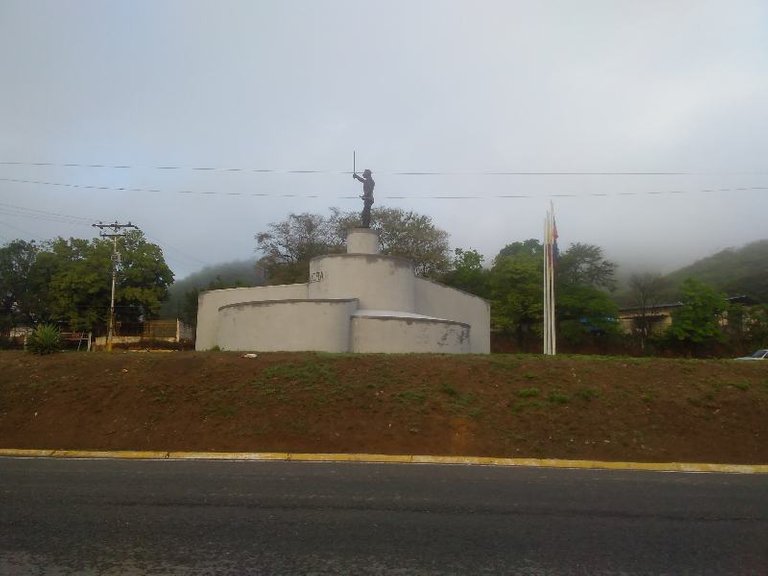 Cabe destacar que esta ruta es bastante plano, en la primera parte se hace un recorrido por la avenida Lisandro Hernández, pasando por donde está la estatua de Ezequiel Zamora, hasta la entrada donde hay aproximadamente 2Km y 500 metros, luego nos adentramos al asentamiento campesino donde podemos encontrar siembras de diferentes rubros como Cambures y la cría de ganado.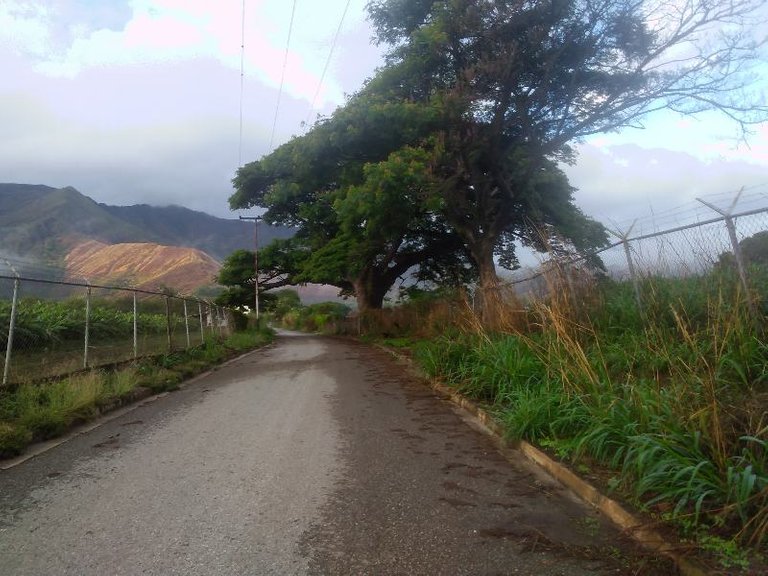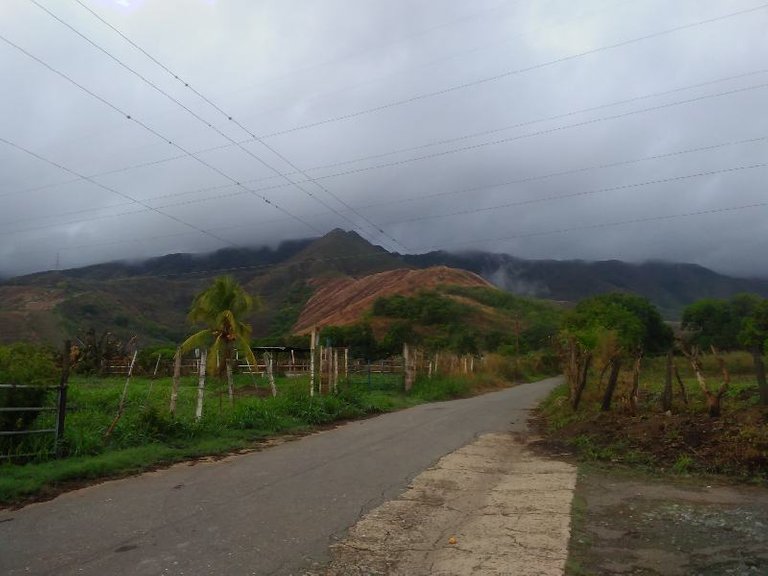 Con respecto al recorrido realizado es prácticamente plano, es ideal para las personas que están iniciando en las caminatas, ya que presenta tres pequeñas subidas, la primera cuando estamos entrando al asentamiento campesino, otra cuando ya vamos saliendo y la última cuando entramos al sector de La Represa, estas subidas solo afectan un poco el ritmo de la velocidad cuando estamos haciendo alguna carrera pero como en esta oportunidad estamos caminando no me afecto en nada. Es una ruta excelente para realizar un chequeo de velocidad para alguna carrera de 5km, de hecho los amigos corredores de esta localidad de vez en cuando hace este tipo de entrenamiento para medir un poco la velocidad en esta distancia.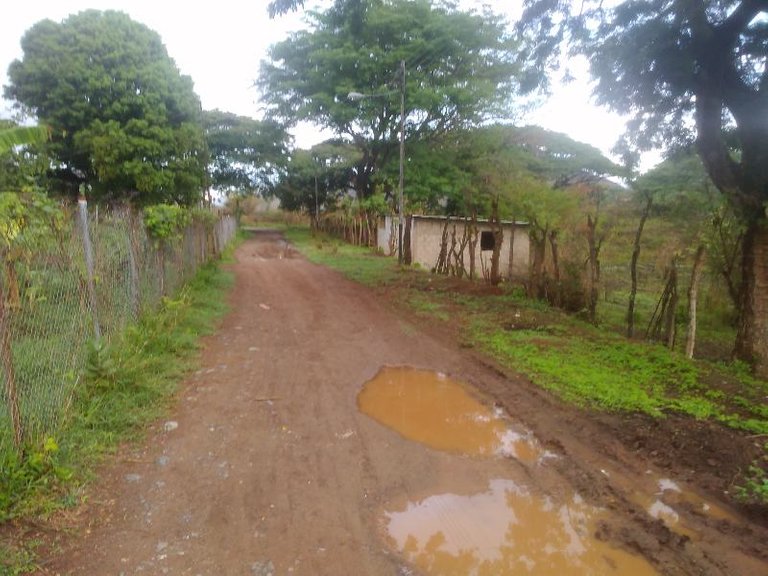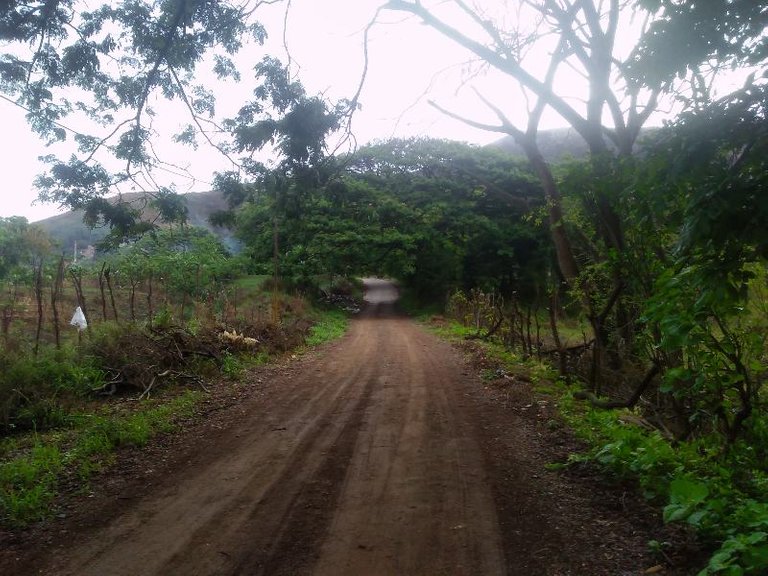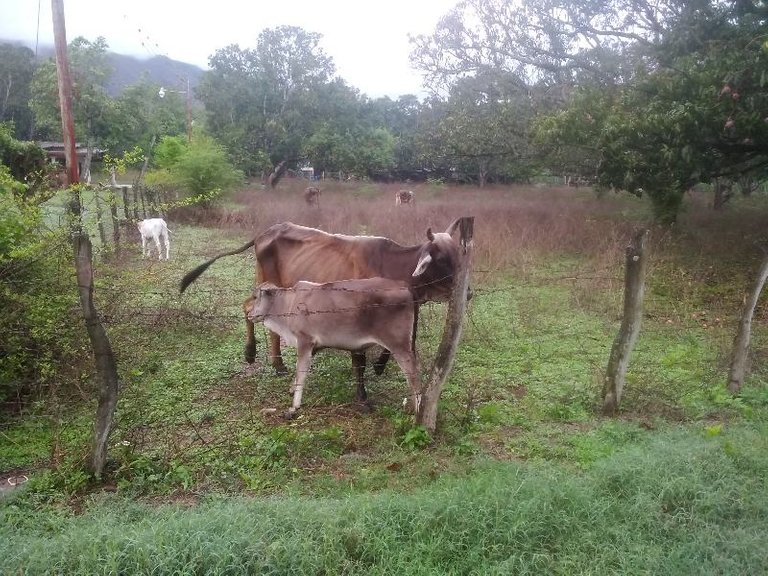 Para continuar digitalizando mis entrenamientos de caminata, utilice la aplicación Strava, con mi teléfono móvil, pensé que la aplicación se había detenido porque se había cerrado, sin embargo no fue así, y se registro todo la ruta, lo único es que se requiere tener datos en el teléfono y que tengamos cobertura para almacenar los datos en el programa.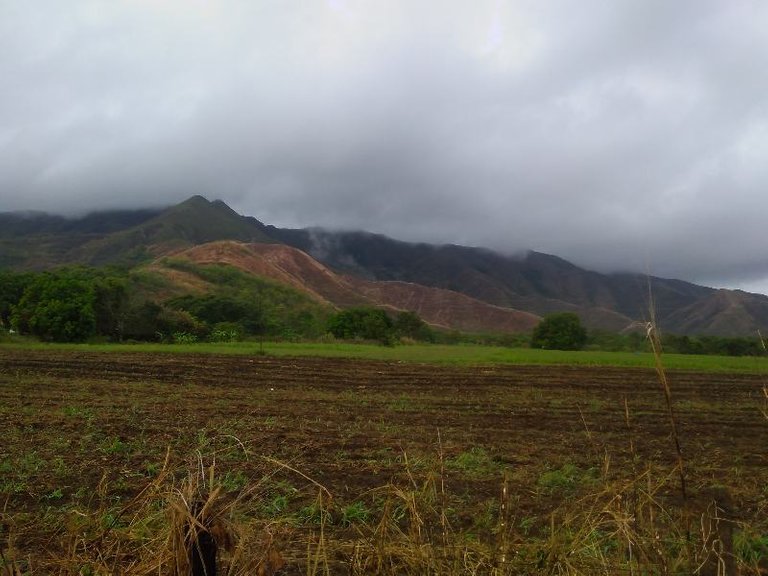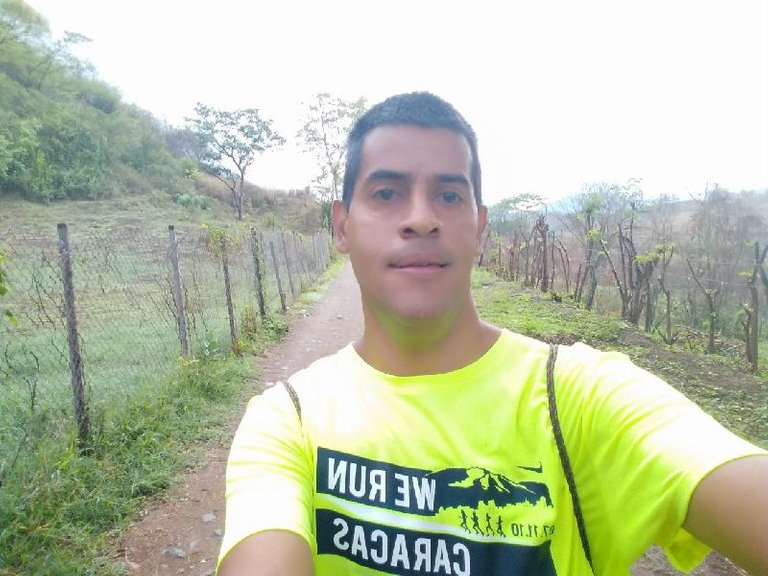 La distancia recorrida fue de 3,81 millas, es decir 6 kilómetros con 130 metros con un tiempo total de 1 hora con 17 minutos, manteniendo un ritmo moderado durante todo el recorrido que se registro en la aplicación Strava, para también realizar algunas tomas de esta bella ruta, donde podemos disfrutar un poco del aire libre y de la naturaleza.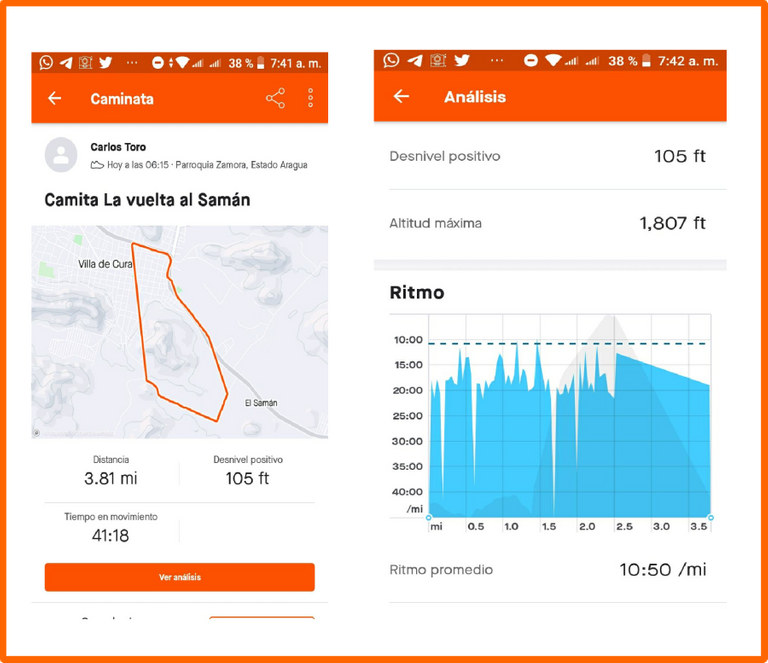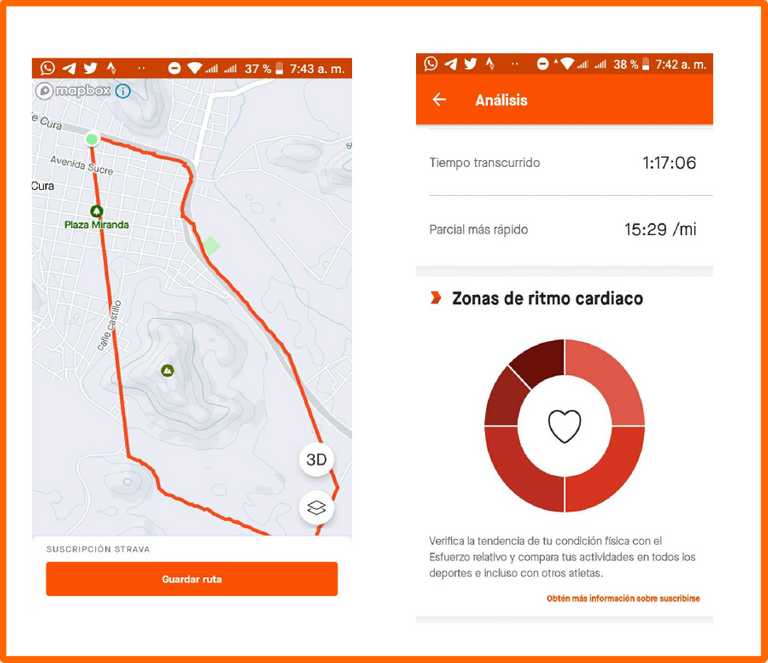 En cuanto a esta aplicación tengo que indagar un poco para cambiar la distancia que viene expresada en milla para cambiar a Km., me acuerdo de realizar este cambio es cuando voy a salir a entrenar, pero no encuentro la opción para configurarla, me imagino que debe ser porque es una app que gratuita y no le permite, sin embargo voy a investigar como se hace para tenerla lista para el próximo entrenamiento.


Fotografía: Teléfono Redmi Go.
Portada realizada en Inkscape.
Logos utilizados de Hive y de @fulldeportes
Fotografias descargadas de la APP Strava.


Espero que les haya gustado, muchas gracias por leer mi publicación, nos vemos en el próximo entrenamiento.
English
Greetings friends from Hive and
@fulldeportes
, today I am going to share with you a training session that I did on the route around the Samán in my community. It was a gratifying experience to be in contact with nature. I hope you like my walk.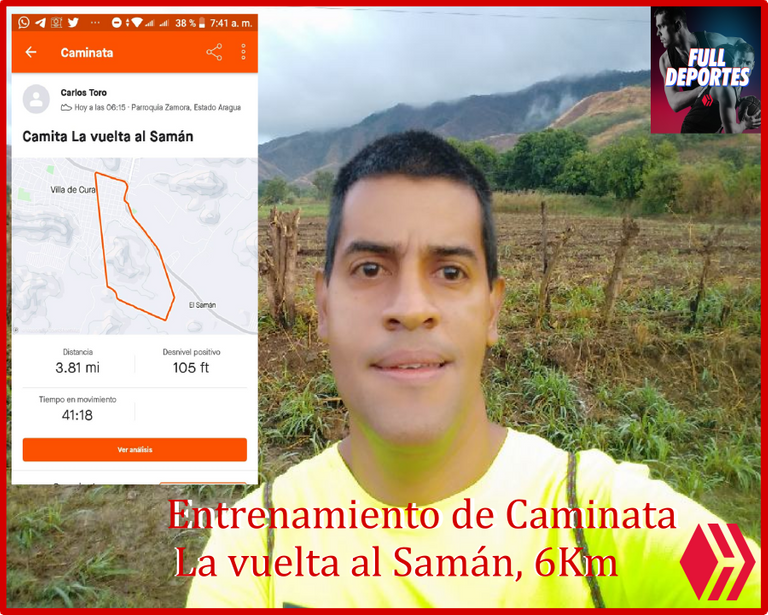 I had not planned this training today, but due to the rains yesterday I could not go out to train in the mountains, so in order not to lose the sequence of this activity, I set out to walk this route that started at 6 :15 am in the morning, the weather was quite fresh and there was a bit of cold until fog could be seen on this route.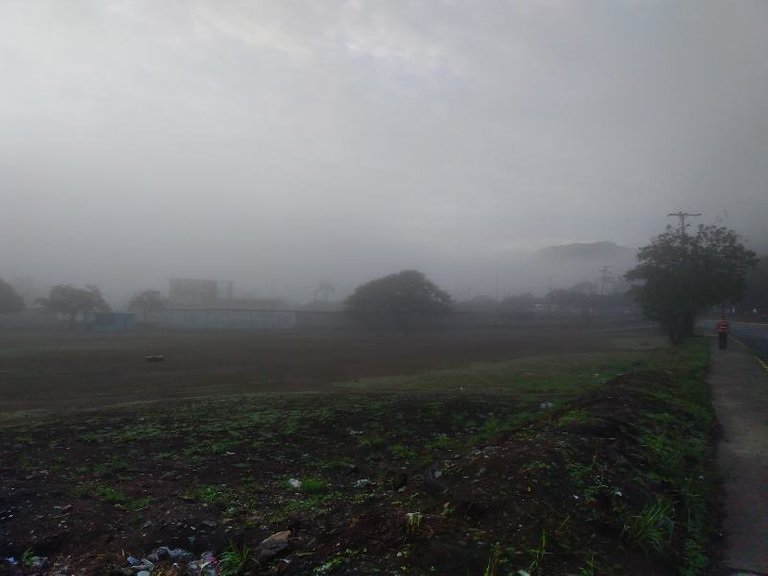 Reminding all of you runners and walkers, that we should warm up for 10 or 15 minutes before starting the training, with stretching exercises to prepare our body for physical activity and in this way we can avoid any type of physical injury.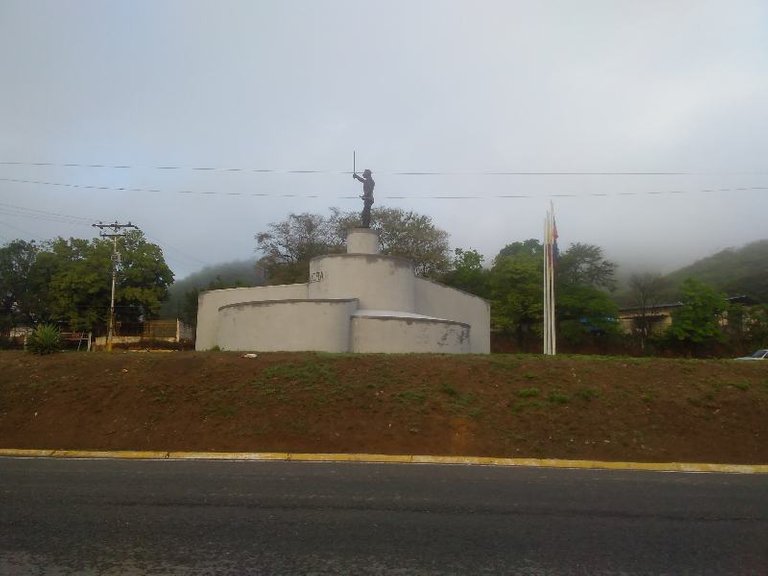 It should be noted that this route is quite flat, in the first part we take a tour of Lisandro Hernández Avenue, passing by where the statue of Ezequiel Zamora is, until the entrance where there are approximately 2Km and 500 meters, then we enter the peasant settlement where we can find crops of different items such as Cambures and cattle breeding.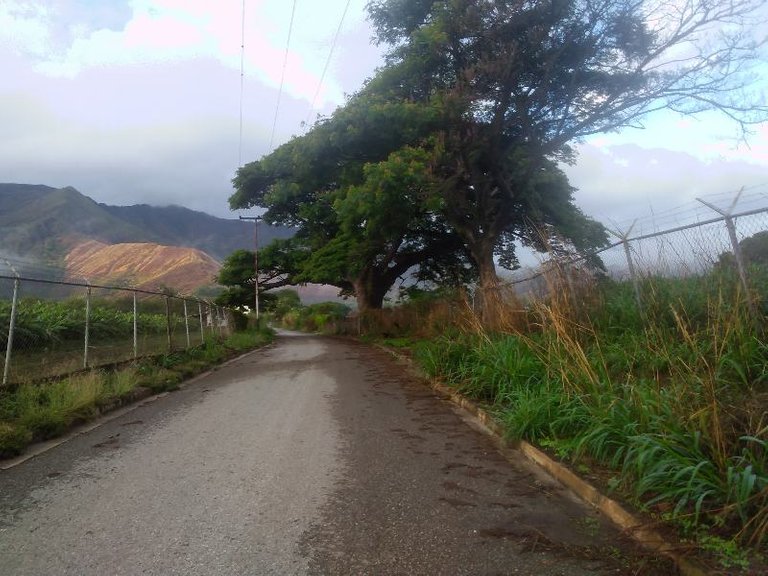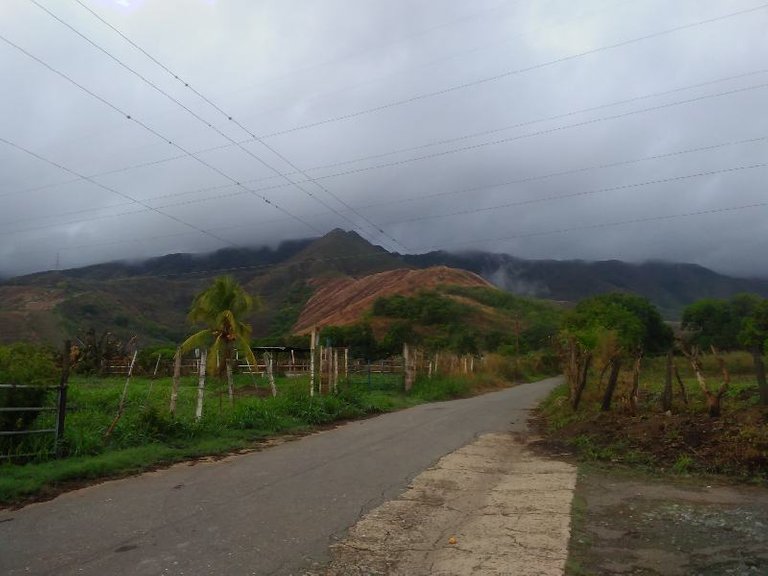 With respect to the route made, it is practically flat, it is ideal for people who are starting to walk, since it presents three small climbs, the first when we are entering the peasant settlement, another when we are already leaving and the last when we enter the sector of La Represa, these climbs only affect the pace of speed a little when we are doing a race, but since this time we are walking, it did not affect me at all. It is an excellent route to do a speed check for a 5km race, in fact, my runner friends from this town from time to time do this type of training to measure a bit of speed over this distance.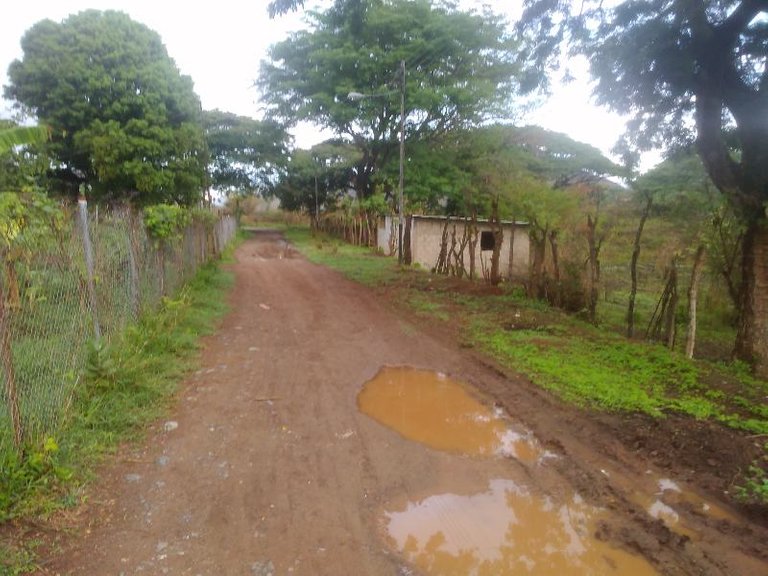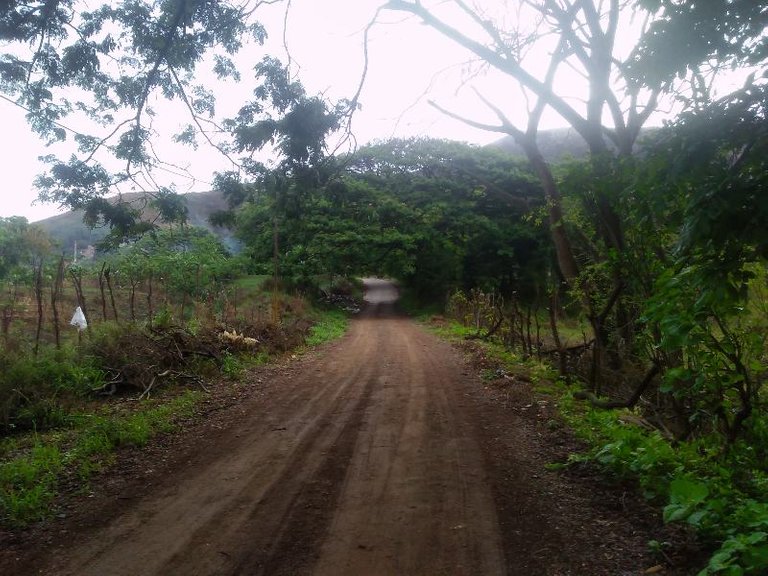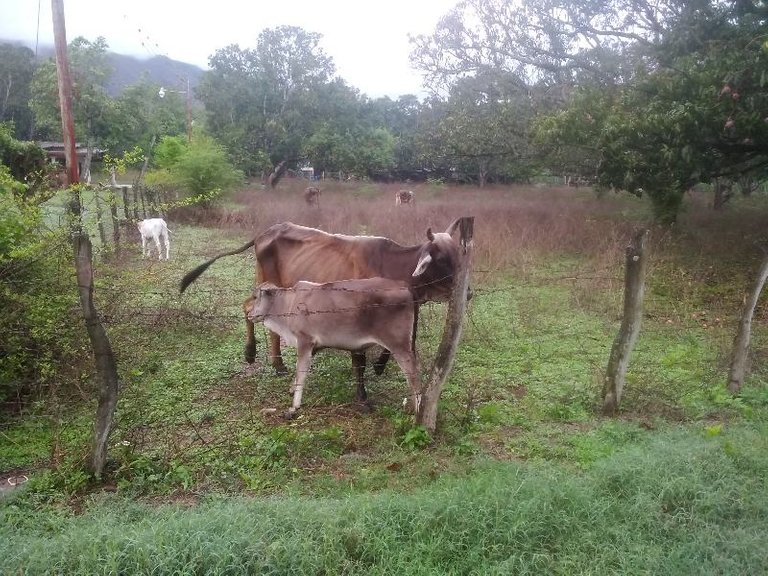 To continue digitizing my walking workouts, I used the Strava application, with my mobile phone, I thought that the application had stopped because it had closed, however it was not, and the entire route was recorded, the only thing is that it is required to have data in the phone and that we have coverage to store the data in the program.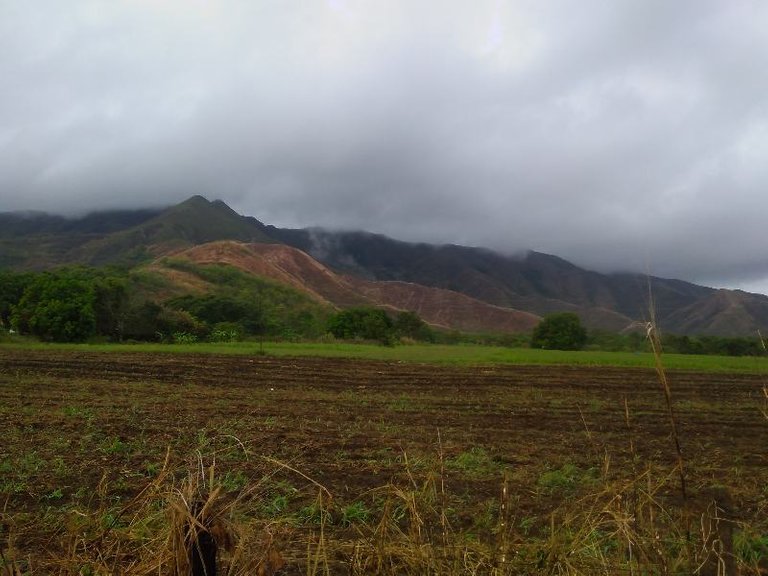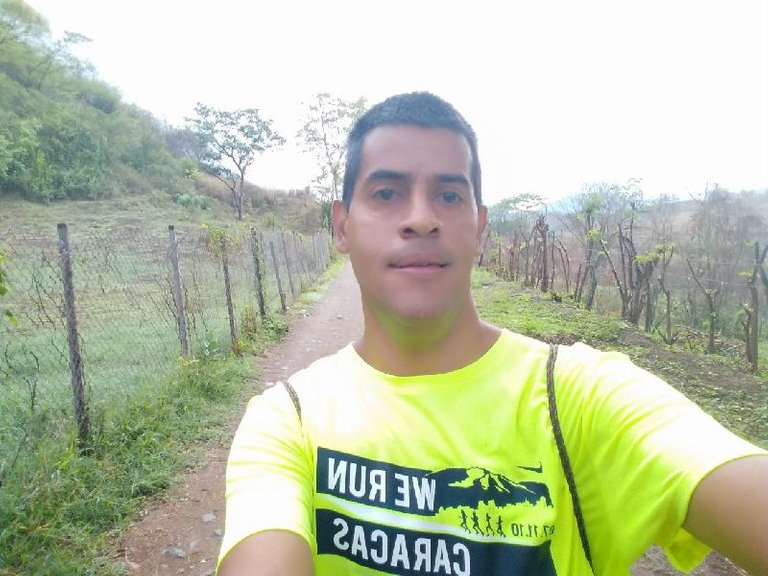 The distance covered was 3.81 miles, that is, 6 kilometers with 130 meters with a total time of 1 hour and 17 minutes, maintaining a moderate pace throughout the route that was recorded in the Strava application, to also take some shots of this beautiful route, where we can enjoy a bit of the outdoors and nature.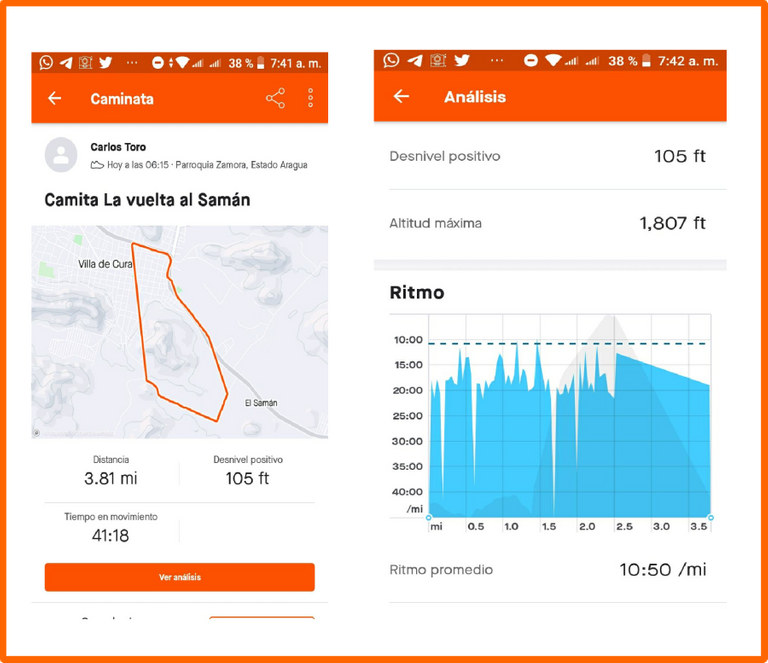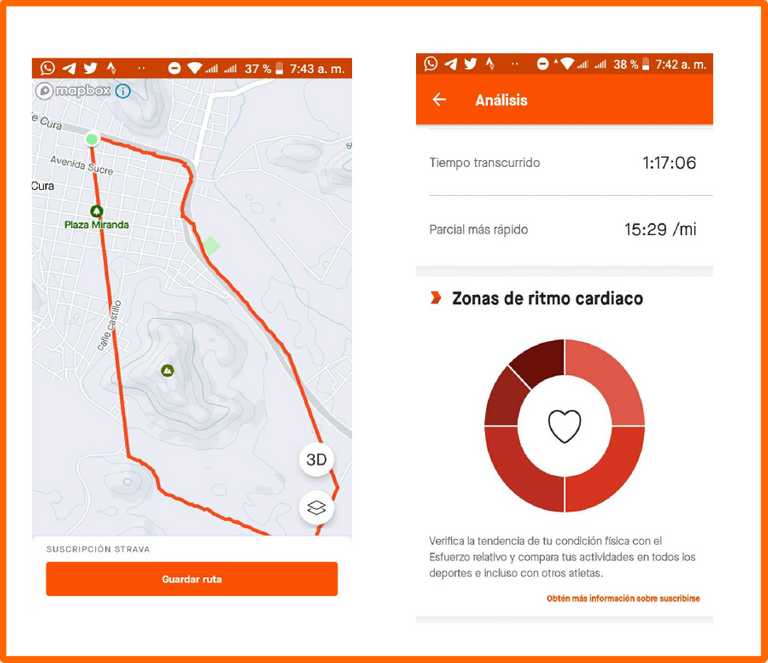 As for this application, I have to investigate a bit to change the distance that is expressed in miles to change it to Km. I remember making this change when I go out to train, but I can't find the option to configure it, I imagine It must be because it is a free app and it does not allow it, however I am going to investigate how it is done to have it ready for the next training.


Photo: Redmi Go phone.
Cover made in Inkscape.
Hive and @fulldeportes logos used
Photos downloaded from the APP Strava.


I hope you liked it, thank you very much for reading my publication, see you in the next training.

---
---