[Esp/Eng] ¡El Napoli de Spaletti da un golpe en la mesa! / Spaletti's Napoli hits the table!
Pensando en que estamos a pocos días del inicio de Qatar 2022, es lógico pensar que muchos jugadores se están limitando un poco para llegar en las mejores condiciones físicas posibles, y sobre todo, evitar lesionarse, cosa que le ha pasado factura a varios equipos en estás últimas jornadas, pero con los condicionantes a favor de que el Napoli no tiene muchos jugadores citados, en parte gracias a la no clasificación de Italia, y que están en un momento anímico y de forma increíble, el equipo de Spaletti consiguió otra gran victoria contra el Empoli, y sin importar los demás resultados de esta fecha, llegará a enero en la cima de la Serie A con al menos 8 puntos de ventaja sobre sus perseguidores.
Thinking that we are a few days away from the start of Qatar 2022, it is logical to think that many players are limiting themselves a bit to arrive in the best physical condition possible, and above all, avoid getting injured, something that has taken its toll on several teams in These last days, but with the conditions in favor of Napoli not having many players called up, partly thanks to Italy not qualifying, and that they are in a mood and in incredible shape, Spaletti's team achieved another great victory against Empoli, and regardless of the other results on this date, they will arrive at the top of Serie A in January with at least 8 points ahead of their pursuers.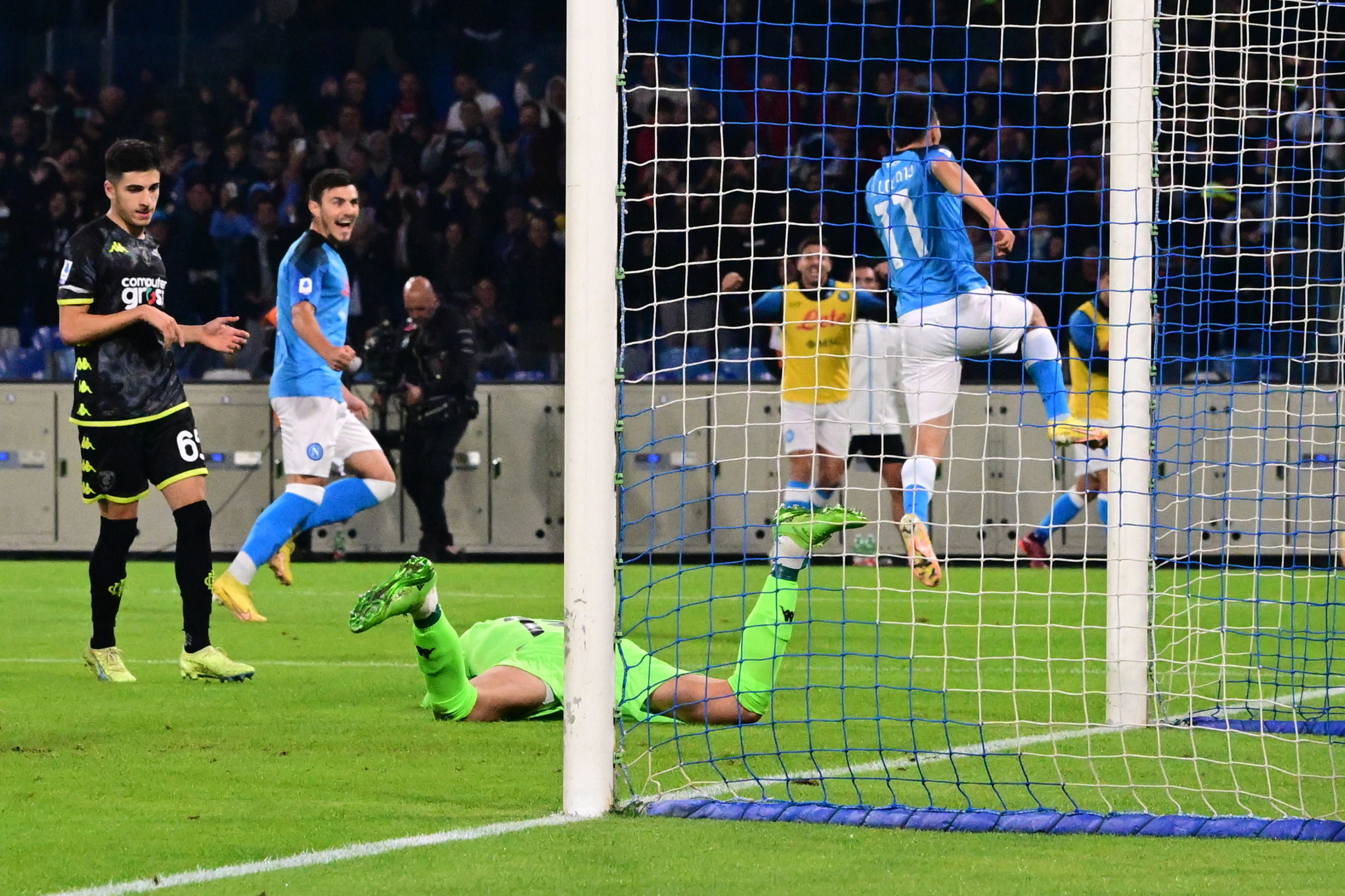 Fuente
La fecha pasada, el equipo del sur de Italia confirmó su candidatura a levantar el trofeo al vencer en un muy intenso partido a la Atalanta de Gasperini, uno de sus más cercanos perseguidores, y gracias a un empate sorprendente del Milan ante el Cremonese, el otro principal perseguidor de los de Spaletti, el Napoli pudo ampliar más su ventaja. En la Serie A los de Spaletti están ante su mejor inicio de temporada en la historia, llegando a la jornada 14 invictos y con 38 puntos, mientras que en Europa solo han concedido una derrota ante el Liverpool en Anfield, resultado que no evitó que se quedarán con la primera posición de su grupo.
Last date, the team from southern Italy confirmed their candidacy to lift the trophy by beating Gasperini's Atalanta, one of their closest pursuers, in a very intense match, and thanks to a surprising draw by Milan against Cremonese, the Another main pursuer of Spaletti's men, Napoli was able to further extend their advantage. In Serie A, Spaletti's men are facing their best start to the season in history, reaching matchday 14 undefeated and with 38 points, while in Europe they have only conceded a defeat against Liverpool at Anfield, a result that did not prevent They will take first place in their group.
Para este duelo más allá de los pocos jugadores que pronto partirán a Qatar, Spaletti no pudo contar con todos sus jugadores para armar su once de inicio, la gran revelación de la temporada, el georgiano Kvaratskehlia no pudo jugar este partido por una lesión muscular, al igual que el defensa kosovar Rhamani, que no se ha recuperado de sus dolencias. Más allá de esto, otros futbolistas como Zambo Angüisa realizaron un partidazo, siendo un auténtico pulpo en la medular, mientras que por las bandas me gustó lo hecho por Mario Rui, que se sumó constantemente al ataque, lanzando varios centros peligrosos al área local.
For this duel beyond the few players who will soon leave for Qatar, Spaletti could not count on all his players to put together his starting eleven, the great revelation of the season, the Georgian Kvaratskehlia could not play this game due to a muscle injury, as well as Kosovar defender Rhamani, who has not recovered from his ailments. Beyond this, other players like Zambo Angüisa had a great game, being a real octopus in midfield, while on the wings I liked what Mario Rui did, who constantly joined the attack, throwing several dangerous crosses into the local area.
Pese a que tuvo unas primeras temporadas irregulares recién llego de la Ligue 1, el nigeriano Osimhem se está volviendo la principal arma ofensiva del Napoli, pelea todas las pelotas pese a estar en desventaja, y sabe aprovechar muy bien su físico para ganar la posición o el salto ante sus rivales, y aunque no recuerdo ningún tiro suyo entre los 3 palos, gracias a su viveza el Napoli consiguió la pena máxima con la que abrieron el partido. Otro que también me llamó mucho la atención en este duelo fue el defensa central surcoreano Kim Min-Jae, pues no había visto un partido completo suyo, tiene gran envergadura y sabe marcar muy bien, además de que trata bien el balón, realizando varios cambios de frente muy interesantes.
Despite the fact that he had irregular first seasons when he just arrived from Ligue 1, the Nigerian Osimhem is becoming Napoli's main offensive weapon, he fights all the balls despite being at a disadvantage, and knows how to take advantage of his physique very well to win the position or the jump before his rivals, and although I don't remember any of his shots between the 3 sticks, thanks to his liveliness Napoli got the maximum penalty with which they opened the match. Another one who also caught my attention in this duel was the South Korean central defender Kim Min-Jae, because I had not seen a complete game of his, he has great size and knows how to score very well, in addition to handling the ball well, making several changes very interesting front.
El partido contra el Empoli no fue nada sencillo para el Napoli, pues más allá de que dominaron por grandes tramos del partido y que apenas concedieron oportunidades para los atacantes locales, los jugadores napolitanos estuvieron muy imprecisos con el balón, y aunque remataron varios veces, la mayoría de esos disparos se fueron por arriba del travesaño. La ya mencionada ausencia del georgiano por la izquierda se hizo palpable, ya que al no contar con sus cabalgatas por la banda y sus asociaciones, la responsabilidad recayó en Mario Rui y Raspadori, siendo claramente este último un hombre más de área y dejando más responsabilidad de esto al portugués.
The match against Empoli was not at all easy for Napoli, because beyond the fact that they dominated for large stretches of the match and that they barely granted opportunities to the local attackers, the Neapolitan players were very imprecise with the ball, and although they finished off several times, most of those shots went over the crossbar. The aforementioned absence of the Georgian from the left became palpable, since not having his cavalcades down the flank and his associations, the responsibility fell on Mario Rui and Raspadori, the latter clearly being one more man in the area and leaving more responsibility from this to Portuguese.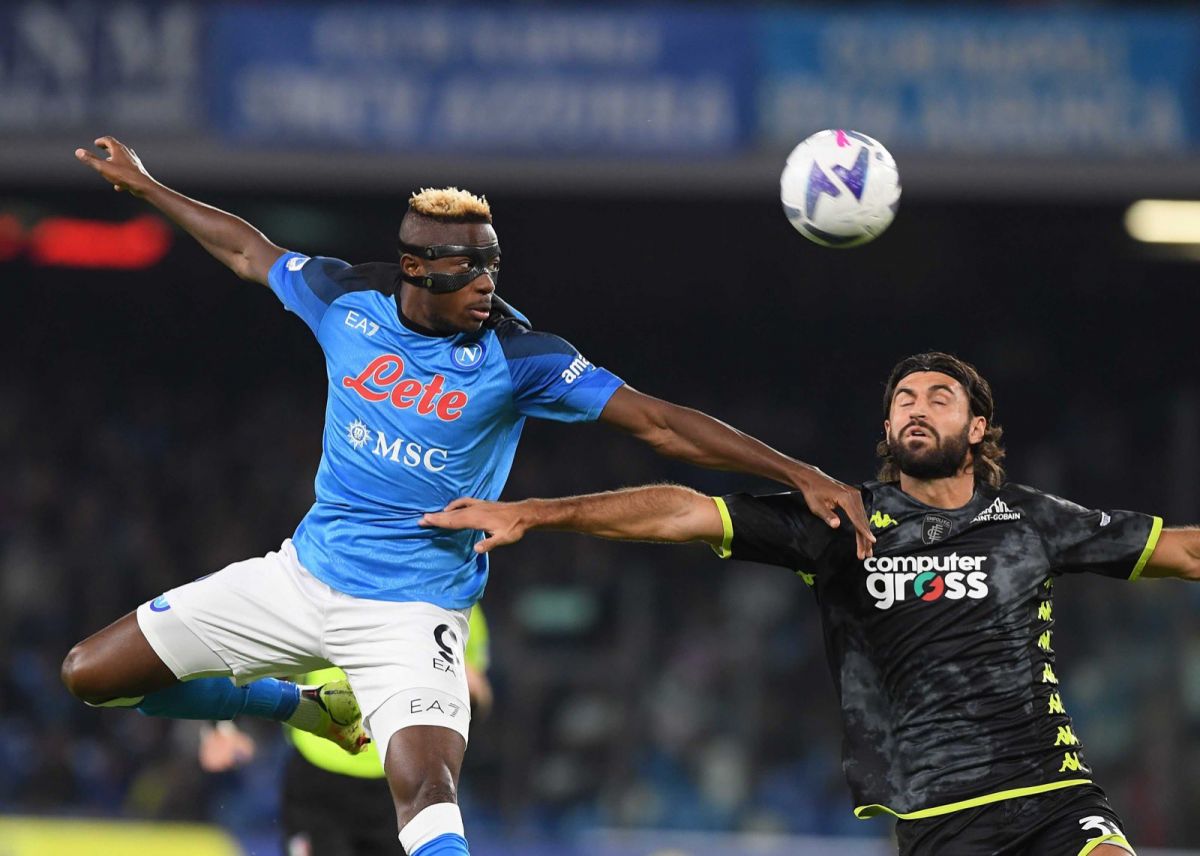 Fuente
El dominio del Napoli no se traducía en goles, pese al poco trabajo de la defensa, lo que provocó que los mediocampistas adelantarán más su posición, viendo por tramos hasta a Kim Min-Jae cerca de la frontal del área rival. No fue sino hasta la recta final del encuentro que los líderes de la liga italiana pudieron vencer al meta visitante, el refresco de los extremos le hizo ganar profundidad al equipo, y el Chucky Lozano terminó siendo el héroe de la jornada, pues no solo marcó una pena máxima muy discutible, sino que además fue un tormento para los defensores del Empoli por la banda derecha, provocando varias faltas peligrosas, una expulsión, y a falta de dos minutos para el final, asistió a Zielinski para cerrar el partido.
Napoli's dominance did not translate into goals, despite the little work of the defense, which caused the midfielders to advance their position further, seeing Kim Min-Jae in sections near the edge of the rival area. It was not until the final stretch of the match that the leaders of the Italian league were able to beat the visiting goal, the refreshment of the wingers made the team gain depth, and Chucky Lozano ended up being the hero of the day, because he not only scored a very debatable maximum penalty, but it was also a torment for the Empoli defenders on the right wing, causing several dangerous fouls, an expulsion, and with two minutes to go, he assisted Zielinski to close the match.
Más allá de la acción del penal, el trabajo del árbitro no fue para nada el mejor, repartió varias amarillas muy rigurosas en acciones que no lo ameritaban, e incluso terminó expulsando al defensa central Luperto por doble amarilla, siendo la segunda muy estricta, cosa terminó provocando el final de una racha de 3 victorias ante los napolitanos por Serie A. Todo esto tampoco empaña la victoria del Napoli, ya que aunque otras veces he dicho que el fútbol no es de méritos, no podemos quitarle el mismo a los celestes, fueron quiénes controlaron el ritmo del partido y quiénes más ocasiones crearon, por lo que finalmente creo que fue una victoria justo de los de Spaletti.
Beyond the action of the penalty, the referee's work was not the best at all, he distributed several very strict yellow cards in actions that did not merit it, and even ended up expelling the central defender Luperto for a double yellow card, the second being very strict, something ended up causing the end of a streak of 3 victories against the Neapolitans in Serie A. All this does not tarnish Napoli's victory either, since although I have said other times that football is not of merit, we cannot take it away from the sky-blues, They were the ones who controlled the pace of the game and who created the most chances, so in the end I think it was a fair victory for Spaletti's men.
De igual forma, el partido del Empoli tampoco fue pésimo, este es un equipo que sabe defender muy bien en bloque bajo, dejando muy pocos espacios para las delanteras rivales, y gracias a este trabajo, los visitantes se vieron obligados a probar repetidamente desde la frontal del área, cosa que limita la precisión de los disparos, evidentemente. A nivel ofensivo son de los menos contundentes en Italia, tratan de jugar muy vertical y meten pocos balones a la olla, y aunque cuentan con un delantero muy luchador, como el uruguayo Satriano, u otros con más experiencia como el italiano Matia Destro, lo cierto es que ninguno cuenta con más de una anotación en este torneo.
In the same way, Empoli's match was not bad either, this is a team that knows how to defend very well in a low block, leaving very few spaces for the rival forwards, and thanks to this work, the visitors were forced to try repeatedly from the front of the area, which obviously limits the accuracy of the shots. On an offensive level they are among the least forceful in Italy, they try to play very vertically and put few balls in the pot, and although they have a very fighting striker, like the Uruguayan Satriano, or others with more experience like the Italian Matia Destro, they It is true that no one has more than one entry in this tournament.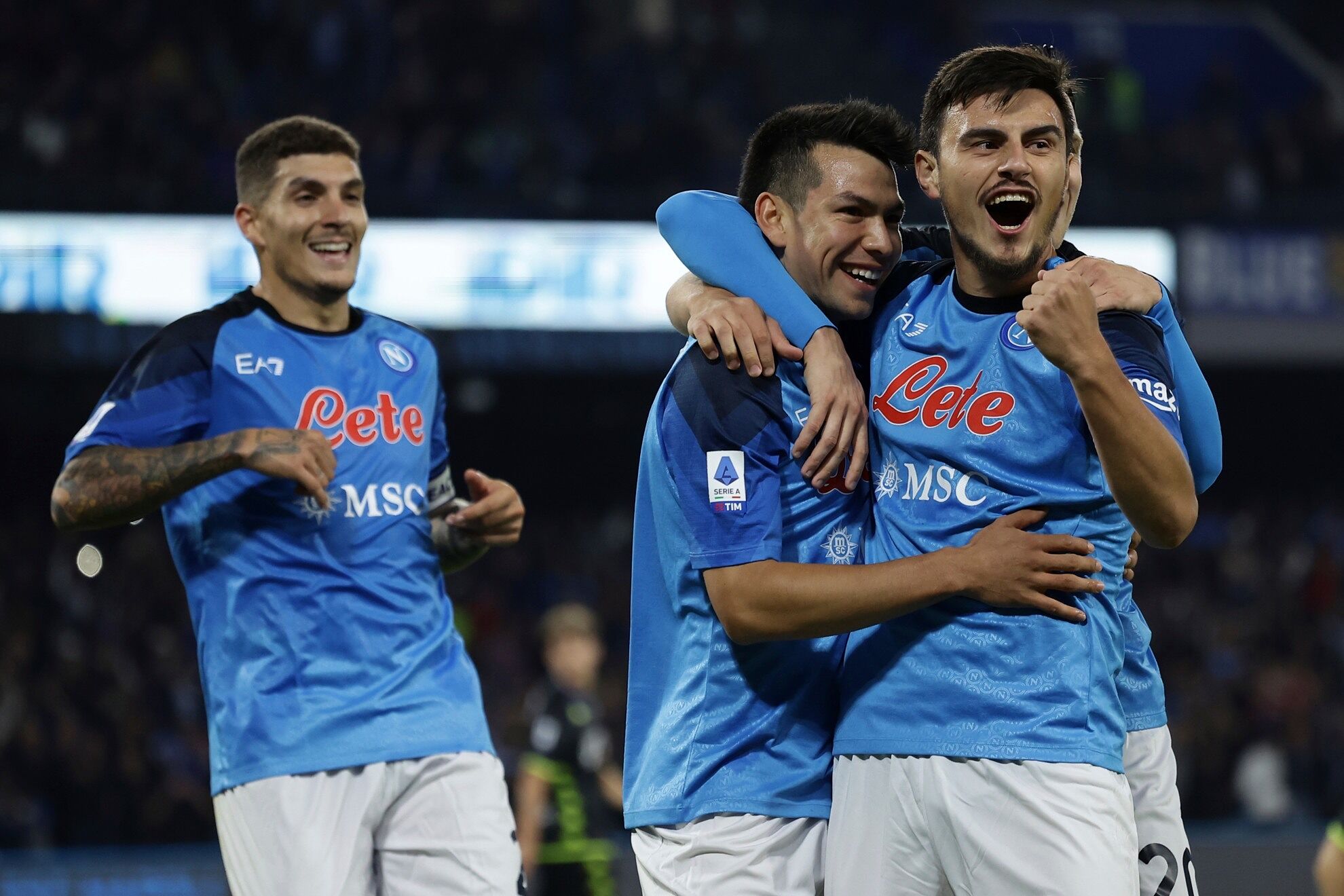 Fuente
En los minutos finales tuvieron una muy clara para descontar, pero Meret demostró su valía y mantuvo su valla en cero, cerrando un partido donde el Napoli apenas sufrió en defensa. Con esta victoria el Napoli tiene todo a su favor para levantar la Serie A después de muchos años de sequía y momentos difíciles, donde tuvieron que renacer de sus cenizas al caer de división, pero pese a este nivel ofrecido, la tarea más difícil que tienen es la de cambiar la historia reciente del club, pues pese a otros inicios de campaña muy ilusionante, donde comandaron la tabla por varias jornadas, el equipo siempre ha sufrido un bajón en la segunda parte de la temporada, por lo que para volver a hacer historia en Italia, deben superar la suya propia...
In the final minutes they had a very clear one to discount, but Meret proved his worth and kept his fence at zero, closing a match where Napoli barely suffered in defense. With this victory, Napoli have everything in their favor to lift Serie A after many years of drought and difficult times, where they had to rise from the ashes after falling from the division, but despite this level offered, the most difficult task they have is to change the recent history of the club, because despite other very exciting starts to the campaign, where they led the table for several days, the team has always suffered a slump in the second part of the season, so to do it again history in Italy, they must overcome their own...
---
---