Weekly Round up of Europe's Top 5 - FC Barcelona AND Others
A new Football Season has commenced in September 2021, football fans all over the world are relishing this new competition, knowing with guarantee the entertainment, drama, and fun they expect to see in the coming weeks. Maybe NOT for all fans, because for people like me - I had decided to take a break from it all.
Being a football fanatic is never easy, you feel the emotions of your club like you were right where they are, and if you're like me - you take this very seriously. I should start by saying I'm a die-hard fan of FC Barcelona for several reasons too long to explain, they were the first club I admired from the first moments I got in touch with football (More like a love confession xD).
I decided to take a break from football because of how Low and Bad last season was for us both in Laliga and UEFA Champions League competitions. It seemed to me like we had lost our Touch and only something really significant could bring it back. It's not even saying that we had a chance last season in UEFA Champions League, after all, we got evicted before reaching the Quater finals stage, the first time since the 2006-2007 Season. At that time I accepted the loss but I couldn't bring myself to accept was how the rest of the season played out. Two significant events, in particular, sealed my decision:
Chelsea FC Eventually Bagging the Champions League Cup (Sorry to all Chelsea Fans that might be reading this!) 🤞
Barcelona Finishing third in Laliga 2020/21 Season, Atletico deservedly Winning the League (We HAD EVERYTHING working well a week before End-of-Season, how could it go so wrong).
Long story short - Now I'm Back In the Game. Hurray!. Why? - Well, when I saw my Favourite Player of all time moving on against all odds, who am I not to?. That now takes us into this game!
​ ![Facebook post - 2.png](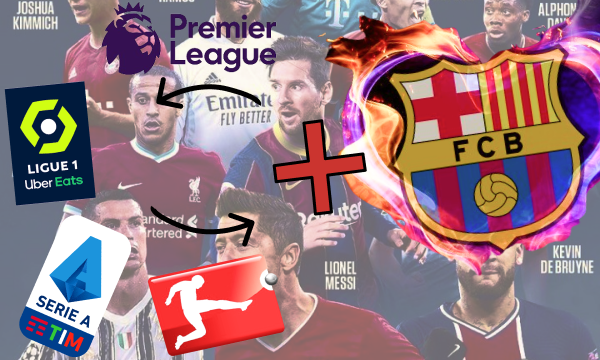 )
Welcome to Europe's Top 5 Weekly (For Short - ETW5). In this collection of posts, I'm gonna be sharing my ideas about the biggest news and happenings surrounding Football in Europe's Top 5 League being (Laliga, Premier League, Ligue 1, Bundesliga, and Serie A). I hope for it to be less official but more (Yay, a random football fan sharing their opinion), and by so doing, facilitate expression of thoughts, opinions for EVERYONE reading this.
---
LATEST NEWS AND HAPPENINGS
- Barcelona being Barcelona (Was I Wrong to Choose You?)
There has been a lot of media going around concerning the recent poor performances of FC Barcelona. Just yesterday, for their 4th Game of the season, against Granda CF, the result was a Draw. They currently stand in 7th place on the league table. Coming off from their 3 - 0 defeat against Bayern Munich for the Champions League group stages, you can expect that many fans are not happy about this.
Surely, because of this, Barcelona's coach Ronald Koeman is under a lot of pressure - People's feelings are that he has never really delivered in the big games, and while I can't really pinpoint what the issue might be (with the run of poor form), the President (Joan Laporta) has shared opinions on how "He might have to take strong actions if it continues". Should we be happy about his opinions? I really don't know, is the couch the issue, or are there other problems running deep?. Some people think that the squad might be "too young" for these kinds of games. Can you believe it (The Average age of last night's Match Lineups against Granada is just 24.5 and people think this is young)?
Personally, I can never be wrong in choosing FCB, considering the exit of our talisman(Lionel Messi) though, I mean the squad DOES have immense fantastic quality, what could be better than this?. If I was a player myself, I would really feel the shock exit (expected in a way) of Messi, and it might take me a while to re-adjust (especially confidence-wise). There has also been a lot of pressure on these players especially the youngsters, the media has been looking for who can "step up and deliver". It goes beyond doubt that I strongly believe in the new Barcelona (Of course there are some players that have had it already and might better off the team by leaving), but for me, this "too young " opinion is ridiculous, because I believe that those who have something to prove can never be deterred.
Forget the Caption "was I wrong to choose you", I am completely confident we can go all the way, one step at a time.
---
- Ronaldo's Run of Success in New Team (Machester United FC)
Woah, indeed 2021 is a fascinating year. When I heard that Ronaldo is en route to leaving Juventus, I was amazed and well, looking forward to it (Could he end up in PSG just like Messi Did?) That would be Astounding( Not necessarily in a good way). Messi, Cr7, Neymar, Mbappe, the four most-talked-about footballers worldwide, ALL In One team!. Anyway, things worked out for the best I guess, and he eventually returned to his Old Club, Manchester United. Ever since It has been fantastic for him.
The current stat's stands at 4 goals in as little as 3 Games ( penalty goals), and well, I don't think anyone really doubted him in the first place. In other words, It is expected of him and I really wish him the best of luck. Hmm, It also does seem to Manchester United fans that their current run of form, plus the advantage of having Ronaldo this season, could guarantee them a spot in the top (Premiership and UEFA Champions League). Well, we are gonna see about this, if one player can really cause a drastic change to a team - Because, before his arrival, Manchester United were never real contenders for Anything. I don't believe they have a strong passionate squad honestly (In my Opinion, Like Real Madrid), and well, If Liverpool wasn't struck by multiple First Team Injuries, who says they could have attained the 2nd place spot last season in the league?.
---
- Messi's Dilemma in New Team (Paris Saint Germain FC)
The Greatest Player of All Time is once again being doubted, and honestly, pundits never learn. Messi's New arrival in PSG has not been the greatest, in fact, it is a direct opposite of his Rival's Cr7 like we saw above. I've read that there has been pressure, both from the media and French Fans on his "performance". This performance we speak of has just been for a period of Three Games, appalling isn't it?. At this rate, it is understandable that the media would always talk (that's their bread and butter), it's left for us fans to decide on which news to consume against those that are plain foolish. This being so, I am to the conclusion that Leo Messi is just getting adapted to his new league(It happens to everyone) - It happened to Cr7 when he first Joined Juventus in 2018 and pundits barked xD.
There's an extent you get to in life - in which a skill can NEVER fade away. It's like saying a Talented artist who has been painting for the past 10 years, travels to new lands, then he started finding painting difficult(ish). And we attempt to conclude, that he is done for, it was a wrong move, he's better of in his last location where things were "easy", yet we know by heart that This is an Artist with Talent and Skill. All we can say rightfully is " Hey Artist, take a deep breath, close out the voices in your head, and rediscover your party" - We all have to tell ourselves this every now and then!
That brings us to the end of this post. These are the little ideas on the current news I had to share with you. Thanks for reading ETW5, I hope you had enjoyed the read!. Let me hear your ideas? Was there a piece of hype news I should have included? Do you disagree with any of my opinions? All interactions are welcomed!.
---
---