Initiative Checkmate Boredom on Hive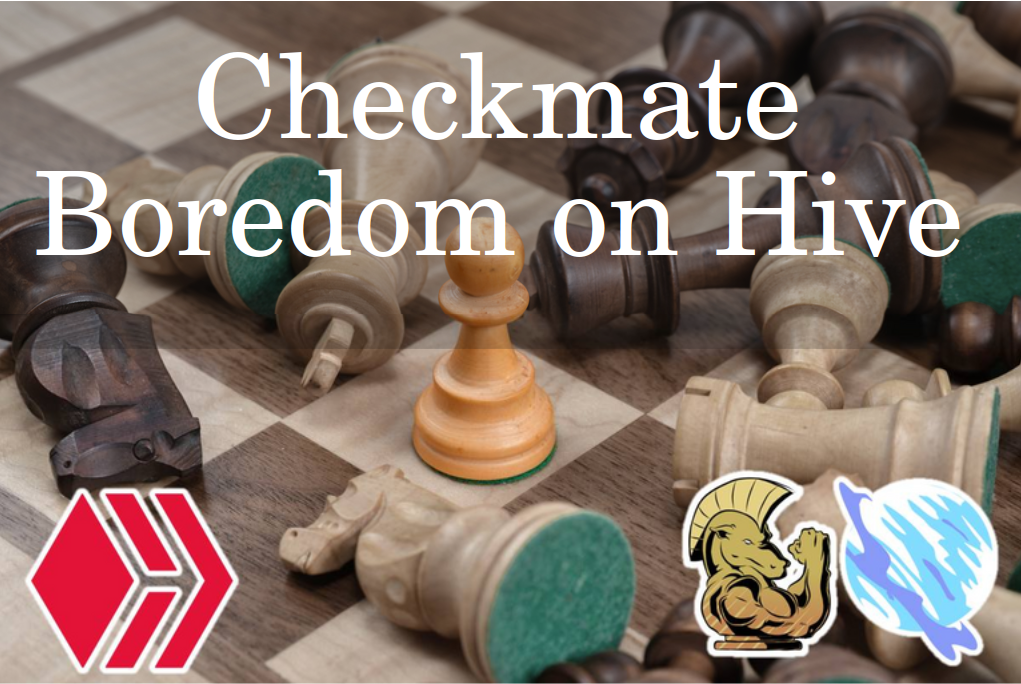 Hi, dear hivers!
We are grateful for the acceptance we have had as a project, from you, the community that makes life on Hive, which is why this time we bring you a somewhat different initiative, but very fun, that will surely make many of you develop some of your skills.
What is this initiative all about?

From the Aliento Project (@Aliento) and the Chess Brothers Project (@ChessBrothersPro) we want to promote an activity that is competitive, recreational and healthy, and it turns out that chess meets all these requirements. We have learned that this millenary game has many followers around the world and can be a lot of fun for beginners and experts alike. In addition, the multiple benefits that chess practice brings even in terms of mental health are well known.
We also think that, in addition to writing and podcasting, games are another effective and natural way to express ourselves and socialize. We believe that this initiative will connect many people and will contribute to diversify the activities we do in the blockchain.
That is why for this initiative we invite you to play chess. Yes, participate in the chess tournaments held weekly in the Chess Brothers League and tell us through a post how was your experience.
Note that you do not need to be a chess expert. Players of all levels are welcome in this league; everyone can participate without discrimination. It's all about learning and having fun. In fact, if this is your first time playing a chess tournament, that's a good thing, as there will be prizes for first-time users in the current league season.

How to participate?
♔ Play at least two (2) tournaments of the current season of the Chess Brothers
League. These tournaments are held every Sunday at 3 pm (Venezuela time) and last approximately one hour. If this is your first time at this, below is a detailed explanation of what it takes to play.
♔ Make a post telling us something you know or have learned about chess and how was your experience playing in the tournaments.
As for the guidelines for this post:
.
♙ Post your entry in the Aliento community.
♙ Only one post per user.
♙ Your post must have minimum 300 words in one language and a minimum of two images, especially screenshots of the occasion.
♙ Write your post Spanish/English or just Spanish if you wish.
♙ You can talk about your journey in the activity, such as the creation of the Lichess account, your chess games and your tournament interaction, etc. Include something about chess, with emphasis on your opinions, stories, lessons learned, interesting facts, people you have met, etc.
♙ Of course, no plagiarism, content recycling or abuse.
♙ Only the best entries will be voted on, no vote is assured.
♙ Use valid tags that go along with your post and do not mention Hive whales or curators. Include the hashtags #aliento and #chessbrothers.
You must also:
♙ Share the link to your post in both the comments section of this post and the tournament report post you played, which is posted every Wednesday by @chessbrotherspro.
♙ Follow the Aliento account on Hive and Twitter.
♙ Follow the Chess Brothers account at Hive and Twitter.

.
What you need to play
♙ A Lichess account: This is the platform/game page. If you don't have an account there, open one. It's very simple, you just need to have an email.
♙ Join the Chess Brothers team: Once you have logged in to Lichess, you must join the Chess Brothers team on the platform. You can do this by following this link and then click join the team.
♙ Join the weekly tournament: For the Sunday 7/11 tournament you can follow this link https://lichess.org/swiss/ze03U4Em and then click Join. Links to the other tournaments will appear on the team page on Lichess and will be posted weekly in @chessbrotherspro's reporting and call posts on Hive. Follow the account to stay tuned.
♙ Connect and play: Once Sunday arrives at 3 pm (Venezuela time), the tournament will automatically start right at that time. Connect minutes before and interact in the tournament chat to learn more. The tournament lasts about an hour and in that time you will be able to play several games. The system will automatically assign you an opponent.
What about the awards?
There will not be a podium. We will choose five (5) winners who have met the above guidelines and whose content has been valued as creative and thoughtful.
We will also value the interaction between participants in terms of comments to other publications.
We will distribute 100 Hives, 20 hives for each winner.
Regarding the jury, it will be made up of curators from Aliento (@eddiespino, @elizabeths14 and @ilazramusic) and Chess Brothers (@eniolw and @vjap55).
It's also worth noting that everyone who participates can be considered a winner in a sense, as they've learned a little more about chess and are sure to have had fun as well. In addition, the Chess Brothers League will also be awarding prizes to its players. Check out the terms and conditions.

How long will it last?
The initiative will run for the entire month of November, so the deadline is November 30th. There are four tournaments scheduled in this month, so we have four opportunities to play and participate in the initiative.
The winners will be announced on Saturday, December 4th.

Do you have doubts?
All this is not very complicated, but it is natural to have doubts, so you can raise them on the Aliento and Chess Brothers Discord servers, where you can get advice on the whole process.
Remember that there are four tournaments scheduled this month, even though we only need to play two to participate in the initiative. So we have several opportunities to experiment, learn and improve ourselves.
And remember: the idea is not to graduate as a chess Grandmaster, but to have fun, share and learn. Chess can also be exciting :)

What are you waiting for?
Join us and invite others to do the same!


Source of the Main Image
Translated and adapted from En Hive le damos un-jaque-mate al-aburrimiento-by aliento.
---
---