Chops316 Monday Morning Quarterback: 2021 Thanksgiving Edition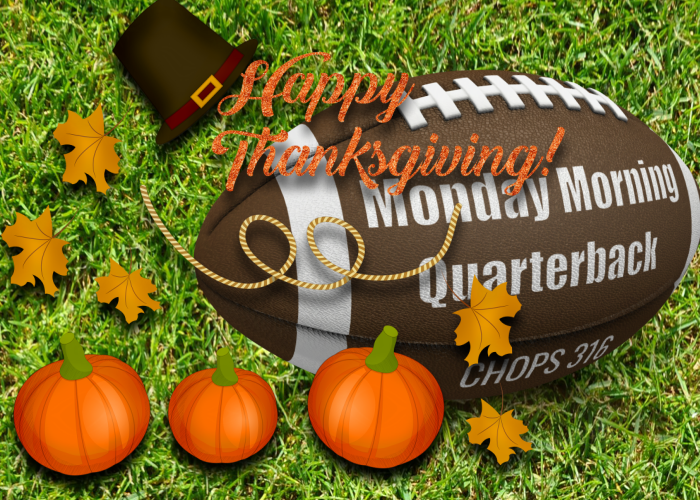 Welcome to the 2021 Thanksgiving Edition of the Chops316 MMQB. I hope everyone had a fine Thanksgiving. If you didn't celebrate I hope you had a great day anyway. Thanksgiving is my favorite holiday. You get football and a feast, what could be better than that? OK, a couple of things but I don't like to get too graphic with these posts. ;)
My family congregated at my brother's house for our feast. It was extra good since my 95 year old grandmother was able to come this year. Last year she wasn't allowed to leave her nursing home. Well I guess more specifically she was allowed to leave, we just wouldn't be allowed to bring her back. Luckily things are much more normal this year.
Of course we had turkey and all the other good stuff, but we are a Polish family and that means every holiday also includes kielbasa. I ate so much kielbasa, I was like a beached whale watching the football games. Nothing a few Yuengling Black & Tans couldn't fix. Did I mention I love Thanksgiving?
Thanksgiving is a homecoming holiday and isn't it ironic that all three home teams lost on Thursday? I'd laugh but one of those teams was Dallas and there is nothing funny about the Cowboys losing!
Anyway let's get to the Thanksgiving action. Just remember I am a Dallas Cowboys fan and I'm extremely biased. Feel free to agree or disagree about anything mentioned here. All comments are welcome.

Appetizer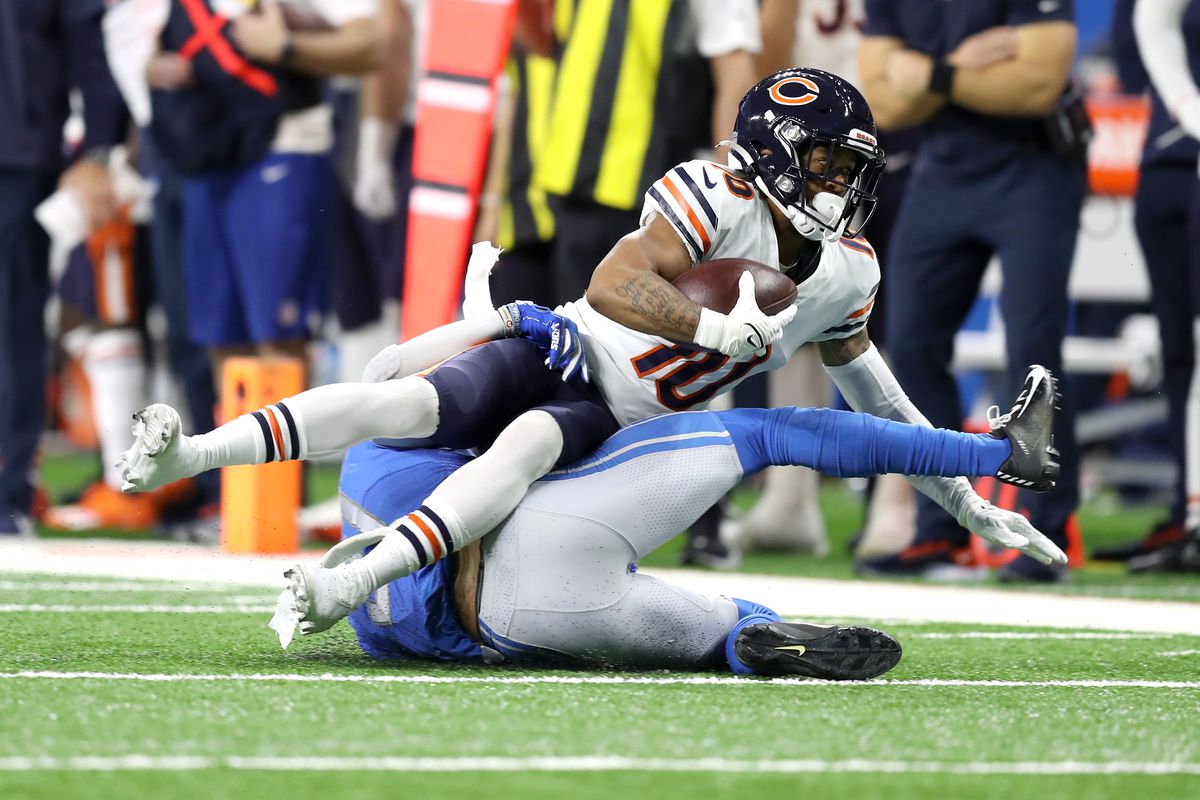 The Bears squashed the Lions hopes of winning their first game in the 4th quarter
Source
Bears 16 Lions 14
Thanksgiving football kicked off in Detroit, as is the normal tradition. The first game of the slate is also traditionally the least desirable matchup of the day. Because the Lions play in Detroit you know. But luckily for us the Bears stink as well this year so we got a competitive game. Not a good game, but a competitive one.
The Bears received the opening kickoff and did squat so they punted. Big surprise. The Lions took possession and drove straight down the field as Jared Goff threw a 39 yard pass for a TD. Big Surprise! The Lions actually looked good on this opening drive. Maybe they were ready to score some points today.
Nah just kidding. The next six Lions possessions ended with 5 punts and a fumble. While that debacle was going on the Bears managed to kick two field goals and score a TD to take a 13-7 lead. The Lions offense finally revived late in the 3rd quarter and Goff led another TD drive to put the Lions up 14-13.
That was the score entering the 4th quarter. The Bears had the ball first, but punted.
The Lions had a chance to extend their lead and started moving the ball, but back-to-back holding penalties by the offensive line killed the drive. The Bears took over on their 21-yard line with eight and half minutes left in the game.
What followed was a long, slow slog down the field that chewed up all the time left on the clock. Chicago faced a 3rd and 9 at the Detroit 16-yard line with a little less than two minutes to go. If Detroit could have forced a 4th down, the Bears would still take the lead with a field goal yet the Lions would have one more shot to come back.
What followed was a most Detroit way to blow a game. The Lions called back-to-back timeouts, which you are not allowed to do. It resulted in a delay of game penalty and five extra yards for the Bears. Chicago converted the much easier 3rd and 4 play. Now that the Lions were out of time outs, Chicago took three knees to kill the clock and kicked a game-winning field goal as time expired.
The way Bears head coach Matt Nagy ran onto the field after the game-winner would have made you think the Bears won a playoff game. Nobody should have been that excited about needing a little luck to beat the Lions. Of course this win may have saved Nagy's job. At least for another week.
Without the services of Justin Fields, the Bears turned to Andy Dalton (24/39, 317 yards, 1 TD, 1 INT) at quarterback and he played pretty well. His top target was Darnell Mooney (5 receptions, 123 yards), who made several big catches. Chicago needed a good game from Dalton as the ground attack was terrible. David Montgomery (17 rushes, 46 yards) led a committee that only gained 68 yards on 29 carries. Yuck.
The Bears improved to 4-7, third place in the NFC North. They'll face much stiffer competition next week when they host another team that used to call Chicago its home, the Arizona Cardinals.
Oh those crazy Detroit Lions. Playing at home on a short week against another bad team may have been their best chance to win a game this year. They held a lead for 14 minutes and 59 seconds in the 4th quarter, but still couldn't bring that elusive win home.
The Lions have been running the ball a lot lately, but when D'Andre Swift got injured after only three carries they had to turn to Jared Goff. Goff (21/25, 171 yards, 2 TDs) responded with his best game in a Lions uniform. It still wasn't enough to win. The Lions fell to 0-10-1, last place in the NFC North and the NFL. They will host the Vikings next week.

Main Course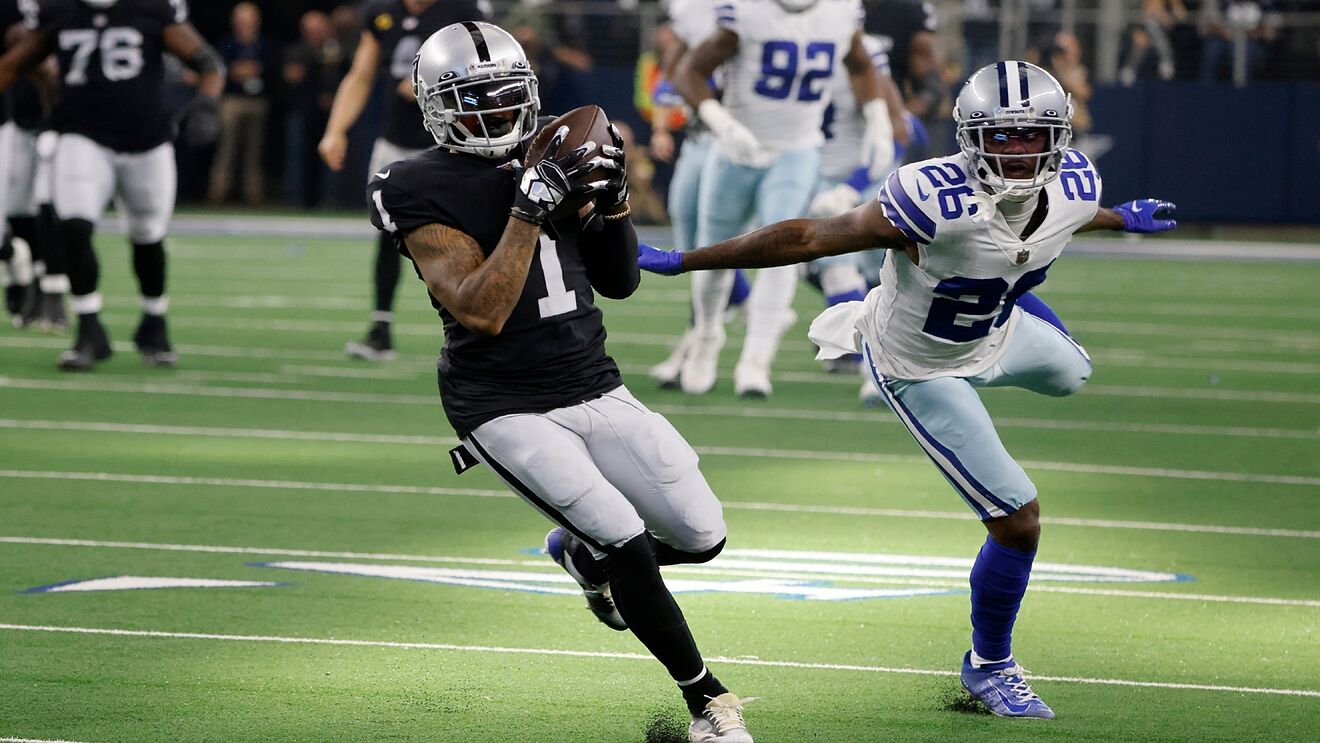 DeSean Jackson burned the Cowboys over and over again
Source
Raiders 36 Cowboys 33 OT
In the most exciting game on Thanksgiving, Derek Carr and Dak Prescott engaged in a quarterback duel that couldn't be contained by regulation time. Overtime was needed to decide this contest, where the Raiders outlasted the Cowboys.
Yet Prescott and Carr weren't the only guys throwing things around the field. I don't think the referee crew was happy to be working on a holiday and they took out their anger on the combatants. A whopping 28 penalties were called. 28! What the hell!
Sure a decent amount of those flags were warranted, but the refs threw flags on many very ticky-tack calls as well. Yet neither team can complain about the officials playing favorites. Both teams were assessed 14 penalties. The difference was in the yardage as the Cowboys were tagged for 166 penalty yards, the Raider 110.
Both quarterbacks were missing top targets. Amari Cooper and Ceedee Lamb were out, covid for Cooper and concussion for Lamb. The Raiders top receiver, tight end Darren Waller (2 receptions, 33 yards), started the game, but left early on with an injury. Both teams found other guys to pick up the slack.
The Raiders started off hot with two TDs in the 1st quarter. The Cowboys scored a TD of their own, but missed the extra point as Las Vegas held a 14-6 lead after one quarter.
The Raiders had the ball first in the next quarter and kicked a field goal to extend their lead to 17-6. Dallas tried to respond, but Greg Zuerlien's 59-yard field goal attempt hit the left upright. Las Vegas took over at midfield with an excellent chance to increase their lead, but the Dallas defense finally made some stops.
The Cowboys got the ball back and with the help of a 51 yard pass from Dak Prescott to Cedric Wilson scored another TD. This time Zuerlien made his extra point and the game went to halftime with the Raiders ahead 17-13.
The 3rd quarter started with a couple of punts before the action heated up. The Raiders made the first move as Marcus Mariota came into the game to rush in a 3 yard TD on a wildcat snap. The Raiders now led 24-13. Dallas needed a rebuttal and they got one instantly. Tony Pollard returned the kickoff for a hundred yards and a TD. Dallas went for two, but failed to convert. The Raiders tacked on another field goal and headed into the 4th quarter with a 27-19 lead.
The final period of was a back and forth affair. Dallas kicked a field goal, Las Vegas kicked a field goal. Dallas punted, Las Vegas punted. Then the Cowboys broke through with a couple of huge pass plays by Prescott to score another TD. This time they made the two point conversion and the game was tied 30-30 with three minutes left in regulation.
Derek Carr quickly took the Raiders into field goal range, but their drive ended there. They kicked a field goal with two minutes left to go ahead 33-30. Dallas got the ball back with a chance to win, but could only drive as far as the Raiders 27-yard line. They kicked a field goal to tie the game 33-33 and force overtime.
Overtime was where the Cowboys magic ran out. They won the toss and couldn't even get one first down. The Raiders took over on their own 22-yard line. A long run from Josh Jacobs moved them to midfield. Then the Cowboys stuffed a run and sacked Derek Carr. Facing a 3rd and 18, Carr chucked the ball downfield to DeSean Jackson. Cowboys cornerback Anthony Brown got flagged for his fourth (4!) defensive pass interference penalty of the game. It was a 36 yard penalty and set the Raiders up for a game-winning kick.
The Cowboys defense gave them a ton of help with penalties, but Derek Carr (24/39, 373 yards, 1 TD) still had to have a great game to pull out the win. The Raiders offense truly revolves around Carr. When he throws for over three hundred yards the Raiders are 6-0. Under three hundred they are 0-5.
Carr got outstanding efforts from Hunter Renfrow (8 receptions, 134 yards) and DeSean Jackson (3 receptions, 102 yards, 1 TD). Jackson also drew all four pass interference penalties on Brown. Josh Jacobs (22 rushes, 87 yards, 1 TD) provided the ground support. The Raiders totaled 509 yards on offense.
The Las Vegas defense wasn't nearly as good. The Cowboys burned them up as well, but they did make a critical stop in overtime. The Raiders improved to 6-5, third place in the AFC West. They will host the No-Names next week.
The Cowboys defense that had made such a stunning turnaround reverted back into its awful 2020 form. They couldn't stop the Raiders in the air or on the ground and aided Las Vegas with a ton of penalties. Atrocious showing.
Falling behind early, Dallas kind of gave up on running the ball. Zeke Elliott and Tony Pollard combined for 61 yards on 19 carries. That left the burden on offense to Dak Prescott (32/47, 375 yards, 2 TDs), who responded with a spectacular game. No Cooper and no Lamb meant others had to step up. Michael Gallup (5 receptions, 106 yards) and Cedric Wilson (7 receptions, 104 yards) did just that.
The Cowboys fell to 7-4, first place in the NFC East. They have dropped three out of their last four games, all to AFC West teams. They've gotten away from the running game lately and really need to emphasize it again. They have another Thursday game next week in New Orleans.

Dessert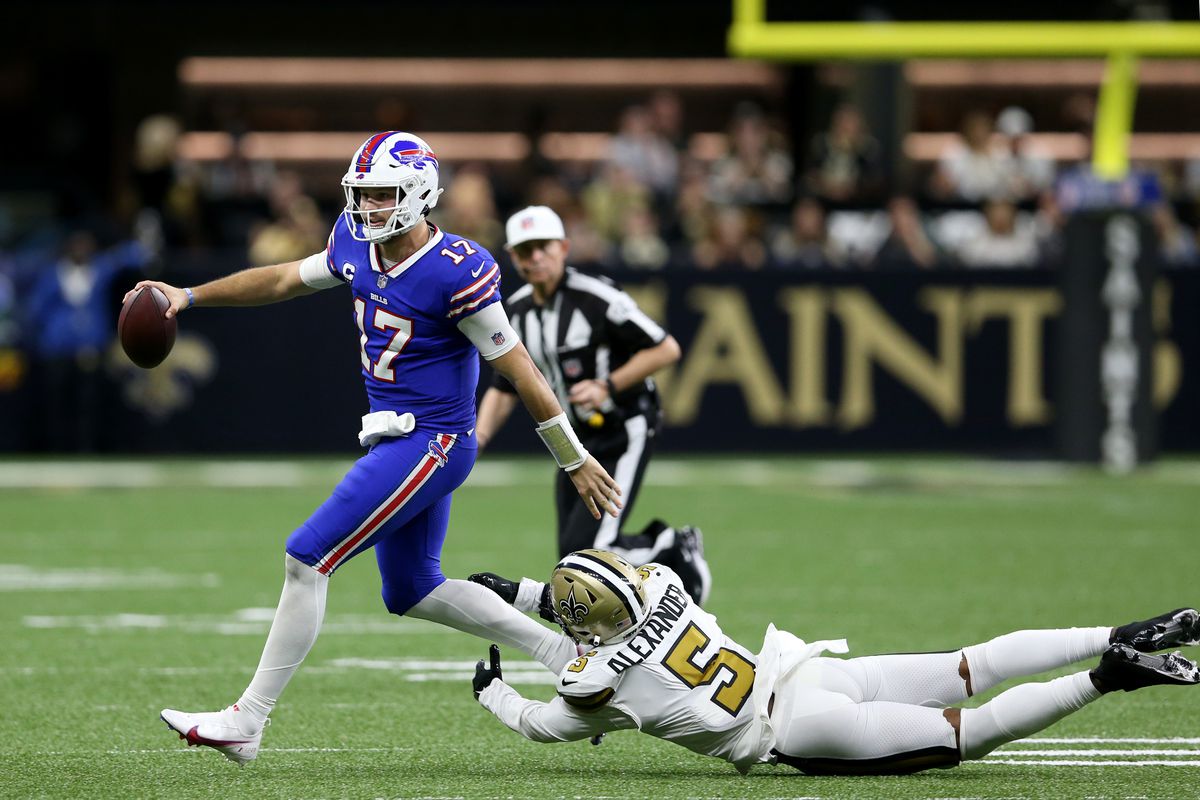 When Josh Allen got done making mistakes he dominated the Saints
Source
Bills 31 Saints 6
The final game on Thanksgiving was supposed to be worthy of a prime time television spot. But with the Saints missing Jameis Winston, Alvin Kamara and Mark Ingram it fell flat. The Saints defense made enough plays to keep it close for a half, but in the end Buffalo ran away from the Saints.
Buffalo scored 10 points with their first three possessions and were poised to break the game wide open in the 2nd quarter. But then Josh Allen threw interceptions on back-to-back drives, one at midfield and the other in the red zone, to kill two scoring opportunities. While the Saints defense was making plays, the offense was lifeless. New Orleans only gained 65 yards of total offense in the first half as Buffalo took a 10-0 lead into halftime.
Josh Allen got his head together during the break and came out much better in the 3rd quarter. He led the Bills on two TD scoring drives on their two possessions of the quarter and the rout was on. Buffalo as up 24-0 after three quarters.
The 4th quarter was garbage time at this point. The Saints finally broke through for a TD with their one (and only one) decent drive of the game. They failed on a two point conversion and still trailed 24-6. The Bills squashed any faint hopes for a comeback with another TD of their own and left New Orleans with an easy 31-6 victory.
Josh Allen (23/28, 260 yards, 4 TDs, 2 INTs) pretty much did whatever he wanted once he got his turnovers out of the way. Allen (8 rushes, 43 yards) was also Buffalo's best running option as neither Devin Singletary (15 rushes, 44 yards) nor Matt Breida (9 rushes, 26 yards) did much to help him out. Too much of the Bills offense is centered around Allen. When he is on the offense rolls, but if he gets even a little out of whack they struggle. By this point of the season this issue should have been addressed. It will probably cost Buffalo in the playoffs.
The Bills defense overwhelmed the depleted New Orleans offense, only giving up 190 yards for the game. A good chunk of that total came in garbage time. The Bills improved to 7-4, currently tied with New England for 1st place in the AFC East. They will host the Patriots a week from Monday.
The New Orleans defense was game for a half. Yet since the offense gave them zero support they eventually ran out of gas. Trevor Siemian (17/29, 163 yards, 1 TD, 1 INT) is struggling and I wonder why head coach Sean Payton hasn't given Taysom Hill a chance at quarterback. The ground attack was completely lost without Kamara and Ingram, only gaining 44 yards on 25 carries. That was brutal.
The Saints have now lost three straight games and the season is slipping away. New Orleans fell to 5-6, tied for 2nd place in the NFC South. They will host another struggling team next week when the Cowboys come to town.


That concludes the 2021 NFL Thanksgiving slate. At least we got three games this year. Last year the Ravens/Steelers game was postponed due to covid and wasn't played until the following Wednesday. That was crazy.
Thanks for reading and feel free to leave a comment below.
---
---