Chops316 Monday Morning Quarterback: 2021 Week 4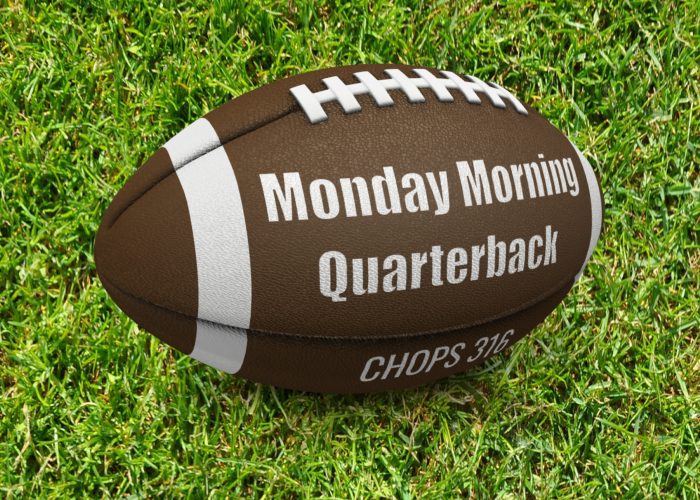 The fourth Sunday of the 2021 NFL season is in the books so here are the different thoughts and opinions I have on various things I witnessed this past weekend. Damn I had a good week. After last year's hiatus Pennsylvania's biggest shindig of the year, the Bloomsburg Fair, returned and I had a great time. I ate so much good food I'm lucky I didn't explode. And a shout out for my cousins Ava and Jay who each took home Blue Ribbons for their cows. Those kids are going to keep my family's farming heritage alive and well.
Football treated me good as well as my Nittany Lions blanked Indiana 24-0 and the Dallas Cowboys got a big win over the previously undefeated Carolina Panthers. Baseball kicked me in the nuts as the Phillies missed the playoffs, but you can't have it all they say.
Just remember I am a Dallas Cowboys fan and I'm extremely biased. Feel free to agree or disagree about anything mentioned here. All comments are welcome.
Carolina Roadkill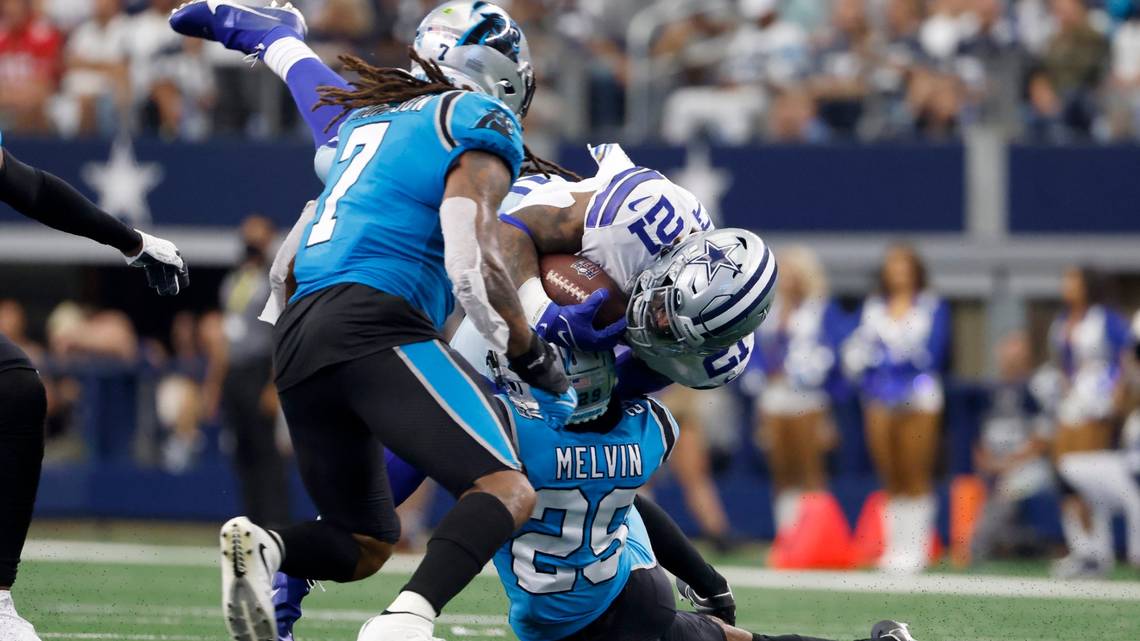 Zeke Elliott smashes through the NFL's top defense on his way to a TD
Source
The Carolina Panthers came to Dallas this week sporting the league's #1 defense, only giving up 135 total rushing yards combined in their first three games. The Cowboys were not impressed. Led by Zeke Elliott, Dallas turned the Panthers into roadkill to the tune of 245 rushing yards as the Cowboys defeated the Panthers 36-28.
The two teams battled each other evenly in the first half, with each squad scoring two TDs. Dallas however failed a two-point conversion, so Carolina held a 14-13 at the end of the half.
The third quarter was where the game was decided. The Panthers had four possessions that ended with a missed FG, a punt and two interceptions. The Cowboys also had four possessions, theirs ended with 3 TDs and a FG. Boom. Carolina added a few garbage time scores in the 4th to make the final score look respectable.
Dak Prescott (14/22, 188 yards, 4 TDs) didn't need to throw much while Dallas had so much success on the ground. The nicest thing about his game was he hit four different receivers for his TDs. He is doing a great job of spreading the ball around, taking what the defense gives him instead of trying to force the ball to one or two targets.
Zeke Elliott (20 rushes, 143 yards, 2 TDs) was a monster on the turf. His backfield partner Tony Pollard (10 rushes, 67 yards) wasn't shabby either. Then again neither was Prescott on the ground as he gained 35 yards on 4 carries. The Cowboys averaged a healthy 7.2 yards per carry. That is domination over 34 carries. Damn.
The defense continues to impress, sacking Sam Darnold five times and intercepting him twice. They only gave up 14 points through 3 quarters, they played softer coverage in the 4th to help bleed the clock. Trevon Diggs nabbed both interceptions, he has at least one in every game this season.
I'm starting to feel good, the Cowboys are looking better each week. Dallas improved to 3-1 and will host the Giants next week.
Without the services of Christian McCaffrey, the Panthers needed the defense to step up to help out the offense. They fell flat on their face as Dallas ran all over their asses. Sam Darnold (26/39, 301 yards, 2 TDs, 2 INTs, 2 rushing TDs) padded the stats some with garbage time, but still had a solid game. He has now rushed for 5 TDs in the first four games, a new NFL record for quarterbacks. D.J. Moore (8 receptions, 113 yards, 2 TDs) was his top target.
If the Panthers want to succeed without McCaffrey, they'll need to protect Darnold a lot better than they did against Dallas. The Panthers fell to 3-1 and host the Eagles next week.

The Circle is now Complete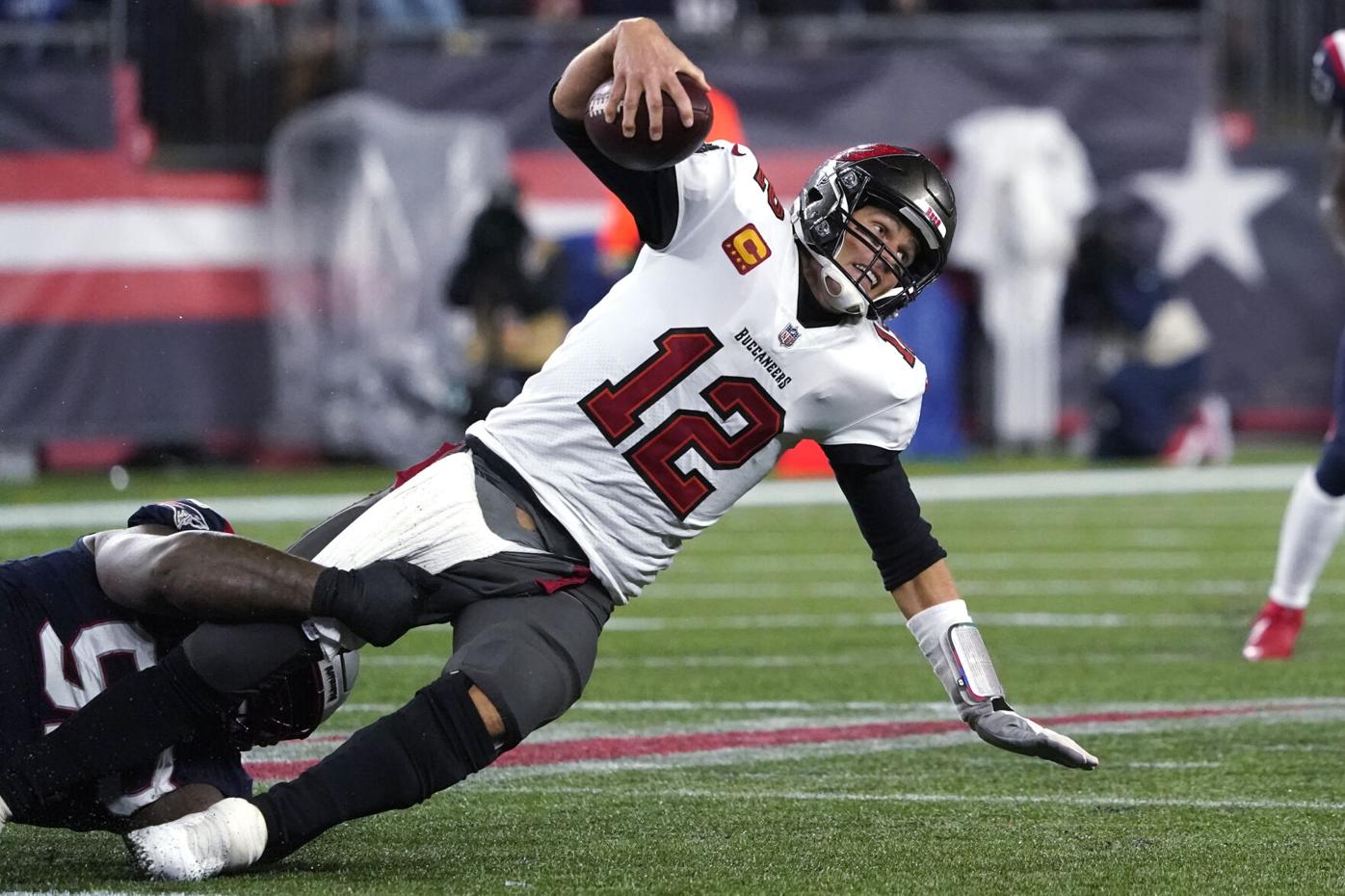 The Patriots knocked the old man down, but Brady got back up and made just enough plays to win
Source
In the most hyped up game in NFL history between a very good team and a not very good team, Tom Brady and the Tampa Bay Buccaneers escaped (just barely) from Foxborough with a 19-17 victory over the New England Patriots.
As usual, once the late afternoon game was finished I flipped over to NBC to see highlights of other games before the Sunday Night game started. I was seriously disappointed when instead of highlights I just saw talking heads repeating ad nauseam what a historical and important matchup this game was as Tom Brady made his return to New England in the opposition's uniform. Barf.
I'll give the Patriots fans some credit for knowing how to handle the situation. They cheered Brady as he came out of the tunnel and booed the hell out of him during the game.
Fortunately the game turned out much better than I expected. Tampa has a more talented roster and I figured they would win with ease. Nope. Brady gets the hype, but Belichick is still the master. He knew how to keep this game close and the Pats nearly pulled off the upset.
Its common knowledge Tampa is better defensively against the run than the pass. So New England barely ran the ball, rushing only eight times for -1 yard. Ouch. Rookie quarterback Mac Jones (31/40, 275 yards, 2 TDs, 1 INT) carried the load on offense with his arm. Even wide receiver Jakobi Myers (2/2, 45 yards) threw a couple of passes. Without any explosive playmakers to throw to, Jones relied on short to intermediate passes to move the ball down the field.
With that offensive strategy and a defense keeping the Bucs from creating big plays, New England was able to keep the score close and had a shot to win at the end. But Nick Folk's 56-yard FG attempt doinked off the left upright. In the end New England simply lacked the firepower to win this game. Until Jones gains some more experience and somebody steps up on the offense to make plays, this is going to be an ongoing trend. New England fell to 1-3 and travel to Houston next week.
I'm sure Tom Brady wanted to have a big game against his former team, but Belichick (and the rainy weather) wasn't going to let that happen. Brady (22/43, 269 yards) had a rather pedestrian outing as New England held his playmakers in check. However that defensive plan left the Pats vulnerable to the run, Leonard Fournette (20 rushes, 91 yards) and Ronald Jones (6 rushes, 25 yards, 1 TD) took full advantage. The Bucs had to grind this game out, which is not their forte but they did it. Tampa improved their record to 3-1 and will host the Dolphins next week.

Best in the West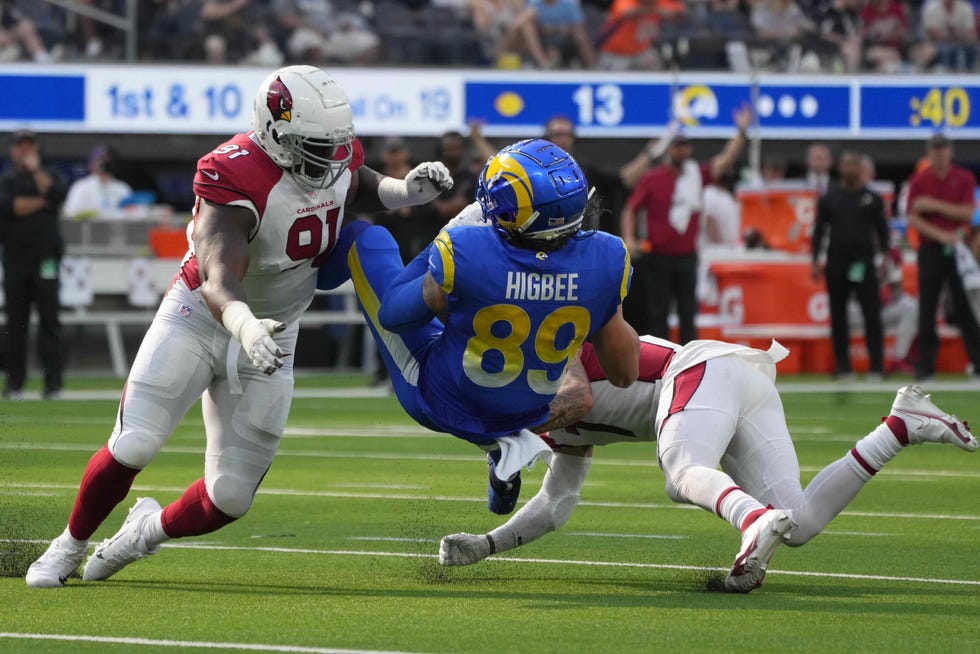 Arizona knocked the Rams right down on their dupa
Source
The Rams were riding high after knocking off the defending Super Bowl champs last week, but the Arizona Cardinals rapidly brought them back to earth with a 37-20 shellacking in Los Angeles. The Rams started off well enough with ten 1st quarter points, then the offense went stale as Arizona took off for 27 points in the next two quarters to run away with this game.
Kyler Murray (24/32, 268 yards, 2 TDs) continues to impress, connecting with seven receivers. However he didn't have to shoulder the entire load on offense this week. Chase Edmonds (12 rushes, 120 yards) slashed through L.A. defense and James Conner (18 rushes, 50 yards, 2 TDs) handled the heavy lifting at the goal line.
After a shaky start, the Cardinals defense stymied the Rams defense. Los Angeles only scored one TD after the 1st quarter, a late garbage time score. Imposing all around team performance for Arizona, who remained undefeated at 4-0. In fact they are the last undefeated team in the league. The Cards will host the 49ers next week.
Maybe the Rams were suffering from a bit of a hangover over last week's big win. They failed to find their groove on offense and defense. Matthew Stafford (26/41, 280 yards, 2 TDs, 1 INT) wasn't bad, but he failed to make the big plays the Rams had been making in their three previous games. A strong performance by running back Darrell Henderson (14 rushes, 89 yards) was wasted in the loss.
On defense L.A. barely slowed Kyler Murray down while at the same time giving up big plays on the ground. It wasn't pretty and they better get their act together quick with a super short week in front of them. The Rams fell to 3-1 and head to Seattle for a Thursday Night showdown.

Almost New York, New York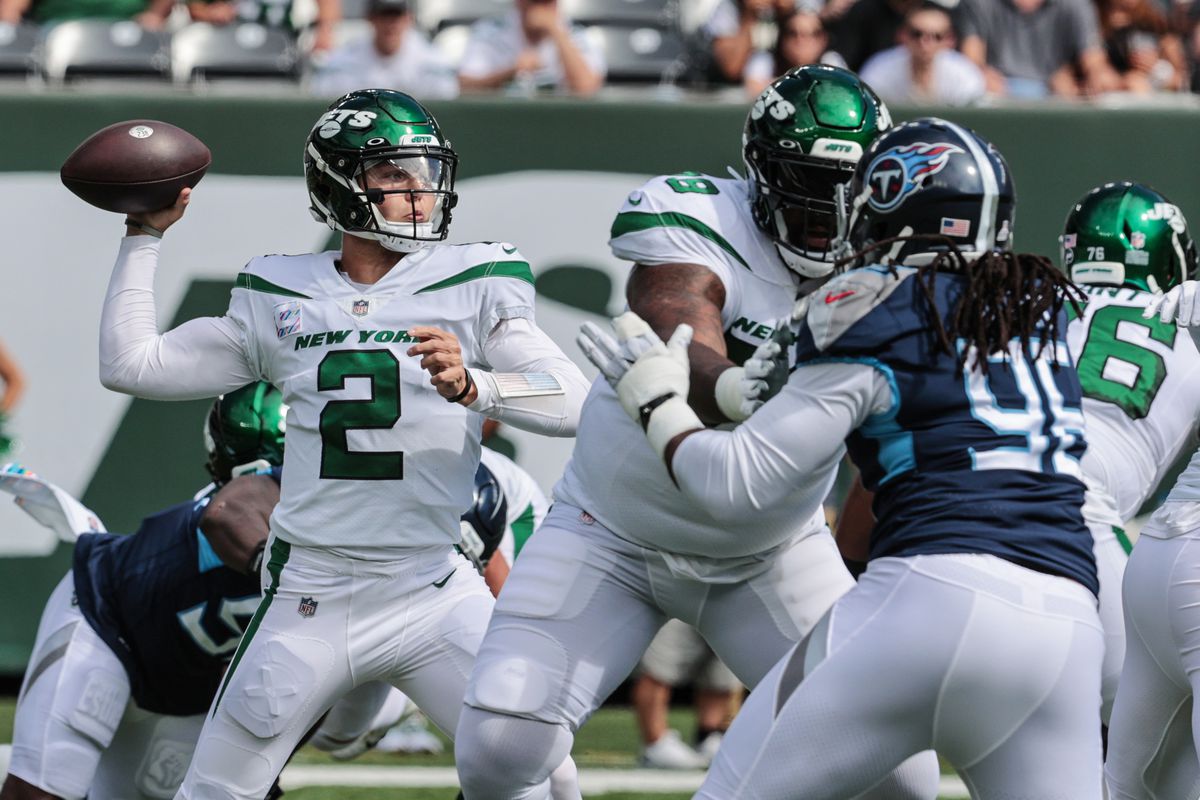 Zach Wilson stood tall and lead the Jets to victory
Source
Few teams in the NFL have started as poorly this season as the two that call New Jersey their home: the Jets and the Giants. Both were 0-3 and facing stiff opponents who made the playoffs easily last year. It sure looked like 0-4 was looming for each squad, but that is why they play the games.
I'll start with the Jets, who looked completely hopeless this season. The Jets came into Week Four having only scored 20 points in their first three games. Ugh. Yet somehow they found some offense this week to more than double that total in a 27-24 overtime win over the Tennessee Titans. Hang your heads low Tennessee, you guys should have to wear a green J on your jerseys as a mark of shame the rest of the year.
Per usual the Jets couldn't move the rock on the ground, 66 yards on 25 carries by the running back committee, so the whole offense had to be carried by rookie quarterback Zach Wilson. For the first time this year he seemed to be prepared to carry the load. Wilson (21/34, 297 yards, 2 TDs, 1 INT) cut back on his turnovers and made several big league throws when the Jets had their backs against the wall. It was a coming-of-age showing, at least for this week.
Ironically Wilson made his biggest plays with wide receiver Corey Davis. Davis (4 receptions, 111 yards, 1 TD) spent his first four years with Tennessee, signing with New York this season after the Titans turned down his option year. Apparently Davis was intent on letting the Titans know they made a mistake.
Any win for the Jets is a huge one, but defeating a teams like the Titans has to feel especially good. The Jets improved to 1-3 and will travel to Atlanta to face the Falcons in a game that now seems winnable. Maybe.
Tennessee had to play this game without Julio Jones and A.J. Brown, their two best wide receivers. It certainly impacted the passing game as Ryan Tannehill (30/49, 298 yards, 1 TD) struggled to find consistency. Netting less than 300 passing yards on 49 attempts is pretty bad. Derrick Henry (33 rushes, 157 yards, 1 TD) was devastating, but he couldn't make up all the slack on his own. Even without the injured stars this is a bad loss for Tennessee, their roster was still much stronger let alone more experienced. The Titans dropped to 2-2 and will get a chance to re-group when they go to Jacksonville next week. If they lose that game they might as well just throw in the towel and wait for next year.

While not as bad as the Jets, the Giants still were very rocky to start the season, losing all three of their games against opponents they should have been able to beat. At least on paper. It didn't look like it would get any better in Week Four as New York had to go to New Orleans to face the Saints in the first Superdome game of the year. The Saints fans had to wait an extra month to see their guys and were more fired up than normal. Surprisingly so was the Giants offense, who totaled nearly 500 yards in a 27-21 overtime victory.
This is a make-or-break season for quarterback Daniel Jones, the Giants will decide whether to keep him or move on when it is over. On Sunday Jones (28/40, 402 yards, 2 TDs, 1 INT) made a great case to stay as he finally made big plays with his arm instead of his legs. Running back Saquon Barkley (13 rushes, 52 yards, 1 TD) is still not dominating on the ground, but he contributed with a solid showing as a receiver: 5 receptions, 74 yards, 1 TD. Barkley seems to improve a little each week, if he can reach his previous form the Giants offense will be able to take a big step forward.
The Giants defense bent, but it never truly broke. New Orleans racked up yards yet struggled to put up a lot of points. It was good enough for the offense to come back and steal a win. The Giants improved to 1-3 and have the pleasure of traveling to Dallas next week. Hope you didn't fire all your bullets boys, you're gonna need them.
Will the real New Orleans Saints please stand up? The Saints fell to 2-2 and that is the perfect record for this team because from week to week you don't know what you are going to get out of them. It is mystifying how a team could shut down Green Bay and then get roasted by the Giants a few weeks later. In front of their own fans finally no less.
Jameis Winston (17/23, 226 yards, 1 TD) wasn't bad, as long as he doesn't turn the ball over he's usually fine. Alvin Kamara (26 rushes, 120 yards) provided plenty of support on the ground. The Saints got their yards, yet couldn't figure out how to convert them into points, despite going 8/13 on third down conversions. All the stats say New Orleans was primed for a big number on the scoreboard, but it didn't happen. New Orleans will head to the nation's capital next week to face a team with no name.

Around the League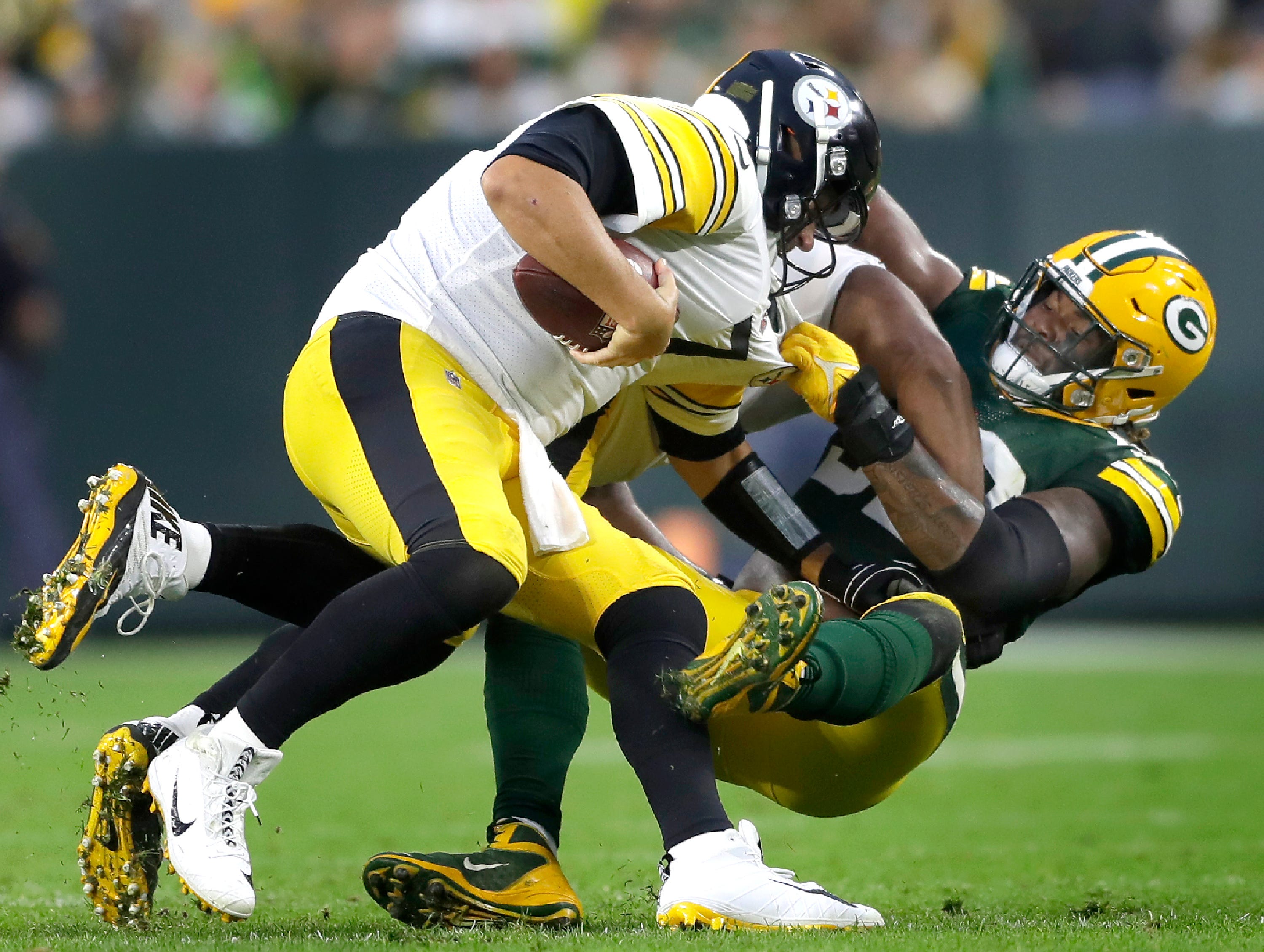 The Packers were all over Ben Roethlisberger
Source
Packers 27 Steelers 17
In Green Bay the Steelers scored first and scored last, unfortunately for them the Packers did a lot scoring in between. It felt like the Packers could have done a lot more scoring, but were content to ride out the clock after taking a big lead.
Aaron Rodgers (20/36, 248 yards, 2 TDs) had a pretty average game compared to his normal lofty standards. Both of his TD passes went to Randall Cobb (5 receptions, 69 yards, 2 TDs), who Rodgers lobbied the Packers brass to re-sign in the offseason. The ground attack was solid with A.J. Dillon (15 rushes, 81 yards) doing the biggest damage. This game just seemed like a ho-hum affair for Green Bay. They knew they were the better team and worked just hard enough to win comfortably. The Packers improved to 3-1 and travel to Cincinnati next week, who should provide a bigger challenge.
The Steelers are simply a mess right now. Even with the return of T.J. Watt, who had two sacks and forced a fumble, the defense could barely slow down the Packers until they were tired of scoring. On offense Ben Roethlisberger (26/40, 232 yards, 1TD, 1 INT) looks spent. He is throwing a lot of short passes and the opposing defenses are waiting for them. Najee Harris (15 rushes, 62 yards, 1 TD) had his best game of the season so far and it wasn't very good. The Steelers fell to 1-3 and host the Broncos next week.


Colts 27 Dolphins 17
The Colts finally got off the schneid in Miami, picking up win number one of the season. They did it by wearing the Dolphins defense down since Miami's offense got nothing going until garbage time.
Carson Wentz (24/32, 228 yards, 2 TDs) had his best game in an Indy uniform. The Colts got their rushing game back on track as Jonathan Taylor (16 rushes, 103 yards, 1 TD) had a nice game. The defense was dominating, holding Miami to less than a hundred yards of offense until 4th quarter garbage time. If the offense can get healthy, Indy might be able to still save their season. The Colts improved to 1-3 and head to Baltimore next week.
The Dolphins offense couldn't do anything until the Colts stopped playing defense and just stared at the clock, waiting for it to hit zero. Jacoby Brissett (20/30, 199 yards, 2 TDs) pumped his stats in the 4th quarter, but he did little beforehand. The running back committee was embarrassing, amassing only 35 on 16 carries. Gross. Miami dropped to 1-3 and things probably won't get better next week as they travel to Tampa Bay.


Bears 24 Lions 14
One week after having one of the worst performances in NFL history, Bears rookie quarterback Justin Fields (11/17, 209 yards, 1 INT) showed some improvement. He still wasn't good, but at least he wasn't historically bad. The Bears have to take whatever they can get at QB. Chicago did their best damage on the ground as David Montgomery (23 rushes, 106 yards, 2 TDs) led a committee that gained 188 total yards. The Bears were good enough to beat a bad team, that was about it. They improved to 2-2 and travel to Las Vegas next week.
The Lions did some positive things, unfortunately none of them happened in the redzone. Four times Detroit drove the ball inside the Chicago 10-yard line and left the field with no points. How is that even possible? Jarrod Goff (24/38, 299 yards, 2 TDs) is trying, but he isn't getting much help. The Lions remain winless at 0-4 and head to Minnesota next week.


Bills 40 Texans 0
When a good team plays a bad team they should destroy them. The Bills certainly understand this as they pitched their second shutout of the season. Buffalo has been unstoppable since their first game hiccup against Pittsburgh. Josh Allen (20/29, 248 yards, 2 TDs, 1 INT) didn't need to work very hard. The ground game effectively chewed up the clock, picking up 199 rushing yard while doing so. The Bills improved to 3-1 and face the Chiefs in KC next week. I'm looking forward to it.
All you need to do is look at the statline for rookie quarterback David Mills to know what happened to the Texans: 11/21, 87 yards, 4 INTs. Eww. Houston had 109 yards of total offense. That ain't going to cut it in Pop Warner, let alone the NFL. The Texan fell to 1-3 and host the Patriots next week.


The Team with No Name 34 Falcons 30
The Falcons seemed to have this game in hand before their defense fell apart at the end. Hmm, sounds like the synopsis of every Atlanta game since they blew the Super Bowl against New England. Matt Ryan (25/42, 283 yards, 4 TDs) had a big game, Cordarelle Patterson (5 receptions, 82 yards, 3 TDs) was his top target. This team simply does not know how to win. Atlanta fell to 1-3 and will host the Jets next week. I can't wait to see how they figure out a way to lose that one.
The No-Names are supposed to be built on defense, but the offense had to bail them out again. Taylor Heinicke (23/33, 290 yards, 4 TDs) is staking a claim on the starting quarterback role. Good luck when you get healthy Fitzmagic. Terry McLaurin (6 receptions, 123 yards, 2 TDs) torched the Falcons secondary. The No-Names evened up their record at 2-2 and will host the Saints next week.


Chiefs 42 Eagles 30
After a few weeks of shooting themselves in the foot, the Chiefs finally got their shit together in Philadelphia. Kansas City scored six TDs on seven possessions, hard to do better than that.
Patrick Mahomes (24/30, 278 yards, 5 TDs, 1 INT) was unstoppable when he threw to Tyreek Hill (11 receptions, 186 yards, 3 TDs). The Chiefs also racked up 200 yards on the ground with Clyde Edwards-Helaire (14 rushes, 102 yards) leading the way. The offense was humming, but the KC defense was pretty poor once again. They'll need to be much better with Buffalo coming to town next week. The Chiefs improved to 2-2.
The Eagles gained 461 yards of offense, never punted the entire game and scored 30 points. They still lost by two scores. Wow. Half the problem was they had to settle for too many FGs in the redzone and the other half was they couldn't even slow down, let alone stop, the Chiefs offense. Jalen Hurts (32/48, 387 yards, 2 TDs) played damn good with rookie Devonta Smith (& receptions, 122 yards) making the big catches. The Eagles fell to 1-3 and head to Carolina next week.


Browns 14 Vikings 7
What the hell? A defensive battle in today's NFL? How did that happen? I guess in a week where the Jets win anything is possible.
The Vikings took the opening kickoff and drove 80 yards right down the field to take a 7-0 lead. That was it for their day. They did squat on offense the rest of the game. Didn't anybody tell them there was 55 minutes left on the clock? Kirk Cousins (20/38, 203 yards, 1 TD, 1 INT) didn't do much after the opening drive and Dalvin Cook (9 rushes, 34 yards) didn't do anything all day. The defense was tight, but they needed more than 1 score from the offense. The Vikings fell to 1-3 and host the Lions next week.
Baker Mayfield (15/33, 155 yards) was terrible, missing receivers all over the field. Fortunately for him Cleveland brought the running attack. Nick Chubb (21 rushes, 100 yards) and Kareem Hunt (14 rushes, 69 yards, 1 TD) did all the heavy lifting on offense. The defense did the rest as they shut out the Vikings after their opening possession. Winning ugly is still winning and the Browns improved to 3-1. They travel to Los Angeles next week to face the Chargers.


Seahawks 28 49ers 21
The Seahawks finally played for all four quarters and came away with a nice win in San Francisco. It didn't hurt that they got a lot of help from the 49ers.
Seattle's offense struggled mightily, however they took advantage of turnovers and other miscues to score 28 points. Good teams do that, finding a way to score when the offense isn't right. Russell Wilson (16/23, 149 yards, 2 TDs, 1 rushing TD) made just enough plays to win. He got little help from his running backs who only compiled 79 yards on 24 carries. Seattle improved to 2-2 and host the Rams on Thursday night.
The 49ers made too many mistakes to win this game. Missed kicks and costly turnovers let Seattle steal this one. Jimmy Garoppolo (14/23, 165 yards, 1 TD, 1 INT) left this game early with a calf injury. Rookie quarterback Trey Lance (9/18, 157 yards, 2 TDs) tried to complete the comeback and made some big plays, but also missed too many throws. Tough home loss for the 49ers, who fell to 2-2. Things won't be any easier next week as they travel to Arizona.


Ravens 23 Broncos 7
The Broncos finally faced a real team and the results weren't pretty. Denver decided to concentrate their defense on the run and force the Ravens to beat them through the air. Lamar Jackson (22/37, 316 yards, 1 TD) did just that with his second career 300 yard passing game. Baltimore still ran the ball often (30 rushes), just not with much success (102 yards).
Yet those 102 yards became a point of contention for Broncos head coach Vic Fangio. With the clock winding down, Baltimore only needed a kneel down to finish the game. But Baltimore only had 97 rushing yards on the day and their 42-game streak of gaining at least 100 yards on the ground was in jeopardy. So instead of taking a knee, Lamar Jackson rushed for 5 yards as the game ended to keep the streak alive.
No big deal right? It was for Fangio, who called the play bullshit and said it was the worst thing he's seen in his 37 years in the NFL. What? A team playing until the final whistle is the worst thing he has seen? What an asshole. Boo hoo, you didn't stop the Ravens streak. Maybe the Broncos should have played better defense instead of waiting for Baltimore to take a knee. This is the pro's god dammit, no mercy rules here. The Broncos fell to 3-1 and if you can judge a team by their head coach I see them heading right down into the toilet. They head to Pittsburgh next week.


Chargers 28 Raiders 14
Week Four concluded with a top matchup between the Los Angeles Chargers and the Las Vegas Raiders. At least it was supposed to be a good game, in reality the Chargers whupped the Raiders.
Justin Herbert (25/38, 222 yards, 3 TDs) was good and Austin Ekeler (15 rushes, 117 yards, 1 TD on the ground, 3 receptions, 28 yards, 1 TD in the air) was even better. The defense sacked Derek Carr four times and forced a turnover. Another all around strong performance for the Chargers, who are looking like a serious contender in the AFC. The Chargers improved to 3-1 and host the Browns next week.
It was a rough night for the Raiders as they accumulated more yards in penalties (53) than they did in offense (51) in the first half. Yikes. They recovered enough in the second half to make the game interesting for a few minutes, but that was it. Derek Carr (21/34, 196 yards, 2 TDs, 1 INT) never found his rhythm and the ground game was putrid, accruing 48 yards on 18 carries. The Raiders dropped to 3-1 and host the Bears next week.



Well that's a wrap for Week Four. As always thanks for reading and feel free to make any comments below.
---
---