Chops316 Monday Morning Quarterback: 2021 Week 6 Part One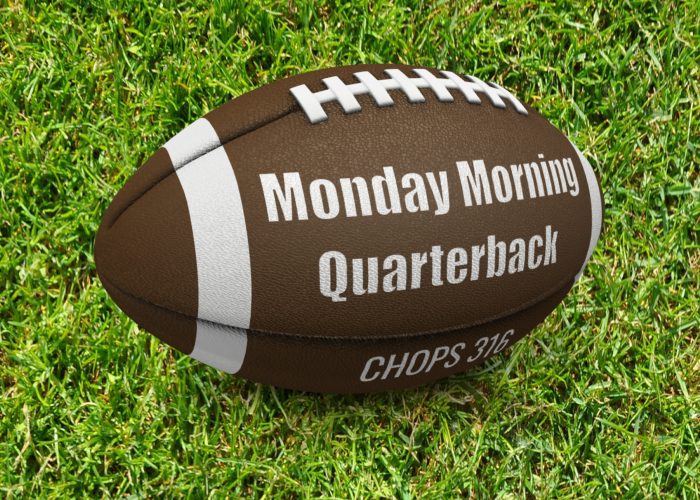 The sixth Sunday of the 2021 NFL season is in the books so here are the different thoughts and opinions I have on various things I witnessed this past weekend. Or at least some of the things. I have a lot to say about the Cowboys game this week, then again I have a lot to say about many things this week. So I decided this week's NFL recap is going to come out in two posts.
I've received complaints in the past that my MMQB posts are too long. I never cared, it's my blog and if I want to do a massive brain dump then dammit that's what I'm going to do. Plus I've been lucky enough to get a nice amount of upvotes and I like to earn them with posts that contain quality (ok quality is questionable) information and opinions.
Yet lately these posts are getting awful long. I was getting complaints when the posts averaged 3,000 to 3,500 words. This season I'm clocking in at around 5,000 words per post. That's what happens when you are a bullshitter at heart. And an opinionated one at that. So from now on I am going to break up the MMQB into two parts. I'm here to entertain, not to bore you to death. I think my content will be more easily digestible this way since I can't seem to get my points across succinctly.
I can already hear the next round of complaints, that I'm doing this to milk the rewards. Not true, although let's be honest we all like getting rewarded for our efforts. I take pride in my output and do my best to provide something worthy of receiving an upvote. That will continue. Writing two posts will let me expand on some of my opinions. That's right, I've been holding back a little.
OK, enough of the bullshit. This post is going to review the Cowboys-Patriots game and then I'm going to talk some about the latest email controversies. If you hate the Cowboys skip ahead because I'm digging deep into this crazy game. And if you are tired of all the email talk then please wait for Part II where I'll cover the rest of the week's action.
Just remember I am a Dallas Cowboys fan and I'm extremely biased. Feel free to agree or disagree about anything mentioned here. All comments are welcome.
Fighting All Comers In New England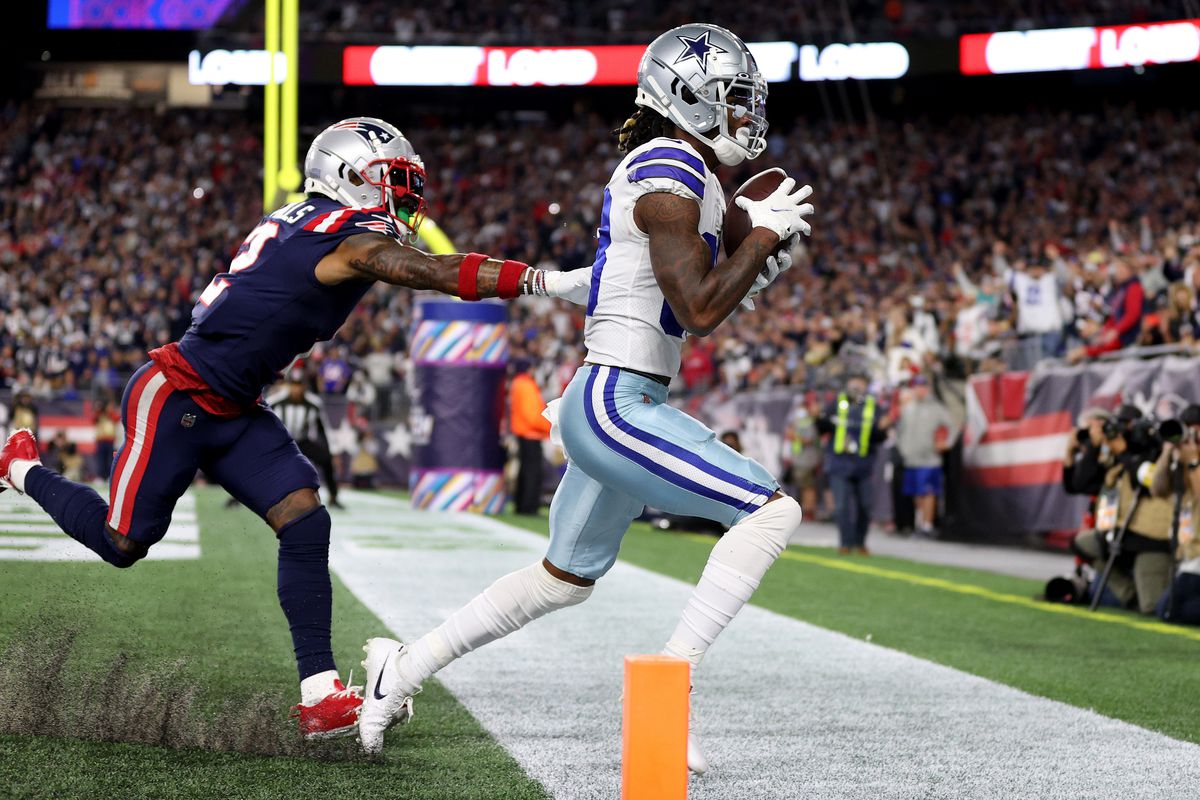 CeeDee Lamb escapes through the endzone after hauling in the game-winning pass in overtime
Source
Cowboys 35 Patriots 29 OT
The Dallas Cowboys had a helluva fight on Sunday. They had to battle a fired-up Patriots team, a crew of referees who were apparently paid by the flags thrown, and worst of all themselves. It was a slugfest for sure but the good news in the end is the good guys won in an overtime thriller 35-29. Thank God Dallas has a bye next week because my heart needs a rest. Let's just say I got little fired up watching this game.
I was really looking forward to this game. First because I was interested in how the defensive mastermind Bill Belichick was going to attack the loaded Dallas offense. Second because it's about damn time the Cowboys beat the Patriots again. This game was the 14th meeting between the two teams. Dallas won the first seven, New England the last six heading into Sunday. The last time Dallas won was in 1996, when Belichick was only an assistant under head coach Bill Parcells.
The Patriots game plan on defense surprised me. I thought they would play coverage to keep the ball on the ground and to keep the scoring down. Dallas was going to score, I figured New England would make them grind out the yards to prevent a shootout. I was wrong. The Patriots stacked the box to slow down the ground game. I assume the thinking was if the running backs were stalled it would prevent Dallas from opening up the whole playbook with play-action and bootlegs. It didn't work as the Cowboys still fought out tough yards on the ground and Dak Prescott was able to dice up the Patriots secondary.
The Cowboys biggest problem on Sunday was the self-inflicted wounds. They started on their very first possession. After being backed up on a holding penalty, a Prescott pass to Amari Cooper gave Dallas a 3rd and 1 on their own 34-yard line. Zeke Elliott slammed into the line and seemed to barely gain the first down, but the referees marked him short. Head coach Mike McCarthy decided not to challenge and just go for it on 4th and 1. This time Elliott was definitely stopped short, but McCarthy challenged the call anyway. Good Grief. Handed a short field, the Patriots needed only three plays to score a TD and take a 7-0 lead.
Dallas marched down the field quickly on their second possession to score a TD and tie the game at 7-7. Surprisingly the Patriots fired right back. New England's offense has not been explosive this year, but a couple of Mac Jones passes and another Dallas penalty let them drive 75 yards in only 4 plays to go ahead 14-7 before the end of the 1st quarter.
The Cowboys third possession took them into the red zone, but Dak Prescott tried to thread the needle in a crowd and his tipped pass was intercepted. New England put together another long drive and scored a TD before it was called back on a holding penalty. The Cowboys defense finally woke up and stripped sacked Mac Jones on the next play to take over at midfield. The drive stalled in the red zone again and Dallas had to settle for a field goal, cutting their deficit to 14-10.
Then things got weird before halftime. After a three and out for New England, the Cowboys blocked a punt and set up shop on the Patriots 17-yard line. A couple of Prescott passes gave them 1st and goal on the one. Zeke Elliott was stuffed for no gain on first and second down. On third down Prescott kept the ball and barreled into the line. It sure looked like he scored and as the refs untangled the pile Dak was laying in the endzone with the ball. Yet they marked him short. How I have no idea. Worse yet was they didn't review the play. With less than 2 minutes left in the half McCarthy couldn't challenge the play and the replay booth stayed silent. What the hell!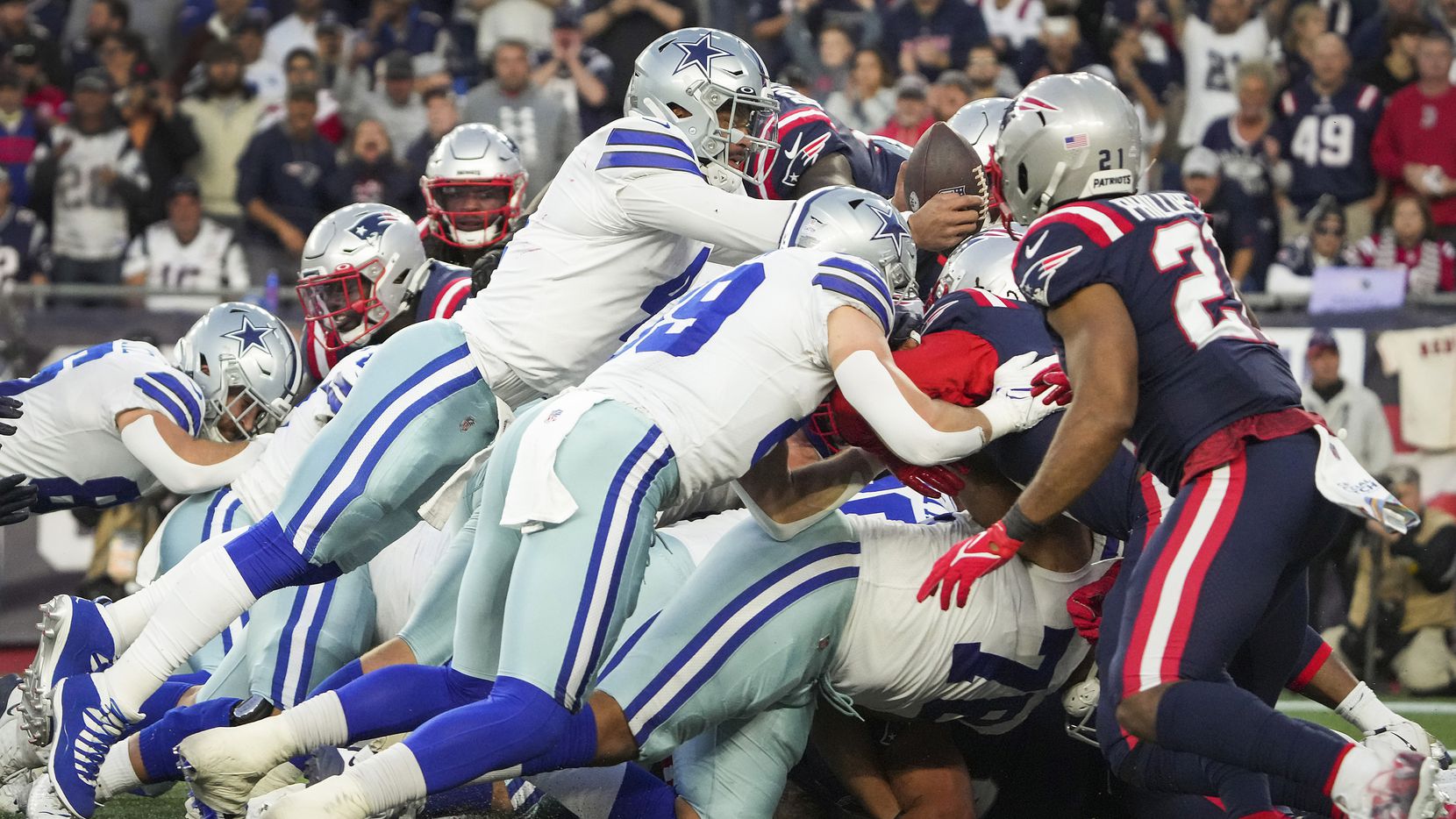 After being robbed of a TD, Dak had the ball slapped out his hands
Source
Mike McCarthy decided to forgo the FG attempt and go for it on 4th down. This was a rare good decision for Mike, but it turned out bad. The time Dak attempted to reach over the pile and the ball was slapped out of his hands before he crossed the goal line. The Patriots recovered the fumble and ran out the clock to take their 14-10 lead into halftime.
The game turned to the Cowboys favor in the 3rd quarter as the Patriots offense went ice cold. Dallas put together a long TD drive to take the lead and extended it to 20-14 with a FG early in the 4th quarter. But that was the calm before the storm as this game got crazy in the final ten minutes.
The Patriots went with the ground game and pounded the rock right down the Cowboys throat to re-take the lead 21-20. Dallas fought back into New England territory, but their drive died on the 33-yard line. Facing a 4th and 2, McCarthy chose kicking a FG over going for a first down. I hated the call. A 51-yard FG is no chip shot and would have only given Dallas a one point lead with two and a half minutes left on the clock. Better to go for it and try to bleed the clock. But Dallas went with the FG attempt, which Greg Zuerlein missed anyway. Oh crap.
The situation was dire for Dallas. New England had the lead and possession of the ball with two and half minutes left. With a couple of first downs the Patriots could run out the clock. I have to be honest here. I may be the Cowboys #1 fan, but at this point my morale was low. I was being foolish because I forgot Travon Diggs hadn't picked off a pass yet. Diggs had at least one interception in the Cowboys first five games and he wasn't ready to stop now. He picked off a Mac Jones pass and ran it 42 yards into the endzone for a TD. Boom! Dallas 26 New England 20 after a failed two-point conversion.
Now I was fired up as I smelled victory. That didn't last long. After the kickoff, Mac Jones unleashed a 75-yard TD bomb to Kendrick Bourne. It was his only catch of the day, but it was a doozy and gave the Patriots a 29-26 lead after a successful two-point conversion.
At this point I didn't know if I should laugh, cry or just shit my pants. New England scored so fast Dallas still had two minute left to work with. Dak went to work, moving the ball down into Patriots territory before the Cowboys were tagged with another holding penalty. Facing a 3rd and 25, Prescott hit CeeDee Lamb with a 24-yard pass. Not good enough for a 1st down, but good enough for Zuerlein to redeem himself with a game-tying 49-yard FG. After a crazy 4th quarter we were headed to overtime.
New England won the toss, of course they did everything else went wrong for Dallas, and took the opening possession of overtime. The Patriots got one first down before the defense tightened up and forced a punt. The Cowboys got the ball on their own 20-yard line as Dak Prescott went to work. After a short Zeke run, Prescott connected on six straight passes. The final one was a beautiful 33-yard toss to CeeDee Lamb for the game-winning TD. Dallas escaped from New England with a 35-29 victory.
As you can tell if you have made it this far, and I thank you if you have, this game has me all fired-up. This was the kind of game good teams win. The game where so much goes wrong but you persevere and overcome. The Cowboys had two red zone turnovers, were robbed of a TD, were flagged 12 times for 115 yards, suffered a few brain farts from Mike McCarthy and only converted three of thirteen 3rd down opportunities. And they still won, on the road to boot.
Dak Prescott (36/51, 445 yards, 3 TDs, 1 INT, 1 fumble) overcame his first half turnovers to will the Cowboys to victory. He connected with 8 different receivers, but it was CeeDee Lamb (9 receptions, 149 yards, 2 TDs) who made the biggest plays. The running back tandem of Zeke Elliott (17 rushes, 69 yards) and Tony Pollard (10 rushes, 41 yards) were held down by a loaded box yet still ground out yardage. The Cowboys had 567 yards of total offense, the most the Patriots have ever given up under Bill Belichick.
The defense wasn't great, yielding several big plays that let the Patriots put points on the board. But they did force two critical turnovers, both converted into points. Trevon Diggs tied two NFL records with his interception. It was his seventh of the season, which ties him with Rod Woodson for the most ever in the first six games of the season. It was also his sixth consecutive game with a pick, which ties him with three others for the most games to start a season. One of those guys he tied was Tom Landry. Yep Tom F'n Landry! Before becoming the greatest head coach of all time Landry was a standout cornerback and safety for the Giants.
You know it's turning into a good season when Landry's records are being tied. The Cowboys improved to 5-1, first place in the NFC East. They have a bye next week which is good because I need it. And they do too of course.
The Patriots were outmatched on paper, but took advantage of the Cowboys mistakes to make this game a tightly contested battle. Mac Jones (15/21, 229 yards, 2 TDs, 1 INT) had his training wheels taken off and rewarded New England with several big passing plays. The Pats never fell far behind so they still could pound the ball on the ground, Damien Harris (18 rushes, 101 yards, 1 TD) led the way. New England was ultimately done in by the defense, who couldn't stop Dallas from moving the ball without turnovers or a little help from the referees. The Patriots fell to 2-4, but a get a reprieve next week with a home game against the Jets.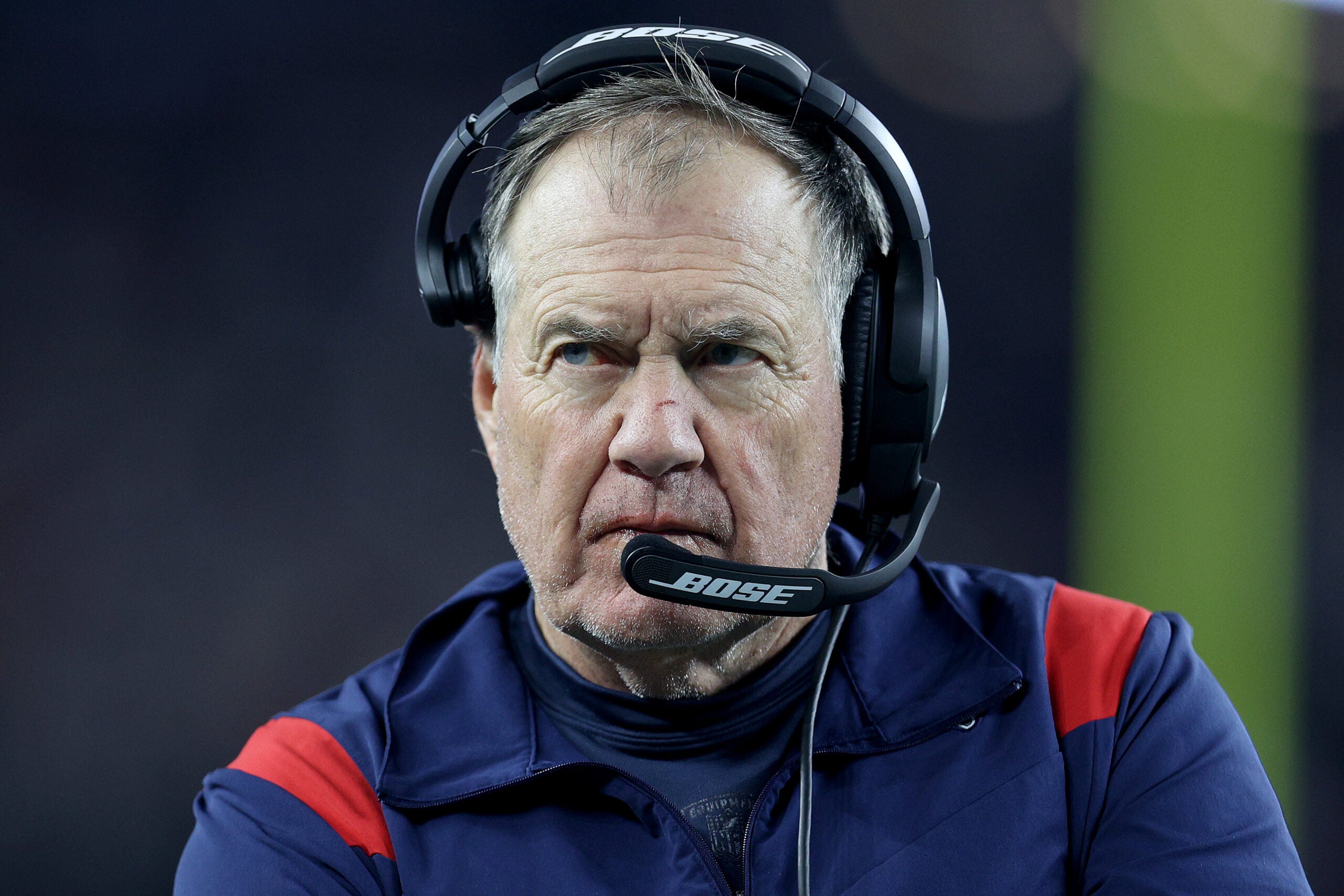 Bill Belichick, one of the greatest of all time
Source
Before writing this post I was perusing some stories on Yahoo! sports. I do this mainly for entertainment purposes because Yahoo! has some of the dumbest writers I have ever read. So it was really no surprise when I came across an article that claimed this game with the Cowboys was the final proof that Bill Belichick was a fraud of a coach and Tom Brady was the only reason New England won all those Super Bowls.
Really.
I'm not going to give this clown any free plugs, you can go to Yahoo! and look for yourself if you want. My own personal advice for this writer is don't advertise your ignorance buddy.
Sure Brady is looking good now since he plays on a team loaded with talent while the Patriots are going through a rebuild with a rookie quarterback. Yet anybody who doesn't realize the two needed each other to win all of those rings doesn't know the first thing about the NFL.
That bone head writer wasn't very good about research either. He claimed Brady has more rings than Belichick. Actually it's the other way around, Bill won two without Tom as the defensive coordinator of the Giants.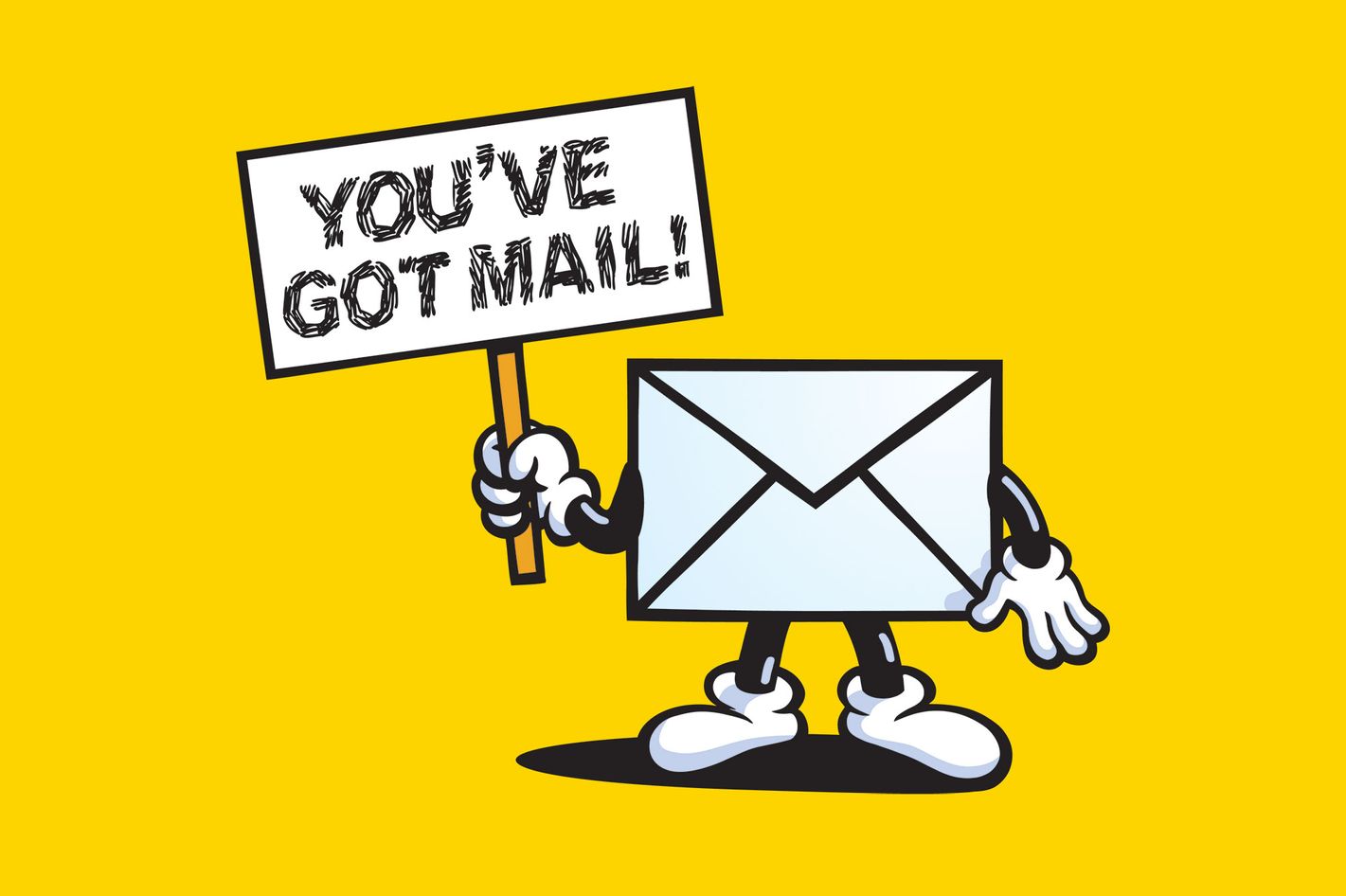 You have to love the investigative prowess of the NFL. They reportedly are holding 650,000 emails that were sent to or from the Washington Football Team that still has no name, the result of an investigation into claims that women, mainly cheerleaders, were sexually harassed by the No-Names.
So what were the results of this probe? Who the hell knows, the NFL won't tell us anything. All we know is the league fined Washington owner Dan Snyder $10 million dollars. Oh yea and he stepped down from day-to-day operations. Now his wife runs the team. Yea right.
Over and done as far as the NFL was concerned. Until some of those e-mails were leaked to the press. Now an investigation into WFT has resulted in the firing of the Raiders head coach Jon Gruden, questions about the journalistic integrity of NFL insider Adam Schefter and revelations that the NFL's top lawyer was pulling strings for Washington team president Bruce Allen behind the scenes.
So who is leaking the emails? Everybody at first looked right at the NFL, but that doesn't make sense. Allegedly the league let the Raiders know about Gruden's emails in June. If they were hell bent on sending Gruden packing they would have forced Mark Davis's hand then. They surely wouldn't have made the emails public because it is a public relations disaster for the league as well as Gruden.
Now we are even surer it wasn't the NFL doing the leaking as the emails about Jeff Pash, NFL's top legal counsel and Roger Goodell's right-hand man, are coming to light. It's not good to publicize the fact the league's lawyer was running interference for one of the people he was supposed to be investigating.
Hmm, supposedly only a rather limited number of people have access to the emails. That means the leaker could be a lawyer with an axe to grind about what they read. Perhaps, but the league certainly will want to find the leaker and if it was one of the lawyers it should be really easy to determine. Leaking information from a private investigation is unethical and probably criminal. Would a lawyer risk their livelihood because they hate Jon Gruden? That would be hardcore, but I doubt it. Although lawyers are generally scumbags, they don't want to risk their reputation, and more importantly big money, with a possible disbarment.
Hmm, this is a real pickle here isn't it? I mean who could possibly be leaking this information? It would have to be somebody pissed off at the NFL for sure. Maybe getting a little revenge for being, oh I don't know, fined $10 million dollars or so by the league. Then again the leaker probably wouldn't care for Bruce Allen either, especially if Allen's actions led to getting a 10 million dollar fine. Leaking info about Gruden would be an interesting way to get back at Allen, and also maybe a former coach of your team who left under bitter circumstances. You know, maybe a coach like Jay Gruden.
And you know, it's kind of funny. All these emails are someway tied to the Washington Football Team, but none of these damning emails being leaked have anything to do with the WFT.
I'm not Sherlock Holmes or anything, but I might be sensing a pattern here.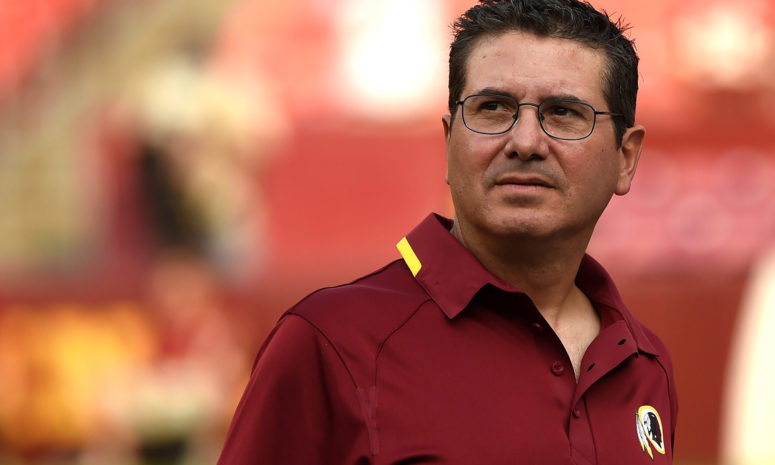 Source
Yea it's Dan Snyder, or somebody real close to him.


Thanks for taking the time to read Part I. I'll cover all the other games in Part II. Feel free to leave a comment below.
---
---