Chops316 Monday Morning Quarterback: 2021 Week 9 Part Two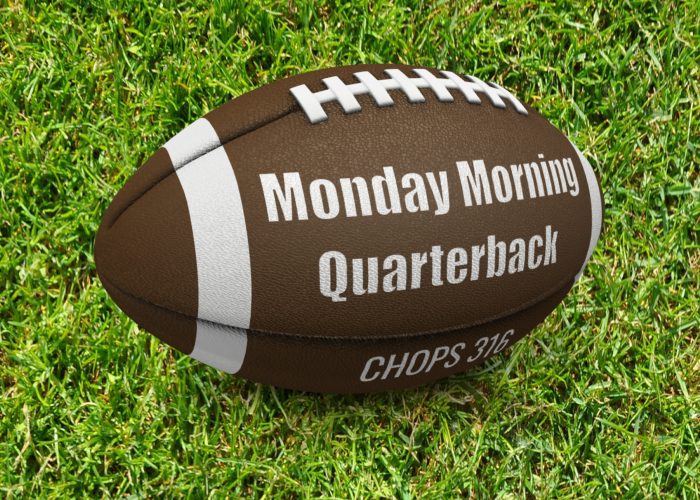 Welcome to Part II of my Monday Morning Quarterback Post for Week 9. This post will cover the rest of the games on Sunday plus the Monday Night matchup. I tried to find my happy place before I started Part II and I almost succeeded. Then I watched the Monday night game and all hope was lost as I witnessed some of the worst officiating in the history of the NFL.
Bill Belichick did his best however to cheer up fans by showing up for work on Sunday looking like this: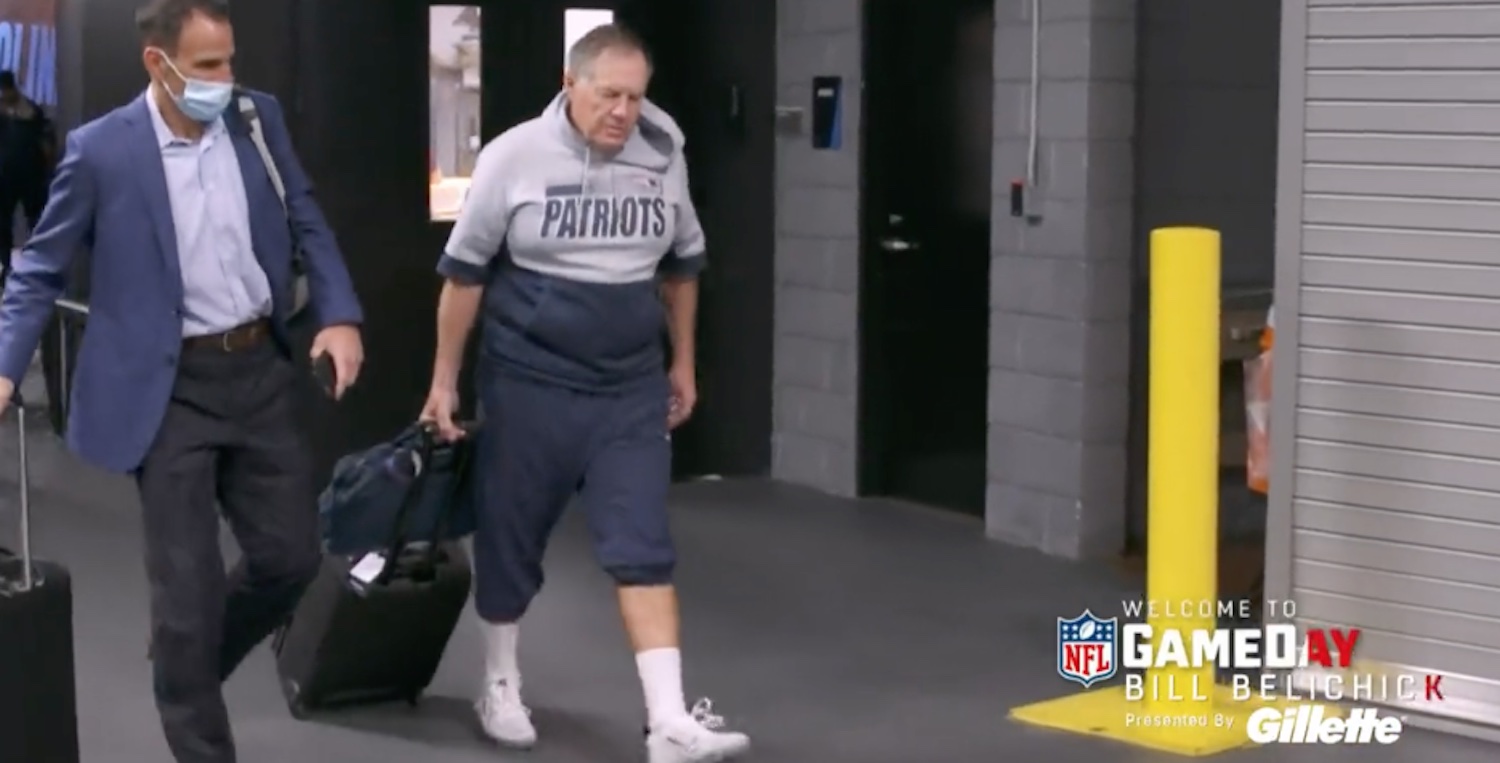 That ensemble screams "Nothing matters in my life except football!" Keep stylin' and profilin' Bill.
The Lions, Seahawks, Buccaneers and No-Names all had a bye this week. Just remember I am a Dallas Cowboys fan and I'm extremely biased. I'm also sickened and pissed this week. Feel free to agree or disagree about anything mentioned here. All comments are welcome.

Sunday Night Beatdown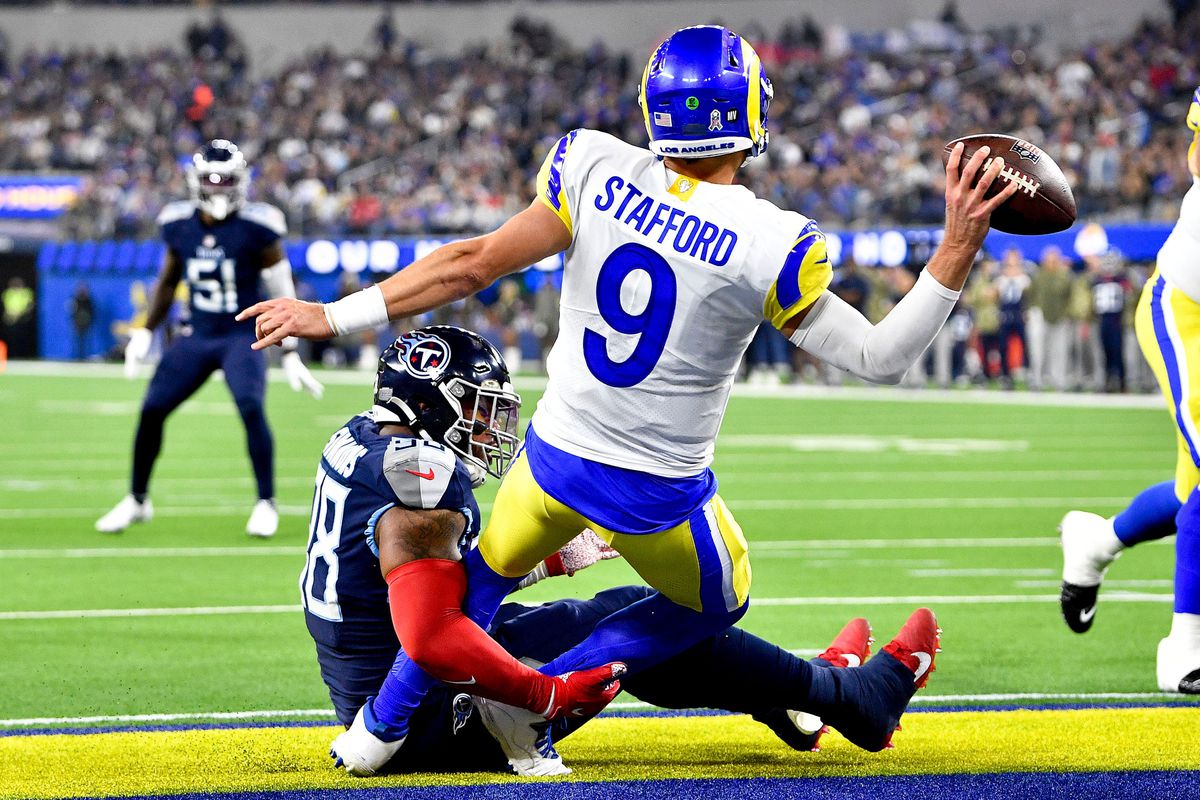 Matthew Stafford having a flashback to his days in Detroit
Source
Titans 28 Rams 16
Losing Derrick Henry to a potentially season ending injury, the Tennessee Titans knew they would have to find new ways to generate points. The defense made it easy for them Sunday night by beating up the Rams and in the process setting up easy scores. Hell the defense even chipped in with a TD of their own.
Tennessee got off to a horrible start on offense. Their first three possession netted only 29 total yards while ending with an interception and two punts. The Rams weren't doing much better, but they managed to kick a field goal to take a 3-0 lead after the 1st quarter.
The Titans defense took over the game in the 2nd quarter. With the Rams backed up deep in their own territory, Matthews Stafford dropped back to throw a pass and faced a furious pass rush. It looked like Stafford was going to be dropped for a safety when he found his inner Carson Wentz and made this play:
https://twitter.com/i/status/1457530445998878727
It doesn't get much worse than that for a quarterback. The football gods must be smiling upon the Titans for them to be the beneficiary of that kind of crazy interception two weeks in a row. Tennessee quickly cashed in their gift for a TD to go ahead 7-3.
The Rams took the kickoff and set up shop on their own 21-yard line. Stafford dropped back to pass and promptly threw a pick-six to safety Kevin Byard. Two consecutive interceptions led to two quick Titans TDs and Tennessee never looked back. After a Rams punt gave the Titans excellent field position, the offense figured they should contribute something and drove 44 yards for another TD. Tennessee led 21-3 at halftime.
The game was essentially over at the half. The Rams never found a groove on offense. Tennessee got another short field TD to go up 28-9 in the 4th quarter before the Rams finally found the endzone in garbage time. Too little, too late.
Defense ruled the game for the Titans. They pressured Matthew Stafford all night, sacking him five times and forcing his two picks. The defense also set up the offense for some easy scores, which was a good thing because the Rams defense was fairly stingy as well.
The Titans only gained 194 yard of total offense for the game as Ryan Tannehill (19/27, 143 yards, 1 TD, 1 INT, 1 rushing TD) had to settle for short passes and check downs. The trio of running backs Tennessee used to replace Derrick Henry, including newly signed Adrian Peterson, gained 74 yards and a TD on 22 carries.
While the Titans didn't do much on offense, they did take advantage of the opportunities set up by the defense and it was good enough for a big win on the road. The Titans improved to 7-2, first place in the AFC South. The Titans have been on fire since that inexplicable loss to the Jets and will host the Saints next week.
The Rams offense was so bad at times this week Matthew Stafford might have thought he was back with Detroit. He certainly played like a Lion. His backbreaking turnovers changed the momentum of the game in a heartbeat and Los Angeles never recovered. Stafford (31/48, 294 yards, 1 TD, 2 INTs) was able to gain some yards, but the Rams failed to convert them into many points until garbage time.
The Rams defense wasn't bad. They sacked Tannehill three times and forced a turnover, but it is hard to keep a team off the scoreboard when the offense betrays you with turnovers to set up short fields. The Rams fell to 7-2, second place in the NFC West. They'll travel upstate to face the 49ers next Monday night.

(Barely) Winning Ugly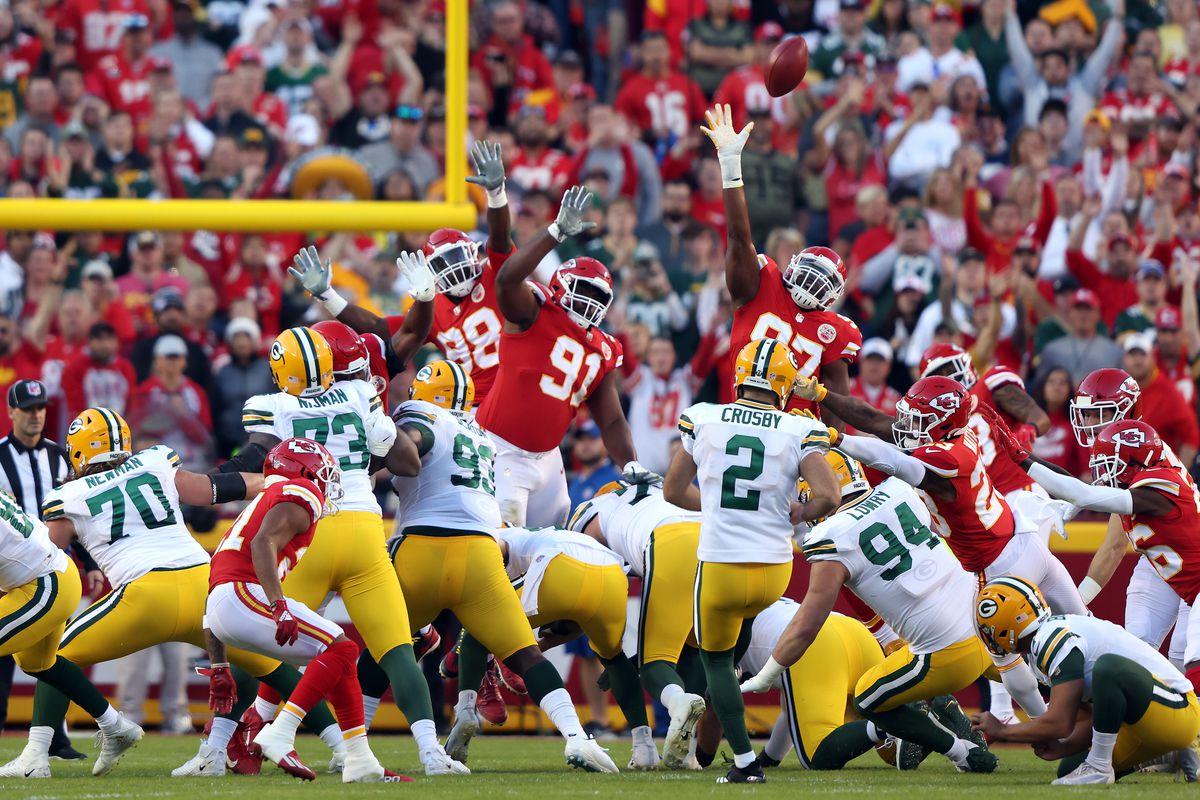 Special teams were one of the few highlights for the Chiefs
Source
Chiefs 13 Packers 7
A couple of weeks ago this game had the potential to be one of the best of the season. Instead we got a dud. Ooh wee this was one ugly game filled with bad, bad football. Obviously Green Bay was going to struggle without Aaron Rodgers, but what the hell has happened to the Kansas City Chiefs?
The Chiefs put together a TD drive on their first possession. It wasn't pretty as they needed 17 plays to cover 59 yards, yet it was successful as it ended in the endzone. That was pretty much it for the KC offense the rest of the game. The Packers handed the Chiefs a gift when they muffed a punt and KC took the ball on the Green Bay 10-yard line. Yet Mahomes and crew couldn't punch it in and they settled for a field goal.
On their next possession KC drove 25 yards to kick another field goal right before the half. The Chiefs took a 13-0 lead into halftime and they were done scoring for the day. The Packers had several opportunities to get into this game, but the special teams were a disaster. Mason Crosby missed a 40-yard FG attempt and had another attempt blocked after a bad snap.
The second half was the real shit show. The third quarter featured 5 punts. Woof. The Packers opened up the 4th quarter with an interception to break up the monotony, the Chiefs still couldn't move the ball and punted back. Finally the Packers put together a drive and scored their lone TD with five minutes left to cut the deficit to 13-7. That was the last time they touched the ball as the Chiefs were able to get a couple of first downs to bleed the clock and escape this disaster with the victory.
A win is a win and that is all that really counts in the end, but the Chiefs couldn't possibly feel good about themselves after this game. The defense looked fine, but the Packers offense was neutered without Aaron Rodgers. The special teams made a few plays that saved the game, but they were aided by Green Bay miscues. The offense was terrible, only gaining 237 yards of total offense.
Patrick Mahomes (20/37, 166 yards, 1 TD) didn't turn the ball over, that's the only good thing you can say about his performance. He didn't get much help from a running back committee that only gained 77 yards on 25 carries. The Chiefs offense was completely out of sync and looked uninspired. Kansas City improved to 5-4, tied for third place in the AFC West. They need to pull their heads out of their dupas real fast with a huge game against the Raiders in Las Vegas next week.
With Jordan Love making his first career start at quarterback, the Packers needed the other phases of their team to pick up the slack. The defense was up to the task, but the special teams spit the bit. Six potential points were lost due to bad snaps and holds on two field goal attempts. A muffed punt handed KC another three points, the defense did a great job to keep it from being seven. Without the special teams gaffes the Packers may have pulled this game out.
Jordan Love (19/34, 190 yards, 1 TD, 1 INT) had an unimpressive debut against a Chiefs defense that is not very good and that is being kind. Green Bay had some success on the ground as A.J. Dillon and Aaron Jones combined for 99 yards on 20 carries. The Packers should have run the ball more. Green Bay had a shot to steal a road win in a tough environment while shorthanded and blew it. The Packers fell to 7-2, first place in the NFC North. They'll host the Seahawks next week and Russell Wilson is going to play. Green Bay needs Rodgers to come back or it'll be trouble.

Battle Of Ohio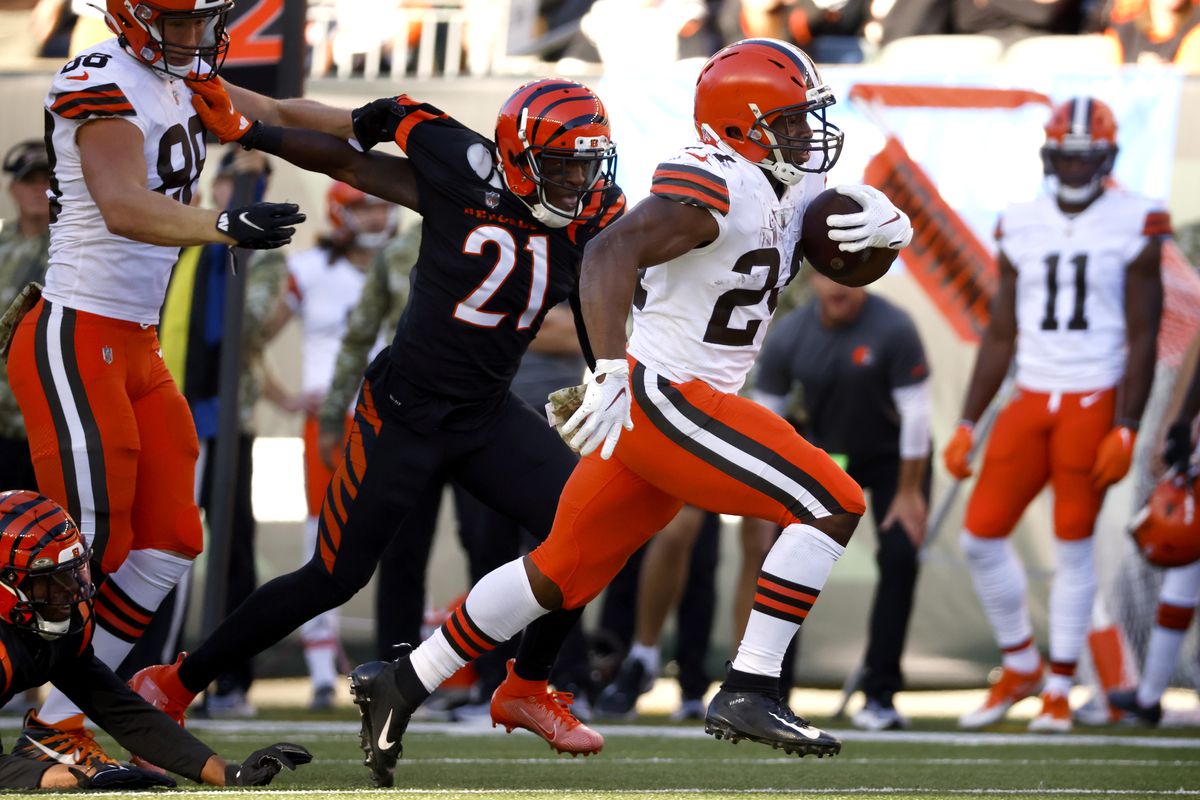 Nick Chubb faced little resistance in Cincinnati
Source
Browns 41 Bengals 16
The Browns came to Cincinnati ready to play. The Bengals should have just stayed in bed. What should have been a good game ending up being a rout.
Cincy looked good early. With their first possession they drove right down the field to the Browns three yard line. Then this happened:
https://twitter.com/i/status/1457410660820611073
That 99-yard pick-six by Denzel Ward was an omen of things to come. The Bengals came back with a TD to tie the score at 7-7, but their day on offense was done for the most part after that. The Browns offense on the other hand kept pouring on the scores, making numerous big plays as the Bengals defense was very sloppy.
Baker Mayfield was able to connect on a 60-yard TD bomb to David Peoples-Jones and Nick Chubb broke out a 70-yard TD run. Cleveland was the first NFL team to record a 60+ yard TD pass, TD run and defensive TD since 1967. Congrats Bengals, you were historically bad.
The Browns cut Odell Beckham Jr. earlier in the week, but their offense didn't miss a beat. Beckham was never a good fit for their scheme. Baker Mayfield (14/21, 218 yards, 2 TDs) didn't have to throw a lot of passes to have an impact. Likewise Nick Chubb (14 rushes 137 yards, 2 TDs) didn't need a lot of carries to do some serious damage.
Cleveland's defense was also in top form. They sacked Joe Burrow five times and forced three turnovers. They held Cincy to 3/11 on third down conversions and 0/2 on fourth down. Top to bottom a great game by the Browns, who improved to 5-4. Tied for third place in the AFC North, Cleveland will head to New England next week.
The Bengals were on a roll a few weeks ago, but they have dropped off the table. They needed a strong performance after losing to the Jets and instead got their asses kicked at home to their in state rival. Joe Burrow (28/40, 282 yards, 2 INTs) was constantly under pressure and his picks were backbreakers. Joe Mixon (13 rushes, 64 yards, 2 TDs) found running lanes, but Cincy had to get away from the running game as they fell way behind.
The defense was gashed by big plays. The Browns only needed to run 46 plays on offense to score 41 points, they averaged 7.8 yards per play. Total stinker by the Bungles, who fell to 5-4 and are tied for third place with Cleveland in the AFC North. Cincy has a bye next week and they need it to get their season back on track.

Around The League
Cardinals 31 49ers 17
The Cardinals went into this game with Kyler Murray, DeAndre Hopkins and A.J. Green all sitting out with injuries. On top of that #1 running back Chase Edmonds left the game after one carry. Uh oh. Never mind, with Colt McCoy(!) leading the way the Cardinals piled up 437 yards of offense and easily defeated the 49ers.
Remember when the Niners had a good defense? Where the hell has that gone? Half of the Cardinals offense was missing yet they had no problem moving the ball up and down the field. Colt McCoy (22/26, 249 yards, 1 TD) looked like a star, not a backup. Christian Kirk (6 receptions, 91 yards) picked up the slack for the missing receivers.
Even better than McCoy was running back James Conner. Conner usually plays second fiddle to Chase Edmonds, but when Edmonds went down Conner took over. He had a great game on the ground (21 rushes, 96 yards, 2 TDs) and in the air (5 receptions, 77 yards, 1 TD). Defensively the Cards forced three turnovers and sacked Jimmy Garoppolo five times.
Missing so many stars it wouldn't have been surprising if Arizona came out flat, instead they were spectacular. That's the sign of a really good team and I'm becoming a bigger believer each week. The Cards improved to 8-1, first place in the NFC West. Arizona hosts the Panthers next week.
The Niners season is falling into the crapper and they have no clue how to get out. The defense was outplayed by a lot of backups. Jimmy Garoppolo (28/40, 326 yards, 2 TDs, 1 INT) padded the stats in garbage time. He got no help from a running attack that gained only 39 yards.
San Francisco has now lost 10 out their last 11 home games. That is Detroit-like. Kyle Shanahan is supposed to be some kind of genius, but outside of the Niners Super Bowl run a few years ago this team has been lousy. Every week it is looking like they were more lucky than good in 2019. The Niners fell to 3-5, tied with the Seahawks for last place in the NFC West. They host the Rams next Monday Night. Good luck.


Patriots 24 Panther 6
Christian McCaffrey returned to the lineup for the Panthers this week and it didn't make a lick of difference as the offense still stunk. Mac Jones was pretty stinky early on too, but the Patriots were able to recover and win this game easily.
Not exactly a barn burner, this game started off with four punts. Then Mac Jones fumbled the ball on the Patriots 3rd possession and the Panthers were set up with great field position on the Pats 33-yard line. But Carolina only got one 1st down and settled for a field goal.
New England came back with a TD to take a 7-3 lead in the 2nd quarter before Mac Jones had another turnover, this time setting up the Panthers on the New England 34-yard line. Once again Carolina could only manage one 1st down and they settled for another field goal. Jones recovered to lead another TD drive and the Pats held a 14-6 lead at halftime.
The second half was a total disaster for the Panthers. After a punt the first time they had the ball, Sam Darnold threw interceptions on three consecutive possessions. One was a pick-6 and the others set up field goal attempts, of which the Patriots converted one. Mercifully the Panthers simply turned the ball over on downs with their last possession and the Patriots bled out the clock to win 24-6.
Mac Jones (12/18, 139 yards, 1 TD, 1 INT, 1 fumble) was not good, but he was bailed out by a strong rushing attack and a ball-hawking defense. The Patriots running back committee totaled 151 yards and a TD on 39 carries. Those numbers were tamped down a bit by a few kneel downs at the end.
The Patriots improved to 5-4, second place in the AFC East. Don't look back Buffalo because New England is only a half game out of first. They'll host the Browns next week.
How long will the Panthers stick with Sam Darnold? Darnold (16/33, 172 yards, 3 TDs) was atrocious and has been playing worse by the week since his decent start to the season. Christian McCaffrey (14 rushes for 52 yards and 4 receptions for 54 yards) generated his typical 100+ yards of offense, but it did the Panthers offense little good.
Carolina's defense wasn't bad, but they were undone by all the turnovers by Darnold that set up the Patriots with easy scores. The Panthers fell to 4-5 and their 3-0 start is now a distant memory as they have fallen from the top to the bottom of the standings in the NFC South. Things will probably get worse next week when they go to Arizona.


Chargers 27 Eagles 24
For the first time this season, the Eagles went toe to toe with a good opponent. Yet they'll have to settle for a moral victory as they weren't good enough to secure a win against the Chargers.
Offensively Philly had a good game plan. Maybe Nick Sirianni learned something in the beatdown of the Lions. The Eagles concentrated on running the ball, which was not only successful on the ground but helped take the pressure off of quarterback Jalen Hurts. Hurts responded by being much more effective with his more limited opportunities.
That was the good for Philadelphia. The bad was their defensive game plan, which hasn't been modified all year despite its lack of success. The Eagles rarely blitz and their secondary always plays off of the receivers. Justin Herbert became the fifth quarterback this year to complete over 80% of his passes against the Eagles. Herbert didn't force the ball downfield, he was happy to dink and dunk the ball over and over again.
The Chargers didn't punt once the entire game. The Eagles defense did stop two 4th down attempts in the first half, that kept Philly in the game. But those two stops were the only ones the defense made all day as Los Angeles scored on their other five possessions.
Justin Herbert (32/38, 356 yards, 2 TDs) had his way with the Eagles defense. Keenan Allen (12 receptions, 104 yards) was his top target as Philly never figured out how to stop him. The Chargers weren't as good on the ground as Austin Ekeler (17 rushes, 59 yards) couldn't find many open holes in the line. It didn't hurt L.A. since they passed the ball with such ease.
The Chargers defense wasn't great, but they did force a few punts which is something the Eagles failed to do. This was a much needed win by the Chargers after a few tough losses. Los Angeles improved to 5-3, tied for first place in the AFC West.
Philadelphia's offense is turning a corner, but their defense continues to stink. Jalen Hurts (11/17, 162 yards, 1 TD) is showing improvement now that he isn't having to lead a chuck and duck offense. Most of his passes went to rookie DeVonta Smith (5 receptions, 116 yards, 1 TD).
Hurts (10 rushes, 62 yards) remains a threat on the ground and Jordan Howard (17 rushes, 71 yards, 1 TD) also made hay. As a team the Eagles ran for 176 yards. A more balanced attack is resulting in better offensive performances for the Eagles, but it will all be moot as long as the defense continues to play like trash. Philadelphia fell to 3-6, tied for second place in the NFC East. The Eagles actually have a winning record on the road (3-2), but they are 0-4 in the City of Brotherly Love. Ouch.


Steelers 29 Bears 27
This game started out as a Monday night snoozer as the Steelers held a 20-6 lead heading into the 4th quarter. Yet in what became a breakout game for a rookie quarterback, Justin Fields came alive in the second half to lead a furious comeback that saw Chicago take a 27-26 with less than two minutes left in the game. However the Bears defense failed at the end as they let the Steelers re-take the lead with a very late field goal. Chicago had a last second chance to steal the win with a 65-yard field goal, but predictably the attempt came up short.
This was a good game marred by horrible officiating. It was so bad that if I owned the Bears I'd have been pounding on Roger Goodell's door at the crack of dawn to demand answers. I'm serious, the NFL so far hasn't said boo about this game but actions need to be taken because fans of every team are pissed about what happened.
I can't cover every bad call or this post will be 10,000 words long. I'll hit the biggies. In the 3rd quarter down 14-3, Justin Fields connected with Jimmy Graham for a TD pass that was called back by a flag. Bears offensive lineman James Daniels was charged with making a low block outside the tight end box, which is a new rule this season. The problem was Daniels didn't make contact with anybody as he went down. Hard to make a block without contact. The TD was erased and the Bears had to settle for a FG.
It got worse. Leading 23-20, the Steelers drive was stopped by a 3rd down sack of Ben Roethlisberger by Cassius Marsh. At least it was momentarily until referee Tony Corrente, the same stooge who threw the flag for the phantom block, threw a flag for taunting. Watch the play and judge for yourself:
https://twitter.com/i/status/1457923424953663489
Marsh said he didn't say anything to the Steelers sideline and no one on Pittsburgh has claimed he did. His little kickstep was certainly tamer than all three of T.J. Watts little sack dances in this game, yet Watts got no flags.
https://twitter.com/i/status/1458190471252123650
Atrocious flag. If throwing that flag wasn't bad enough, Corrente intentionally bumped into Marsh as he was trying to leave the field. It isn't in the first clip but you can see it here:
https://twitter.com/i/status/1457923520038584321
That is completely unacceptable behavior by an official. Corrente should be suspended but he is scheduled to work the Jags/Colts game in Week 10. Don't let us down Colts fans, boo this clown out of the building.
That flag kept the Steelers drive alive and it culminated in a field goal. So that is seven points total robbed from the Bears. They should have won 31-26.
It is said you have to play better than the refs officiate, but Jesus H. Christ it's tough to overcome complete horseshit calls like that. The NFL needs to nip this in the bud now. They like to advertise gambling every two seconds, but who wants to risk cash in games so blatantly decided by piss poor officiating?
All of this crap is overshadowing what a great job Justin Fields (17/29, 291 yards, 1 TD, 1 INT) did in bringing the Bears back in this game. What a shame. They fell to 3-6, third place in the NFC North. They have a bye next week so they get extra time to stew over how they robbed on Monday.
The refs bailed out the Steelers and they needed it. The offense was mediocre at best and the defense fell apart in the 4th quarter. Pittsburgh improved to 5-3, second place in the AFC North. They host the Lions next week and I hope the officials do a better job or head coach Dan Campbell might bite their kneecaps off.


That's a wrap for Week 9, a slate full of upsets. Too bad it was marred by horrendous officiating and overall bullshit. I love football, but boy there are times I hate the NFL. Get your shit together for Week 10 NFL!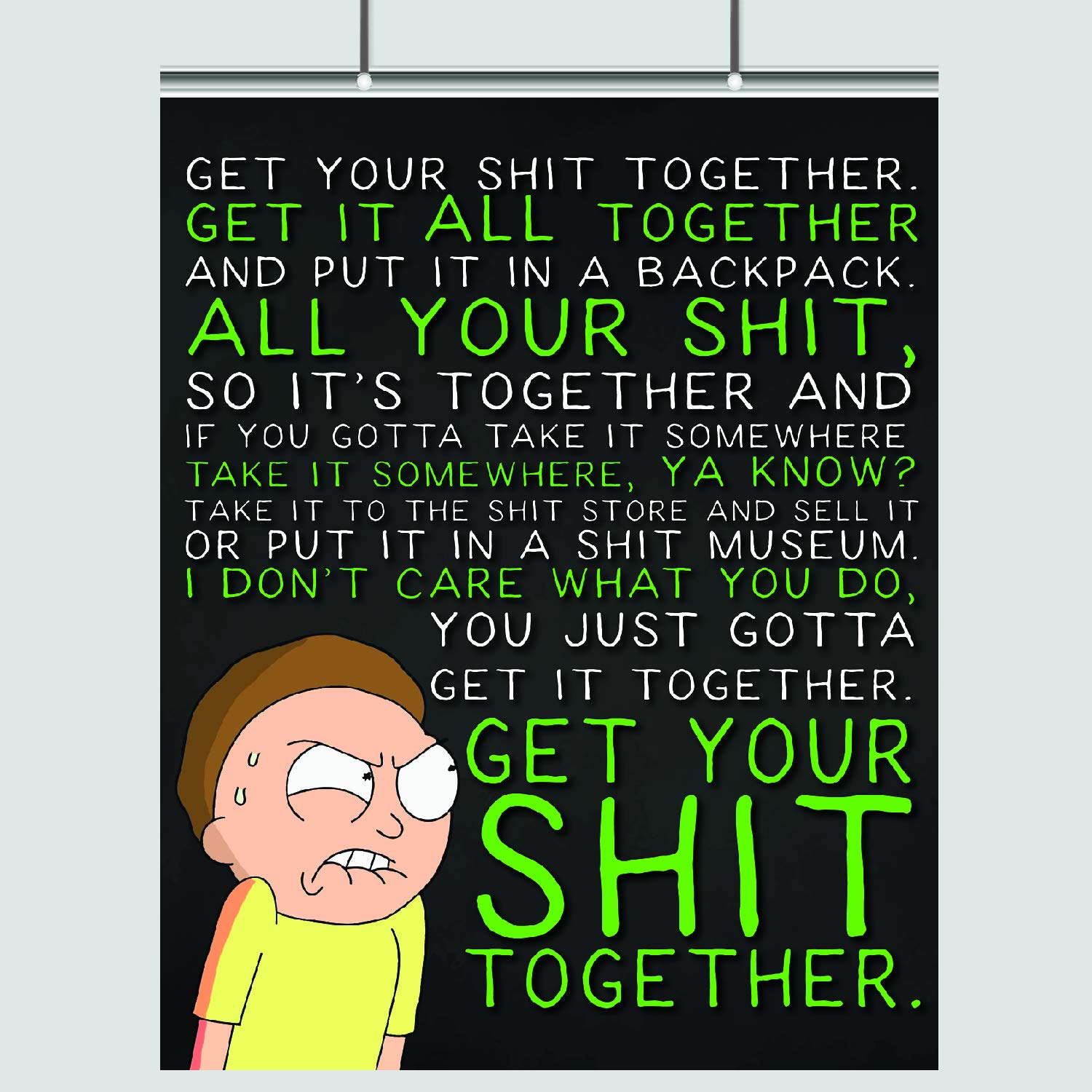 Thanks for reading and feel free to leave a comment below.
---
---