Con gol de Vlahovic la Juve rescata un punto en casa // With Vlahovic's goal Juve rescues a point at home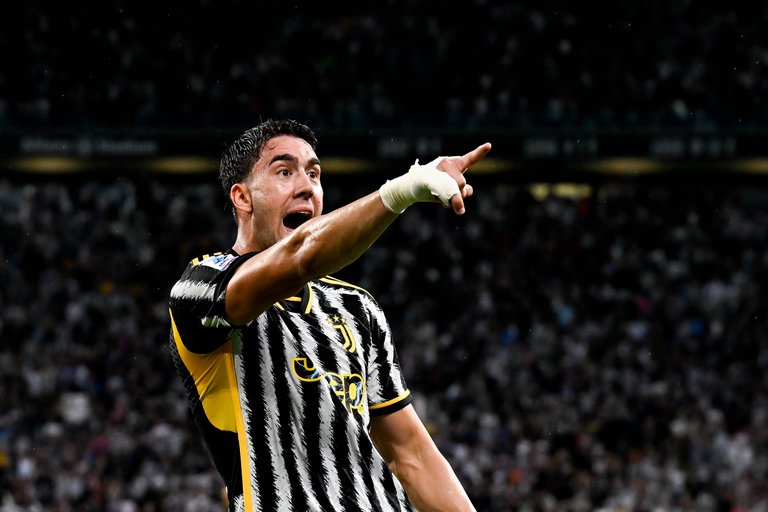 Source
Comenzó el calcio y la Juve ya muestra destellos de lo que será el resto de su temporada, luego de una victoria fácil ante el Udinese en la primera jornada empatan de local contra Bolonia, un partido que nos hizo revivir su rendimiento del año pasado, imprecisiones, juego lento en la mitad de la cancha y una falta de ideas caracterizaron un empate que pudo haber sido una derrota fácil.
Los bianconeros con su nueva plantilla traen algo de ilusión a los tifosi de Turín, Weah y Cambiaso muy buenos jugadores y refuerzos, el defensa italiano aporta juventud y frescura a la línea defensiva aunque Allegri lo usa de carrilero, una posición bastante exigente pero que puede ser aprovechada por el juvenil, sin embargo pienso que Allegri puede sacar más provecho con él en la línea de tres defensores en sustitución de Alex Sandro y colocar a Iling Junior en el carril, también podría jugar con Kostic pero hay grandes rumores de que el Serbio abandonará las filas bianconeras.
¿Podrá la Juve pelear por el Scudetto? La respuesta inmediata es si, más por historia que por presente futbolístico, la vecchia signora siendo el equipo más ganador en Italia siempre será candidato, pero seamos honestos, su nivel en comparación al campeón defensor está muy por debajo, el Napoli en dos partidos muestra la misma superioridad de la temporada pasada, Ohsimen ya lleva 3 goles y el juego del equipo es fulgurante, una delicia al más alto nivel que a pesar de tener un nuevo técnico no ha perdido su brillo.
El Milan de Pioli también muestra una cara rejuvenecida, se ha reforzado bastante bien, a Leao lo han rodeado con jugadores que también pueden tener protagonismo, eso es muy positivo porque ahora no es el único referente en el ataque, dicho esto no me extrañaría que puedan pelearle al Napoli el Scudetto, y que decir del Inter, subcampeón de Europa, definitivamente es bastante difícil que la Juve actual tenga posibilidad contra estos tres equipos, aunque existe una ligera posibilidad ya que no estarán en competiciones europeas esta temporada.
After an easy win against Udinese in the first matchday, Juve drew at home against Bologna, a match that made us relive their performance of last year, inaccuracies, slow play in the midfield and a lack of ideas characterized a draw that could have been an easy defeat.

Weah and Cambiaso are very good players and reinforcements, the Italian defender brings youth and freshness to the defensive line although Allegri uses him as a winger, a very demanding position but that can be used by the youngster, however I think Allegri can get more out of him in the line of three defenders to replace Alex Sandro and place Iling Junior in the lane, he could also play with Kostic but there are big rumors that the Serbian will leave the bianconeri ranks.

Can Juve fight for the Scudetto? The immediate answer is yes, more for history than for soccer present, the vecchia signora being the most winning team in Italy will always be a candidate, but let's be honest, their level compared to the defending champion is far below, Napoli in two games shows the same superiority of last season, Ohsimen already has 3 goals and the team's play is dazzling, a delight at the highest level that despite having a new coach has not lost its brightness.

Pioli's Milan also shows a rejuvenated face, they have been reinforced quite well, Leao has been surrounded by players who can also play a leading role, that is very positive because now he is not the only reference in attack, that said I would not be surprised if they can fight Napoli for the Scudetto, and what about Inter, European runner-up, it is definitely quite difficult for the current Juve to have a chance against these three teams, although there is a slight possibility since they will not be in European competitions this season.
Un punto es mejor que nada / A point is better than nothing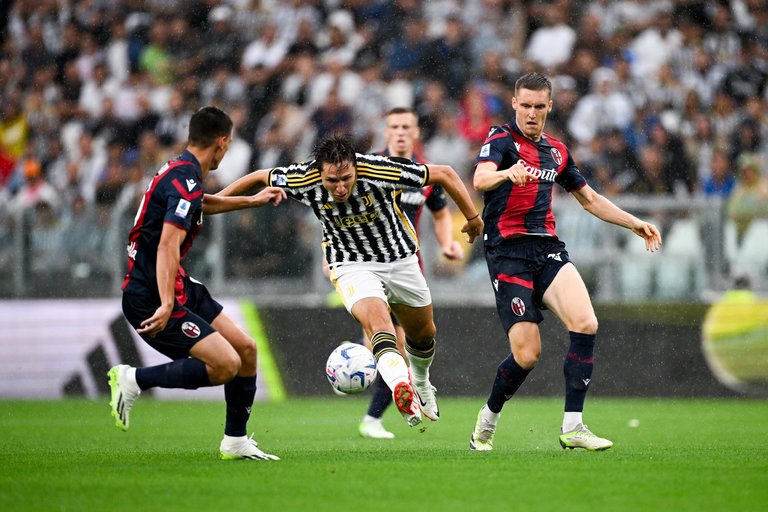 Source
Los primeros 30 minutos la Juventus podría haber estado perdiendo 3-0 en el global, afortunadamente por Perin y falta de eficacia rival el marcador solo estuvo por la mínima durante bastante tiempo, la defensa bianconera tiene un hueco muy grande en el costado y es su jugador Alex Sandro, el brasileño es muy inestable en la saga y comete muchos errores, el día de hoy por un desliz en su juego la Bolonia se adelantó en el marcador.
La actitud de la Juve tras verse abajo en el resultado fue positiva, Federico Chiesa está recuperado de su lesión y cargo con la ofensiva del equipo, el delantero italiano es el mejor jugador que tiene la vecchia signora, es un atacante que entiende a profundidad el futbol y en la Juve es el referente aun por encima de Vlahovic, su performance de hoy fue bastante buena y aunque no marco ayudo a mantener el ánimo por conseguir el empate con buenas jugadas y regates por las bandas.
Otro punto a favor es el desarrollo de Paul Pogba luego de su lesión, el pulpo fue crucial en el gol del empate, el poco tiempo que jugo mostro destellos de su magia, pero nos hace preguntarnos si mantendrá su buen nivel o su salud durante el resto de la campaña, aun así es positivo que esté jugando y pueda aportar calidad y creatividad a este medio campo que tanto lo necesita.
Por último y para concluir, lo importante en una liga tan competitiva como la italiana es sumar en cada partido, lo ideal es conseguir los tres puntos y en encuentros como este que son fáciles en el papel la Juve no puede estar empatando, y aquí es donde quiero enfatizar la labor de Allegri, si continua sin una formación clara la Juve presentara los mismos problemas de la temporada pasada y eso es lo que se quiere evitar, el objetivo es desarrollar una identidad clara de juego que le permita tener una mayor competitividad y estabilidad, aunque conociendo lo cuadrado de Allegri dudo mucho que eso suceda.
The first 30 minutes Juventus could have been losing 3-0 on aggregate, fortunately for Perin and lack of rival efficiency the score was only by the minimum for quite some time, the bianconeri defense has a very big hole in the side and it is their player Alex Sandro, the Brazilian is very unstable in the saga and makes many mistakes, today for a slip in his game Bologna took the lead on the scoreboard.

The attitude of Juve after being down in the result was positive, Federico Chiesa is recovered from his injury and he is in charge of the team's offense, the Italian striker is the best player that the vecchia signora has, he is an attacker who understands soccer in depth and in Juve he is the reference even above Vlahovic, his performance today was quite good and although he did not score he helped to keep the mood to get the tie with good plays and dribbles on the wings.

Another point in favor is the development of Paul Pogba after his injury, the octopus was crucial in the goal of the tie, the little time he played he showed flashes of his magic, but it makes us wonder if he will maintain his good level or his health for the rest of the campaign, even so it is positive that he is playing and can bring quality and creativity to this midfield that needs it so much.

Finally and to conclude, the important thing in a league as competitive as the Italian league is to score in every game, the ideal is to get the three points and in games like this that are easy on paper Juve can not be tying, and this is where I want to emphasize the work of Allegri, if he continues without a clear formation Juve will present the same problems as last season and that is what we want to avoid, the goal is to develop a clear identity of play that will allow them to have greater competitiveness and stability, although knowing how square Allegri is I doubt very much that this will happen.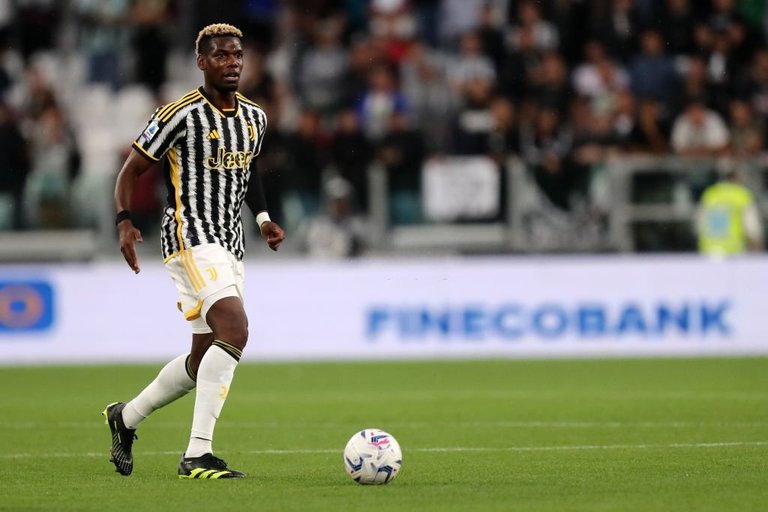 Source
Gracias por leer / Thanks for reading
---
---