[ESP] La punta en el calcio es Rossonera / The lead in calcio is Rossoneri [ENG]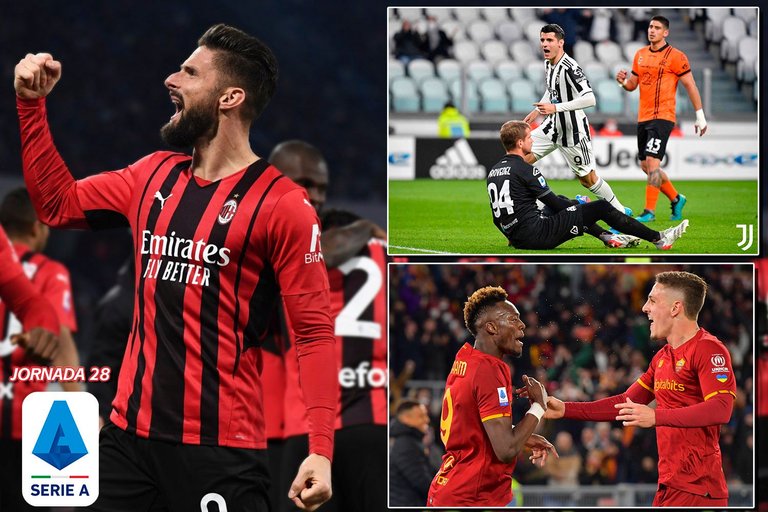 A solo 10 fechas restantes por jugar, el AC Milan se encuentra en la punta de la tabla de posiciones en una serie A que ha tenido de todo este año, pero que no ha dejado de ser emocionante desde que comenzó la temporada, razón por la cual le seguimos dando seguimiento en este feed y agradecemos tu acompañamiento hasta este punto. Ahora bien, luego de una jornada emocionante donde el Inter ha vuelto a la senda de la victoria todo se pone más electrizante en la lucha por el Scudetto, y lo más interesante es que estamos entrando en la fase final, por lo que de aquí en adelante cada partido será muy reñido y seguramente veremos cambios importantes en la tabla de posiciones hasta la última fecha.
With only 10 games left to play, AC Milan is at the top of the standings in a Serie A that has had everything this year, but has not ceased to be exciting since the season began, which is why we continue to follow it in this feed and thank you for your support up to this point. Now, after an exciting day where Inter has returned to the path of victory everything gets more electrifying in the fight for the Scudetto, and the most interesting thing is that we are entering the final phase, so from here on every game will be very close and surely we will see important changes in the standings until the last date.
---
Giroud aparece y anota / Giroud shows up and scores
Muchos críticos del futbol cuestionan el jugar de Oliver Giroud, de cómo su presencia no tiene mucho peso en la delantera del Milan, y como en muchas oportunidades pareciera ser un delantero de segunda clase y no un campeón mundial, debo confesar que me encuentro entre ese grupo de críticos, pero si hay algo que no se le puede cuestionar a este delantero es su capacidad para anotar goles en los partidos importantes y decisivos. Con la selección de Francia lo ha hecho en varias ocasiones, y con el club rossonero también, esta temporada le marco al Inter los dos goles que le dieron los tres puntos, y lo mismo hizo el día de ayer contra el Napoli, y lo más interesante es que la mayor parte del encuentro estuvo desaparecido, pero marco cuando lo tenía que hacer, el tipo gol de delantero, el gol de la victoria.
Many soccer critics question the playing of Oliver Giroud, how his presence does not have much weight in the Milan forward line, and as on many occasions he seems to be a second class striker and not a world champion, I must confess that I am among that group of critics, but if there is something that can not be questioned to this striker is his ability to score goals in important and decisive matches. With the French national team he has done it on several occasions, and with the Rossoneri club as well, this season he scored two goals against Inter that gave them the three points, and he did the same yesterday against Napoli, and the most interesting thing is that most of the game he was missing, but he scored when he had to, the kind of striker's goal, the winning goal.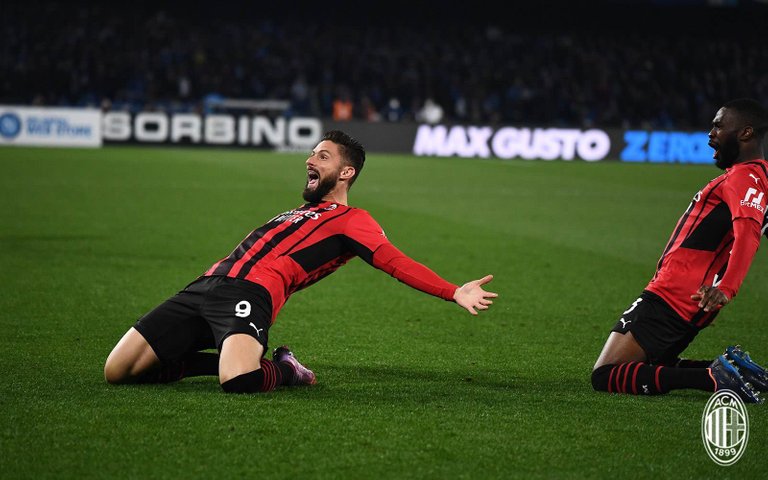 Source
Sumado al gol de francés, tenemos que destacar la labor realizada por Rafael Leao en la ofensiva, este jugador está teniendo un buen momento futbolístico, contra el Napoli fue determinante en muchos ataques, y aunque las jugadas no terminaron en gol tuvieron muy cerca de serlo. Su inteligencia y regate estan alcanzando muy buena calidad, además que está leyendo el juego de una forma excelente, teniendo claro cuando desmarcar, regatear y hacer los pases a sus compañeros. Ahora, hablando un poco del partido, en líneas generales fue muy intenso, tanto los napolitanos como los rossoneros buscaron la victoria, y aunque el dominio del esférico fue de los de casa, su profundidad estuvo muy mermada, no pudieron generar mucho peligro al arco custodiado por Maignan. El Milan se dedicó a jugar cuando lograba conseguir el balón, del resto su énfasis fue en el choque con los rivales, Theo Hernández hizo muy buen trabajo por las bandas, y Bennacer también destaco en su labor. Cabe destacar que las oportunidades más claras fueron para el Milan, estuvo más acertado de la mitad de la cancha para arriba, y eso fue lo que les dio la victoria en un duelo tan reñido.
In addition to the French goal, we have to highlight the work done by Rafael Leao in the offense, this player is having a good footballing moment, against Napoli he was decisive in many attacks, and although the plays did not end in goal, they were very close to being so. His intelligence and dribbling are reaching very good quality, besides he is reading the game in an excellent way, having clear when to unmark, dribble and make passes to his teammates. Now, talking a little about the match, in general terms it was very intense, both the Neapolitans and the Rossoneri were looking for the victory, and although the home team dominated the ball, their depth was very limited, they could not generate much danger to the goal guarded by Maignan. Milan was dedicated to play when they managed to get the ball, otherwise their emphasis was on clashing with opponents, Theo Hernandez did a very good job on the wings, and Bennacer also excelled in his work. It is worth noting that the clearest chances were for Milan, they were more accurate from the middle of the pitch up, and that was what gave them the victory in such a tight duel.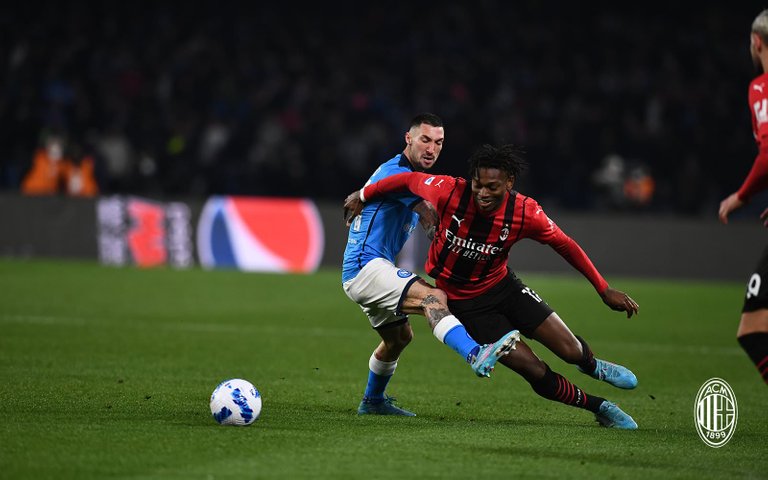 Source

La Juve sigue sumando / Juve keeps on scoring
La Vecchia signora volvió a ganar, y aunque no jugo vistosamente, su futbol les permitió quedarse con la victoria. Con estos resultados surge la pregunta: ¿Qué sucederá con Massimiliano Allegri la siguiente temporada? Para nadie es un secreto que su gestión no ha sido la mejor, pero el hombre está obteniendo los puntos, en ese sentido me viene a la cabeza otra interrogante: ¿Tenemos que acostumbrarnos a este juego malo de la Juve? Particularmente pienso que no, sin embargo debemos esperar la culminación de la campaña y asi ver qué sucede con su puesto. El partido tuvo la buena dicha de que Morata volvió al gol, eso es muy importante y desde que decidió quedarse con la venida de Vlahovic era algo que estábamos esperando, el español tiene la capacidad para rendir mucho jugando como segunda punta, además de libertad para moverse en la cancha. Para la Juve esta es una victoria importante, con la cual se ubican en la cuarta posición de la tabla a seis puntos de la Atalanta, en este puesto garantizan Champions para el año entrante, y se podría decir que es el objetivo principal del club.
The Vecchia signora won again, and although they did not play showy, their soccer allowed them to stay with the victory. With these results the question arises: what will happen with Massimiliano Allegri next season? It is no secret that his management has not been the best, but the man is getting the points, in that sense another question comes to my mind: Do we have to get used to this bad game of Juve? I don't think so, but we have to wait for the end of the season and see what happens with his position. The match had the good fortune that Morata returned to the goal, that is very important and since he decided to stay with the arrival of Vlahovic was something we were waiting for, the Spaniard has the ability to perform a lot playing as a second striker, plus freedom to move on the field. For Juve this is an important victory, with which they are placed in fourth position in the table six points behind Atalanta, in this position they guarantee Champions League for next year, and it could be said that it is the main objective of the club.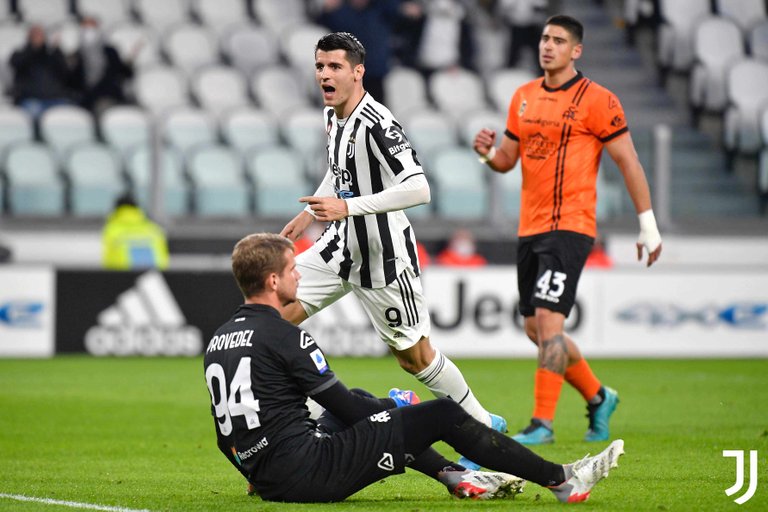 Source
---
Mourinho golpea por segunda vez a Gasperini / Mourinho slams Gasperini for the second time
La Roma ha sido el Némesis de la Atalanta esta temporada, propinándole dos derrotas en dos encuentros, algo que ha caído muy bien primeramente a los de la Roma que entran nuevamente a puestos europeos, pero también a los equipos que se encuentran por encima de la tabla, como la Juve y el Napoli por dar un ejemplo. Para la Atalanta esta es una derrota dolorosa, que los deja igualados precisamente con la loba de Mou en la 5ta posición, aunque por diferencia de goles llevan una ligera ventaja. El encuentro entre ambos clubes estuvo muy parejo y a su vez algo trabado, sin embargo la habilidad de Zaniolo y la capacidad de Abraham para marcar le dieron la victoria por la mínima. La Roma demostró que puede jugar de contragolpe y en cierto modo a la defensiva, desde mi punto de vista Mourinho supo canalizar el juego y dominar en lo táctico, si bien cuando revisamos las estadísticas podremos notar que la Atalanta domino el balón, las ocasiones fueron muy parejas, ambos clubes remataron 4 veces al arco, esto nos muestra que no siempre dominar el juego da la victoria, esto es un hecho repetitivo en el mundo del futbol, y más en nuestros tiempos donde muchos enfatizan en la posesión.
Roma have been Atalanta's Nemesis this season, handing them two defeats in two games, something that has gone down very well firstly for Roma who are entering European places again, but also for the teams above them in the table, like Juve and Napoli to give an example. For Atalanta, this is a painful defeat, which leaves them equal with Mou's wolves in 5th position, although on goal difference they have a slight advantage. The match between the two clubs was very even and at the same time a little tight, but Zaniolo's skill and Abraham's ability to score gave them the victory by the minimum. Roma showed that they can play on the counter attack and in a certain way defensively, from my point of view Mourinho knew how to channel the game and dominate tactically, although when we review the statistics we can notice that Atalanta dominated the ball, the chances were very even, both clubs shot 4 times at goal, this shows us that not always dominating the game gives the victory, this is a repetitive fact in the world of soccer, and more in our times where many emphasize on possession.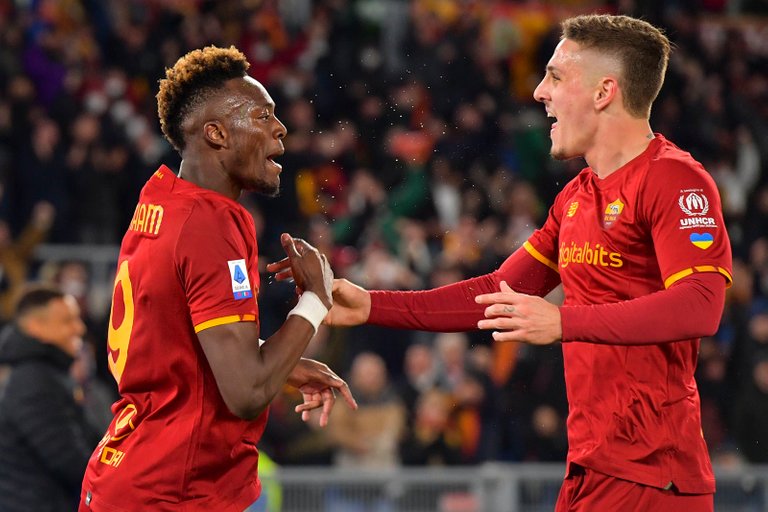 Source
---
Pensamientos finales / Final thoughts
Por último, debo decir que en las 10 fechas restantes hay pocos duelos directos entre los seis primeros de la tabla, solo queda la Juve contra el Inter, pero del resto ya jugaron sus respectivos encuentros. Esto es bueno por un lado, pero por otro no te hace depender de ti mismo, por ejemplo si el Milan gana sus 10 partidos y el Inter que tiene un juego menos también lo hace, serán los neroazurris quienes levanten el Scudetto, si bien le resta algo de emoción en los emparejamientos, hace que pongamos nuestra atención en los clubes restantes de la tabla, y ver cuál de ellos se convierte en la oveja negra para unos y moneda de oro para otros.
Finally, I must say that in the remaining 10 dates there are few direct duels between the top six in the table, only Juve against Inter remains, but of the rest they already played their respective matches. This is good on the one hand, but on the other hand does not make you depend on yourself, for example if Milan wins their 10 games and Inter who has one game less also does, it will be the neroazurris who will lift the Scudetto, although it takes away some excitement in the pairings, it makes us put our attention on the remaining clubs in the table, and see which of them becomes the black sheep for some and golden coin for others.
Gracias por leer / Thanks for reading

Portada realizada en Adobe Photoshop / Cover made in Adobe Photoshop
---
---