[ESP] La Roma se juega su clasificación a Europa League // Roma to stake their claim for Europa League qualification [ENG]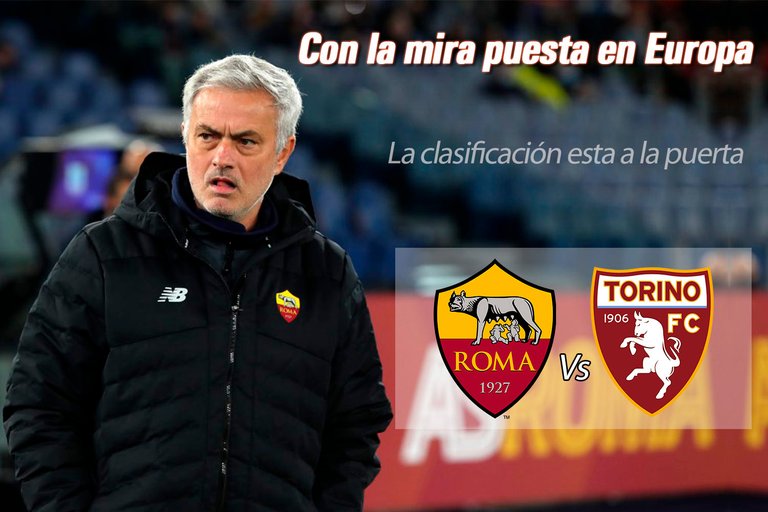 Source | Logos | Imagen editada en Adobe Photoshop
En Italia el destino de algunos equipos aún no está definido, tal es el caso de la Roma que todavía tiene posibilidades para entrar en competencias europeas el siguiente año, queda un solo cupo para jugar Europa League, y se disputa entre dos equipos, la loba de Mou y la Fiorentina de Vincenzo, dos entrenadores que lo han hecho bien esta temporada pero que a su vez se han visto complicados en la tabla por el desempeño fluctuante de sus jugadores. La situación de estos clubes es ligeramente diferente, pues la Roma depende de sí misma, una victoria y se quedaran con la plaza, mientras que para la Fiore es un poco más complicado, después de su estrepitosa derrota la jornada pasada deben esperar resultados, en otras palabras, el boleto no está en sus manos el conseguirlo, pueden ganar y de igual forma quedarse sin pasaje.
In Italy the destiny of some teams is not yet defined, such is the case of Roma that still has a chance to enter European competitions next year, there is only one place left to play Europa League, and it is disputed between two teams, Mou's Wolves and Vincenzo's Fiorentina, two coaches who have done well this season but have been complicated in the table by the fluctuating performance of their players. The situation of these clubs is slightly different, as Roma depends on themselves, a win and they will keep the place, while for Fiore it is a bit more complicated, after their resounding defeat last matchday they must wait for results, in other words, the ticket is not in their hands to get it, they can win and still be left without passage.

Luz al final del túnel / Light at the end of the tunnel
El equipo de Mourinho ha sido uno de los más inconsistentes esta temporada, su juego ha sido un sube y baja constante, en ocasiones han desplegado un futbol hermoso pero en otras oportunidades han jugado como principiantes. Esta ha sido una variable que está por encima de la calidad del club, la Roma tiene muy buenos jugadores, cuando analizamos cada una de sus líneas podemos encontrar tanto experiencia como juventud y talento, tiene jugadores codiciados por otros clubes, Zaniolo y Abraham son dos de ellos por nombrar algunos, pero precisamente estos se perfilan para salir del club en el siguiente mercado, aunque nada es seguro, hay cifras en el aire por sus servicios.
En líneas generales es un equipo bastante equilibrado, pero actualmente se encuentran en una situación difícil, no ganan en serie A desde hace 5 fechas cuando vencieron en ultima hora al Salernitana, pero de allí en adelante tienen saldo de 2 derrotas y tres empates. Sin embargo hay una pequeña luz al final del túnel, queda de ellos si salen de ese túnel o se quedan en la oscuridad, solo tienen una oportunidad y deberán consumarla el día de hoy cuando enfrenten al Torino de visitante.
Mourinho's team has been one of the most inconsistent this season, their play has been a constant up and down, at times they have played beautiful soccer but at other times they have played like beginners. This has been a variable that is above the quality of the club, Roma has very good players, when we analyze each of their lines we can find both experience and youth and talent, they have players coveted by other clubs, Zaniolo and Abraham are two of them to name a few, but precisely these are profiled to leave the club in the next market, although nothing is certain, there are figures in the air for their services.

Overall they are a fairly balanced team, but they are currently in a difficult situation, they have not won in Serie A since 5 games ago when they beat Salernitana at the last minute, but since then they have had 2 defeats and three draws. However, there is a little light at the end of the tunnel, it is up to them if they get out of that tunnel or stay in the dark, they only have one chance and they will have to finish it today when they face Torino away.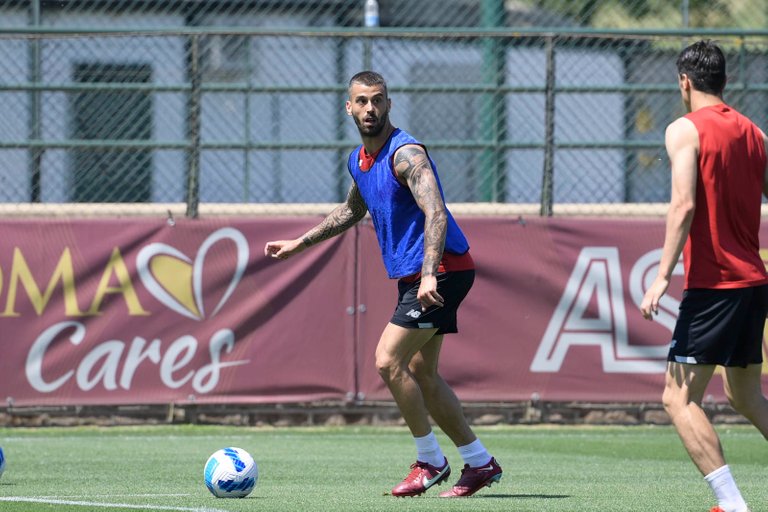 Source
Para Mourinho una victoria será un buen logro conseguido esta temporada a nivel de liga, el técnico portugués ha sabido ganarse a la afición a pesar de sus comentarios, también ha mantenido una muy buena relación con sus jugadores y eso es esencial. Muchos de ellos se han visto potenciados en su juego por la gestión de su entrenador, además que agradecen el apoyo de este último, algo que los ha hecho crecer como profesionales.
For Mourinho a win will be a good achievement this season at league level, the Portuguese coach has been able to win over the fans despite his comments, he has also maintained a very good relationship with his players and that is essential. Many of them have been boosted in their game by the management of their coach, plus they are grateful for the support of the latter, something that has made them grow as professionals.
---
Una prueba difícil / A difficult test
Jugar contra el Torino de visitante no será nada sencillo, este equipo ha demostrado ser muy complicado de derrotar cuando está en su casa, y siendo esta la última jornada del calcio para ambos, seguramente el estadio tendrá mucha afluencia de personas pues hoy es el cierre de un año cargado de muchas emociones. Aunque el Torino no tenga nada que perder, no van a regalar su partido a la Roma, de hecho es muy probable que su motivación de ganar sea mayor, ya que dejarían en una posición muy complicada a los de la capital; en el calcio se juega con mucha intensidad este tipo de partidos, hay cierto morbo en estropear los planes finales de otro club, eso ha sido siempre un plus, por lo que se espera una jornada bastante difícil.
Playing against Torino away will not be easy at all, this team has proven to be very difficult to beat when at home, and this being the last day of calcio for both, surely the stadium will have a lot of people in attendance as today is the closing of a year full of many emotions. Although Torino has nothing to lose, they will not give away their game to Roma, in fact it is very likely that their motivation to win is greater, as they would leave in a very complicated position to those of the capital; in calcio this kind of games are played with great intensity, there is some morbid in spoiling the final plans of another club, that has always been a plus, so it is expected to be a very difficult day.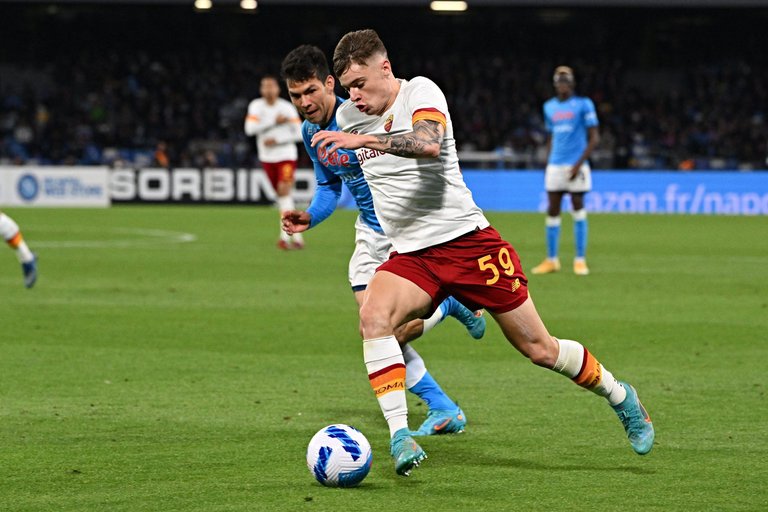 Source
La Roma deberá apostar a su buen manejo de la pelota en la mitad de la cancha, ya que por el estilo de juego de sus rivales, allí será donde se desarrollara el partido, quien gane la posesión seguramente se quedara con el encuentro. Mourinho cuenta con todo su plantel, aunque su mejor defensor está en duda, Christopher Smalling sufrió una pequeña lesión y es muy posible que no alinee como titular, del resto sus jugadores se encuentran en buen estado. Mourinho es un técnico que no le tiembla el pulso para jugar con alineaciones diferentes en cada partido, es muy posible que hoy veamos a Abraham solo en la punta o quizás se encuentre acompañado con Zaniolo, ambos planteamientos han sido utilizados, pero ha dado mayor resultado cuando hay dos atacantes en vez de solamente el británico en la delantera.
Roma will have to bet on their good ball handling in the middle of the field, since the style of play of their rivals will be where the match will be played, and whoever wins possession will surely win the match. Mourinho has his entire squad, although his best defender is in doubt, Christopher Smalling suffered a minor injury and it is very possible that he will not line up as a starter, the rest of his players are in good condition. Mourinho is a coach who does not shake his pulse to play with different lineups in each game, it is very possible that today we will see Abraham alone up front or perhaps he will be accompanied with Zaniolo, both approaches have been used, but it has given better results when there are two attackers instead of only the British player up front.
---
Pensamientos finales / Final thoughts
El partido anterior entre ellos fue victoria para la Roma en casa, pero fue un encuentro bastante parejo, es posible que hoy se tenga un partido muy parecido pero con mayor intensidad, eso es lo que espera su servidor. Pienso que la Roma tiene muchas posibilidades de obtener la victoria, su equipo es superior pero deben estar bastante concentrados, ya que esto es prácticamente una final para ellos, este encuentro me recuerda un poco al de la semana pasada de Lazio, donde iban perdiendo contra la Juve, pero finalizando el encuentro consiguieron el gol de la clasificación a Europa League, su motivación fue la correcta a pesar de ir perdiendo, en ese sentido creo que si la Roma tiene su motivación intacta podrán conseguir el hambre de triunfo que les dará la victoria y los mandara directo a Europa.
The previous match between them was a win for Roma at home, but it was a pretty even match, it is possible that today you will have a very similar match but with more intensity, that is what yours truly expects. I think that Roma has a good chance to get the victory, their team is superior but they must be quite focused, as this is practically a final for them, this match reminds me a little bit of last week's Lazio, where they were losing against Juve, but at the end of the match they got the goal to qualify to Europa League, their motivation was right despite losing, in that sense I think that if Roma has their motivation intact they can get the hunger for victory that will give them the victory and send them straight to Europe.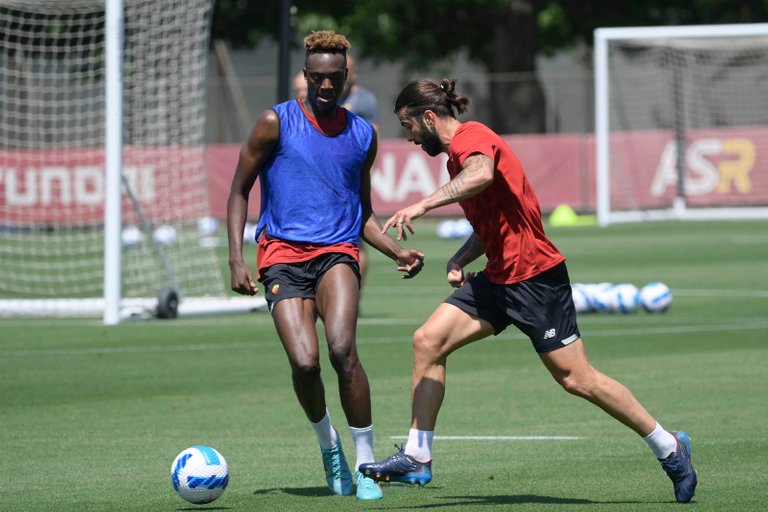 Source
Gracias por leer / Thanks for reading
---
---