[ESP] ¡Que siga la fiesta! Senegal se clasifica a los octavos de final // Keep the party going! Senegal qualifies for the round of 16 [ENG]
Source | Imagen editada en Adobe Photoshop
Hoy ha sido uno de esos días mundialistas que dejan un sabor agridulce en cuanto a los resultados, para toda Sudamérica la eliminación de Ecuador ha sido un duro golpe, pues se esperaba que como mínimo alcanzaran los octavos de final, su juego daba para ello, sin embargo hoy se encontraron con un muro senegalés que los supero en todas las facetas del juego.
Recuerdo como hace 20 años esta selección cautivo a los espectadores metiéndose hasta los cuartos de final siendo una debutante, además de haber vencido a los campeones defensores de aquel entonces (Francia) y sorprendiendo al mundo entero. Hoy, 20 años después la selección de Senegal lo vuelve a hacer, aunque esta vez con otra generación de jugadores, mostrando un futbol no tan vistoso como el de sus antecesores pero sí bastante físico y efectivo al momento de marcar.
Y eso fue precisamente lo que derroto a Ecuador, el poderío físico de este equipo africano, los comandados por Gustavo Alfaro se quedaron cortos y por primera vez en este mundial vieron la derrota, desafortunadamente para ellos fue la que los dejo fuera de carrera en Qatar.
La tri no supo sostener su inicial ventaja en el grupo, y vieron la consecuencia de su inferioridad al minuto 44 cuando Ismailla Sarr anotaba el 1-0 para los senegaleses. Quizás ese gol los despertó porque en la segunda mitad se hicieron con el balón bastante rápido, y con más ímpetu que buen futbol lograron el empate al minuto 67. Las esperanzas habían vuelto y el ambiente rebosaba de alegría, pero eso solo duro 3 minutos, pues el portentoso central del Chelsea Kalidou Koulibaly anotaría el gol que sellaría la victoria y clasificación del equipo africano.
Today has been one of those World Cup days that leave a bittersweet taste in terms of results, for all of South America the elimination of Ecuador has been a hard blow, because it was expected that at least reach the round of 16, their game gave for it, however today they met a Senegalese wall that surpassed them in all facets of the game.

I remember how 20 years ago this team captivated the spectators by reaching the quarterfinals as a debutant, besides having beaten the defending champions of that time (France) and surprising the whole world. Today, 20 years later, the Senegal team does it again, although this time with another generation of players, showing a soccer not as showy as that of their predecessors but quite physical and effective at the time of scoring.

And that was precisely what defeated Ecuador, the physical power of this African team, the team coached by Gustavo Alfaro fell short and for the first time in this World Cup they were defeated, unfortunately for them it was the one that left them out of the race in Qatar.

The Tri did not know how to sustain their initial advantage in the group, and saw the consequence of their inferiority in the 44th minute when Ismailla Sarr scored the 1-0 for the Senegalese. Perhaps that goal woke them up because in the second half they got the ball pretty quickly, and with more impetus than good soccer they managed to equalize in the 67th minute. Hopes were back and the atmosphere was brimming with joy, but that only lasted 3 minutes, as the portentous Chelsea center back Kalidou Koulibaly would score the goal that would seal the victory and qualification of the African team.
---
Victoria táctica / Tactical victory
El legendario Aliou Cisse, quien fuera capitán y centrocampista de aquella hermosa Senegal del 2002, es quien está al timón del barco actual, su gestión ha sido una de las mejores en este combinado, desde que tomó el mando ha llevado a su selección a lo más alto, logro consagrarlos como campeones africanos el año pasado ante su similar de Egipto y ahora los clasifica a los octavos de final del presente mundial, son logros que adornan su buena carrera y trayectoria.
El partido de hoy contra Ecuador no era nada sencillo, el equipo sudamericano goza de un futbol rápido e incisivo, razón por la cual Aliou tuvo que enfocar el juego de su equipo a la presión alta, la idea era que los jugadores ecuatorianos no pudieran triangular, además de eso, el ataque lo llevo en todo tiempo por las bandas, eso neutralizo la estrategia de Alfaro de sumar a sus laterales al ataque, con solo esas dos indicaciones logro que el partido se jugara como él quería.
The legendary Aliou Cisse, who was captain and midfielder of that beautiful Senegal in 2002, is who is at the helm of the current ship, his management has been one of the best in this combined, since he took the helm has led his team to the top, he managed to consecrate them as African champions last year against their similar Egypt and now qualifies them to the round of 16 of this World Cup, are achievements that adorn his good career and trajectory.

Today's match against Ecuador was not easy, the South American team has a fast and incisive soccer, which is why Aliou had to focus his team's game on high pressure, the idea was that the Ecuadorian players could not triangulate, besides that, the attack was always on the wings, that neutralized Alfaro's strategy of adding his fullbacks to the attack, with only those two indications he managed to play the game as he wanted.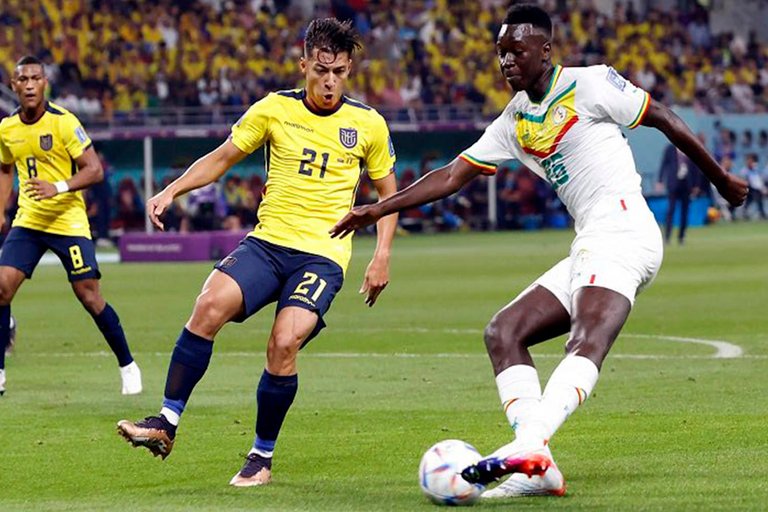 Source
El punto más fuerte de su estrategia contra la "Tri" fue la resistencia física de sus jugadores, esto es algo característico de las naciones africanas, tienen una resistencia increíble, y parecieran no cansarse a pesar del desgaste del partido. Sumado a eso, la potencia física fue clave, cada choque, cada disputa de balón, todo les favorecía, incluso cuando recibieron el gol que nuevamente los dejaba fuera no cambio su planteamiento, y fue tan efectivo que rápidamente pudieron remontar.
Alfaro se vio ampliamente superado, si bien coloco algunos cambios repulsivos, Mendy no tuvo que convertirse en figura para su selección, pues todo lo neutralizaron desde la zona medular hasta la media cancha. Fue a mi juicio una victoria táctica, muy contundente y bastante merecida, nada que refutarle a los leones de la teranga, sino más bien reconocerles su gran despliegue en el terreno de juego.
The strongest point of his strategy against "La Tri" was the physical resistance of his players, this is something characteristic of African nations, they have an incredible resistance, and they do not seem to get tired despite the wear and tear of the match. In addition to that, physical power was key, every collision, every ball dispute, everything favored them, even when they conceded the goal that left them out again, they did not change their approach, and it was so effective that they were able to come back quickly.

Alfaro was widely outplayed, although he made some repulsive changes, Mendy did not have to become a star for his team, because they neutralized everything from the midfield to the midfield. It was in my opinion a tactical victory, very convincing and well deserved, nothing to refute the lions of the teranga, but rather to recognize their great display on the field.
---
Pensamientos finales / Final thoughts
La fiesta en las gradas senegalesas seguirá estando presente, las veremos nuevamente el día domingo cuando enfrenten a la selección de los tres leones por los octavos de final, un encuentro en el que no parten como favoritos obviamente, pero a quien le importa eso a estas alturas, este mundial nos ha demostrado que el nivel actual de las selecciones está muy parejo, y en el terreno cualquier cosa puede pasar. Aun así deberán establecer un plan de juego muy parecido al que plantearon el día de hoy, si mantienen el juego físico y la presión constante es posible que puedan generar oportunidades para marcar, y porque no, dar el gran golpe mandando a casa a Inglaterra. ¿Podrá Aliou Cisse seguir haciendo historia? Ya lo veremos, pero hasta ahora lo ha hecho muy bien.
The party in the Senegalese stands will continue to be present, we will see them again on Sunday when they face the team of the three lions in the round of 16, a match in which they will not start as favorites obviously, but who cares about that at this point, this World Cup has shown us that the current level of the teams is very even, and on the field anything can happen. Even so, they will have to establish a game plan very similar to the one they presented today, if they keep the physical game and constant pressure it is possible that they can generate opportunities to score, and why not, give the big blow sending England home. Will Aliou Cisse be able to continue making history? We'll see, but so far he's done very well.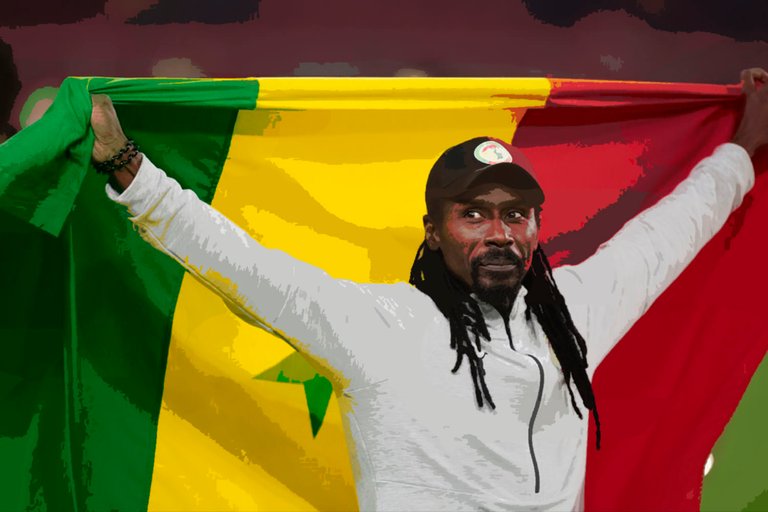 Source | Ilustracion realizada en Adobe Photoshop
Gracias por leer / Thanks for reading
---
---