[ESP] Se viene un partidazo en la Serie A // A great match is coming in Serie A [ENG]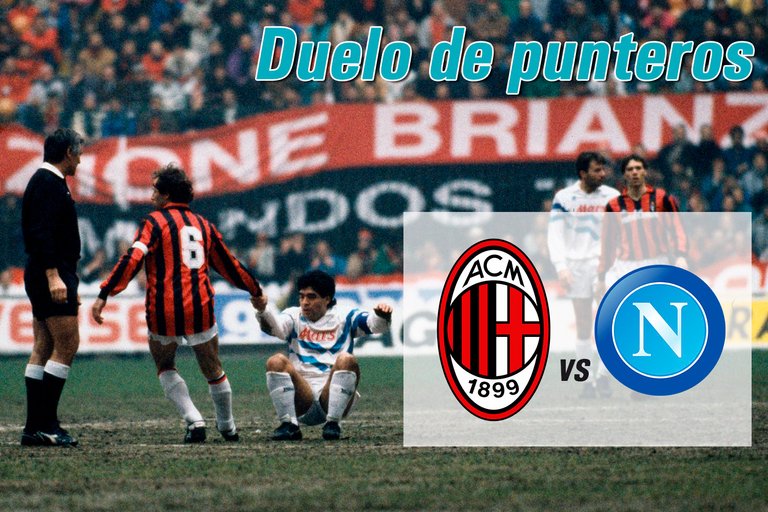 Source | Logos | Imagen editada en Adobe Photoshop
El día de mañana el San Siro se vestirá de gala para recibir al Napoli de Luciano Spalletti, en un duelo que promete ser candente y el mejor de la fecha. Ambos equipos estan pasando por un momento increíble a nivel futbolístico y anímico, el Milan se presenta como campeón del calcio italiano, y hasta ahora está defendiendo muy bien su cetro, pero el Napoli ha tenido un arranque de temporada impresionante, algo que ha sorprendido no solo en Italia sino también en toda Europa.
El Napoli tiene fama de iniciar bien y caerse al final de temporada, pero este año las cosas se ven mejores que en esos años anteriores, y es paradójico, se fueron sus mejores jugadores, pero las adquisiciones que hicieron este verano estan dando muy buenos resultados. De forma discreta se movieron en el mercado de fichajes, y lograron armar un equipo altamente competitivo y rápido. Honestamente nadie se esperaba que este equipo tuviera el desempeño que ha tenido hasta ahora, de hecho antes de temporada muchos medios lo daban como muerto en la lucha por es Scudetto este año, y aunque apenas ha iniciado la campaña si mantienen el ritmo de seguro serán un firme candidato.
Tomorrow the San Siro will be dressed up to receive Luciano Spalletti's Napoli, in a duel that promises to be hot and the best of the day. Both teams are going through an incredible moment at a soccer and emotional level, Milan is the Italian calcio champion, and so far is defending its crown very well, but Napoli has had an impressive start to the season, something that has surprised not only in Italy but also throughout Europe.

Napoli has a reputation for starting well and falling off at the end of the season, but this year things look better than in those previous years, and it is paradoxical, their best players left, but the acquisitions they made this summer are giving very good results. In a discreet way they moved in the transfer market, and managed to put together a highly competitive and fast team. Honestly no one expected this team to have the performance it has had so far, in fact before the season many media gave it as dead in the fight for the Scudetto this year, and although they have just started the campaign if they keep the pace they will surely be a strong candidate.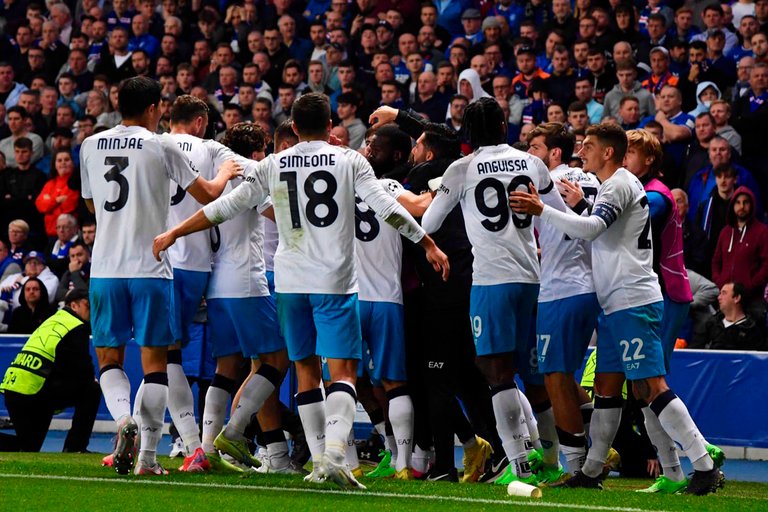 Source
Lo que más ha sido llamativo es la sinergia que sus jugadores han mostrado, es como si tuvieran muchos años jugando juntos, pero no es asi, al parecer la solución era la renovación y no mantener a los mismos jugadores que por muchos años se mantenían en este equipo. Ahora tenemos un Napoli repotenciado, equilibrado en defensa y ataque, con jugadores que pueden romper el equilibrio de un partido y decantar la balanza hacia su lado; Kvaratsjelia es uno de ellos, el joven georgiano de 21 años es la nueva sensación de este club y una de las tantas promesas que hacen vida en el futbol italiano, pero no solo eso, ya los clubes europeos estan poniendo los ojos sobre el debido a su gran calidad, es un jugador rápido, inteligente que tiene muy buenas habilidades.
What has been most striking is the synergy that their players have shown, it is as if they had many years playing together, but it is not so, it seems that the solution was the renewal and not keep the same players that for many years were kept in this team. Now we have a Napoli re-powered, balanced in defense and attack, with players who can break the balance of a match and tip the balance to their side; Kvaratsjelia is one of them, the young 21 year old Georgian is the new sensation of this club and one of the many promises that make life in Italian soccer, but not only that, already the European clubs are putting their eyes on him because of his great quality, he is a fast, intelligent player who has very good skills.
---
A seguir con el paso firme / To continue with the firm step
El Milan también ha arrancado la temporada de muy buena manera, si bien tuvieron unos pequeños tropiezos, actualmente estan mostrando un futbol dinámico y vertical, el cual está convenciendo a los fanáticos de que es posible repetir el Scudetto este año. El estado anímico que estan mostrando los jugadores es bastante elevado, se nota la confianza dentro del plantel, los jugadores estan bien con su entrenador y esto es clave en su buen funcionamiento, además también muestran mucha unidad entre sí, inclusive los que ingresaron hace poco estan bastante comprometidos.
Para este partido el Milan presenta una baja sumamente importante, su estrella Rafael Leao se quedara en el banquillo por suspensión, lamentablemente para los rossoneri porque Leao ha sido el mejor de su plantel en esta temporada. Sin embargo, los ánimos estan muy altos, Pioli sabe que sus jugadores pueden hacer un buen trabajo, y más que estan en casa, un lugar donde suelen jugar mejor, el técnico ha comentado que desea aprovechar el ambiente que tendrá este partido.
Milan has also started the season in a very good way, although they had some small stumbles, they are currently showing a dynamic and vertical soccer, which is convincing the fans that it is possible to repeat the Scudetto this year. The mood of the players is quite high, the confidence within the squad is noticeable, the players are well with their coach and this is key to their good performance, they also show a lot of unity among themselves, even those who joined recently are quite committed.

For this match Milan has a very important casualty, their star player Rafael Leao will be on the bench due to suspension, unfortunately for the Rossoneri because Leao has been the best of their squad this season. However, spirits are very high, Pioli knows that his players can do a good job, and more than that they are at home, a place where they usually play better, the coach has commented that he wants to take advantage of the atmosphere that will have this game.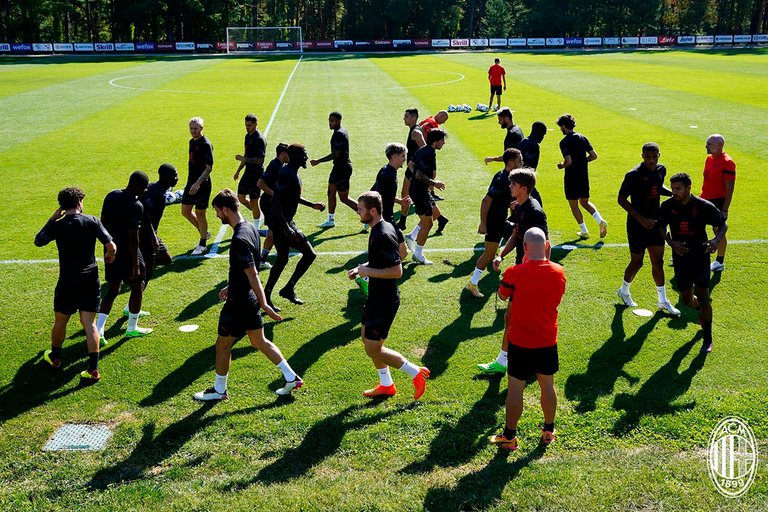 Source
Lo único que puedo decir de forma un poco negativa, es que Charles de Ketelaere no ha encontrado su lugar aun en el juego de Pioli, hasta los momentos no es titular indiscutible aunque tiene todas las facultades para serlo, cuando el balón ha llegado a sus pies muestra mucha jerarquía para resolver de primera, pero en la mayoría de partidos recibe muy pocos balones. Pienso que es cuestión de adaptación, ha demostrado que es una estrella emergente, un jugador que dará mucho de qué hablar en los próximos años.
The only thing I can say in a negative way is that Charles de Ketelaere has not found his place yet in Pioli's game, so far he is not an undisputed starter although he has all the skills to be one, when the ball has come to his feet he shows a lot of hierarchy to solve first time, but in most games he receives very few balls. I think it is a matter of adaptation, he has shown that he is an emerging star, a player who will give much to talk about in the coming years.
---
Pensamientos finales / Final thoughts
Tanto el Milan como el Napoli comparten la punta, pero por diferencia de goles los napolitanos estan por arriba, lo cual es otro punto favorable para que este partido sea emocionante. Particularmente pienso que será muy dinámico, ambos equipos tendrán oportunidades, pero teniendo en cuenta que los dos juegan a mantener la posesión del esférico, será difícil prever como se desarrollara el juego el día de mañana, quizás se defina por jugadas puntuales o por la eficacia para marcar. Lo cierto es que no hay excusa alguna para no ver este partido, en las estadísticas el Milan se ve superior debido a su historial, pero lo mostrado en la cancha por lo napolitanos puede derribar dichas estadísticas, vienen de golear al subcampeón de Europa y también de golear al Ranger escoces, por lo tanto si la defensiva del Milan se descuida también pueden salir goleados. Por último y para concluir, la mesa está servida, solo nos queda darnos el banquete, asi que no te lo pierdas.
Both Milan and Napoli share the lead, but on goal difference the Neapolitans are ahead, which is another favorable point to make this match exciting. Particularly I think it will be very dynamic, both teams will have chances, but considering that both play to keep possession of the ball, it will be difficult to predict how the game will develop tomorrow, perhaps it will be defined by specific plays or by the effectiveness to score. The truth is that there is no excuse for not watching this game, in the statistics Milan looks superior due to its history, but what was shown on the field by the Neapolitans can demolish these statistics, they come from beating the runner-up of Europe and also from beating the Scottish Ranger, so if Milan's defense is careless they can also get beaten. Finally and to conclude, the table is set, we just have to feast, so don't miss it.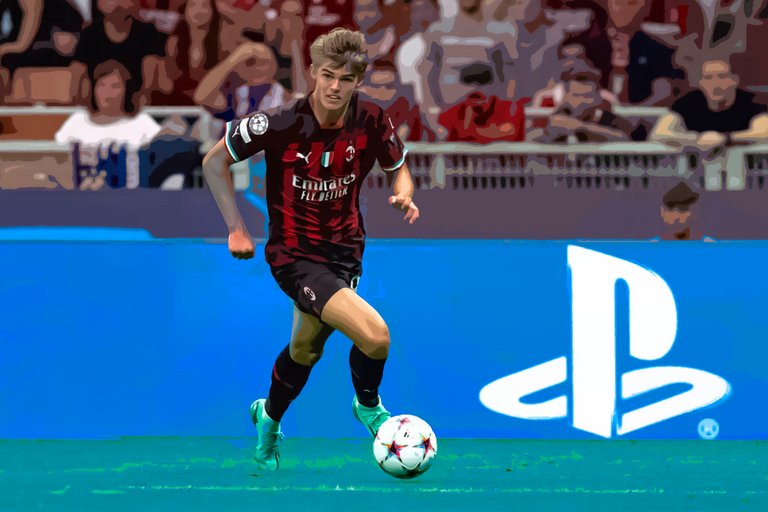 Source | Ilustracion realizada en Adobe Photoshop
Gracias por leer / Thanks for reading
---
---