[ESP] Solo uno levantara la Copa: ¿Sera el Inter o la Juventus? // Only one will lift the Cup: Will it be Inter or Juventus? [ENG]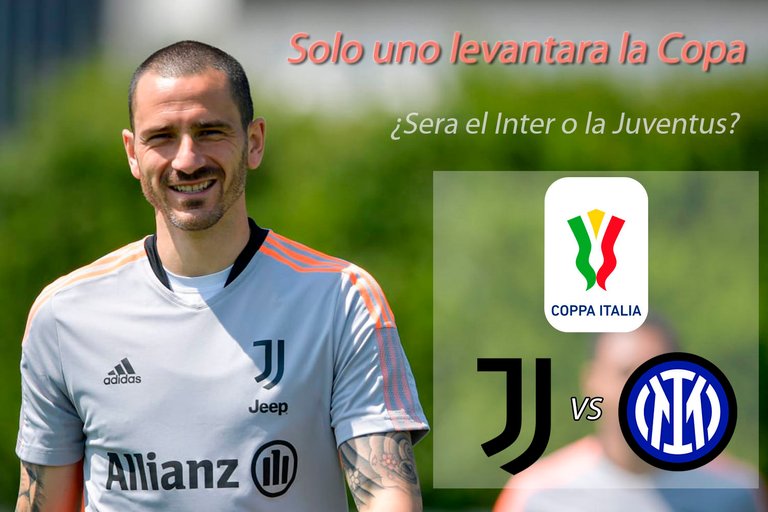 Imagen editada en Adobe Photoshop
El día de hoy se juega la final de la copa Italia, la cual tiene como protagonista a dos grandes equipos, dos históricos del futbol italiano y del futbol mundial, la Juventus de Turín y el Inter de Milan, clubes que tienen una rivalidad entre si y suelen dar espectáculo cada vez que se enfrentan. Este será el último encuentro entre ellos esta temporada, pero en el global presente, de tres partidos que se han enfrentado los neroazurri gobiernan con tranquilidad, habiendo ganado dos partidos y empatado uno de ellos; la Juve no ha podido con el Inter, pero esta vez tendrá su revancha en una final luego de haber perdido la Súper copa con los de Inzaghi.
Today is the final of the Italian Cup, which has as protagonist two great teams, two historic teams of Italian soccer and world soccer, Juventus and Inter Milan, clubs that have a rivalry between them and usually give spectacle every time they face each other. This will be the last meeting between them this season, but in the present aggregate, of three matches they have faced each other the Neroazurri rule calmly, having won two matches and drawn one of them; Juve have not been able to beat Inter, but this time they will have their revenge in a final after having lost the Super Cup to Inzaghi's team.

Todo o nada / All or nothing
La Juventus ha tenido una temporada para el olvido, un año para archivar y no tocar más, a nivel general no han ganado nada este año, fueron eliminados en Champions, perdieron la final de la Súper copa, y no tienen posibilidades de alcanzar el Scudetto, solo les queda una oportunidad para titularse en alguna de las competiciones en que participa, si no lo hace será un año atípico, no ganar nada en una temporada es algo que no se ve en este club, por lo que Allegri como director técnico hará todo lo posible para que puedan alzarse con la victoria el día de hoy, y asi quedar campeones de la copa italiana.
La vecchia signora llega a este encuentro con todos sus jugadores disponibles, solo Federico Chiesa esta fuera por su lesión desde hace tiempo, mientras que Locatelli el otro lesionado ya está recuperado y entrenando con el equipo encontrándose listo para alinear, sin embargo es posible que no arranque como titular. La Juve viene de una derrota desastrosa ante el Genoa en la pasada jornada, pero en este partido hay una motivación diferente, no tienen nada que perder, pero si mucho que ganar, enfrentar y derrotar al Inter siempre es un plus para este equipo, pero deben estar muy concentrados pues esta temporada no han podido ganarles ninguno de los enfrentamientos.
Juventus has had a season to forget, a year to file and not touch anymore, at a general level they have not won anything this year, they were eliminated in Champions League, lost the final of the Super Cup, and have no chance to reach the Scudetto, they only have one chance left to title in any of the competitions in which it participates, If not, it will be an atypical year, not winning anything in a season is something that is not seen in this club, so Allegri as technical director will do everything possible so that they can win the victory today, and thus become champions of the Italian cup.

La vecchia signora arrives to this match with all their players available, only Federico Chiesa is out due to a long time injury, while Locatelli the other injured player is already recovered and training with the team and is ready to line up, however it is possible that he will not start as a starter. Juve is coming from a disastrous defeat against Genoa last matchday, but in this game there is a different motivation, they have nothing to lose, but a lot to win, facing and beating Inter is always a plus for this team, but they must be very focused as this season they have not been able to beat them in any of the clashes.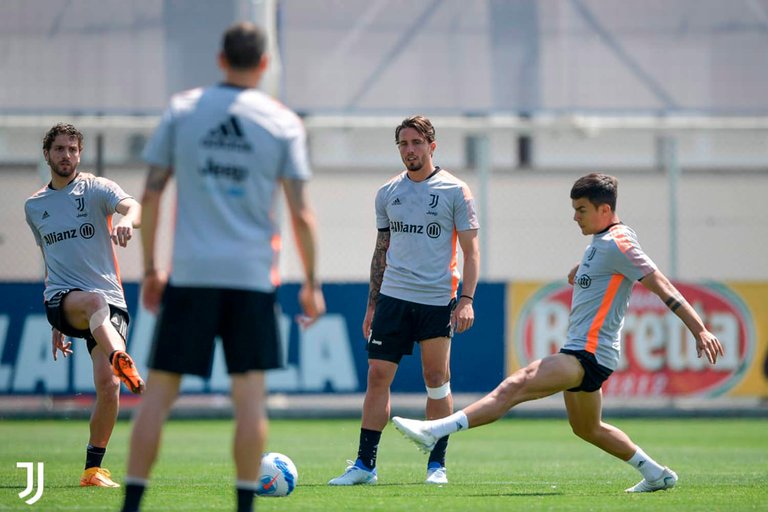 Source
Este juego también será la última oportunidad que tendrán Giorgio Chiellini y Paulo Dybala de ganar algo con este club, el internacional italiano ya ha confirmado que saldrá de las filas bianconeras para sumarse a la MLS el año entrante y buscar su retiro, mientras que "la joya" también ha dejado claro que no renovara y saldrá la siguiente temporada. Dos jugadores que sin duda han dado mucho a este club, pero es el momento de renovar. Allegri tiene una prueba fuerte el día de hoy, para la directiva solo hay una opción disponible, y esa es ganar, el Dt sabe que su gestión no ha sido la mejor, asi que esta es una oportunidad de limpiar un poco todo el desastre ocurrido hasta el momento.
This game will also be the last chance for Giorgio Chiellini and Paulo Dybala to win something with this club, the Italian international has already confirmed that he will leave the Bianconeri ranks to join the MLS next year and seek his retirement, while "the jewel" has also made it clear that he will not renew and will leave next season. Two players who have undoubtedly given a lot to this club, but it is time to renew. Allegri has a strong test today, for the board there is only one option available, and that is to win, the Dt knows that his management has not been the best, so this is an opportunity to clean up a bit all the mess that has happened so far.
---
Claro favorito / Clear favorite
Los neroazurri llegan como favoritos para llevarse la victoria, pero a su vez algo presionados, la situación en que se encuentran en la serie A puede ser un factor clave en la concentración para este partido, pero por otro lado, es la única competición en la que la victoria depende de sí mismos, ya que en la liga solo deben ganar y esperar que el Milan pierda para coronarse campeones. Inzaghi hace un buen tiempo dejo claro que quería ganar todo, pero hasta los momentos solo han conseguido la Súper Copa y es posible que sea lo único que se lleven esta temporada si no se dan los resultados que necesitan, por lo que es muy probable que no especule con su alineación y vaya con todo su poderío ofensivo desde el inicio.
The neroazurri arrive as favorites to take the victory, but at the same time somewhat under pressure, the situation in which they find themselves in Serie A can be a key factor in the concentration for this match, but on the other hand, it is the only competition in which the victory depends on themselves, since in the league they only have to win and hope that Milan loses to be crowned champions. Inzaghi made it clear some time ago that he wanted to win everything, but so far they have only won the Super Cup and it is possible that it is the only thing they will win this season if they do not get the results they need, so it is very likely that he will not speculate with his lineup and will go with all his offensive power from the start.
Hasta los momentos solo Mattia Vecino no se encuentra disponible para jugar, del resto todos los jugadores estan esperando la orden para salir al terreno de juego, últimamente se está viendo al argentino Joaquín Correa acompañando al toro en la delantera, y aunque no ha marcado, el juego que propone está siendo muy efectivo para que Inzaghi lo coloque por encima de Dzeko y Alexis Sánchez. El juego del Inter sigue siendo consistente en cada una de sus líneas, sus jugadores estan muy compenetrados con las ideas de su entrenador, razón por la cual presentan mucha calidad técnica tanto al momento de atacar como defender, su único problema es la falta de eficacia para anotar, un punto que podría considerarse como su única debilidad.
So far only Mattia Vecino is not available to play, the rest of the players are all waiting for the order to take the field, lately we are seeing the Argentine Joaquin Correa accompanying the bull in the front, and although he has not scored, the game he proposes is being very effective for Inzaghi to place him above Dzeko and Alexis Sanchez. Inter's game continues to be consistent in each of its lines, its players are very attuned to the ideas of their coach, reason why they present a lot of technical quality both when attacking and defending, their only problem is the lack of effectiveness to score, a point that could be considered as their only weakness.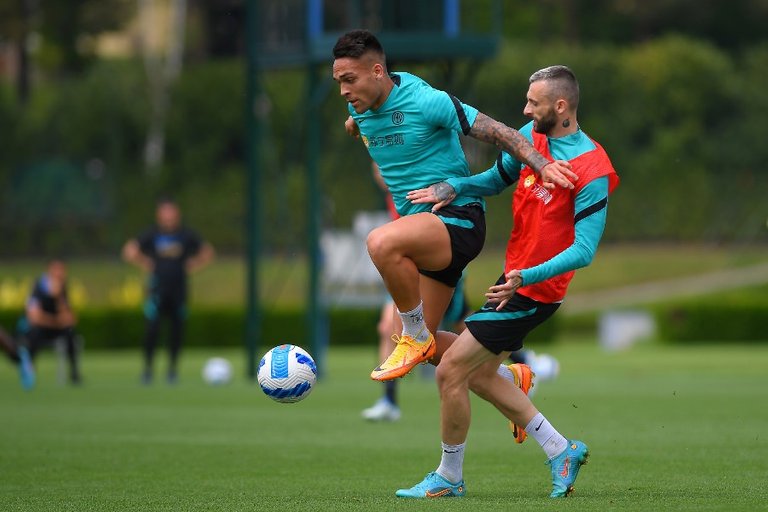 Source
---
Dominio neroazurri y palabras finales / Neroazurri dominance and final words
Tener a la Juventus sometida es algo que cualquier club no puede hacer, pero para el Inter esto ha sido un logro conseguido este año, como mencione al inicio del post, han ganado dos de sus tres encuentros y no han perdido contra ellos, su dominio es tal que las apuestas se inclinan hacia su lado, sin embargo en la última vez que se enfrentaron, a pesar de que consiguieron la victoria, fueron superados futbolísticamente por los bianconeri durante todo el partido. Este es un factor importante y a su vez bastante llamativo, ya que adorna un poco la final del día de hoy, donde las estadísticas pueden caerse y convertirse en un espectáculo dentro de la cancha. Como tiffosi bianconeri espero que la Juve pueda ganar, tienen muchos jugadores buenos para lograrlo, pero a su vez tengo la expectativa de ver una final entretenida sin importar quién sea el ganador, estoy convencido que ambos equipos pueden dar un espectáculo digno de disfrutar por todo amante del buen futbol.
Having Juventus subdued is something that any club cannot do, but for Inter this has been an achievement achieved this year, as I mentioned at the start of the post, they have won two of their three meetings and have not lost against them, their dominance is such that the odds are leaning towards their side, however in the last time they met, despite getting the win, they were outplayed footballingly by the bianconeri throughout the match. This is an important factor and at the same time quite eye-catching, as it embellishes a bit today's final, where statistics can fall off and become a spectacle on the pitch. As tiffosi bianconeri I hope Juve can win, they have many good players to achieve it, but in turn I have the expectation to see an entertaining final no matter who the winner is, I am convinced that both teams can give a show worthy of enjoyment for every lover of good soccer.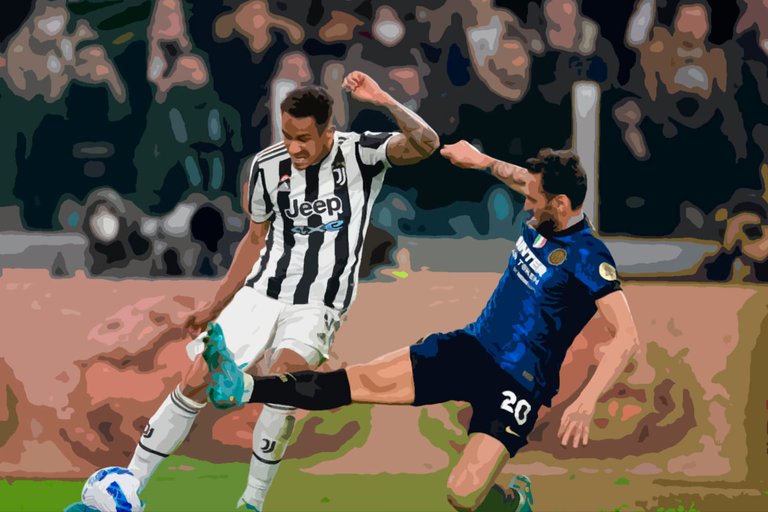 Imagen editada en Adobe Photoshop
Gracias por leer / Thanks for reading

---
---