[ESP/ENG] El partido de la jornada tiene nombre en Serie A: Milan vs Juventus | PREVIA |

Duelo cargado de historia / Duel steeped in history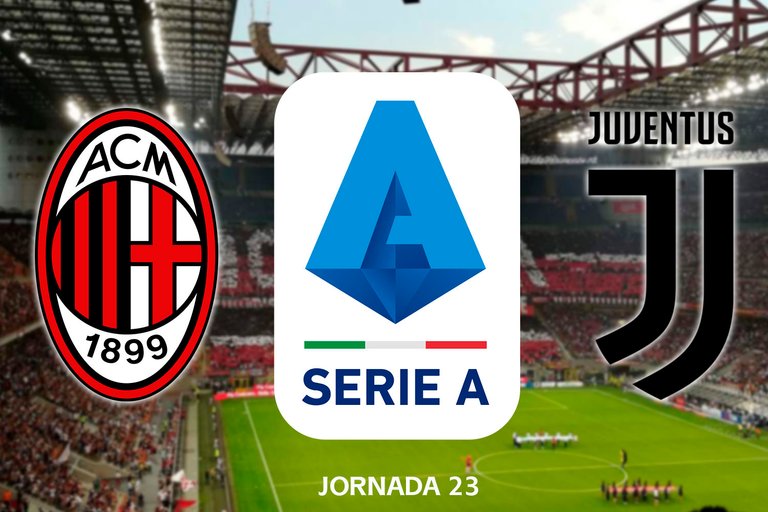 Ambos equipos protagonizaran el día de mañana el partido de la fecha, en un duelo que no solo es emocionante por la situación de los dos clubes esta temporada, sino porque es un juego que se da entre rivales históricos, tanto la Juve como el Milán forman parte de los equipos más importantes de la Serie A, y por muchos años han protagonizado grandes encuentros entre ellos. Figuras legendarias han tomado parte de estos enfrentamientos, jugadores como Paolo Maldini, Zinedine Zidane, Gianluigi Buffon, Andrea Pirlo y muchos más han vestido estas camisetas, por lo que se espera un duelo atractivo y vibrante de principio a fin. La rivalidad futbolística que sostienen estos clubes ha sido tal que se le conoce como el "Derby dei Campioni" o Derby de los campeones en español, y es la Juventus quien domina con 92 victorias sobre 68 del Milán, y suman 76 empates. Toda Italia está expectante, los tifosi rossoneros como los bianconeri podrán disfrutar de un buen partido, aunque no a grada completa debido al covid 19. El Juego tendrá lugar en el San Siro, estadio del AC Milán y se disputara a las 15:45 hora de Venezuela.
Both teams will play tomorrow's match of the day, in a duel that is not only exciting because of the situation of the two clubs this season, but also because it is a game between historical rivals, both Juve and Milan are part of the most important teams in Serie A, and for many years have starred in great matches between them. Legendary figures have taken part in these clashes, players such as Paolo Maldini, Zinedine Zidane, Gianluigi Buffon, Andrea Pirlo and many more have worn these jerseys, so an attractive and vibrant duel is expected from start to finish. The soccer rivalry between these clubs has been such that it is known as the "Derby dei Campioni" or Derby of Champions in Spanish, and it is Juventus who dominates with 92 victories over Milan's 68, and they have 76 draws. All of Italy is expectant, the tifosi rossoneri as the bianconeri will be able to enjoy a good game, although not in full stands due to the covid 19. The game will take place at the San Siro, AC Milan's stadium and will be played at 15:45 Venezuelan time.

¿Cómo llegan ambos clubes? / ¿How do both clubs arrive?
El Milán tiene ventaja sobre la Juventus en la tabla de posiciones, los rossoneri estan de segundo con 48 puntos, mientras que la Juve se posiciona de 5to con 41 puntos, pero a nivel futbolístico la Vecchia Signora viene anímicamente bien, aunque perdieron la Supercopa con el Inter hace dos semanas, por Serie A estan levantando su juego y tienen una seguidilla de 8 partidos sin ver la derrota. Massimiliano Allegri está encontrando la forma a este equipo que se veía sin rumbo al inicio de temporada, y poco a poco se le ve más claridad, la baja de Federico Chiesa les ha forzado a jugar con varias formaciones, pero el sueco Kulusevsky quien lo sustituye lo está haciendo muy bien en su posición, y seguramente alineara el día de mañana. Otro jugador que ha levantado su juego es el estadounidense Weston Mckennie, un centrocampista con mucha llegada y gol, su aporte en los últimos partidos ha sido fundamental para que la Juve mantenga esta racha positiva, por lo que será crucial contra el AC Milán. Otro jugador importante a considerar es Paulo Dybala, siempre hay que tenerlo en cuenta, el argentino está en el ojo del huracán de los medios, pero en su "sube y baja" futbolístico se mantiene en subida últimamente y eso es un punto bastante importante, no podemos olvidar que las lesiones han mermado mucho su juego.
Milan has the advantage over Juventus in the standings, the Rossoneri are in second place with 48 points, while Juve is in 5th place with 41 points, but on a soccer level the Vecchia Signora is coming along well, although they lost the Super Cup to Inter two weeks ago, in Serie A they are raising their game and have a streak of 8 matches without defeat. Massimiliano Allegri is finding the form of this team that looked aimless at the beginning of the season, and little by little they are looking clearer, the loss of Federico Chiesa has forced them to play with several formations, but the Swedish Kulusevsky who replaces him is doing very well in his position, and will surely line up tomorrow. Another player who has raised his game is the American Weston Mckennie, a midfielder with a lot of arrival and goal, his contribution in recent games has been essential for Juve to maintain this positive streak, so it will be crucial against AC Milan. Another important player to consider is Paulo Dybala, we must always keep him in mind, the Argentine is in the eye of the media hurricane, but in his soccer "up and down" he keeps going up lately and that is quite an important point, we can not forget that injuries have greatly diminished his game.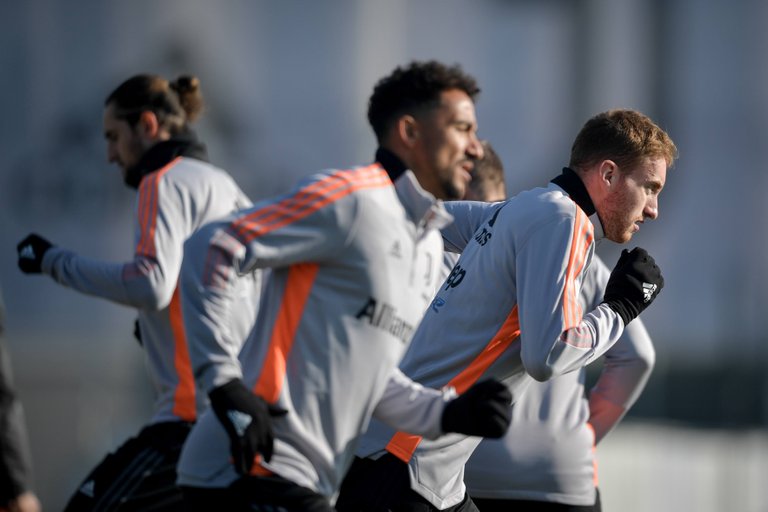 Source
Por su parte el Milán cuenta con un Zlatan Ibrahimovic inspirado a sus 40 años de edad, el sueco no para de marcar, de asistir, o generar juego para sus compañeros, ha sido el pilar en la delantera que comparte con Giroud, y aunque este último suele ser el titular el peso que tiene Zlatan es superior, Pioli ha estado rotándolos constantemente pero en ocasiones han jugado juntos dependiendo de la circunstancia. Los rossoneris vienen de perder su anterior encuentro contra el Spezia, un duro golpe en sus aspiraciones, pero tienen que sobreponerse porque aparte de la Juve, en la próxima fecha se enfrentaran al Inter. Pioli ve con optimismo este encuentro, ya que cuenta con la mayoría de sus jugadores titulares, y sabe que la juventud de su plantel les da algo de ventaja sobre sus rivales, jugadores como Leao y Rebic serán piezas importantes para el ataque del Milán que acostumbra a jugar con 3 volantes ofensivos y un centro delantero, mientras que la defensiva tendrá que estar muy concentrada para no dejar espacios que los bianconeros puedan aprovechar y capitalizar.
On the other hand, Milan has an inspired Zlatan Ibrahimovic at 40 years of age, the Swede does not stop scoring, assisting, or generating play for his teammates, he has been the pillar in the front that he shares with Giroud, and although the latter is usually the starter the weight that Zlatan has is superior, Pioli has been rotating them constantly but sometimes they have played together depending on the circumstance. The Rossoneri come from losing their previous match against Spezia, a hard blow in their aspirations, but they have to overcome because apart from Juve, in the next date they will face Inter. Pioli is optimistic about this match, as he counts on most of his starting players, and knows that the youth of his squad gives them some advantage over their rivals, players like Leao and Rebic will be important pieces for Milan's attack that is used to play with 3 attacking midfielders and a center forward, while the defense will have to be very focused to not leave spaces that the bianconeri can exploit and capitalize on.
Source
Partido anterior y mis expectativas presentes / Previous match and my current expectations
En el Allianz Stadium los rossoneris lograron sumar un punto luego de una parcial victoria de los juventinos por 75 minutos, un partido muy disputado pero con un dominio del Milán en la mitad de la cancha y en la posesión del balón, donde no hubo mucha paridad, ya que el juego de la Vecchia signora estuvo muy diluido y habían pocas ideas, sin embargo fue un bonito duelo en líneas generales. Para esta ocasión pienso que todo será muy diferente, lamentablemente no se podrá jugar con la capacidad completa de hinchas, pero creo será un partido bastante emotivo. Ambos clubes necesitan ganar, una victoria de la Juventus los mete en puestos de Champions o los mantiene a un punto de la Atalanta si gana hoy su partido contra la Lazio, mientras que para el Milán ganar hoy les permite mantener su acecho al Inter y tratar de descontar en el duelo directo que tendrán la siguiente jornada. Estos son los escenarios que se muestran y el panorama es favorable para un buen encuentro, particularmente es lo que espera su servidor, seguido de una victoria de la Juventus.
At the Allianz Stadium the Rossoneri managed to get a point after a partial victory of the Juventus for 75 minutes, a very disputed match but with a Milan dominance in the middle of the field and in the possession of the ball, where there was not much parity, since the Vecchia signora's game was very diluted and there were few ideas, however it was a nice duel in general lines. For this occasion I think everything will be very different, unfortunately it will not be possible to play with the full capacity of fans, but I think it will be a very emotional match. Both clubs need to win, a victory for Juventus puts them in the Champions League places or keeps them one point behind Atalanta if they win their match against Lazio today, while for Milan winning today allows them to keep their stalking of Inter and try to discount in the direct duel that they will have the next day. These are the scenarios shown and the outlook is favorable for a good match, particularly what yours truly expects, followed by a Juventus victory.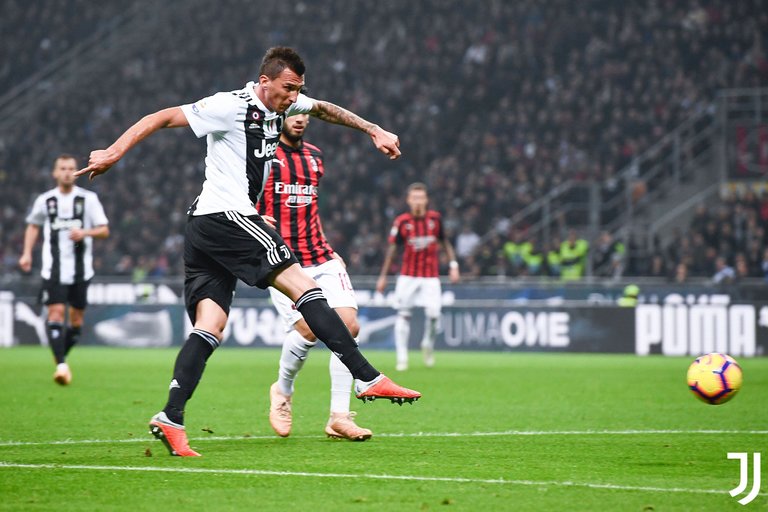 Source
Gracias por leer
Thanks for reading

Imagen de mi autoria realizada en Adobe Photoshop / Image of my authorship made in Adobe Photoshop
---
---