[ESP/ENG] Final en Bérgamo: Atalanta y Villareal se disputan el último boleto a octavos en la UEFA Champions League
Choque de estilos / Clash of styles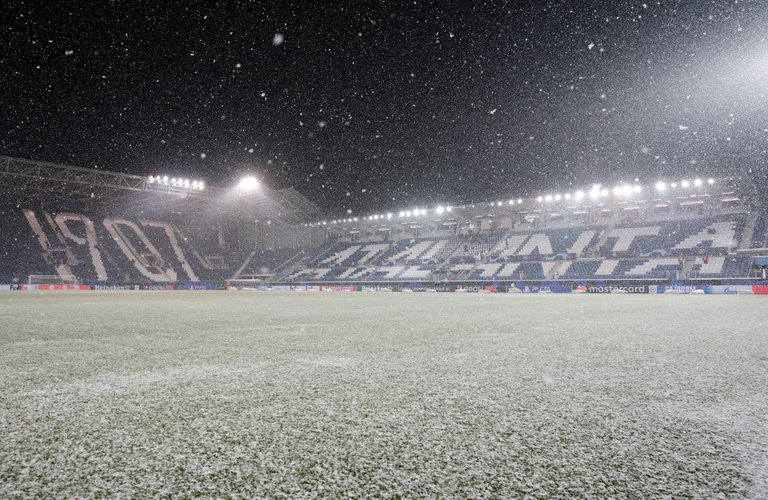 Uefa Champions League - Stadium under snow

Hola mis queridos lectores, el día de hoy conoceremos el último clasificado a los octavos de final de la UEFA Champions League, partido que se disputara entre el Atalanta y el submarino amarillo del Villareal. Este encuentro debía haberse jugado el día de ayer, pero por motivos de fuerte nevada fue pospuesto para las 2 pm hora de Venezuela del presente día, razón por la cual tendremos un cierre de jornada espectacular. Cabe destacar que ambos clubes tienen la clasificación en sus manos, no dependen de nadie más, y este panorama nos asegura un juego vibrante de principio a fin.
Hello my dear readers, today we will know the last qualified to the round of 16 of the UEFA Champions League, match that will be played between Atalanta and the yellow submarine of Villareal. This match should have been played yesterday, but due to heavy snowfall it was postponed for 2 pm Venezuela time this day, which is why we will have a spectacular closing of the day. It should be noted that both clubs have the qualification in their hands, they do not depend on anyone else, and this scenario assures us a vibrant game from start to finish.
El Atalanta dirigido por Gian Piero Gasperini está pasando por un gran momento en la serie A, ubicándose de cuarto lugar, a solo cuatro puntos del puntero, por lo tanto querrán capitalizar su buen momento futbolístico y hacerse con la clasificación a la siguiente ronda de la UEFA Champions League. Este club tiene mucha fortaleza en el ataque, cuenta con jugadores como Malinovskiy, que tiene muy buena llegada y gran pegada de pierna izquierda, es un jugador que ha hecho goles fuera del área, si le dan oportunidad para disparar es un gran peligro para la portería rival, además de él tienen a Remo Freuler, un mediocampista ofensivo que ha estado filoso en sus pases a los delanteros, donde se ubica el "expreso" Duvan Zapata, un delantero fuerte físicamente, de esos de antaño que además de capacidad técnica dentro del área tienen fortaleza física para ganar la posición a los defensores; esta temporada Duvan le ha marcado goles a muchos equipos, y es sin duda el referente en el ataque del club italiano. Otro punto a destacar es la fuerza defensiva y del equipo en general, un equipo conocido por su juego duro y a la vez tosco dentro de la cancha, pero que es bastante difícil de contrarrestar por sus contrarios.
Atalanta, coached by Gian Piero Gasperini, is going through a great moment in Serie A, in fourth place, only four points behind the leader, so they will want to capitalize on their good footballing moment and qualify for the next round of the UEFA Champions League. This club has a lot of strength in attack, they have players like Malinovskiy, who has a very good finish and a great left foot, he is a player who has scored goals outside the box, if they give him the opportunity to shoot he is a great danger for the opponent's goal, besides him they have Remo Freuler, an offensive midfielder who has been sharp in his passes to the strikers, where the "express" Duvan Zapata is located, a physically strong striker, one of those of yesteryear that in addition to technical ability in the area have physical strength to win the position to defenders; This season Duvan has scored goals to many teams, and is undoubtedly the reference in the Italian club's attack. Another point to highlight is the defensive strength of the team in general, a team known for its tough and at the same time rough play on the field, but which is quite difficult for their opponents to counter.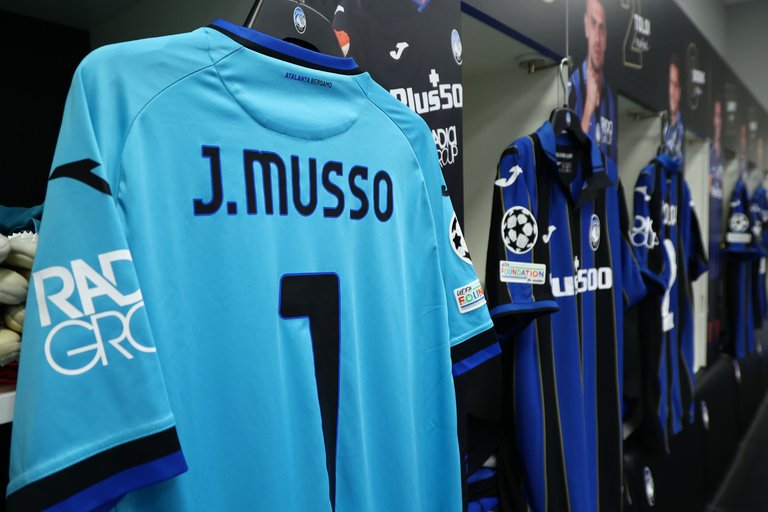 Atalanta B.C
Por otro lado, el Villareal llega a Bérgamo con toda su equipacion, un conjunto español fiel al estilo de su país, donde la posesión es su mayor arma acompañado de transiciones rápidas por los costados. Su director técnico ha dejado claro que no quieren jugar Europa League, y que harán todo lo posible por clasificar a octavos, aunque saben de la dificultad del cotejo no temen hacerse con la victoria. Paco Alcacer es uno de sus mejores jugadores, el delantero español tiene el arco entre ceja y ceja, y no titubea para atacar el arco rival, además de que tiene habilidad para eludir a los defensores, si el Atalanta se descuida tendrá bastante problemas. Aparte de este jugador, el submarino amarillo apuesta por manejar el balón en Italia, y así buscar las oportunidades para anotar, oportunidades que seguramente llegaran y deben capitalizarlas si quieren ganar. Esta temporada el Villareal se ubica en la posición número 13 de la Liga española, pero cuando examinamos sus partidos, hay un denominador común más allá de la posesión, y es que en todos sus partidos, o en la mayoría de ellos han tenido más remates al arco que su rival, esto es uno de sus puntos fuertes pero a la vez el causante de sus derrotas, ya que no marcan como deberían hacerlo y han terminado perdiendo partidos claves.
On the other hand, Villareal arrives in Bergamo in full kit, a Spanish side faithful to their country's style, where possession is their greatest weapon accompanied by quick transitions down the flanks. Their manager has made it clear that they do not want to play Europa League, and that they will do everything possible to qualify to the round of 16, although they know the difficulty of the match, they are not afraid of winning. Paco Alcacer is one of their best players, the Spanish striker has the goal between his eyebrows, and does not hesitate to attack the opponent's goal, besides he has the ability to elude defenders, if Atalanta is careless they will have enough problems. Apart from this player, the yellow submarine bets to handle the ball in Italy, and thus look for opportunities to score, opportunities that will surely come and must capitalize on them if they want to win. This season Villareal is ranked 13th in the Spanish League, but when we examine their games, there is a common denominator beyond possession, and that is that in all their games, or in most of them they have had more shots on goal than their opponents, this is one of their strengths but at the same time the cause of their defeats, as they do not score as they should and have ended up losing key games.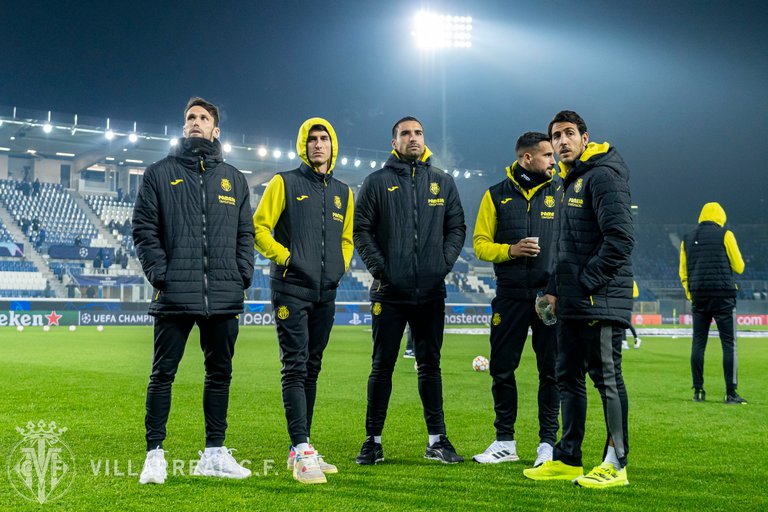 Villareal CF
Pronósticos y oportunidades para ambos / Predictions and chances for both
Luego de evaluar el panorama de ambos clubes, podemos concluir que será un choque de estilos, juego físico contra posesiones largas, muy parecido a los encuentros que suelen darse entre Italia y España, salvaguardando las diferencias claro está, pero que tienen similitudes en su juego. El primer encuentro entre ambos termino con empate en suelo español, y para sorpresa de todos tanto la posesión del balón como los disparos a portería se decantaron para el conjunto italiano, por lo que hoy será bastante disputado en esos renglones. El Atalanta es uno de los equipos que más goles anota en Italia, y desde mi punto de vista parten como favoritos para llevarse la victoria, sin embargo la situación de ambos es un poco diferente, al Villareal solo le basta el empate para clasificar, mientras que el Atalanta necesita obligatoriamente los tres puntos. Esto es un escenario que puede ser favorable para el conjunto español, que posiblemente se dediquen a jugar de contra y aprovechar los espacios que dejen sus rivales al momento de atacar, pero esto es solo mi opinión evaluando las opciones posibles, al final de cuentas son los jugadores quienes harán de este encuentro una verdadera noche mágica, por lo que nos queda decir: ¡que gane el mejor!
After evaluating the outlook of both clubs, we can conclude that it will be a clash of styles, physical play against long possessions, very similar to the matches that usually occur between Italy and Spain, safeguarding the differences of course, but they have similarities in their game. The first meeting between the two ended in a draw on Spanish soil, and to everyone's surprise both ball possession and shots on goal went to the Italian team, so today will be quite disputed in those lines. Atalanta is one of the teams that scores the most goals in Italy, and from my point of view they start as favorites to win, however the situation of both is a little different, Villareal only needs a draw to qualify, while Atalanta needs the three points. This is a scenario that could be favorable for the Spanish team, who will probably play on the counter and take advantage of the spaces left by their rivals when attacking, but this is just my opinion evaluating the possible options, at the end of the day it is the players who will make this game a truly magical night, so we can only say: may the best team win!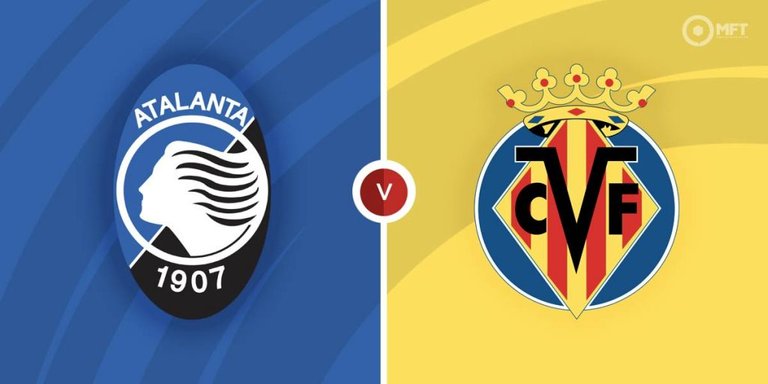 Atalanta vs Villareal
Gracias por leer
Thanks for reading
---
---