[ESP/ENG] ¿Podra el Inter ganarlo todo esta temporada?
Solo piensan en la victoria / They only think about the victory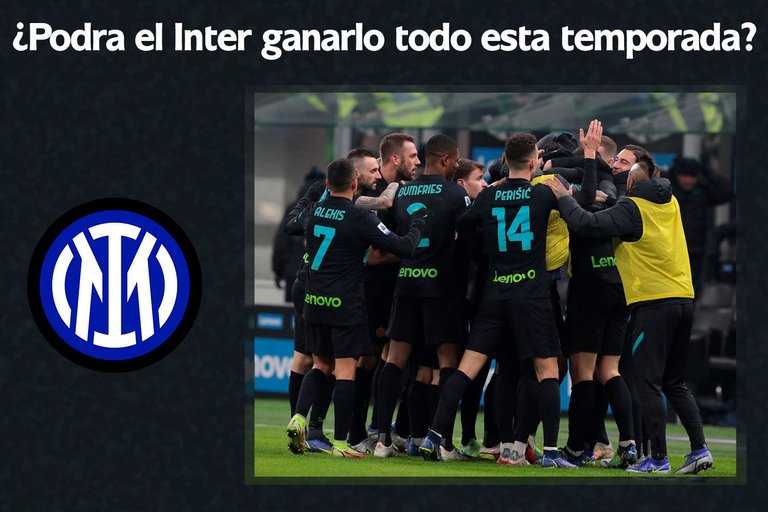 La actualidad del Inter de Milan es maravillosa, el equipo dirigido por Simone Inzaghi está realizando un excelente trabajo en cada partido, y está obteniendo resultados importantes que lo mantienen en buenas posiciones en todas las competiciones que disputa, en ese sentido su director técnico siendo preguntado al respecto ha dejado claro que quiere ganarlo todo esta temporada, tiene el equipo para hacerlo y va a luchar para conseguirlo. Sin duda alguna son declaraciones llenas de confianza, aunque algo osadas, pero la mentalidad que tiene a mi juicio es la correcta. Simone Inzaghi cuando era jugador se le conocía por ser bastante obstinado en la delantera, tenia una obsesion por marcar goles en cada partido, esa obsesion valga la redundancia es la misma que muestra como entrenador. Su visión de juego es sumamente ofensiva, ese fue el factor para la gerencia del Inter se hiciera con sus servicios luego de la partida de Antonio Conte. Ya como neroazurro ha podido rápidamente plasmar su visión a los jugadores quienes han sabido llevar esas ideas al campo, y como dije en el primer párrafo le ha dado muy buenos resultados. Ahora bien, volviendo al tema en cuestión, ¿podrá el Inter ganar todo esta temporada? Esa interrogante es la que intentaremos resolver a continuación, y para hacerlo, vamos a estudiar sus posibilidades, analizando cómo le va al Inter en cada una de esas competiciones.
The current situation of Inter Milan is wonderful, the team led by Simone Inzaghi is doing an excellent job in every game, and is getting important results that keep it in good positions in all competitions it plays, in that sense its technical director being asked about it has made it clear that he wants to win everything this season, he has the team to do it and he will fight to get it. Undoubtedly these are statements full of confidence, although somewhat daring, but the mentality that he has in my opinion is the right one. Simone Inzaghi when he was a player was known for being quite stubborn up front, he had an obsession to score goals in every game, that obsession is the same as the one he shows as a coach. His vision of the game is extremely offensive, that was the factor for Inter's management to acquire his services after Antonio Conte's departure. Already as Neroazurro he has been able to quickly translate his vision to the players who have been able to bring those ideas to the field, and as I said in the first paragraph it has given him very good results. Now then, back to the subject at hand, can Inter win everything this season? That question is the one we will try to solve below, and to do so, we are going to study their chances, analyzing how Inter is doing in each of those competitions.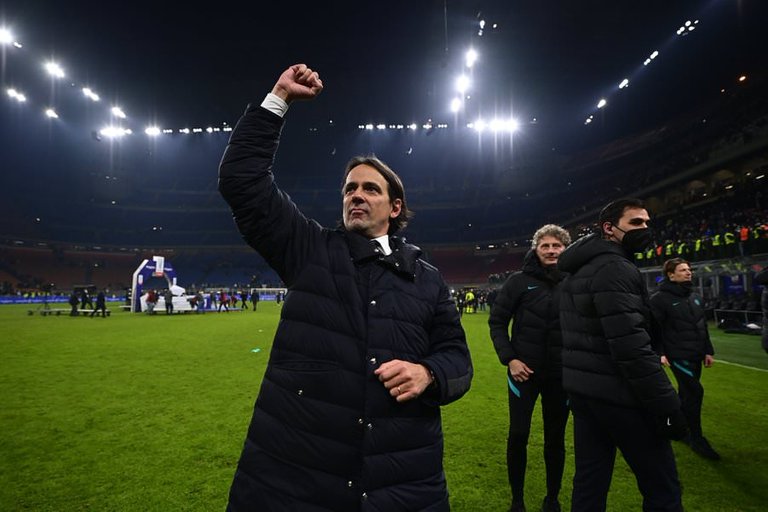 Source

Liderando la Serie A / Leading Serie A
Siendo los campeones defensores, el Inter de Milan con un juego menos que sus adversarios, se encuentra en la primera posición de la tabla con 50 puntos, a dos de ventaja sobre el equipo del AC Milan. El desempeño de los jugadores ha ido de menos a mas, y su juego es bastante solido en toda la cancha; han demostrado tener las herramientas para dominar los partidos y encontrar las formas de marcar, tanto sus defensores como los mediocampistas y delanteros tienen la habilidad suficiente para generar peligro en la portería rival. Al dia de hoy solo quedan 16 jornadas por jugar, es una buena cantidad de partidos que hace algo temprana una definición, pero si mantienen este ritmo de juego será muy difícil que no puedan hacerse con el Scudetto por segundo año consecutivo. El dia de mañana jugaran contra el Venezia en casa, club que se encuentra en la decimoséptima (17) posición de la tabla y luchando por no descender a la Serie B, en los papeles debería ser una victoria fácil, por lo que es muy posible que puedan añadir 3 puntos mas a su liderazgo.
Being the defending champions, Inter Milan with one game less than their opponents, find themselves at the top of the table with 50 points, two ahead of the AC Milan team. The performance of the players has gone from strength to strength, and their play is quite solid all over the field; they have shown they have the tools to dominate matches and find ways to score, their defenders, midfielders and strikers are skilled enough to generate danger in the opponent's goal. As of today there are only 16 games left to play, it is a good amount of matches that makes a definition somewhat early, but if they keep this rhythm of play it will be very difficult for them not to win the Scudetto for the second year in a row. Tomorrow they will play Venezia at home, a club that is in the seventeenth (17) position in the table and fighting not to be relegated to Serie B, on paper it should be an easy win, so it is very possible that they can add 3 more points to their lead.
Anclados en cuartos de final de la Copa de Italia / Anchored in the quarterfinals of the Coppa Italia
En esta competición el Inter logro el dia miércoles 19-01 clasificar a los cuartos de final, venciendo al Empoli con marcador de 3-2, un juego que se volvió emocionante y algo cuesta arriba cuando los visitantes se pusieron 2-1 por delante en el minuto 76 gracias a un gol en contra. Sin embargo, el Inter saco la casta de campeón y logro vencer en el tiempo extra. ¿Qué se puede resaltar? Hay dos cosas importantes, la primera de ellas es su capacidad para remontar, y la segunda su buen plantel. Simone jugo este encuentro con muchos suplentes, eso ayudo a emparejar un poco el nivel del juego, ya que el Empoli estaba con todos sus titulares, aun asi hay una diferencia notable en cuanto a la posesión del balón, y las oportunidades para marcar, donde los neroazurros también fueron superiores. Esto marca claramente el compromiso de cada jugador en el campo, no importa si son titulares o suplentes todos hacen un buen trabajo. Ahora con solo 8 equipos disputando las fases finales, el Inter es uno de los favoritos, y le tocara enfrentar a la Roma de Mourinho en su siguiente cotejo.
In this competition Inter managed on Wednesday 19-01 to qualify for the quarterfinals, beating Empoli with a score of 3-2, a game that became exciting and somewhat uphill when the visitors took a 2-1 lead in the 76th minute thanks to a goal against. However, Inter pulled out all the stops and managed to win in extra time. What can be highlighted? There are two important things, the first is their ability to come back, and the second is their good squad. Simone played this game with many substitutes, which helped to even out the level of the game, since Empoli was with all their starters, even so there is a notable difference in terms of ball possession, and opportunities to score, where the Neroazurri were also superior. This clearly shows the commitment of every player on the field, no matter if they are starters or substitutes, they all do a good job. Now with only 8 teams playing in the final stages, Inter is one of the favorites, and will face Mourinho's Roma in their next match.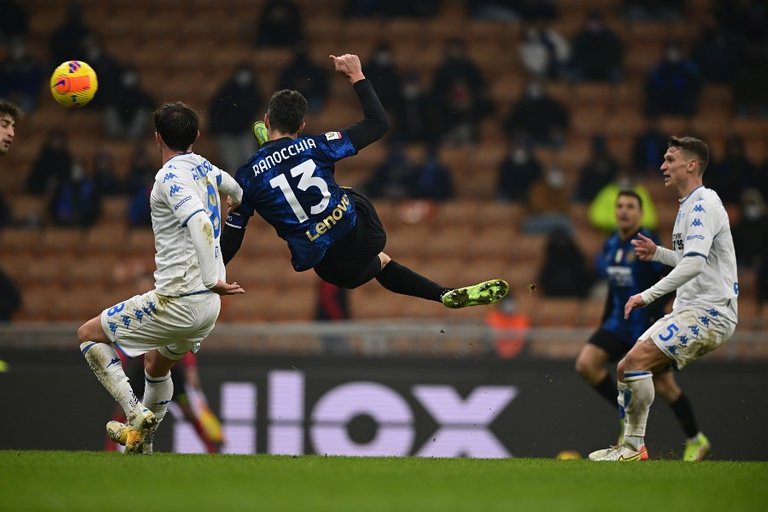 Source
En octavos de final de Uefa Champions League / In the round of 16 of the Uefa Champions League
Luego de varios años fracasando para superar la fase de grupos de la Uefa Champions League, en esta edición lograron hacerlo, lo que constituye un logro para Simone Inzaghi bajo la dirección. Claro esta que no fue fácil conseguirlo, en sus partidos contra el Real Madrid perdieron ambos partidos, pero por jugadas puntuales y no por un claro dominio del equipo español; en esta competición el Inter comenzó varios partidos sin poder marcar, pero una vez anotaron todo se le hizo mas fácil, logrando asi los resultados necesarios. En octavos tendrán una prueba dura contra el Liverpool de Jurgen Kloop, uno de los tres equipos que obtuvo puntaje perfecto en la primera ronda, ¿podran ganar? No lo sabemos pero una cosa es segura, no son los favoritos, y a nivel general hay cinco o seis equipos por delante que se perfilan para llevarse la orejona.
After several years of failing to get out of the group stage of the Uefa Champions League, this year they managed to do it, which is an achievement for Simone Inzaghi under his management. Of course it was not easy to achieve it, in their matches against Real Madrid they lost both games, but due to punctual plays and not because of a clear dominance of the Spanish team; in this competition Inter started several games without being able to score, but once they scored everything became easier, thus achieving the necessary results. In the round of 16 they will have a tough test against Jurgen Kloop's Liverpool, one of the three teams that got a perfect score in the first round, can they win? We don't know but one thing is for sure, they are not the favorites, and overall there are five or six teams ahead of them that are shaping up to take the crown.

Conclusion final / Final conclusion
Viendo el panorama en cada una de las competiciones, es muy probable que el Inter termine llevándose tanto la Serie A como la Copa de Italia, pero levantar la Champions esta temporada no es tan sencillo, tienen un equipo bastante competitivo y muy buen juego, de seguro no serán fáciles de derrotar, pero es sin duda una proeza bastante difícil de conseguir, sin embargo esto es futbol señores y muchos partidos se deciden por circunstancias, emociones y situaciones dentro de la cancha, y si lograren levantar la Champions Simone Inzaghi seria declarado como el entrenador del año y el Inter se consagraría a lo grande al final de campaña. Son solo probabilidades, veamos como les termina de ir.
Looking at the outlook in each of the competitions, it is very likely that Inter will end up taking both Serie A and the Italian Cup, but lifting the Champions League this season is not so easy, they have a pretty competitive team and very good game, for sure they will not be easy to beat, However, this is soccer gentlemen and many games are decided by circumstances, emotions and situations on the field, and if they manage to lift the Champions League Simone Inzaghi would be declared coach of the year and Inter would be consecrated in a big way at the end of the campaign. These are just probabilities, let's see how it turns out.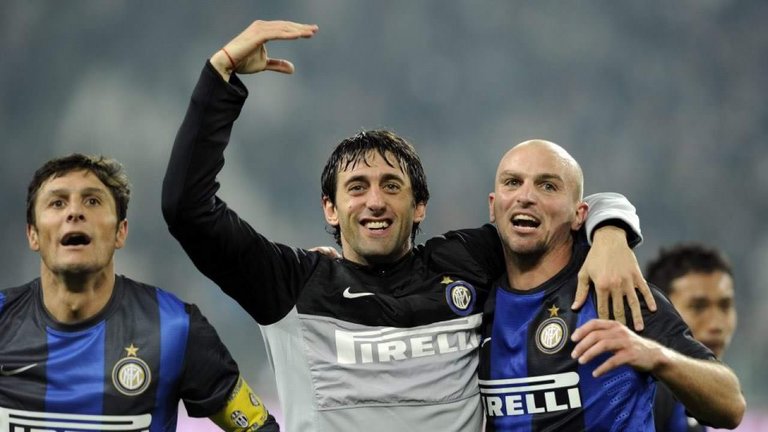 Source
Gracias por leer
Thanks for reading
La portada ha sido editada por mi en Adobe Photoshop / The cover has been edited by me in Adobe Photoshop.
---
---