Intensidad, goles y expulsiones en el Derbi de Italia // Intensity, goals and expulsions in the Italian Derby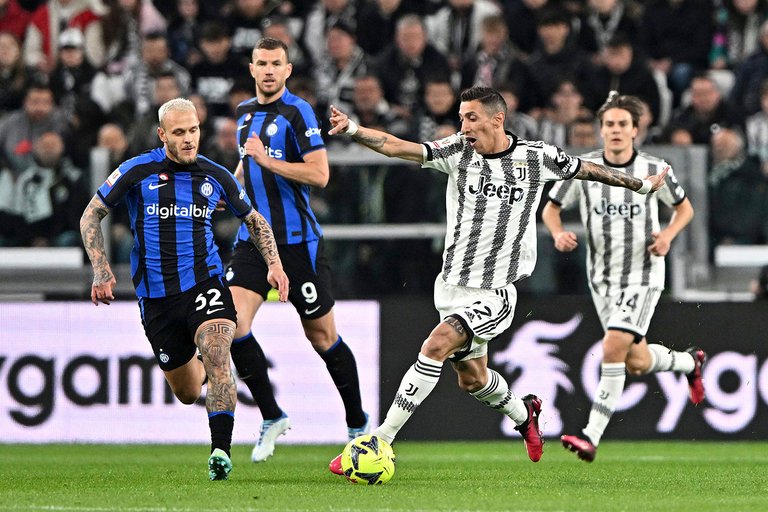 Esta temporada la Juventus ha vencido dos veces al Inter de Milan, ambas sin recibir goles y demostrando una superioridad táctica en el campo que se ha reflejado en el resultado de los dos partidos. El día de ayer tuvo lugar un derbi más, pero este no correspondería a la liga regular sino a la primera semifinal de la Copa Italia, la cual se disputaría en la casa de la Vecchia signora, el Juventus Stadium.
Como siempre los derbi de Italia trascienden el estado de los clubes, es un partido donde la historia pesa y se juega con mucha intensidad, las hinchadas también hacen su trabajo y afectan a los jugadores, sea para bien o para mal los canticos y gritos de los fanáticos tienen su importancia, esto lo vimos con más claridad el día de ayer cuando Lukaku anotó el gol del empate finalizando el partido, allí comenzó una guerra contra los tifosi bianconeri que le costó la expulsión, el belga mando a callar a las tribunas en protesta contra los insultos raciales y luego Cuadrado se vio también involucrado y se ganó la roja, lo mismo por Handanovic que dio paso a Onana para el próximo encuentro en casa de los neroazurri. El tema del racismo se ha acrecentado en Italia, sobretodo en Turín y no entiendo porque ya que la Juve también tiene muchos jugadores negros en su equipo, supongo la federación ya tiene manos en el asunto para impedir este tipo de sucesos desafortunados más adelante. Me extraña la mala sangre que ha habido entre estos equipos últimamente, el derbi anterior hubieron dos expulsados y ahora tres, no me puedo imaginar cómo será la vuenta en el Giuseppe Meazza, lo cierto es que será imperdible.
Juventus has beaten Inter Milan twice this season, both times without conceding goals and demonstrating a tactical superiority on the field that was reflected in the results of both matches. Yesterday another derby took place, but this one would not correspond to the regular league but to the first semifinal of the Coppa Italia, which would be played at the home of the Vecchia signora, the Juventus Stadium.

As always the Italian derbies transcend the status of the clubs, it is a match where history weighs and is played with great intensity, the fans also do their job and affect the players, whether for better or worse the chants and shouts of the fans have their importance, we saw this more clearly yesterday when Lukaku scored the equalizer at the end of the match, There began a war against the tifosi bianconeri that cost him the expulsion, the Belgian commanded to shut up the stands in protest against the racial insults and then Cuadrado was also involved and earned the red card, the same for Handanovic who gave way to Onana for the next match at home of the neroazurri. The issue of racism has increased in Italy, especially in Turin and I don't understand why since Juve also have many black players in their team, I guess the federation already has hands on the matter to prevent this kind of unfortunate events later on. I find it strange the bad blood that has been between these teams lately, the previous derby there were two expelled and now three, I can't imagine how the sale will be at the Giuseppe Meazza, the truth is that it will be unmissable.
Un tiempo para cada uno / A time for everyone
Inzaghi es fiel a su estilo y esa es una de las cosas que me gusta de su dirección, con su 3-5-2 característico salió al campo y proponiendo la ofensiva en todo el partido, sin embargo tuvo solo oportunidades claras en la primera mitad donde pudo ejercer una posesión con peligro, la más cercana al gol fue una de Brozovic que agarraría a Perin mal parado pero a causa del disparo centrado el portero Juventino la despejo, del resto los neroazurri no causarían más peligro hasta finalizar el encuentro donde empataron a causa de una mano de Bremer, pero el partido lo tenían prácticamente perdido.
Allegri por su parte volvió a emplear su 3-5-1-1 con Di María de enganche y Vlahovic como única punta, está de más nombrar mi desacuerdo por la formación ya que está dando resultados, lamentablemente Chiesa es uno de los más afectados viniendo siempre del banquillo, pero para el estilo de juego que la Juve plantea es una formación beneficiosa, sobre todo en la mitad de la cancha donde Locatelli, Rabiot y Fagioli conforman el eje central acompañado de Kostic y Cuadrado como carrileros.
A pesar de tener pocas oportunidades en la primera mitad, en el complemento la Juve domino el partido, y tuvo las ocasiones necesarias para colocarse por delante en el marcador antes de que llegara el gol de Cuadrado, la más clara la tuvo Milik quien desaprovecho un remate con un Handanovic ya vencido, pero asi como estaba el portero del Inter se encontraba todo el equipo, nuevamente eran superados por la vecchia signora que realmente no supo capitalizar las chances para marcar. En resumidas cuentas la Juventus fue superior, el Inter como siempre domino en las estadísticas pero en el terreno fueron derrotados, a pesar de todo y a causa de la mala fortuna de Bremer para cometer el penal sacaron un punto importante que para ellos es una ganancia mientras que para la Juve es equiparable a una derrota.
Por último y para concluir, la vuelta será el 26 de este mes, y quizás sea el derbi de despedida para Inzaghi, ya que se habla fuertemente de su destitución una vez finalice la campaña en curso, entre los nombres que suenan se encuentra Tiago Motta pero de mayor peso, trayectoria y jerarquía esta Antonio Conte, al parecer el gran técnico italiano volverá a las filas neroazurras para la siguiente temporada.
Inzaghi is faithful to his style and that is one of the things I like about his management, with his characteristic 3-5-2 he went out on the field and proposing offense throughout the match, however he had only clear chances in the first half where he was able to exercise possession with danger, the closest to the goal was one by Brozovic who caught Perin off-balance but because of the centred shot the Juventino goalkeeper cleared it, from the rest the Neroazurri would not cause any more danger until the end of the match where they equalized because of a handball by Bremer, but the match was practically lost for them.

Allegri for his part returned to his 3-5-1-1 formation with Di Maria as a midfielder and Vlahovic as the only striker, it goes without saying that I disagree with the formation as it is giving results, unfortunately Chiesa is one of the most affected, always coming from the bench, but for the style of play that Juve plays it is a beneficial formation, especially in the midfield where Locatelli, Rabiot and Fagioli form the central axis accompanied by Kostic and Cuadrado as wingers.

Despite having few chances in the first half, in the second half Juve dominated the match, and had the necessary chances to take the lead before Cuadrado's goal, the clearest was Milik who missed a shot with Handanovic already beaten, but as well as Inter's goalkeeper was the whole team, again they were outplayed by the vecchia signora who really did not know how to capitalize on the chances to score. In short, Juventus was superior, Inter as always dominated in the statistics but on the field they were defeated, despite everything and because of the bad luck of Bremer to commit the penalty they got an important point that for them is a gain while for Juve is comparable to a defeat.

Finally and to conclude, the second leg will be on the 26th of this month, and perhaps it will be the farewell derby for Inzaghi, as there is strong talk of his dismissal once the current campaign is over. Among the names that are being mentioned is Tiago Motta, but Antonio Conte has more weight, trajectory and hierarchy, it seems that the great Italian coach will return to the Nero-Azurri ranks for the following season.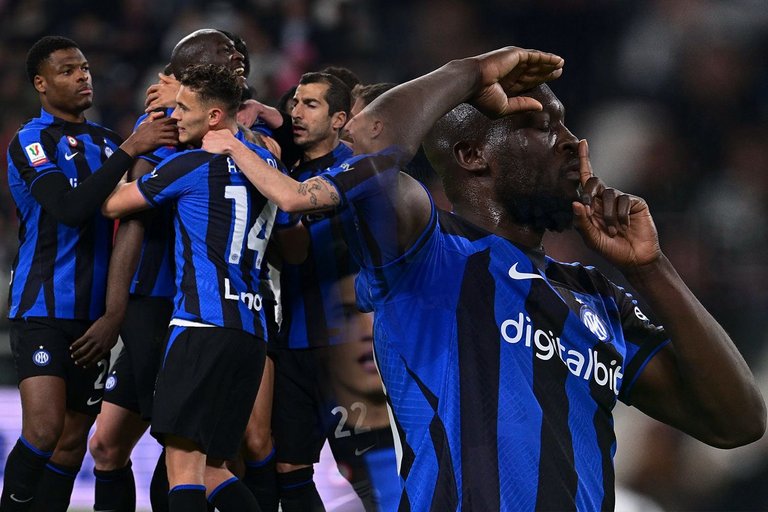 ---
Todas las imágenes han sido editadas en Adobe Photoshop
---
---