La Juventus y su inyección de moral antes de su juego decisivo contra el Nantes [ESP/ENG]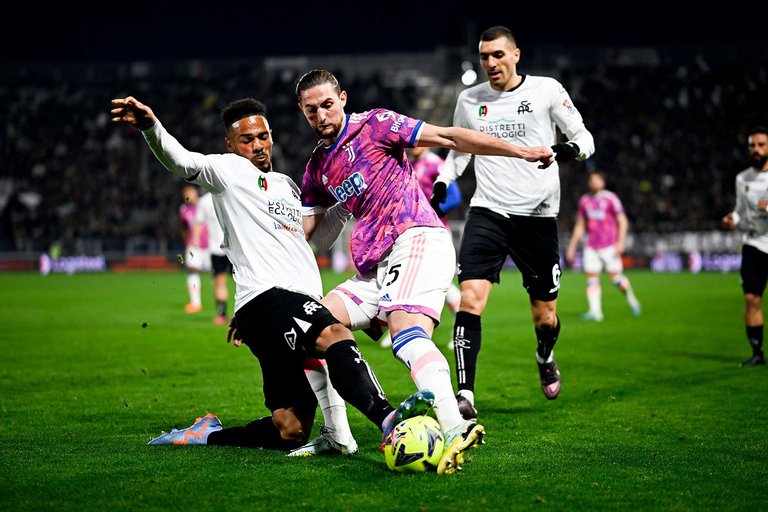 La Vecchia signora derroto el día de ayer al Spezia con marcador de 2-0 y continua en su lucha por entrar a competiciones europeas la siguiente campaña, de momento se ubica en la séptima casilla a 9 puntos de la Atalanta y a 10 de Lazio, estos dos equipos son muy inestables, por lo que se abre una ligera posibilidad para el cuadro bianconero si mantienen su racha positiva. Quedan 15 juegos por disputarse en la liga y algunos de ellos son encuentros directos con los equipos que estan por encima en la tabla, son partidos de "final" para la Juventus.
En ese sentido hacemos un salto de competición desde la Serie A hasta Europa League, ya que esta semana el equipo dirigido por Massimiliano Allegri deberá afrontar un duelo decisivo contra el Nantes francés en condición de visitante, este equipo se ubica en la posición #13 de su liga local y a juzgar por el bajo nivel de la misma no sería un rival de amenaza para el equipo italiano, pero esto es solo teoría pues en la práctica las cosas han sido muy diferentes y eso lo pudimos ver en la ida que tuvo lugar el jueves pasado en Turín.
Ese partido mostro a una Juve superior pero bastante ineficaz a la hora de definir, si bien hubieron jugadas fortuitas como el disparo de Chiesa que pego en ambos postes y no entro, asi como también el penal claro no marcado a favor es cierto que los bianconeri tuvieron para ganar ese encuentro fácilmente, inclusive por goleada, pero no cerraron el partido y en una contra al minuto 60 Blas colocaría el gol de la paridad que pone en peligro las intenciones juventinas.
Para la vecchia signora ganar la Europa League es el camino más accesible que tienen esta temporada para entrar a Champions la siguiente, por lo que este jueves el partido será emocionante de principio a fin, "sufrir" es la palabra que se puede ver en algunos portales italianos, y es algo que a nivel europeo la Juve nos tiene acostumbrados. A nivel de plantilla y de juego la Juve es superior al Nantes pero luego de que este último lograra empatar en Turín su ánimo y motivación de que pueden ganar en casa está por las nubes, ven posible su clasificación contra los italianos.
The Vecchia signora defeated Spezia yesterday with a score of 2-0 and continues in its struggle to enter European competitions next season, at the moment is located in the seventh place 9 points behind Atalanta and 10 points behind Lazio, these two teams are very unstable, so it opens a slight possibility for the bianconero box if they maintain their positive streak. There are 15 games left to play in the league and some of them are direct matches with the teams above them in the table, they are "final" matches for Juventus.

In that sense we make a competition jump from Serie A to Europa League, because this week the team led by Massimiliano Allegri will face a decisive duel against French side Nantes as visitors, this team is ranked #13 in their local league and judging by the low level of the same would not be a threat to the Italian team, but this is only theory because in practice things have been very different and we saw that in the first leg that took place last Thursday in Turin.

That match showed a Juve team that was superior but quite ineffective when it came to defining, although there were some fortuitous plays such as Chiesa's shot that hit both posts and did not go in, as well as the clear penalty not scored in their favor, it is true that the Bianconeri had the chance to win that match easily, even by a landslide, but they did not close the match and in a counter at the 60th minute Blas scored the equalizer that endangered Juventus' intentions.

For the vecchia signora, winning the Europa League is the most accessible way to enter the Champions League next season, so this Thursday's match will be exciting from start to finish, "suffering" is the word that can be seen in some Italian portals, and it is something that Juve has accustomed us to at the European level. Juve is superior to Nantes in terms of squad and play, but after the latter managed to draw in Turin their spirit and motivation that they can win at home is sky high, they see their qualification against the Italians as possible.
---
Di María jugador clave / Di María key player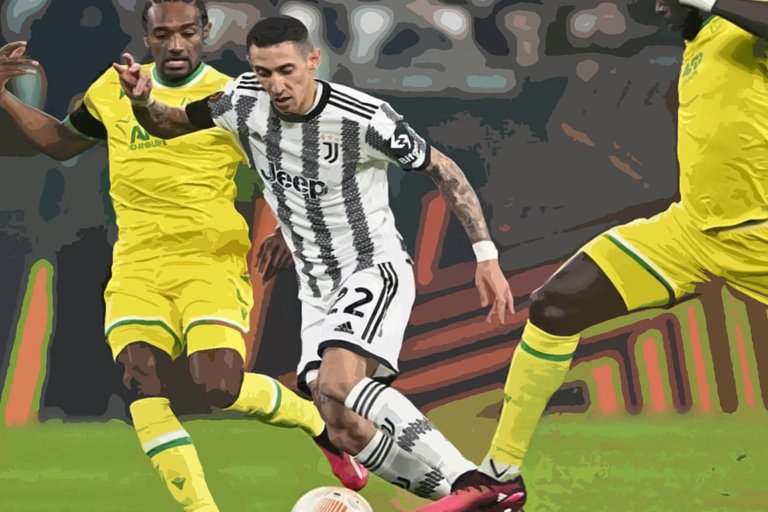 El atacante argentino se ha convertido en uno de los jugadores decisivos de la vecchia signora, tanto asi que a pesar de la situación financiera del club es posible que se pueda negociar una renovación, eso es lo que se está planteando la directiva. El cuerpo técnico ha encontrado en Di María respuestas y eso es lo que se le pide a este jugador, fue contratado para rendir y es algo que ha venido haciendo, en sus últimos cinco encuentros lleva dos goles y dos asistencias, de hecho ayer marco un bonito gol desde afuera del área para sentenciar el partido ante el Spezia.
Su experiencia ha sido clave en el terreno de juego, cuando Allegri lo coloca como extremo o enganche su funcionamiento es mucho mejor, solo como segunda punta ha quedado en deuda, pero cuando está acompañado de Vlahovic y Chiesa en el ataque tiene la libertad que necesita para ser determinante. Este tridente es uno de los que se tenían en mente al inicio de temporada, lamentablemente las lesiones no han permitido la continuidad pero en este momento se vuelve vital y es un trio de jugadores que pueden hacer mucho daño a la defensiva rival, además con Di María y Chiesa como extremos Vlahovic el centro delantero es altamente beneficiado.
Honestamente veo un cambio de actitud en este club, los jugadores estan motivados en vez de estar desmoralizados, Danilo ha tomado las riendas en la defensiva y se ha comportado como un verdadero capitán, Rabiot en la recuperación y en el control del juego sigue siendo excelente y los jóvenes como Miretti (lesionado) y Fagioli estan dando al equipo solvencia en la mitad de la cancha con su buen juego. Realmente espero una victoria en Francia, la Juve es superior al Nantes, si juegan bien es muy posible que pasen la eliminatoria, solo queda que Allegri presente un esquema táctico donde sus jugadores puedan desempeñarse de la mejor manera y que esto sea suficiente para continuar soñando.
The Argentine attacker has become one of the decisive players of the vecchia signora, so much so that despite the financial situation of the club it is possible that a renewal can be negotiated, that is what the board is considering. The coaching staff has found in Di Maria answers and that is what is asked of this player, he was hired to perform and that is something he has been doing, in his last five games he has two goals and two assists, in fact yesterday he scored a beautiful goal from outside the box to seal the match against Spezia.

His experience has been key in the field, when Allegri places him as a winger or a striker his performance is much better, only as a second striker he has been in debt, but when he is accompanied by Vlahovic and Chiesa in attack he has the freedom he needs to be decisive. This trident is one of those that were in mind at the beginning of the season, unfortunately injuries have not allowed continuity but at this time it becomes vital and is a trio of players who can do much damage to the opposing defense, also with Di Maria and Chiesa as wingers Vlahovic the center forward is highly benefited.

Honestly I see a change of attitude in this club, the players are motivated instead of being demoralized, Danilo has taken the reins in defense and has behaved like a true captain, Rabiot in recovery and in controlling the game is still excellent and the youngsters like Miretti (injured) and Fagioli are giving the team solvency in the midfield with their good play. I really hope for a victory in France, Juve is superior to Nantes, if they play well it is very possible that they will pass the knockout round, it only remains for Allegri to present a tactical scheme where his players can perform at their best and that this will be enough to continue dreaming.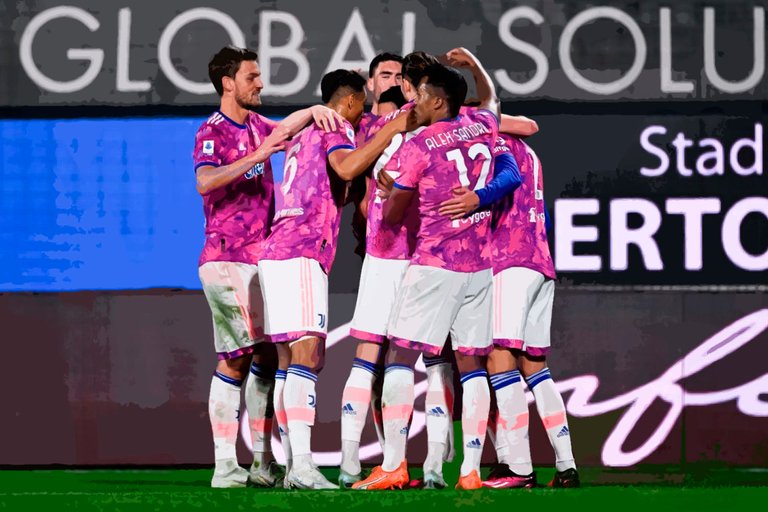 Gracias por leer/ Thanks for reading
---
Imágenes editadas en Adobe Photoshop
---
---