Una nueva victoria para los Spurs // Another victory for Spurs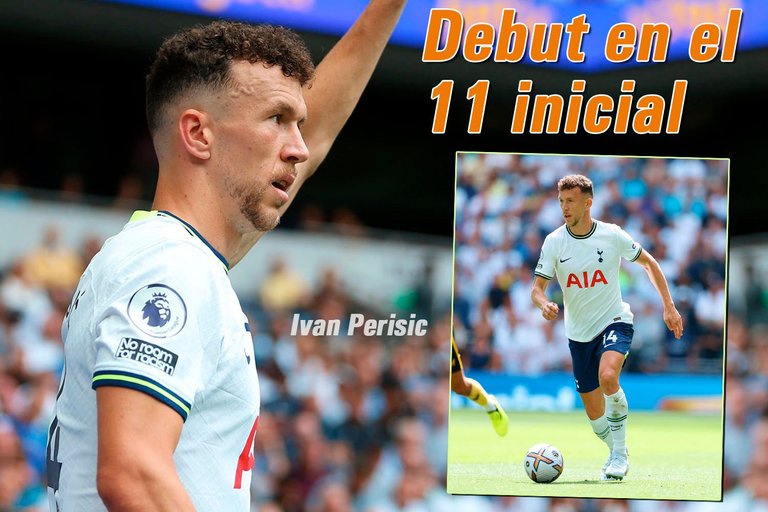 Source | Source | Imagen editada en Adobe Photoshop
Luego del empate candente contra el Chelsea la jornada pasada, el Tottenham que dirige Antonio Conte vuelve a la senda de la victoria, esta vez contra el Wolverhampton que no ha visto a la "diosa" en tres jornadas, colocándose asi en los últimos lugares de la tabla de posiciones.
Para los Spurs esta victoria es un paso importante en sus aspiraciones titulares, y aunque solo van tres jornadas este es un mensaje que sigue constante hacia los "lideres", quienes de seguro ya tienen al Tottenham como uno de los rivales a tener en cuenta esta temporada.
Pasos firmes es lo que se necesita para alcanzar la meta y el equipo lo está haciendo, poco a poco Conte aumenta la competitividad de su club, el cual tuvo como titular el día de hoy al croata Iván Perisic, un jugador que se convirtió en una de las flamantes adquisiciones en este verano, de quien se espera mucho por sus buenas habilidades dentro de la cancha.
After the fiery draw against Chelsea last matchday, Antonio Conte's Tottenham are back to winning ways, this time against Wolverhampton, who have not seen the "goddess" in three matchdays, putting them at the bottom of the table.

For Spurs, this victory is an important step in their title aspirations, and although it is only three games in, this is a message that remains constant towards the "leaders", who surely already have Tottenham as one of the rivals to take into account this season.

Firm steps is what is needed to reach the goal and the team is doing it, little by little Conte increases the competitiveness of his club, which had as a starter today the Croatian Ivan Perisic, a player who became one of the brand new acquisitions this summer, from whom much is expected for his good skills on the field.
---
¿Cómo estuvo el partido? / How was the match?
Fue un encuentro bastante entretenido y disputado, los Wolves a pesar de no haber ganado aun, no estan jugando mal, su entrenador Bruno Lage está haciendo un buen trabajo con sus jugadores, solo le queda ajustar unas piezas en la defensiva para obtener un mejor rendimiento. Cuando nos centramos en las estadísticas podemos darnos cuenta fueron los visitantes quienes tuvieron más oportunidades, aunque ambos clubes tuvieron muchos desaciertos de puntería en sus disparos, de todos los que pudieron hacer solo 4 para los Spurs fueron al arco y de los Wolves tres nada más.
La alineación que mostro Conte fue su 3-4-2-1, la única que ha empleado esta temporada, una formación altamente ofensiva que enfoca su juego en la recuperación de balón y desbordes por las bandas, y allí es donde toma valor el juego de Perisic y otros carrileros como Emerson, ambos tuvieron una buena performance, para el croata jugar de titular el día de hoy es muy positivo, de esa manera se va adaptando a sus compañeros y a la velocidad del futbol inglés, y aunque fue sustituido tuvo un rendimiento aceptable.
It was a very entertaining and disputed match, the Wolves despite not having won yet, are not playing bad, their coach Bruno Lage is doing a good job with his players, he just needs to adjust some pieces in the defense to get a better performance. When we focus on the statistics we can see that it was the visitors who had more chances, although both clubs had many misses in their shots, of all the shots they were able to make only 4 for Spurs and three for Wolves.

The lineup that Conte showed was his 3-4-2-1, the only one he has used this season, a highly offensive formation that focuses its play on ball recovery and overflows on the wings, and that is where the play of Perisic and other wingers like Emerson takes value, both had a good performance, for the Croatian playing as a starter today is very positive, in that way he is adapting to his teammates and the speed of English soccer, and although he was substituted he had an acceptable performance.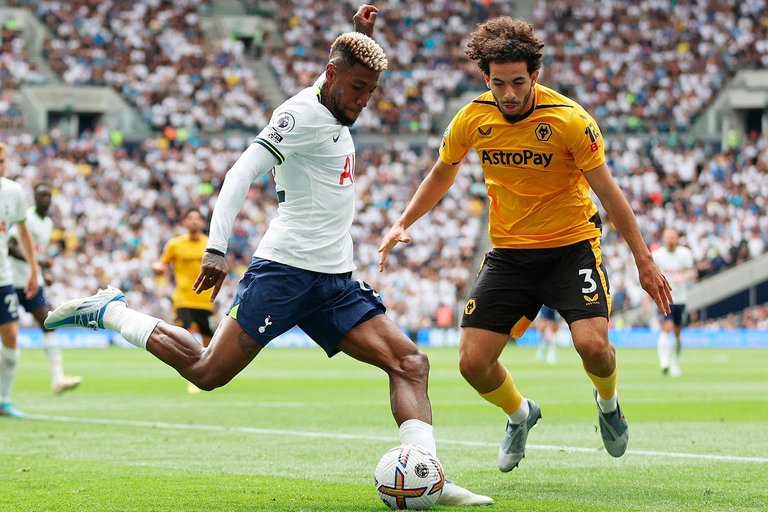 Source
El único detalle es la suplencia de Richarlinson, con esta formación queda relegado al banquillo detrás de Harry Kane quien se convirtió el día de hoy en el jugador con más goles en un solo club inglés por encima del "kun" Agüero". Para el brasileño esto es negativo en todos los sentidos, llego al club con muchas expectativas pero Conte lo ha estado usando como un extremo ofensivo las veces que ha jugado. Por momentos pensé que esta adquisición traería el 3-5-2 con él en la punta junto al inglés, pero es algo que no parece estar en los planes de su entrenador, y mientras siga obteniendo la victoria es más difícil que veamos un cambio en la delantera.
The only detail is the substitution of Richarlinson, with this formation he is relegated to the bench behind Harry Kane who became today the player with more goals in a single English club than "kun" Agüero". For the Brazilian this is negative in every way, he came to the club with high expectations but Conte has been using him as an attacking winger the times he has played. At times I thought this acquisition would bring the 3-5-2 with him up front alongside the Englishman, but it's something that doesn't seem to be in his manager's plans, and as long as he keeps getting the win it's harder to see a change up front.
---
¿Qué sigue ahora para el Tottenham? / What's next for Tottenham?
Luego de esta victoria, queda por momentos en la segunda posición de la tabla con 7 puntos, a dos del puntero Arsenal quien lleva tres juegos ganados al hilo bajo la dirección de Arteta, y posiblemente también estará detrás del City que juega contra el Newcastle el día de mañana. Para la semana entrante se enfrenta al Nottingham Forest de visitante, un club modesto que en los papeles no debería de dar muchos problemas, sin embargo no pueden confiarse ya que en la Premier no suele haber rival chico, y fácilmente se puede dejar ir un juego por pequeños detalles.
El Tottenham sigue mostrando un futbol bastante vertical y ofensivo, la línea defensiva compuesta por tres hombres es la marca de Conte y allí se está trabajando mucho, el cuerpo técnico está haciendo un buen trabajo, pero aun asi deben fortalecer esa zona, el día de hoy les tocó sufrir en ciertas partes del encuentro, pero lo hicieron en conjunto, incluso el delantero ingles estaba dando una mano a los defensores, pero pienso que contra equipos más fuertes puede ser un punto muy negativo, ante el Chelsea fueron abrumados y por la falta de eficacia de sus delanteros no perdieron ese encuentro. Quizás sea el punto más fuerte de trabajo que tenga Conte este año, pues en la zona media y la delantera tiene mucho que dar este club inglés.
After this win, they are currently in second place in the table with 7 points, two behind leaders Arsenal who have won three games in a row under Arteta, and will possibly also be behind City who play Newcastle tomorrow. Next week they face Nottingham Forest away, a modest club that on paper should not cause many problems, however they cannot be confident as in the Premier League there are usually no small opponents, and you can easily let a game go by small details.

Tottenham continues to show a quite vertical and offensive soccer, the defensive line composed of three men is Conte's trademark and there they are working hard, the coaching staff is doing a good job, but still they must strengthen that area, today they had to suffer in certain parts of the game, but they did it together, even the English striker was giving a hand to the defenders, but I think that against stronger teams can be a very negative point, against Chelsea they were overwhelmed and by the lack of effectiveness of their forwards they did not lose that game. Maybe this is the strongest point of work that Conte has this year, because in the middle and forward area this English club has a lot to give.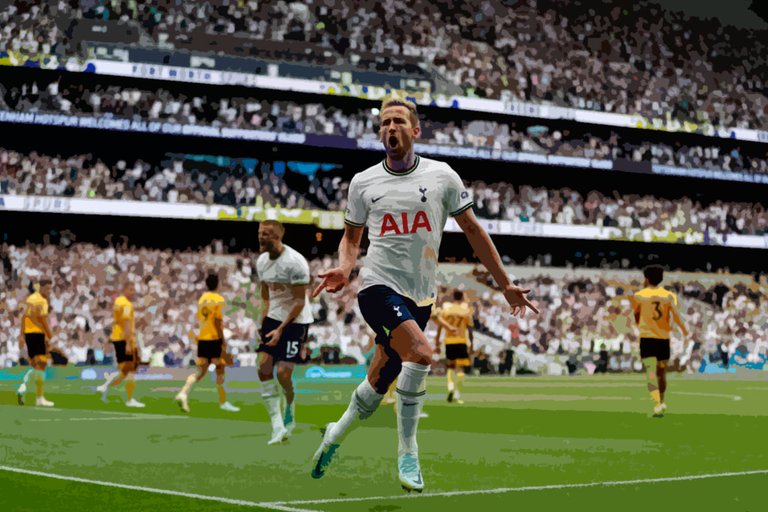 Source | Ilustracion realizada en Adobe Photoshop
Gracias por leer / Thanks for reading
---
---