ICC T20 Cricket World Cup - Mother Of All Matches - Get Ready To Witness India Pakistan Clash
Hello Cricket Lovers,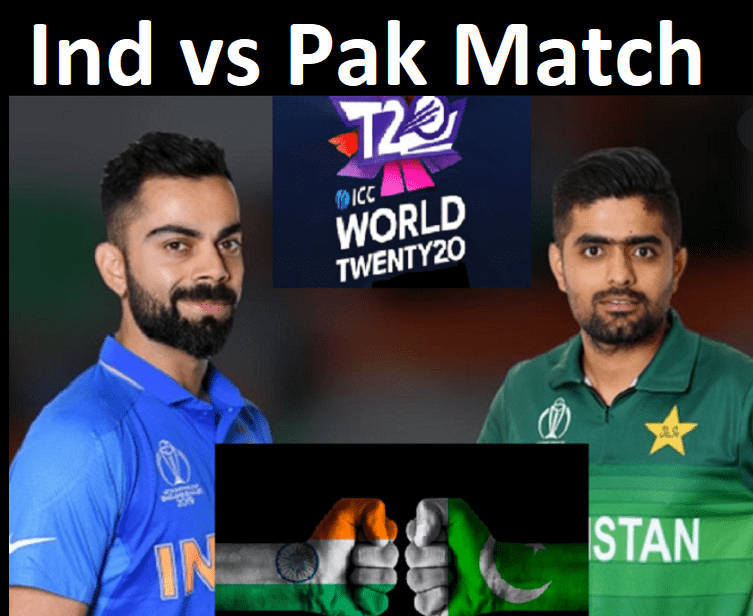 Source
In few minutes from now, India and Pakistan will clash India and Pakistan have started their clash in Mother Of All The Matches in Cricket World Cups as they clash against each other in Fourth match of the ICC T20 World Cup in Dubai.
India and Pakistan have a long rivalry just like Ashes between England and Australia and interestingly, India never lost to Pakistan in 50 Overs World Cup and T20 World Cups having 12-0 record against their arch rivals having First won against them in 1992 Benson & Hedges Cricket World Cup in Australia.
Let's get back to history with details of each of those 11 matches.

1992 Benson & Hedges World Cup:

Source
It was an era of 50 to 60 strike rate and even it was ok to score 5 runs from 39 balls like Kris Srikanth did for India.
India scored 216 for the loss of 7 wickets with Ajay Jadeja, Mohammad Azaruddin, Kapil Dev contributing with the bat and more importantly, Cricket God, Sachin Tendulkar used to bat at Fifth position and he made a contribution of 54 from 62 balls.
Pakistan, chasing that score of 217, didn't get a good start as they quickly lost opener Inzamam Ul Haq and Zahid Fazal, but, other opener Aameer Sohail and Javed Miandad started repair work, but once they both departed, Pakistan didn't have fire power down the order and folded out for 173.
That was the beginning of the winning mantra started for India in World Cups.

1996 Wills World Cup:

Source
In the immediate next World Cup co-hosted by India, Pakistan and Sri Lanka, known as Wills Cup, India and Pakistan once again clashed and this time, it was in the Quarter Final in Bangalore.
Having won the toss, India elected to bat First and posted a healthy total of 287 for the loss of 8 wickets thanks to opener Navjot Singh Sidhu, who scored 93 from 115 balls with almost all the other batsmen chipping in with some score including a brisk 45 from 25 balls by opener in previous World Cup but playing in middle order in Wills cup, Ajay Jadeja.
In response, Pakistan started well with openers Aameer Sohail and Saeed Anwar scoring 84 from just 10 overs and threatened to take the match away from Indians.
That is when, Karnataka's medium pacer, Javagal Srinath removed Saeed Anwar and Pakistan had a little collapse as they lost next 3 wickets for just 50 runs, but, in the middle order, Salim Malik and Javed Miandad once again tried to stabilize the innings with scores of 38 each, but, in the end, Pakistan fell short again by 39 runs with Karnataka's trio of Javagal Srinath, Venkatesh Prasad and Anil Kumble sharing 7 wickets between them on their home ground.
And that was 2 in 2 for India in World Cups!!!!

1999 ICC Cricket World Cup:

Source
Though India finished at bottom place in Super Six in this World Cup, they made it a memorable one beating their arch rivals Pakistan once again in their lone win in Super Sixes.
India once again won the toss and once again elected to bat First with India scoring 227 for 6 wickets with Sachin Tendulkar as an opener, scoring 45 runs from 65 balls and in the middle order, India had Rahul Dravid who scored 61 from 89 balls and captain Azaruddin scoring 59.
In reply, Pakistan didn't start well with losing their new opener Shahid Afridi, Ijaz Ahmed, Salim Malik early.
But, other opener, Saeed Anwar and Inzmam Ul Haq started the innings re-building with scored of 36 and 41 respectively.
Apart from these 2 and keeper Moin Kahn contributing 30+, Pakistan once again kept losing wickets to get all out for 180.
India kept their record straight for the Third time beating Pakistan by 47 runs!!!!

2003 ICC World Cup:

Source
2003 Cricket World Cup was hosted by African countries South Africa, Zimbabwe and Kenya.
India and Pakistan met at the league stage in the 7 country group as this was the World cup with 14 teams, the largest so far in World Cups.
For a change, Pakistan won the toss and they elected to bat First on seaming Centurian pitch and they didn't start well as they kept losing wickets at one end while Saeed Anwar kept one end intact with a century.
Apart from Anwar, Pakistan had score of 32 from veteran Yunis Khan and all other chipped in to lift Pakistan to 273 for the loss of 7 wickets.
Pakistan with their strong bowling unit of fast bowling trio of Wasim Akram, Waqar Younis and Shoaib Akhtar felt they finally have a score good enough to beat India in World Cup for the First time as the pitches in South Africa will be fast bowler friendly.
India, on the other hand, different plans and were eager to keep their winning record active.
Sachin Tendular almost scored a century like Saeed Anwar did for Pakistan and like Pakistan, India too had a bad start with Sehwag and Ganguly falling early.
Tendulakr found an able partner in Mohammad Kaif who scored 35 followed by finishing touches by Rahul Dravid and Yuvraj Singh who scored 44 and 50 respectively to take India across winning score in 46th Over itself!!!
Pakistan once again ended on losing side for the Fourth straight time.

2007 Inaugural T20 World Cup in South Africa:

Source
In the Inaugural T20 World Cup hosted by South Africa, India and Pakistan met in the group stage First with Pakistan winning the toss and electing to bowl First.
India had their worst opening in the match with both openers back in pavilion early, Robin Uthappa, captain Dhoni and Irfan Pathan gave them a respectable total of 141 runs from their quota of 20 overs.
Pakistan didn't have good start in the chase 4 wickets down before they scored Fifty runs.
It was their captain Shoab Mallik and future captain Misbah Ul Haq who started the counter attack towards the end as they brought the team to victory line needing 1 run from their last ball of the innings and Misbah got run out!!
The match ended in tie and as per rules in that World cup, there was a batsman less bowling of 5 deliveries one each by 5 bowlers.
India hit First 3 and Pakistan missed all 3 thus, not requiring the Fourth and Fifth ball to be bowled.
India beat Pakistan even in T20 World cup too!!!
Source
That was not the end of India Pakistan in that World Cup as they met in the final again!!!!
India won the toss this time and elected to bat First like they did in previous matches in their meetings with Pakistan.
Gautam Gambhir and Yusuf Pathan were their openers this time with Gambhir scoring 75 from 54 balls and although the other batsmen had starts, couldn't convert into big score with eventually only Rohit Sharma crossing 30 runs mark and India ended up on 157 for 5, a good enough score compared to their 141 against same team in league matches.
Pakistan, in reply, had indifferent form by their batsmen with Imran Nazir, as an opener, scored 33, but it was once again Misbah Ul Haq being thorn in flesh for India as he kept dragging Pakistan towards victory until he hit a Joginder Sharma delivery for scoop shot only to be caught by Sreesanth behind wicket keeper and India won the match against Pakistan again and more importantly, they won the inaugural T20 World Cup!!!!!

2011 ICC World Cup:

Source
India and Pakistan met in the semi final of this 50 over cup with India as usual electing to bat First after winning the toss and set 261 as victory target to Pakistan with Sachin Tendulkar scoring 85, Suresh Raina scoring 36 and some 20+ scores by few other batsmen.
Pakistan had starts from all their batsmen, but only Mohammad Hafeez, Misbah Ul Haq, Asad Shafiq and Umar Akmal ethe came close to 30 or scored more.
In the end, Pakistan fell short by 29 runs and for the Seventh straight time, India beat Pakistan in World Cups.

2012 T20 World Cup:

Source
India and Pakistan next met in the Super Eight stage of T20 World Cup hosted by Sri Lanka in 2012 and Pakistan, winning the toss, elected to bat First with getting bowled out for 128 runs.
Only 5 batsmen could reach double figures with 28 being the top score by Shoaib Mallik.
In reply, India lost Gautam Gambhir early, but, Virender Sehwag, Virat Kohli and Yuvraj Singh ensured India cross the winning line and thus hand Pakistan Eighth straight loss!!!

2014 T20 World Cup:

Source
The next meeting between these 2 teams was at 2014 T20 World Cup hosted by Bangladesh and India for change, elected to field First after winning the toss.
Pakistan didn't get off to good start and went on to score below par score of 130 for the loss of 7 wickets with Umar Akmal scoring 33 being the highest score by their batsmen.
in reply, almost all the batsmen by India had 20+ scores except for Yuvraj Singh and India coasted to another easy win against Pakistan and kept the record straight!!!!

2015 ICC World Cup:

Source
India's next meeting with Pakistan was in 50 overs World Cup hosted by Australia and New Zealand in 2015.
India won the toss and elected to bat to score exactly 300 from their 50 overs.
For India, Virat Kohli scored a century and Suresh Raina scored 74 with all other top order batsmen contributing something.
In reply, Pakistan kept losing wickets at regular intervals with scoreboard pressure on them and only Ahmed Shehzad, Haris Sohail, and captain Misbah Ul Haq scored some big runs, but, in the end Pakistan fell once again short by 76 runs taking themselves Tenth straight loss!!!

2016 T20 World Cup:

Source
India hosted the 2016 T20 World Cup and India and Pakistan met at group stage with rain curtailing the match to 18 overs a side, India won the toss and elected to field First.
Pakistan were never in game as they kept losing wickets to finish at 118 for the loss of 5 wickets.
India too didn't start well losing openers early, but, Virat Kohli and Yuvraj Singh kept them in the chase to finish the match in 16th over.
That confirmed India Eleventh straight win against their neighbor country and there were all memes on tv and internet about Pakistan's inability to beat India in World Cups.

Last meeting in 2019 ICC World Cup in Manchester:

Source
India and Pakistan had their last meeting in a World Cup in Manchester in 2019 ICC World Cup for 50 overs.
Pakistan won the toss and asked India to bat First.
India rode on the century by Rohit Sharma who scored 140 from 113 balls and was supported by Kl Rahul and captain Virat Kohli and India finished with 336 for 5 and Pakistan would have rued their decision of asking India to bat First!!!
In the chase, there was rain interruption and match got reduced to 40 overs for the chase with Pakistan needing 302 with revised target and Pakistan could score only 212 for the loss of 6 wickets.
India were on course to win even if full 50 overs match would have happened in Pakistan innings given the slow start by Pakistan before the rain interruption.
India had won Twelfth straight win with that and we all feel so sorry for Pakistan.

Wow!!! I never thought this blog will keep growing this bigger, but, even the brief info about each India Pakistan match has taken this, this far.
Thanks for your patient reading and reaching this line :)
Happy weekend and if you are from India or Pakistan good luck to your country :)

Join the new Official Telegram for Splinterlands via link given below to participate in contests and have fun.
---
Not yet signed up for Splinterlands?
You can join using my referral link: splinterlands.io and get some monsters from me :)
---
---