PREDICT ARSENAL VS LIVERPOOL!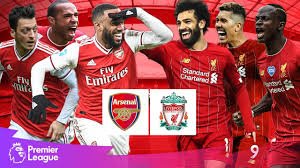 Source
For the first since 2009,both teams with 5games+ win will be playing each other.
Quite a big game,if you think of it that way
Arsenal is currently sitting in the 4th position with 51 points behind Chelsea, Liverpool and Manchester City with 3 games at hand.They are seeking for a spot in the Uefa Champions league after 6 years.
Liverpool on the other hand is currently 2nd with 66 points behind Manchester City and One game at hand.
So you see,the two teams have what to fight for.
Arsenal has been on ruthless form lately winning 5 of their last matches
They play better and faster.Their level of trust and confidence in each other has also increased lately.
Liverpool pretty much has always been on winning form.The Liverpool Coach Jürgen klopp has created a team with monster mentality.With Manchester city only clenching a point from their clash against Crystal palace last night, Liverpool has a chance of winning the English Premier League if they win their remaining matches.
Match Venue: Emirates Stadium
Match Time: 8:15 GMT+
Referee: Ander Marriner
Assistant Referee: Simon Long,Scott Ledger.
What do you think the final Score will be?
---
---