Jupiler League Week 1 Saturday Previews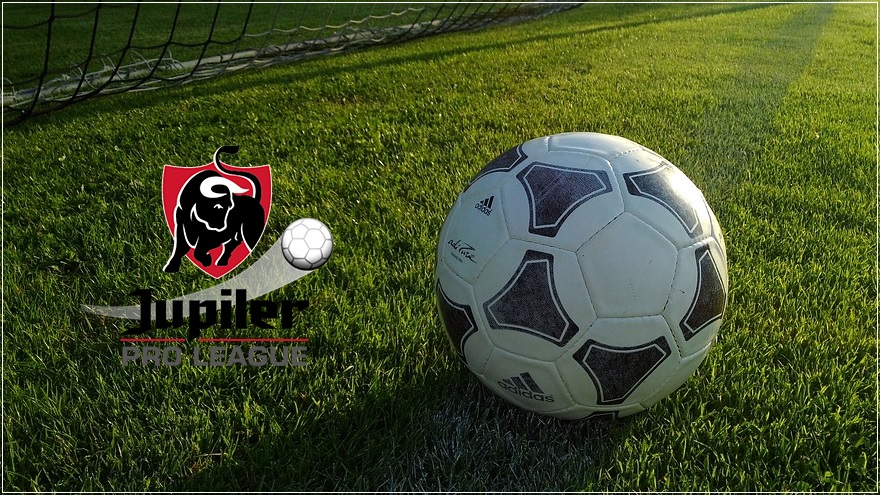 These are previews from matches involving Belgian Teams with all the latest on team news, player form, injuries along with my personal betting angles, ...

I really enjoyed the opening match of the season and feel quite confident at the moment taking bets already having had a big one taking Genk Team Total Over 1 at halftime (which pushed). Saturday from now on will have 4 matches instead of 3 last season since there will be no more action on Mondays. These matches are played today...
---
Oud-Heverlee Leuven vs Zulte-Waregem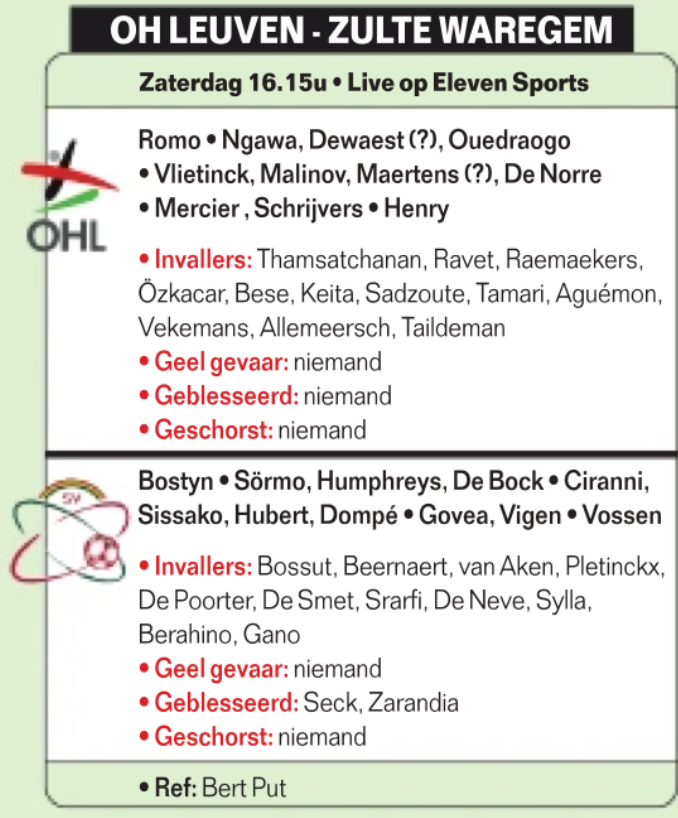 OHL is a team with high ambitions and no dept finishing 11th last season and looking to do better this one. A total of 19 players left with the most important of those being Sowah but they still managed to keep most of their important players like Henry and Mercier. Their most recent practice match against Dusseldorf was lost by 3-0 and the coach stated that they will have a hard time if no enforcement comes. Zulte-Waregem had both good and bad streaks last season and their main issue was the defense getting a record-high 69 goals against. They also scored 53 of which 20 came from Bruno who left for AA Gent. Based on both these teams their playstyle last season, the over makes sense but the line already got hit pretty hard now being set at Over 3.25 which I'm not touching even though there is a brand new pitch that should help create a better play quality. Leuven was not the best home team while Zulte-Waregem was much better away mostly because their home pitch was really bad. Both also both tend to have more goals in their 2nd halves and the league in general also is heavier on 2nd half goals so that's what I will be looking for in-game. Right now it's just hard to make a sensible prediction so
No Pre-Game Bets
---
Beerschot vs Cercle Brugge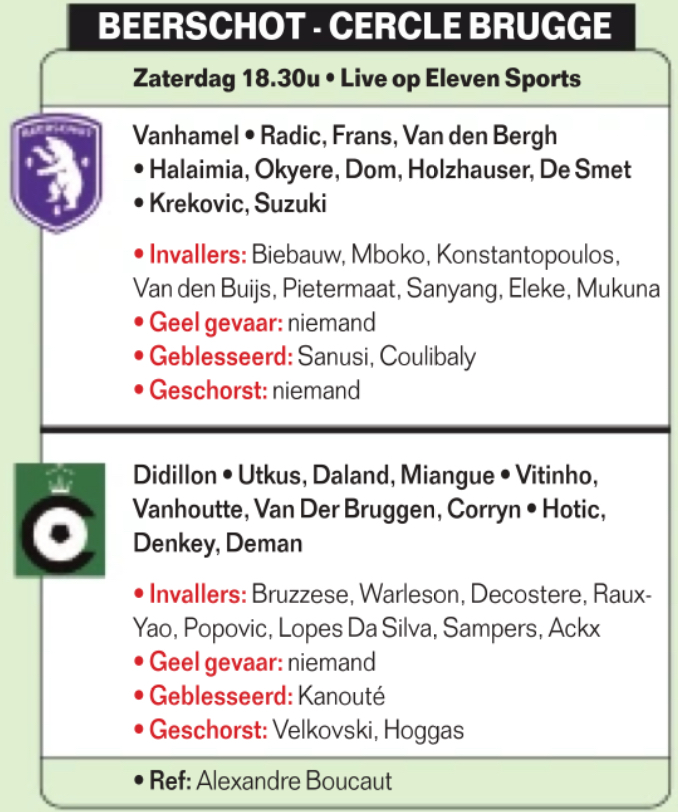 Beerschot started the year overperforming with great attractive football going to the complete opposite after coach Losada (who felt they were overperforming taking a nice offer from the MLS) left. Still took over making them one of the most defensive teams and they were pretty much nowhere the 2nd half of the season. They now have a new coach Peter Maes who knows the league and he is planning to play offensively against 'weak' teams and organized vs 'good' teams. Their players with most goals and assists stayed and they should be more stable this season. Cercle Brugge was nothing special last season and managed to save themselves in the end under Yves Vanderhaege who when he was coach in Kortrijk played offensively at home and defensively away. Cercle Brugge lost quality and will be playing with an entirely new defense so it might take a couple of weeks for them to get it right. I'm mostly expecting Beerschot to play forward taking the initiative with Cercle luring on the counter. The most remarkable trend last season was Beerschot pretty much losing their corners matchup which was the direct result of the playstyle of their old coach. Now things should have changed while the line still seems to be set on rather irrelevant statistics. I took both a 0.3 unit bet on
Beerschot +0 @ 1.805
and a tiny initial bet (due to low limits) on
Beerschot +0 Corners @ 1.846
also taking a crypto bet on that one over at
Wink.org
. Should be interesting.
---
Kortrijk vs Seraing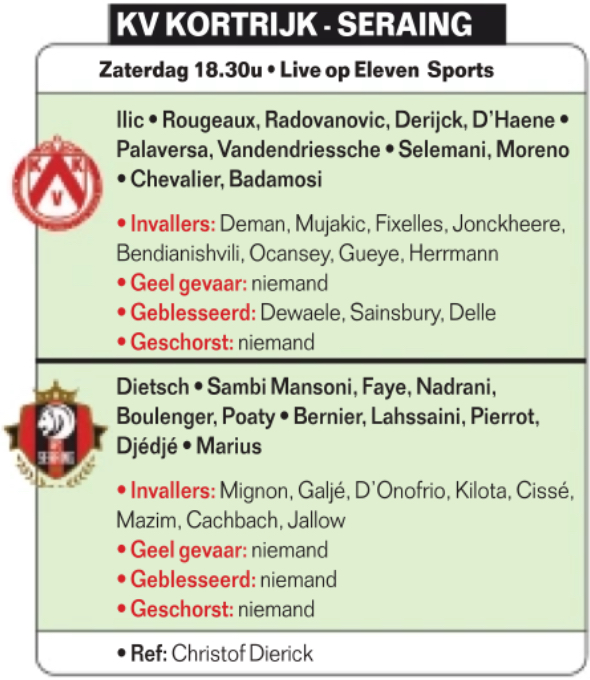 Kortrijk was a mediocre rather anonymous team last season and will likely once again be too good to get in danger but not good enough to really fight for more. They have not done all too many transfers and are without Defenders Dewaele and Sainsbury. Seraing is one of the promoted teams who still played in 3rd division 2 seasons ago. Their main goal will be to stay in the 1st league but they won't be able to count on their coach who got them promoted. He's saying that the team doesn't really have the infrastructure and winning matches got them in the flow. He does question if the players have enough to handle potential bad times when they lose a couple matches and the away matches. So it can generally be expected for Seraing to have a really difficult year unless they somehow turn out to be a surprise team. According to Kortrijk coach, Seraing likes to have the ball and plays offensive. I have never seen them play though so I'm just going to sit back and watch without getting involved in any bets for now.
No Pre-Game bets
---
Oostende vs Charleroi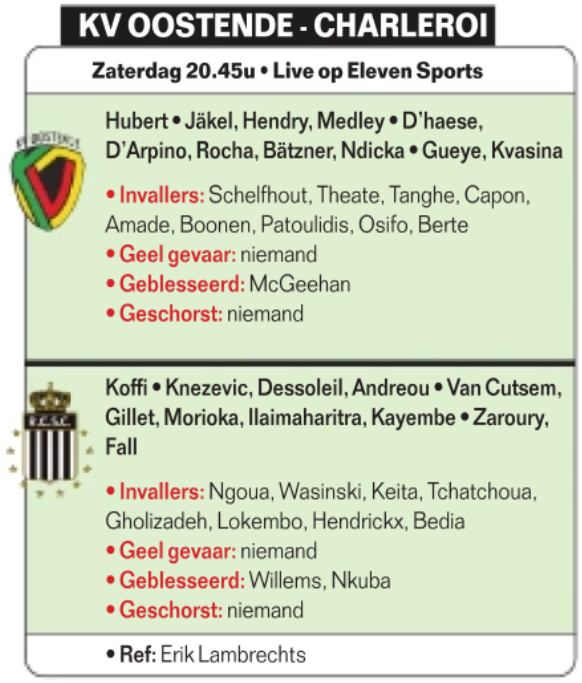 Oostende was the surprise team last year praying high pressing and attractive football under their coach Blessing who stayed with the team. They did lose 3 key players with Nsakala, Bataille, and Hjulsager though and it for sure will be felt as it remains to be seen how their replacements will perform. Charleroi has a new coach who is only 30 years old who is expected to play a more offensive style, also playing with high wings. They have a good midfield but defensively is possibly their weak point. I do expect this to be a match with both teams having the intentions to play but I'm not sure enough about the actual scoring capabilities to get a bet in on the over. I also like the over in corners and already took a tiny bet on
Over 11 Corners @ 2.70
with an eye to possibly take more in-game preferably on the Over 9 line.
---
Late info might change my view on what is written in these previews. I will cover these matches live in our SBC Discord Channel. All my bigger pre-game & Live bets can automatically be followed on Copytip.
---

I take all my Pre-Game & Live bets with my Betting Broker Sportmarket Pro who always provide the best offers on the market with a 1 click solution and don't limit winning players offering high limits. For more info check my Sportmarket Pro Review
Season 2021-2022 Crypto Bets
| Date | Bet | Stake | Odds | Result | Betslip |
| --- | --- | --- | --- | --- | --- |
| 24/07/2021 | Beerschot +0 Corners | 500 TRX | 1.80 | TBD | Wink.org |
| 23/07/2021 | Genk X2 + Over 2.5 | 1000 TRX | 2.50 | -1000 TRX | Wink.org |
---
Full Guides to Decentralized Crypto Bookies I personally use where no KYC is required allowing anonymous betting from any location without individual limits for winning players...
Sportbet.one

Wagerr.com

Wink.org

Betfury.io

| Month | Bets | Won | Lost | Push | Staked | Profit BTC | ROI |
| --- | --- | --- | --- | --- | --- | --- | --- |
| 2021 | 4 | 1 | 2 | 1 | 0.0250 | -0.002845 | -11.38% |
| 2020 | 1 | 1 | 0 | 0 | 0.0100 | +0.01271 | +127% |
| 2019 | 59 | 24 | 27 | 5 | 0.5900 | -0.02199 | -3.7% |
| 2018 | 136 | 65 | 64 | 7 | 1.233 | +0.112687 | +9.14% |
| 2017 | 70 | 34 | 34 | 2 | 0.658 | +0.006912 | +1.05% |
| Total | 270 | 125 | 127 | 15 | 2.516 | +0.107474 | +4.27% |
---
---