GambleFi Portfolio | Good Dividend Week!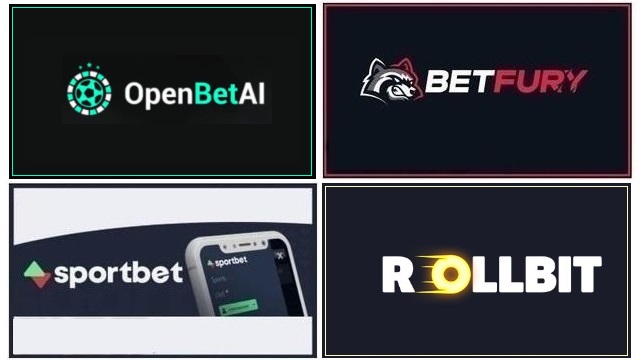 I am keeping close track of my Gambling Dapp Portfolio that includes SBET (Sportbet.one), BFG (Betfury.io), RLB (Rollbit.com), & now also some OPENBET (Openbetai.io) with regular updates on how exactly they are doing showing what can be expected for those interested...
Last week was the best so far this year in terms of received dividends just shy of 400$ and if nothing goes terribly wrong I should manage to get that above 500$ hopefully.
It looks like someone bought close to 800k SBET pushing the price up by +15% which is nice. Something in me wants to sell 1M extra SBET at this price to swap for 100k extra OPENBET but at the same time also not.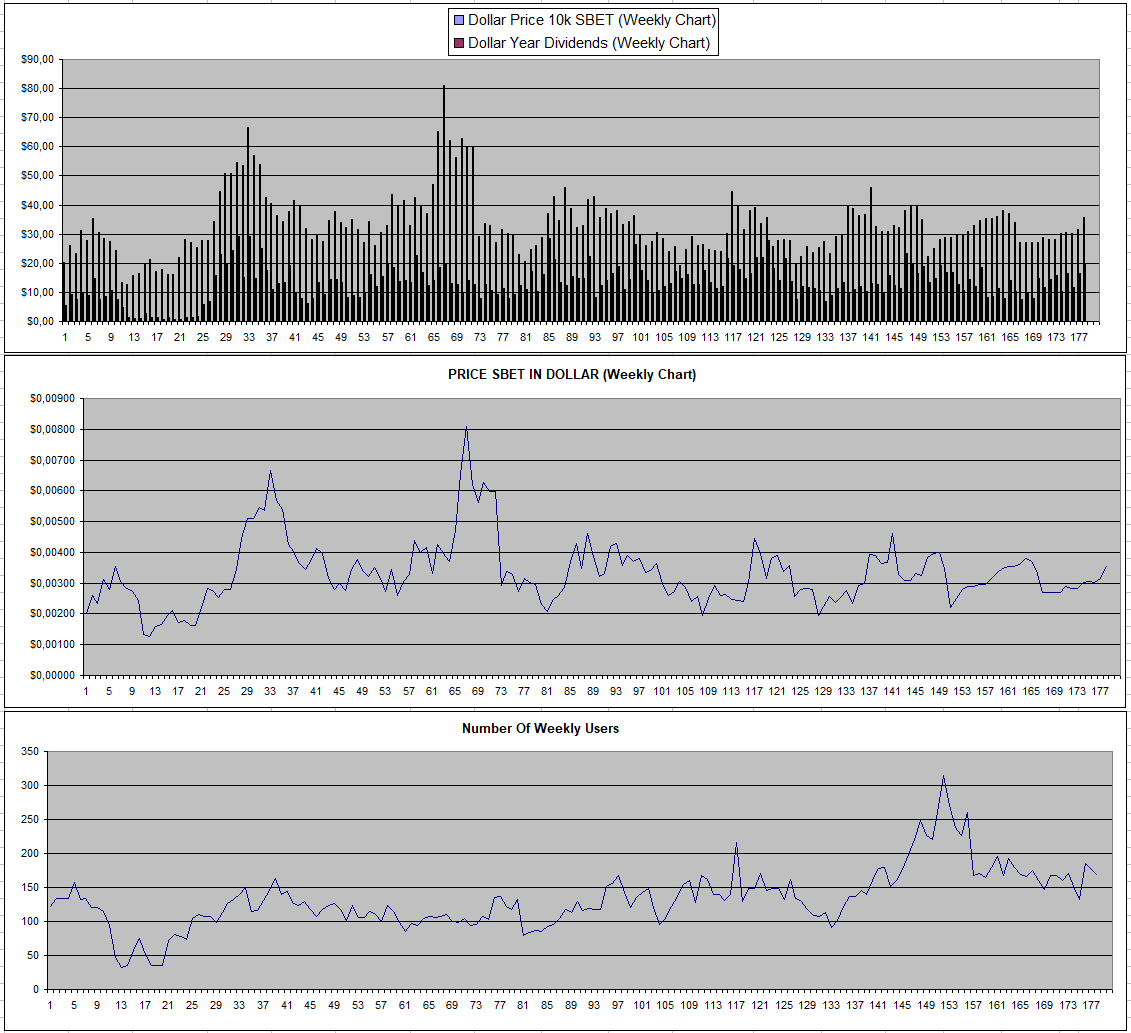 Overall not much is changing with Sportbet which still fails to get more adoption with most of the volume and dividend earnings coming from the biggest whale on the platform who bet over 250k$ last week.
---
The overall trend continues with a slight decrease in price again (0.03568$ -> 0.03384$) and the number of holders going down (945 -> 838). There was 1 announcement that Arbitrum is now supported as a token which both with USDC can be deposited straight from the Arbitrum network. This was something that was implemented over a week back but only now announced.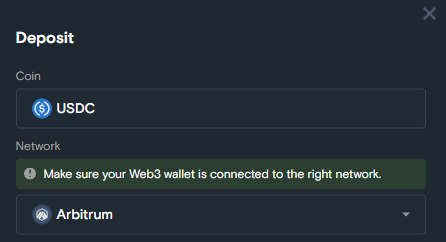 Aside from this it remains a project where I see a lot of dividend earnings potential at an extremely cheap price while at the same time it's triggering a lot op PTSD given how much trust needs to be put on the devs who can basically do whatever they want. The way dividends are paid out also leaves everyone (aside from insiders) in the dark as there is no info on how much the current number is along with no fixed date when it's paid out or when the snapshot is taken. In that regard, a lot of improvements can and should be made. Since the price has not pushed, I'm honestly not expecting 'record breaking' dividends for the coming months even though the site seems to have a lot of betting action which includes some whales gambling.
| Date | Hold | Total Invested | Current Value | Tot Dividends | % recovered | Total |
| --- | --- | --- | --- | --- | --- | --- |
| 24/04/2023 | 201k | 15669$ | 9400$ | 54.5$ | 0.35% | -6215$ |
| 02/05/2023 | 201k | 15669$ | 8975$ | 54.5$ | 0.35% | -6640$ |
| 09/05/2023 | 259k | 18145$ | 9865$ | 54.5$ | 0.21% | -8280$ |
| 16/05/2023 | 273k | 18675$ | 9363$ | 530.98$ | 2.84% | -8781$ |
| 23/05/2023 | 300k | 19727$ | 10177$ | 530.98$ | 2.69% | -9019$ |
| 30/05/2023 | 300k | 19727$ | 9337$ | 530.98$ | 2.69% | -9859$ |
I'm down now close to 10k since getting in but only 1 good month is needed in site revenue in order to get the price way up again so the only real option is to add more which right nog is impossible as it would be too big of a gamble in regard of the trust that is needed and just isn't there. It will be 2 weeks before the next dividend payout which will give more info and when done slightly increase the trust level.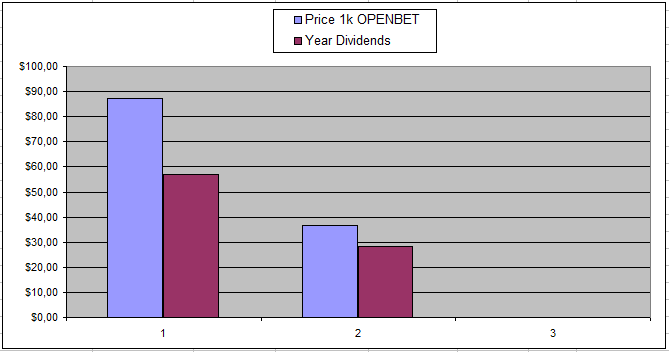 ---
Rollbit.com (RLB) & Rollbot/Sportsbot NFTs
So the jackpot was won as I reported in the previous report which makes it so that less RLB is staked in the lotteries since less can be won. This combined with a price of RLB that went up because more was staked while price was low and jackpot was high brought low dividends. The price of RLB also is coming down again and I can only assume that the NFTs will follow as ROI on them last week was only +22% (+33% based on the price that I paid when buying them)
So from the looks of it, a lot depends on the jackpot, when it increases the amount of RLB staked will be higher pushing up the dividends and everything else. The moment it is won it is likely for there to be a dip in everything.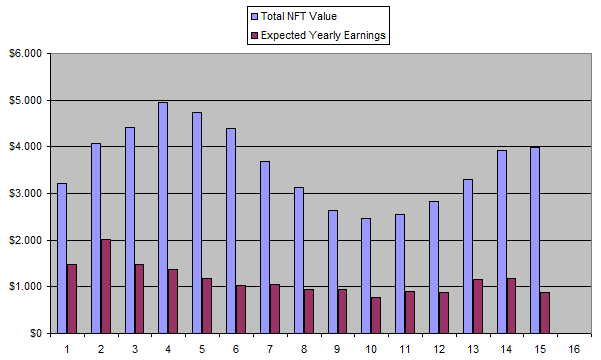 I'm happy with my current rather small exposure and have no temptation to get in more at the moment.
---
Betfury pretty much remains its boring self but it continues paying out dividends. 480k BFG (currently 7200$) paid out 47.5$ on the week keeping it close to +33% APY.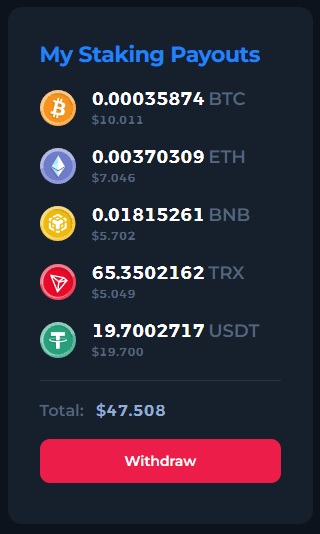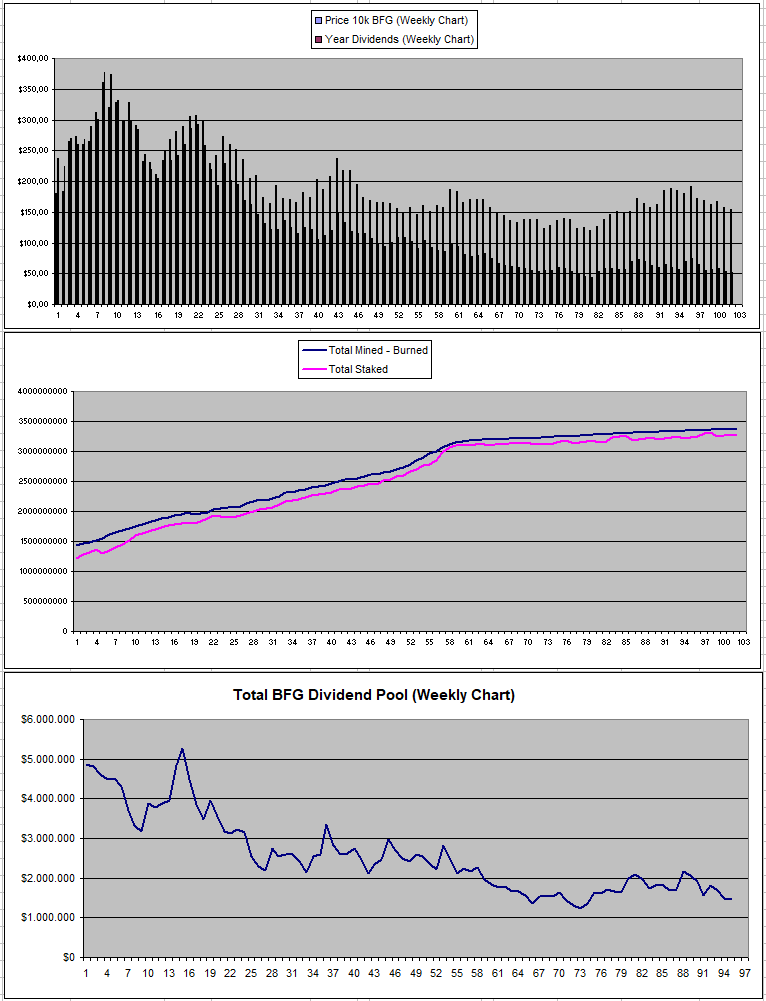 ---
APY Based on Current Price and Dividends from the last 7 days
All these numbers are based on prices of Monday
Note: Token prices going up or down have a major influence on the actual returns going forward either amplifying them if they go up or destroying them when the price would dip. These are my personal numbers and RLB varies based on the trait of the Rollbot NFTs you own.
---
Personal Gambling Dapp Portfolio
A nice 399.63$ to be exact last week paid for holding holding 6M SBET | 480k BFG | 3992$ worth of Rollbot NFTs | 201l (300k) OPENBET. I'm still looking to diversify with other good gambling dapps that pay the losses or fees from the gambler to those holding a token. Anyone that has tips on this, please leave a comment below...
---
I'm already looking forward to what next week will bring and will continue to looks for potentially a 5th GambleFi platform to invest in.
---
Crypto & Blockchain-Based Bookies and Exchanges that I'm personally using as they allow anonymous betting with no KYC or personal restrictions...
---
---
---