Gambling Dapp Dividends Report | +13.5% Increase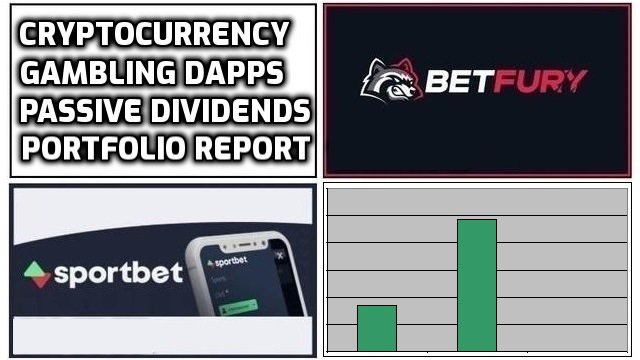 I am keeping close track of my Gambling Dapp Portfolio that includes BFG (Betfury.io), WIN (Wink.org), & SBET (Sportbet.one) and make regular updates on how exactly they are doing showing what can be expected for those interested...
---
Last 7 days were pretty good with a +13.5% increase in the received dividends from the 3 Platforms I'm invested in.
---
Betfury remains in somewhat of a slow decline right now with more coins being mined and the dividend pool not really increasing. A new farming pool was also opened which always is a hassle involving some costs to transfer the funds. The new pool at the moment gives +66% More BFG on a yearly basis and it more feels like a way to keep up with the inflation. The dividends are still great also because you earn them in different coins (BTC / ETH / BNB / USDT / TRX) which all have the potential to be worth more in the future. It's just a good way also to cost-average these different crypto assets.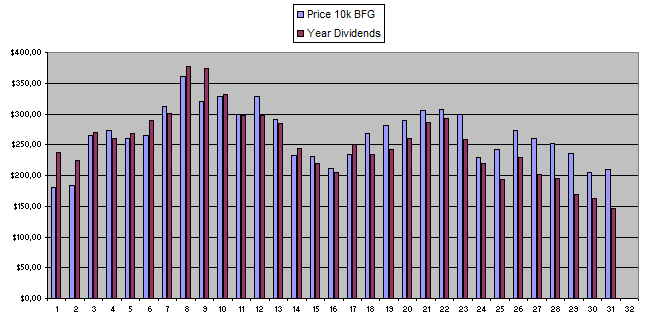 The general trend based on the chart clearly is going down but I personally look more at what it costs to mine 1 BFG (0.12$+) compared to the price BFG goes for on the market (0.021$). As long as these is a large gap and Dividends are give a good return (currently 70% yearly), I think it remains in a potential buying zone.
---
With more Sports being played again now, the Sportbet.one bookie is having more action and dividends remain really solid especially knowing that there are no extra coins being created while nearly all of the supply is staked. The fact that it runs on EOS remains and issue which makes it harder to get easy adoption even though they do have social media logins.
The market Cap is still only around 1 Million dollars with the returns based on the current price and the earnings of last week sitting at +66%. I actually wanted to buy some more but Defis.network gave me an error message. It has always been quite a hassle to buy this coin even in the past. Right now, I am only getting an 'Operation Cancelled' when trying to make a swap.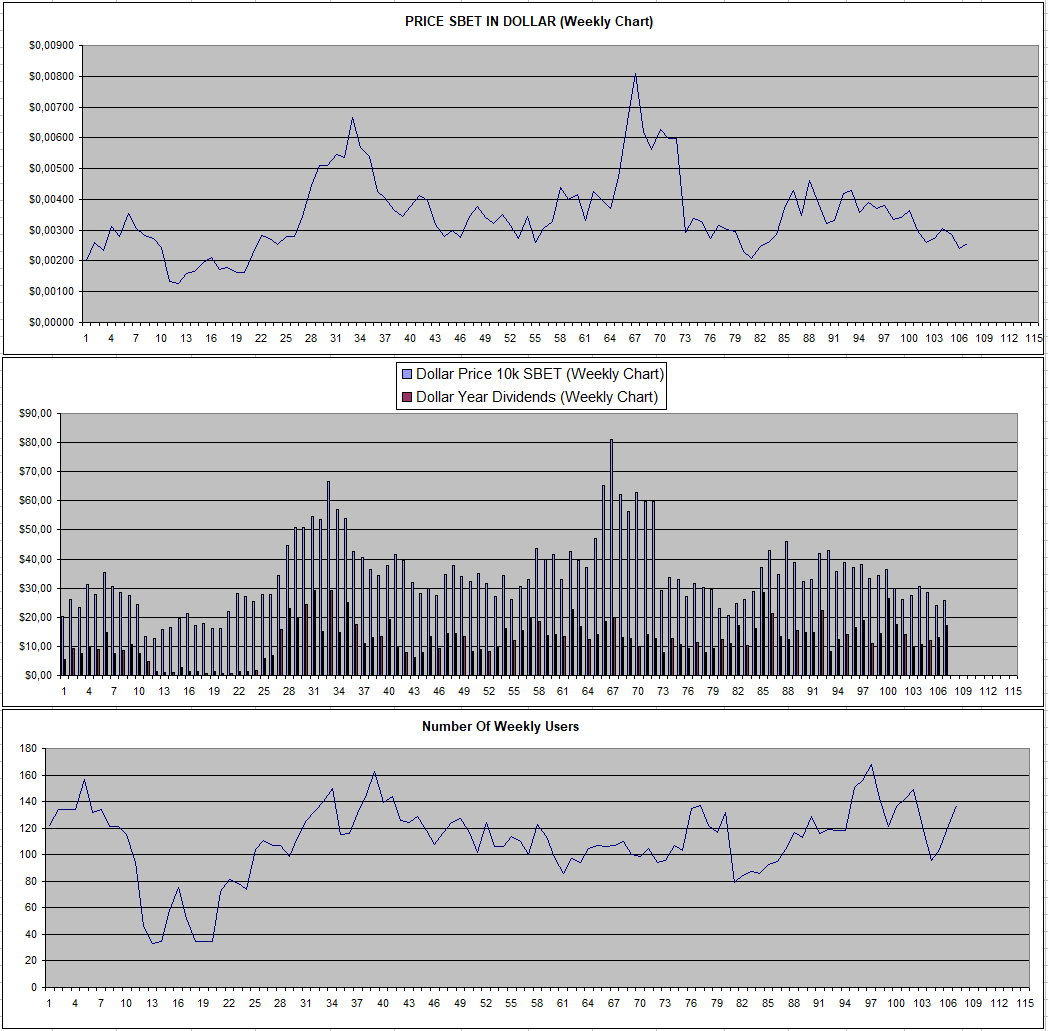 So Yeah, I want to buy more even though I already have quite a big stack but I simply am unable to on the only exchange they are trading on because it gives me an error.
---
Wink actually had quite a good week at least for its standards lately. Three were some big green days for the dividends giving returns of +17.68% yearly based on the price and numbers this week. I have no intention whatsoever to buy more WIN and I'm closer to taking profit if there were to be a big pump.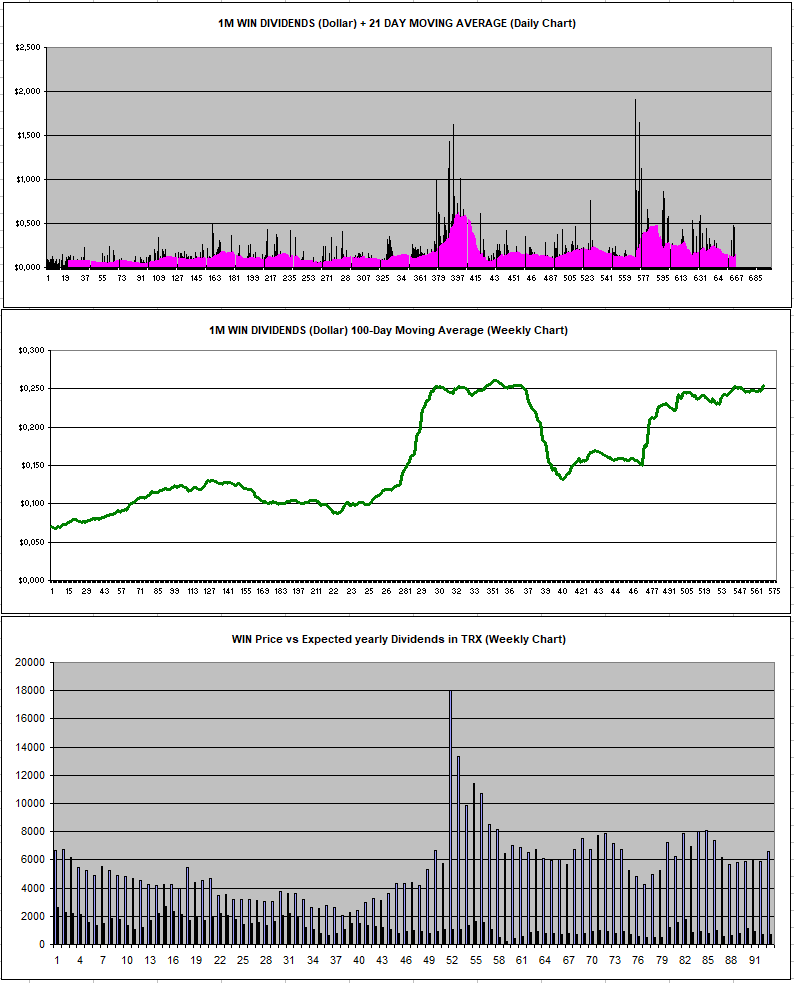 APY Based on Current Price and Dividends from the last 7 days
Note: Token prices going up or down have a major influence on the actual returns going forward either amplifying them if they go up or destroying them when the price goes down.
---
Personal Gambling Dapp Portfolio
The Value of my portfolio went up from 23834$ to 25280$ (+6%) while the received dividends went up from 236.76$ to 268.73$ (+13.5%) still holding the same 14M WIN / 4M SBET / 405k BFG/ 10k TRX / 22 LIVE | 2271 RAKE. I do continue to be interested in adding other good gambling dapps that pay the losses from the gambler to those holding a token, so if you have one on your radar make sure to let me know...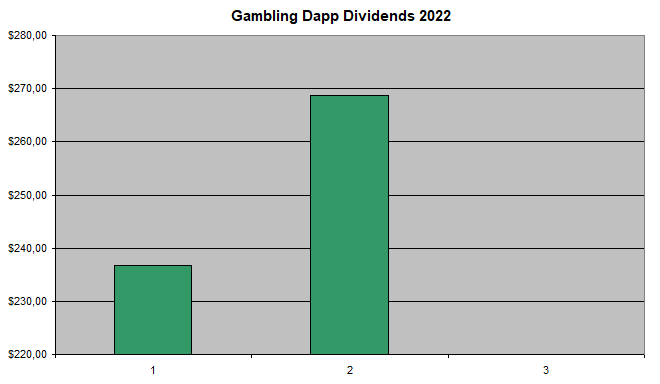 ---
Full Guides to Decentralized Crypto Bookies I personally use where no KYC is required allowing anonymous betting from any location without individual limits for winning players...
---
That's it for this week, 50 more weeks to go in 2022 and hopefully, over that course of time, these dapps will get some more adoption with increased dividends as a result.
---
Posted Using LeoFinance Beta
---
---