Gambling Dapp Dividends Report | DCA Strategy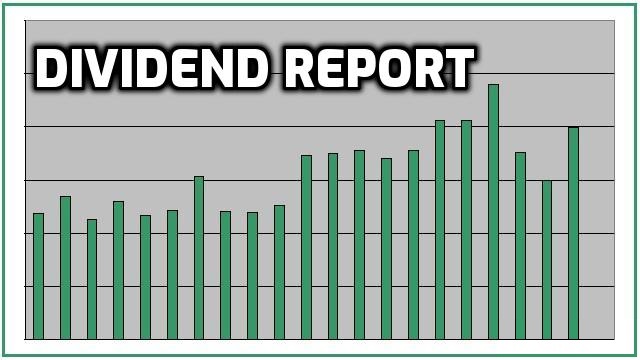 I am keeping close track of my Gambling Dapp Portfolio that includes BFG (Betfury.io), WIN (Wink.org), & SBET (Sportbet.one) and make regular updates on how exactly they are doing showing what can be expected for those interested...
---
While it very much looks like crypto will go lower after this relief bounce, I continue with my strategy to DCA (Dollar Cost Average) my way into these dividend-paying gambling dapp coins. It looks like gamblers are not quitting and instead keep their stakes quite stable which means they need to bet more crypto. This increases the relative returns giving overall really high yields currently. I did buy some more coins to add to this portfolio last week and I most likely will continue doing so going forward.
---
An excellent week from SBET with the Conference League and Champions League finals combined with Roland Garros. This resulted in a record-high payout calculated in EOS (which SBET trades against)

The total market cap of SBET reached back below 1 Million so I bought 100k SBET more paying 261$ for that. It is extremely hard to buy without pushing the price up and in 21 of the last 22 weeks, SBET gained value compared to EOS going from 0.000884 EOS to now 0.002089 EOS. Big part of that price increase was just me buying my way up from 4 Million SBET to now 6.6 Million SBET.

I do expect Dividends to fall back a bit in the coming weeks as a yearly return of +77% at the current price based on the dividends last week is just really high. Overall I can't complain about my position and the dividends I have been receiving from sportbet.one. It however remains a small project that has very high risk related to it.
---
I actually made a miscalculation in the price of WIN in the past week as Trontrade which was my source to get the TRX price of WIN has halted their operation which froze it. This makes the price of WIN even cheaper than I thought and I continue to buy more at these levels. I added 1M WIN paying 155$ for that just yesterday when doing my weekly numbers and I will see if I can find some more spare funds to do a couple more of these buys.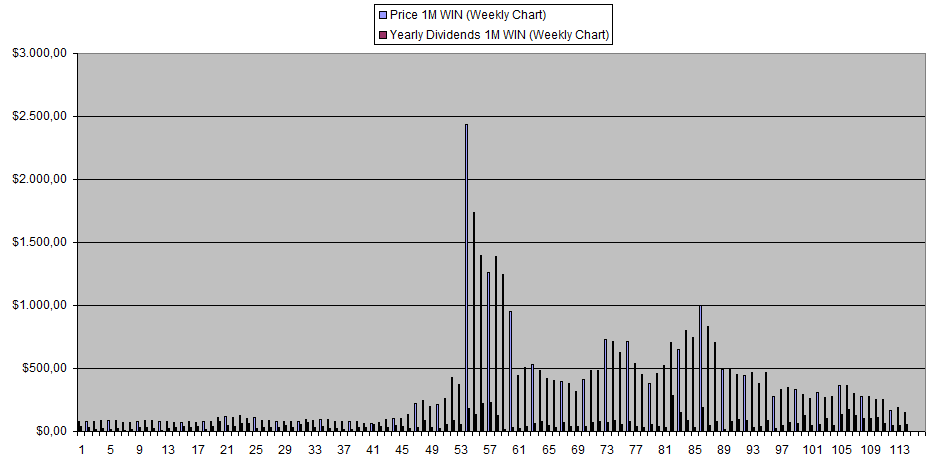 Dividends themselves right now are not really that high but decent enough around +40%
---
BFG continues a similar trend of good dividends that are in a constant decline because of the mining aspect which inflates the supply. That is one of the reasons why I'm not adding more as the +100%+ Returns when I started to buy (price was 0.018$ for 1 BFG) now have gone down to a +57% return on a price of 0.0166$ BFG. The staked supply went from 1.2 Billion to 2.6 Billion so it more than doubled. While the percentual increase theoretically will decrease as the total pie gets bigger while the price of mining always increases, I first need to see the dividend pool increase agains before considering buying more. Overall I do see BFG at a good accumulation level though since the returns still are quite high with upside potential.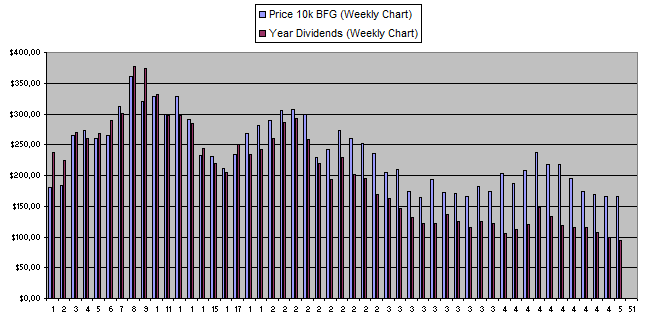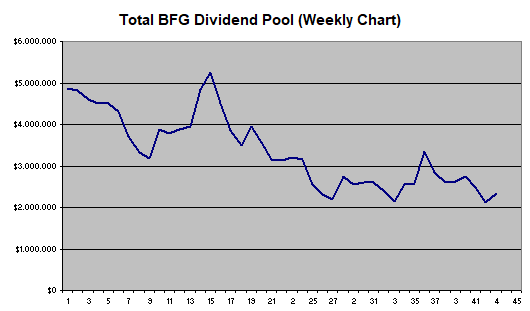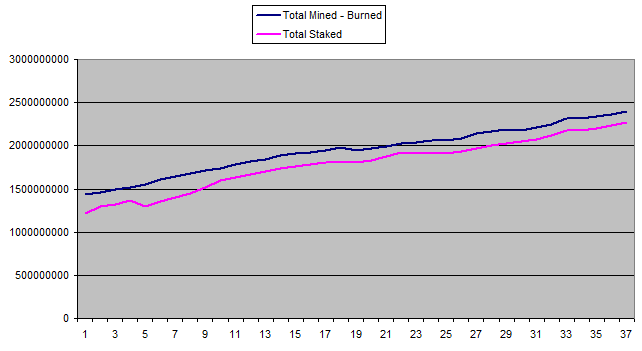 ---
APY Based on Current Price and Dividends from the last 7 days
All these numbers are based on prices of Monday, I'm currently not accumulating while I see all prices as potential good entry zones to start cost-averaging.
Note: Token prices going up or down have a major influence on the actual returns going forward either amplifying them if they go up or destroying them when the price goes down.
---
Personal Gambling Dapp Portfolio
Since I'm cost-averaging more coins while the returns stay quite good, I continue to be in an overall growth trajectory when it comes down to the received dividends. My aim is still to reach around 500$ weekly. Currently I'm holding 26M WIN / 6.6M SBET / 519k BFG/ 10k TRX / 79 LIVE | 2271 RAKE. I am looking the diversify more looking for good gambling dapps that pay the losses from the gambler to those holding a token, so if you have one on your radar make sure to let me know...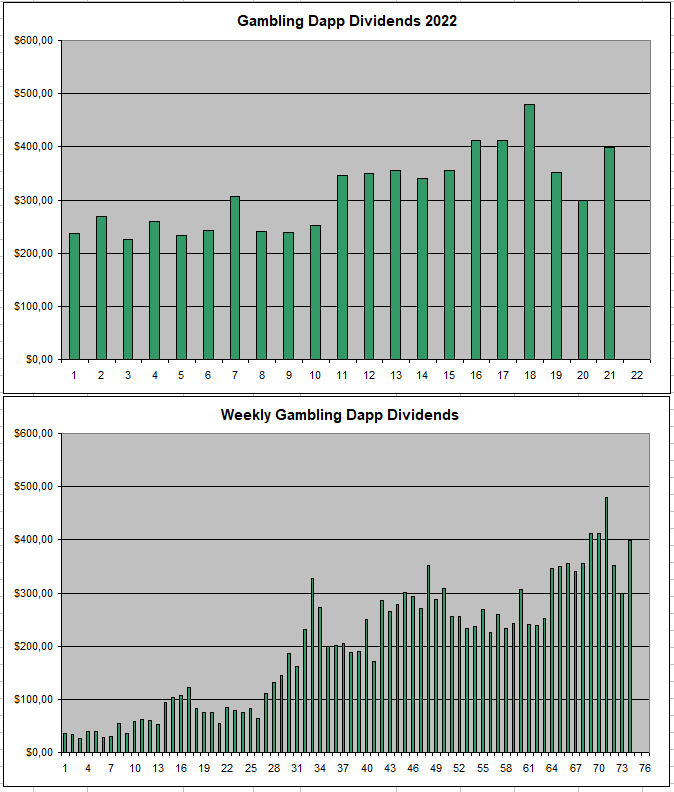 ---
Full Guides to Decentralized Crypto Bookies I personally use where no KYC is required allowing anonymous betting from any location without individual limits for winning players...
---
I'm looking forward to what the next week will bring and I'll make another report 7 days from now...
---
Posted Using LeoFinance Beta
---
---