Gambling Dapp Dividends Report | Increasing Dividends !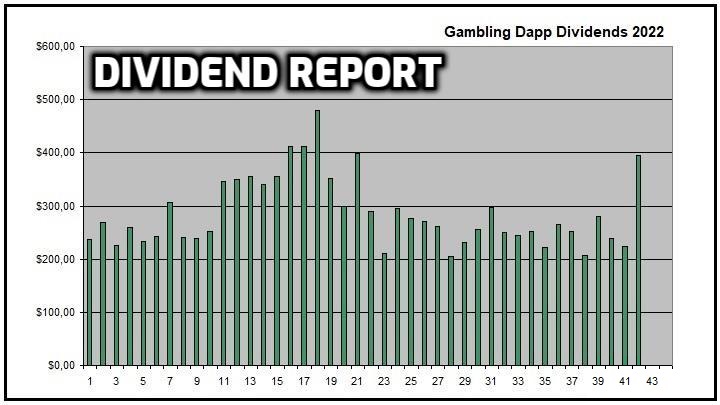 I am keeping close track of my Gambling Dapp Portfolio that now only includes includes BFG (Betfury.io) & SBET (Sportbet.one) with regular updates on how exactly they are doing showing what can be expected for those interested...
---
Things were too buys the past weeks to make a report but I'm back now with a good one as the dividends staking SBET have increased by quite a bit as expected. I did buy an extra 200k SBET paying 712$ for it which bumps me up to 7.4 Million. Last week there was a nice increase to 395$ in divdends and this deep into the bear market!
---
So things are starting to pick up for Sportbet.one and the SBET token which I predicted as there now are a lot of Sports active with all of the Football leagues, the NFL and also the NBA and the world cup upcoming. Since dividends are calculated based on the overall betting volume and more players discovering that the sportsbook is actually quite a solid product, the numbers are increasing. This shows in the weekly active users which for the 2nd time in history was above 200 last week.

This also shows how much potential there is left to the upside as this potentially easily could go to 1000+ users I believe.
The price as gone of a bit mostly because I bought 400k SBET extra the past 3 weeks and the total marketcap valuation now around 1.5 Million Dollars is not high based on the dividends. The risk level remains quite high though. Looking at the price chart it has held it's value because it has dividends that back this up.

The dividends themselves remain very strong and saw a big peak last week where they were at +1.18% weekly returns based on the price after I pushed it up a bit. That is 61.36% yearly if this level of volume remains where it is or even higher if there would be a case of more players onboarding.

Overall I can't be more pleased on how things are going with SBET and I'm glad that is is one of my bigger positions since it has delivered the most steady returns week after week.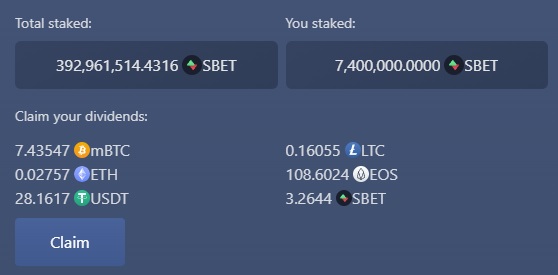 ---
It's the same story with BFG week after week with slowly but surely declining dividends and price. I guess that what comes from a model where tokens can be mined. Right now 1BFG is worth around 0.013$-0.014$ and I'm waiting for it to drop to 0.01$ to potentially buy more as I see the platform itself as good enough to work longer term just for gamblers that want to gamble without the need for gamblers that just want to mine tokens.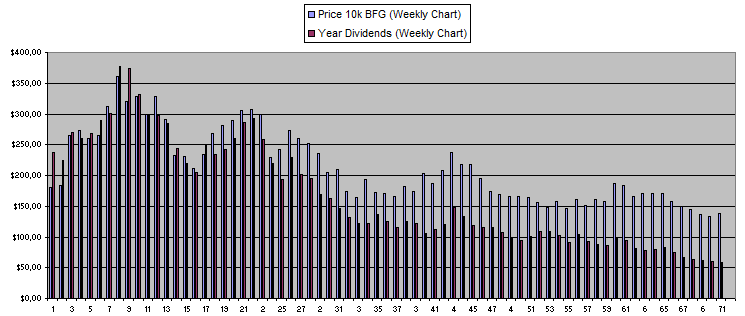 ---
APY Based on Current Price and Dividends from the last 7 days
All these numbers are based on prices of Monday
Note: Token prices going up or down have a major influence on the actual returns going forward either amplifying them if they go up or destroying them when the price goes down.
---
Personal Gambling Dapp Portfolio
I did increase my protfolio adding 400k SBET and the dividends the last 3 weeks combined were 238.72$ -> 223.40$ -> 395.8$. This last week for holding 7.4 Million SBET & 550k BFG. I am still looking the diversify more looking for good gambling dapps that pay the losses or fees from the gambler to those holding a token, so if you have one on your radar make sure to let me know...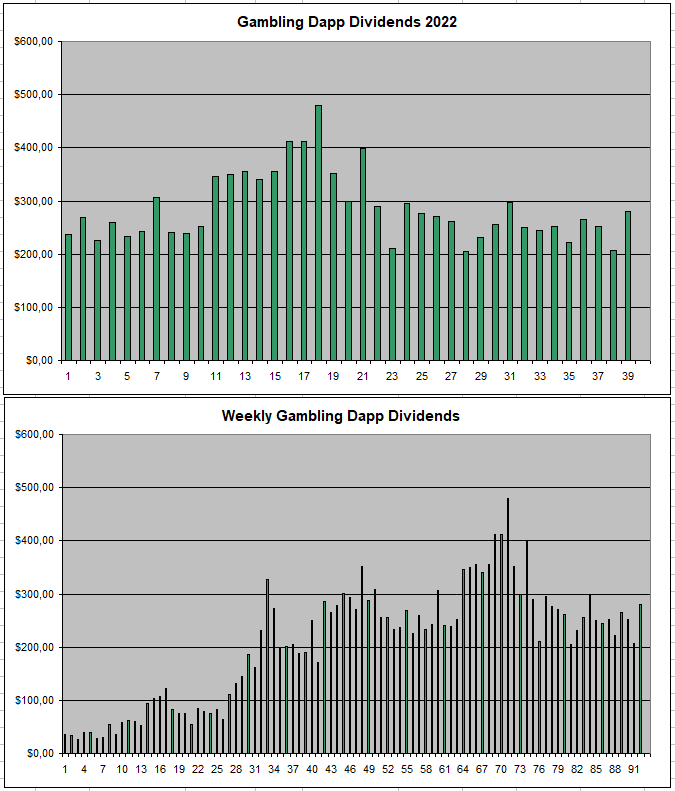 ---
Crypto & Blockchain-Based Bookies and Exchanges that I'm personally using as they allow anonymous betting with no KYC or personal restrictions...
---
I'm already looking forward to another week collecting dividends hoping the current trend continues and will make another update next week.
---
Play2Earn Games I'm Playing & Social Media Links...
Posted Using LeoFinance Beta
---
---