Gambling Dapp Dividends Report | Stability Trend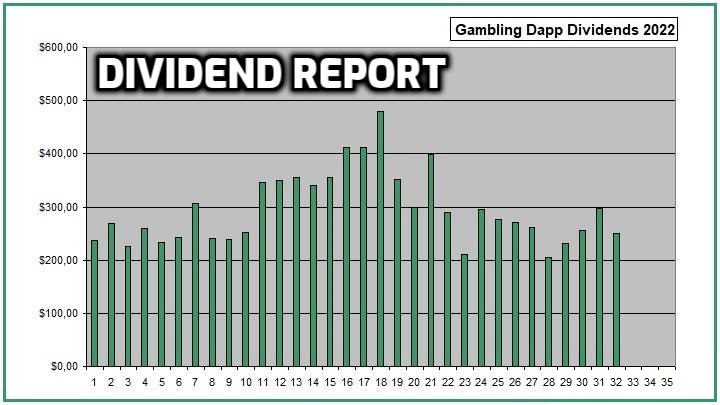 I am keeping close track of my Gambling Dapp Portfolio that includes BFG (Betfury.io), WIN (Wink.org), SBET (Sportbet.one), and also SX (sx.bet) while regular updates on how exactly they are doing showing what can be expected for those interested...
---
In only a couple more weeks, I will reach the mark of having received 10000$ in dividends from my Gambling Dapp portfolio in 2022 which is quite massive. It has been a really solid source of passive earnings in a sustainable way as they come from real yield. I am thinking of building a similar portfolio with other crypto projects that essentially do the same thing distributing real earnings to tokenholders.
---
The dividends remain stable as always similar to the number of users on a weekly basis which isn't really going up. Yet the price of SBET had a nice price pump from 29.8$ for 10000 SBET to now 39.4$ (+33%). I do expect that this might come down again as not that much selling is needed to make that happen while the Dividends are not in a zone where they are too high for the risk that is involved. Personally, I continue to hold on to my SBET and take profit on what I'm earning while occasionally also using the Sportbet.one bookmaker.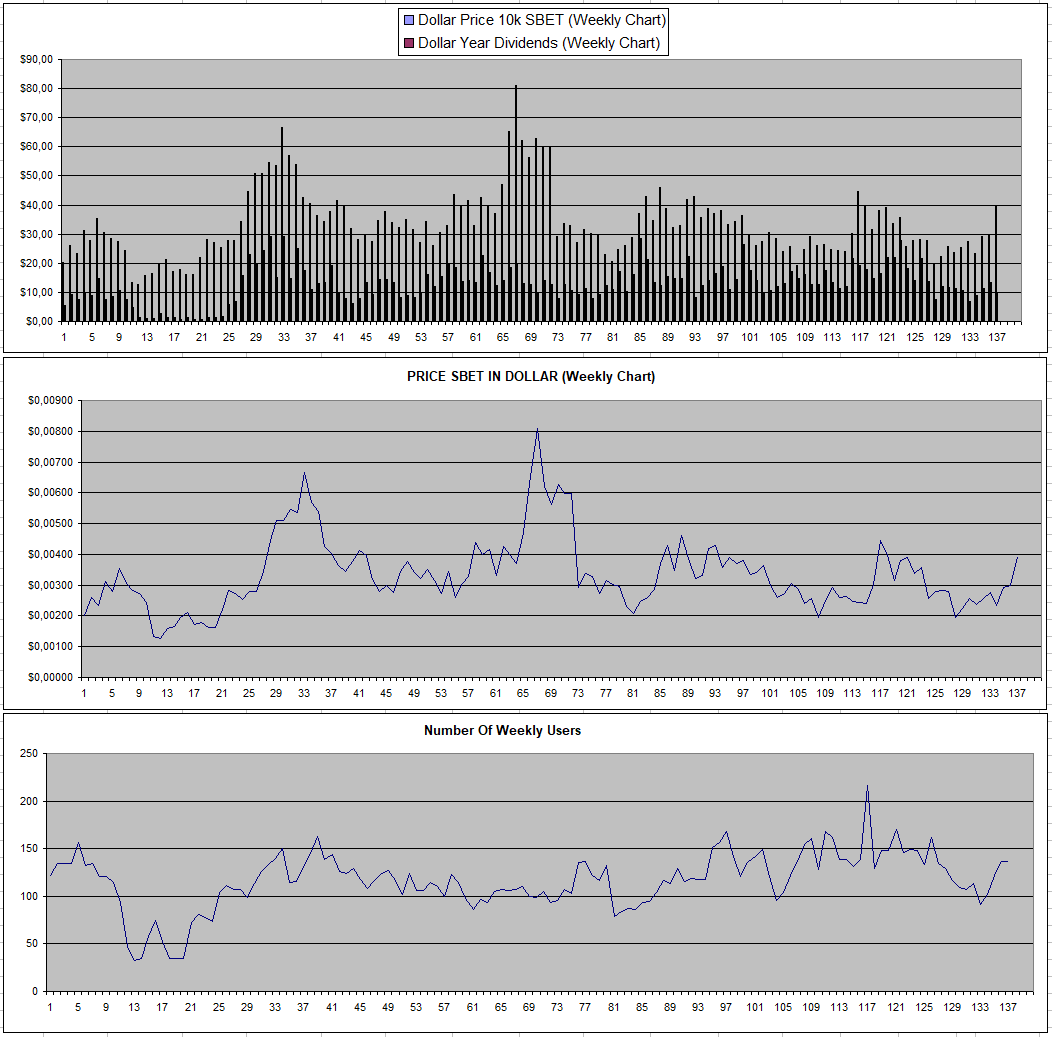 ---
The 100-day dividend moving average continues to fall off a cliff but I do expect this to bottom out rather sooner than later. The dividends actually were not that bad last week at 16.795$ but there is still a lot of potential for things to go way higher. They have an upcoming affiliate program and a loyalty benefits program which could help adoption. I also continue to use their 2 bookies which for sure are beatable and I'm earning live tokens doing so which I stake to get a tiny bit more passive returns.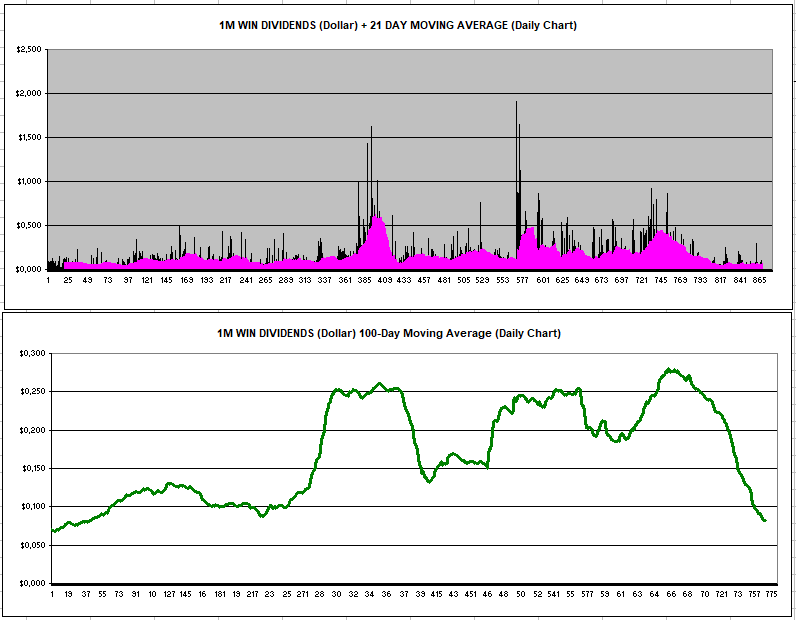 ---
BFT Dividends seem to have stabilized but I see the gap between price and expected yearly dividends increase a bit more either by dividends going down or price going up. If there would be a dip in the price I might consider buying some extra again. Overall looking at the chart there is just a clear downtrend which is a direct result from the high inflation of BFG paid to the gamblers.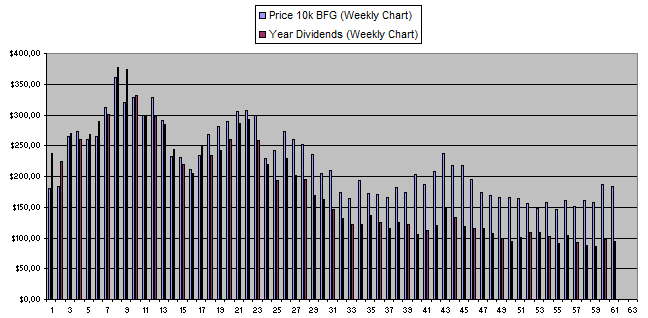 The price of SX remains rather stable while the Fund where the paid fees go to continues to grow at an average pace of 36k each week not counting the SX that is in the fund which for some reason that I don't understand yet also can go down. My main issue right now is that unlike, Wink / Betfury / Sportbet.on, I'm far less drawn to actually use their exchange because the offers and average odds are rarely to never at a point where they are favorable.

---
APY Based on Current Price and Dividends from the last 7 days
All these numbers are based on prices of Monday
Note: Token prices going up or down have a major influence on the actual returns going forward either amplifying them if they go up or destroying them when the price goes down.
---
Personal Gambling Dapp Portfolio
There was a small dip again this week back around the 250$ range which still is quite solid. I'm still holding 30M WIN / 7M SBET / 550k BFG / 10k TRX / 100 LIVE | 2271 RAKE / 1017 SX which combined is now worth around 42k Dollars. I am looking the diversify more looking for good gambling dapps that pay the losses or fees from the gambler to those holding a token, so if you have one on your radar make sure to let me know...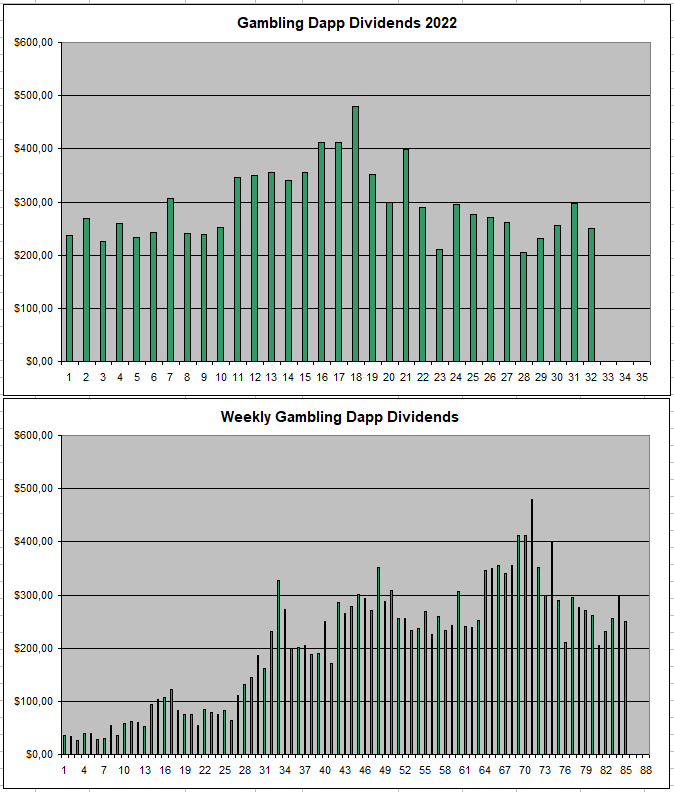 ---
Crypto & Blockchain-Based Bookies and Exchanges that I'm personally using as they allow anonymous betting with no KYC or personal restrictions...
---
I'm once again looking forward to what the next week will bring and I'll make another report 7 days from now...
---
Play2Earn Games I'm Playing & Social Media Links...
Posted Using LeoFinance Beta
---
---