Jupiler League Week 1 Sunday Previews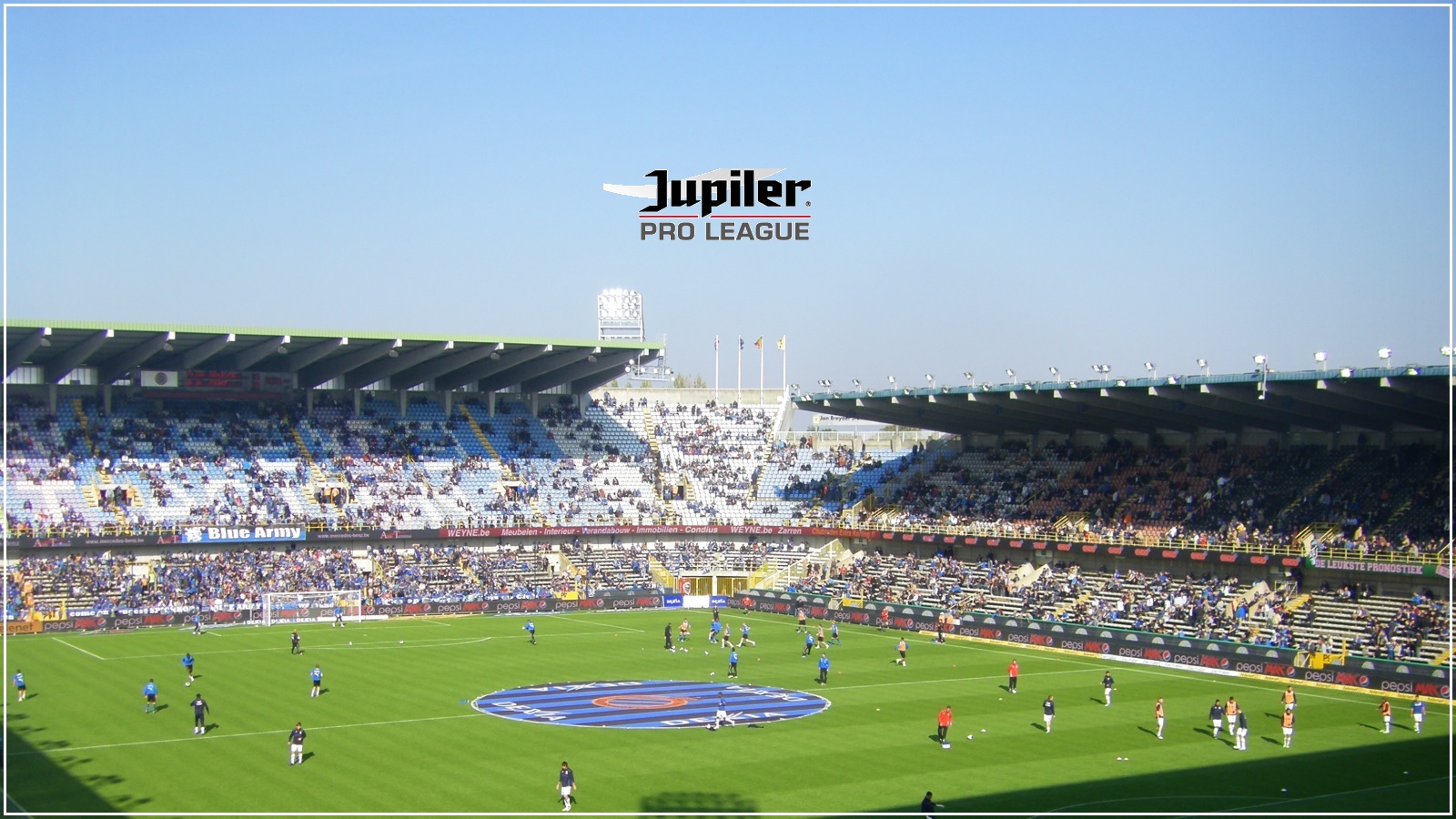 In a couple of weeks, the Belgian Pro League Regular season is starting again and I already have some early bets.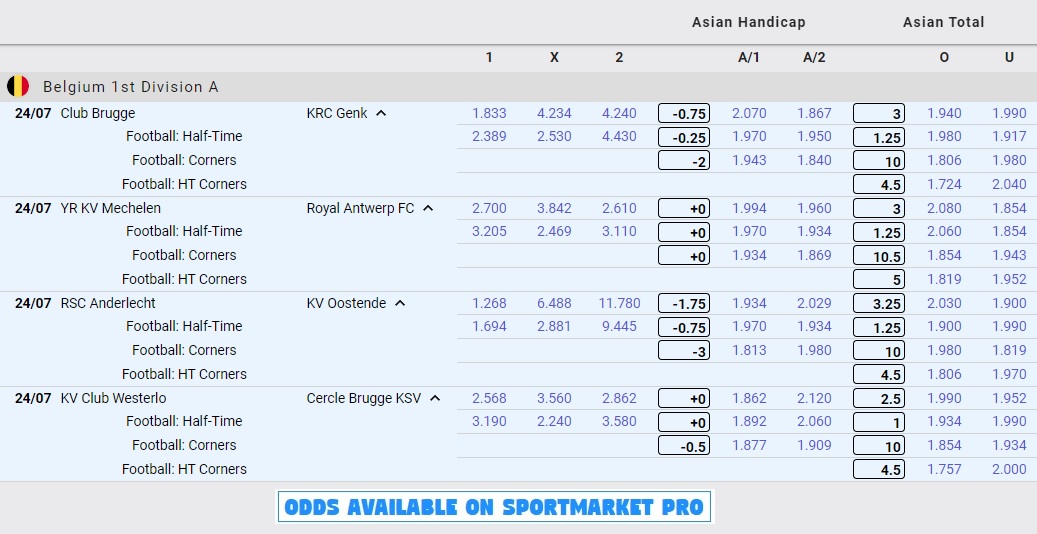 More profit yesterday with 2 out of 3 bold pre-game selections winning and it's a joy to have all these matches again to watch and handicap. 4 very interesting encounters on the menu today with a lot more betting action.
Club Brugge vs Racing Genk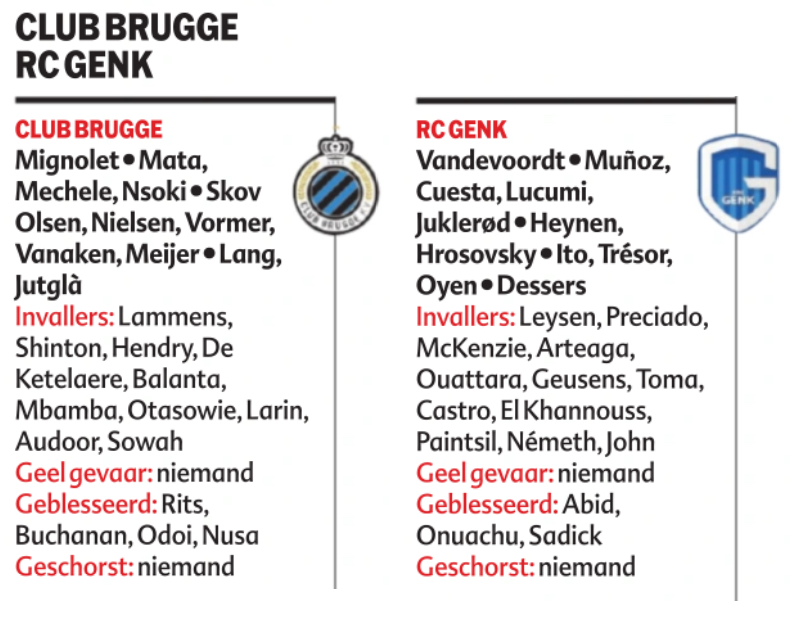 Club Brugge looks ready for the league, they already played the Super Cup where they were very dominant the first 30 minutes or so while not pushing and letting AA Gent come back in the match after taking the lead. This was an issue last season and it looks like they once again will be a team that doesn't really keep going. Purely on quality, they stand out and even though I don't see Hoefkens as a coach that makes his players better, for now it doesn't really seem needed. So the pattern I'm looking for with club Brugge is them winning many matches without necessarily covering the handicap especially at home. They do seem stronger compared to last season where overall they rarely were that impressive. So I'm looking to back Club Brugge at reasonable lines or when they get behind in a match as they should be able to step on the gas when needed. Genk had a bad season last year despite a lot of quality players in the team. They changed coach with Vrancken who will need to bring back the winning mentality and a better form of their players. It showed that there is still a lot of work to be done based on the practice match against AEK. Key striker Onuachu is also injured while Dessers hasn't really proven anything yet in Belgium. Overall I do expect Club Brugge to be the better team taking home the win as they do most of the time at home in their first match. My main bet of 0.3 units is on
Club Brugge 1st Half -0.25 @ 1.967
and I also added 0.1 unit on
Club Brugge -0.5 @ 1.889
. I do expect a good dominant start and Club Brugge last season also topped the 1st half leaderboard while Genk away was near the bottom.
---
KV Mechelen vs Antwerp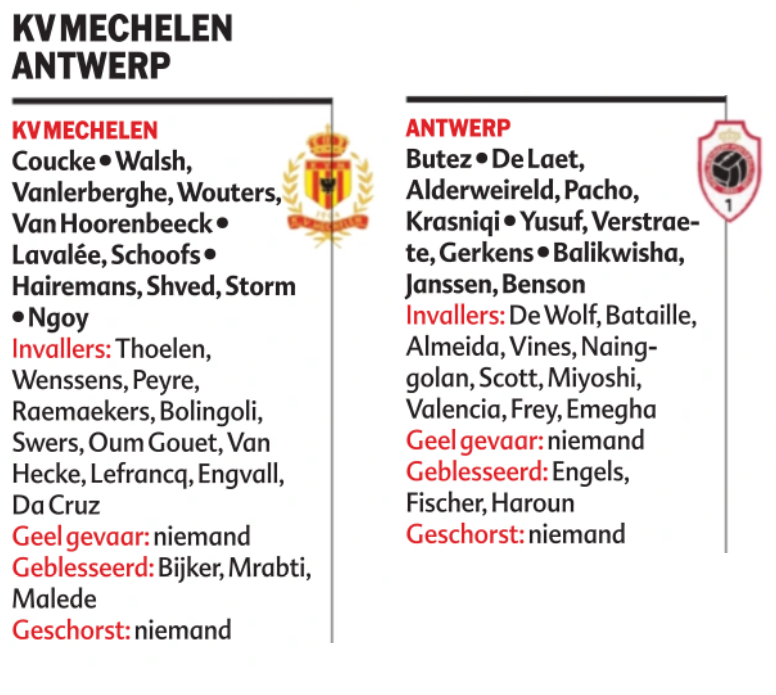 So Mechelen lost their coach Vrancken to Genk and also their best striker Cuypers to AA Gent and also Souza is gone. Storm Is still with the team but he might still leave. From the looks of it, new dutch coach Buijs will start focusing on putting up a good defense. Overall it's set out to be a difficult year for Mechelen. Antwerp on the other hand made a lot of big transfers as they have a large budget. All of them were made with an eye on short-term results and a lot is expected from this team not without reason. If they manage to get things going, they should be a real force similar to Club Brugge. They already played 1 qualifier match where they were the -2.5 favorite last Thursday but didn't really impress against a team that build a wall with the match ending in a 0-0 making them have an important 2nd leg next week. I saw the combination of Antwerp having potential and Mechelen possibly having a hard time as a good reason to take 0.4 units early on Antwpers +0 @ 2.039, the qualifier match however made me scale it back to 0.2 units on
Antwerp +0 @ 2.093
. I also took an early bet in crypto (60 UDSC on sx.bet) anticipating 2 dutch coaches to play offensively in
Over 2.5 @ 1.663
. While I still see the potential for a match with many goals, after Thursday I'm not really willing to comit more unless I see some signs in the match.
---
Anderlecht vs Oostende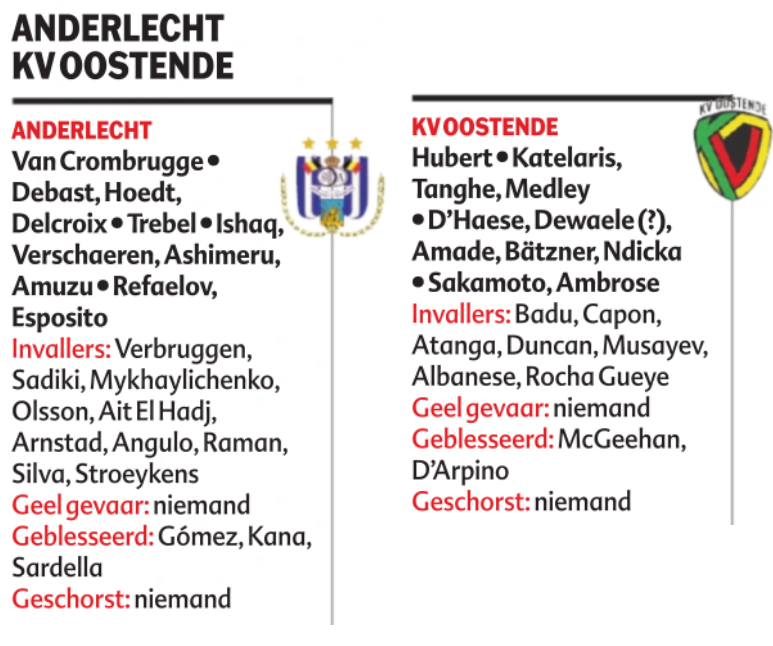 Anderlecht had a good season somewhat playing above their capabilities under coach Kompany. This year they are back to building with Cullen, Kouamé, Zirkzee, Magalan and coach Kompany gone. Coach Mazzu was attracted which remains a question mark as he only really booked success as a counter-style coach in smaller teams Charleroi & Union while he didn't succeed in Genk. For as far as the player base goes, Anderlecht for sure is below teams like Brugge / Antwerp / Gent / Genk so the coach will need to have his players better. Both Gomez and Sardella are injured. Anderlecht had a good preparation period and the overall vibe seems quite good. While Kompany was a good coach, he also kind of came with a crushing pressure to many players. Verschaeren is set to take a key role on the midfield this season and Esposito is the new striker. Overall I would consider it a surprise if they would be able to fight for the title this season. Oostende finished 12th last season and is not expected to get in any problems or shine this year. The main trend of coach Vanderhaege is that he plays defensive in away games especially against top teams and more forward in home games. I think the 3-0 win over Lyon who weren't that far yet in their preparation is overly calculated in the odds. Yesterday the line was -1.75 and I kind of was greedy hoping it would go to +2 @ 1.80 for Oostende. This didn't happen and it reversed back. The total line I still like however especially in the 1st half as I expect Oostende to focus on not giving anything away while I have no reason to see Anderlecht as a scoring machine right now. The bets/positions I took are 0.22 units on
1st Half Under 1.25 @ 2.00
/ 0.093 Units on
Anderlecht Team Total Under 2.5 @ 1.786
and 0.1 unit on
Under 3.25 @ 1.90
/ 0.1 unit on
Oostende +1.75 @ 1.819
.
---
Westerlo vs Cercle Brugge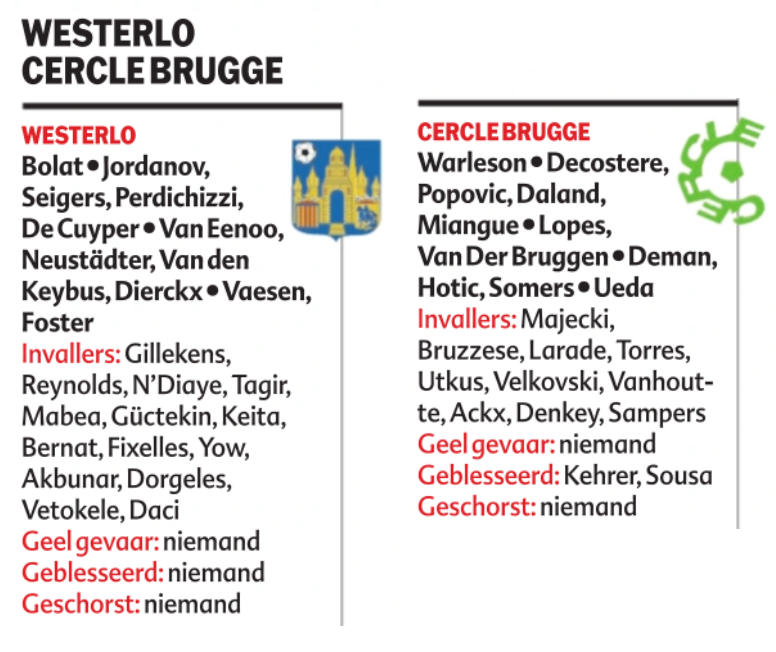 Westerlo is a promoted team that doesn't look to get in any kind of problems this year in the league. They were really good in the 2nd league winning it convincingly and also did some big transfers. Oftentimes, promoted teams perform well in their 1st home match and lines tend to be too generous on them early on. These are the main reason I took 0.4 units early on Westerlo +0 @ 2.00 as shared on the SBC Discord (now it's at 1.74). Cercle since their new coach are 12W-3.5L-2.5P against the Asian handicap and they switched to a pressing style making life difficult for their opponents which worked and which they perfected during the off-season. Key offensive player Matondo left the team and so did Goalkeeper Didilion. Aside from that, not that much has changed and they might just be able to continue their good form of last season. The expected move on the promoted team at home played out to the point where I'm willing to just take the money at this point and I fully hedged and middled the bet taking a guaranteed +4.56% to +4.9% ROI regardless what the outcome of the match is. So my position is
Westerlo / Draw / Cercle Brugge @ 1.047
. I'll see from here on out where the match goes, I do expect an entertaining match with both teams going for it and might take some on a high over total as these tend to be a hit or miss for Cerce either having a ton of goals or very few overall. Over corners is also an option.
---
Late info might change my view on what is written in these previews. I will cover these matches live in our SBC Discord Channel..
---

I take all my Pre-Game & Live bets with my Betting Broker Sportmarket Pro who always provides the best offers on the market with a 1 click solution and doesn't limit winning players offering high limits. For more info check my Sportmarket Pro Review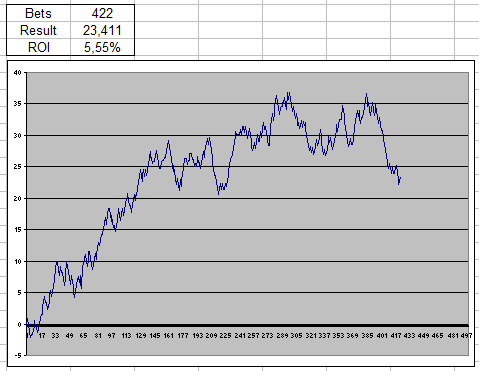 I share many of my pre-game bets in all my preview posts as bold selections which are all counted as 1 unit flat bets. See these just as info and not as actual betting advice. If you do make sure to shop around for the best odds. In total, there were 422 Bets good for +23.411% or +5.55% ROI on all these bets combined.
---
Season 2022-2023 Crypto Bets
| Date | Bet | Stake | Odds | Result | Bookie |
| --- | --- | --- | --- | --- | --- |
| 24/07/2022 | KVM vs ANT O2.5 | 60 USDC | 1.663 | TBD | sx.bet |
| 23/07/2022 | CHA vs EUP U3 | 0.002 BTC | 1.810 | -0.002 BTC | sportbet.one |
| 23/07/2022 | ZWA +0 CK | 700 TRX | 1.800 | +560 TRX | Wink |
---
Crypto & Blockchain-Based Bookies and Exchanges that I'm personally using as they allow anonymous betting with no KYC or personal restrictions...
---
Previous Crypto Bet Results & Record
| Year | Bets | Won | Lost | Push | Staked | Profit BTC | ROI |
| --- | --- | --- | --- | --- | --- | --- | --- |
| 2022 | 56 | 27 | 25 | 4 | 0.115 | +0.0166 | +14.45% |
| 2021 | 4 | 1 | 2 | 1 | 0.0250 | -0.002845 | -11.38% |
| 2020 | 1 | 1 | 0 | 0 | 0.0100 | +0.01271 | +127% |
| 2019 | 59 | 24 | 27 | 5 | 0.5900 | -0.02199 | -3.7% |
| 2018 | 136 | 65 | 64 | 7 | 1.233 | +0.112687 | +9.14% |
| 2017 | 70 | 34 | 34 | 2 | 0.658 | +0.006912 | +1.05% |
| Total | 326 | 152 | 152 | 19 | 2.631 | +0.124074 | +4.72% |
---
---