Jupiler League Week 10 Sunday Previews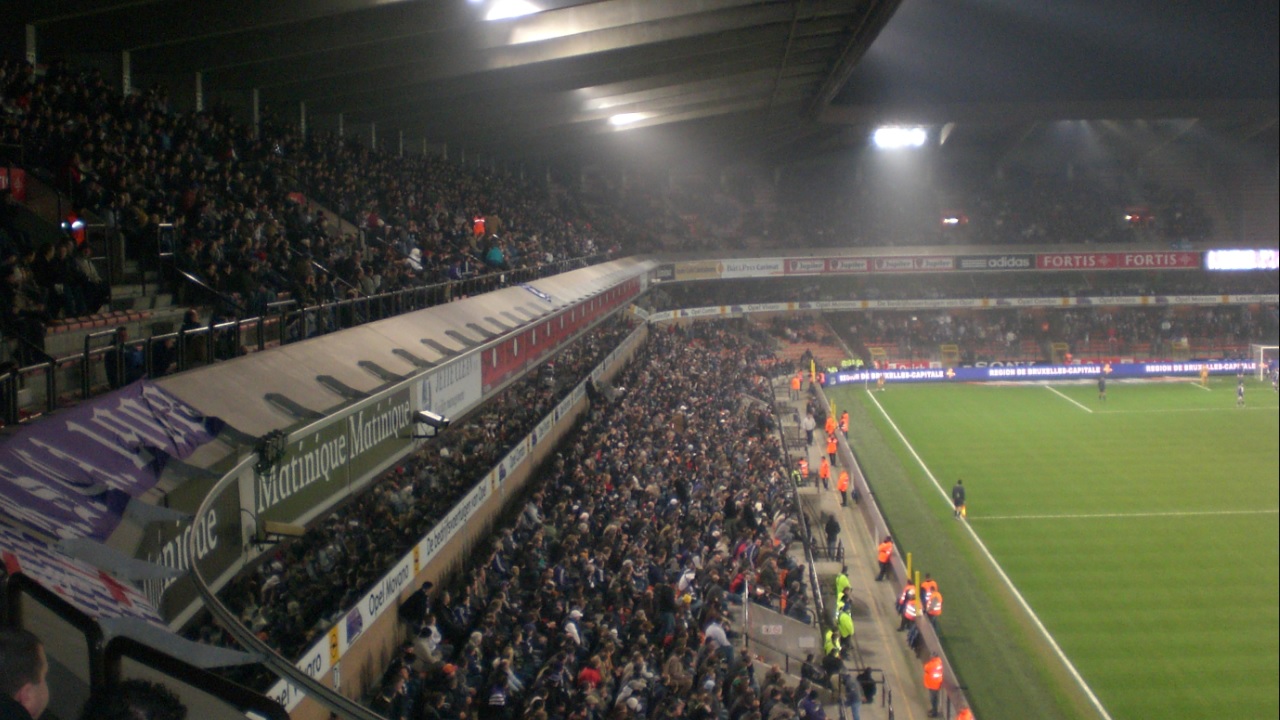 These are previews from matches involving Belgian Teams with all the latest on team news, player form, injuries along with my personal betting angles, ...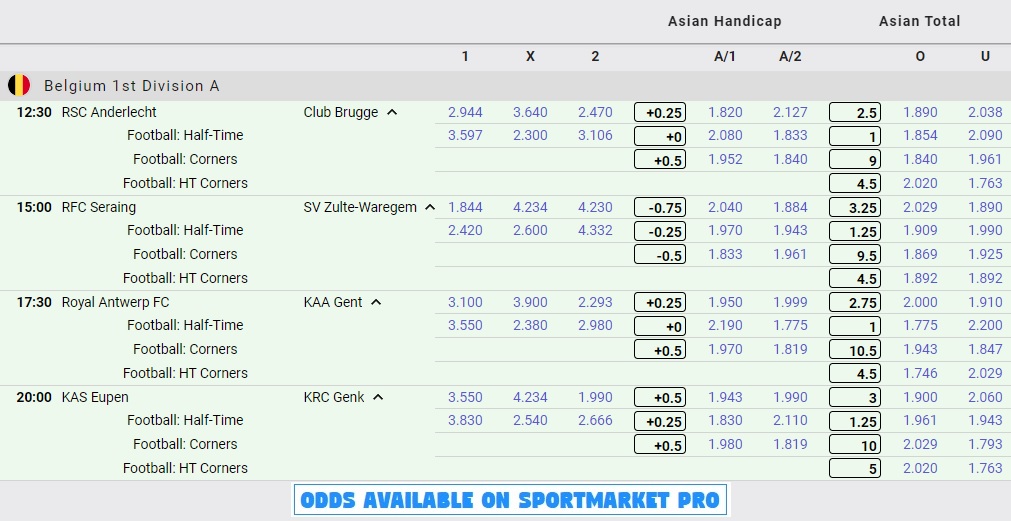 Solid Saturday with some good profit and many of the pre-game bets ending up as winners. I'm quite late today so I'm getting right to the 4 previews for Sunday...
---
Anderlecht vs Club Brugge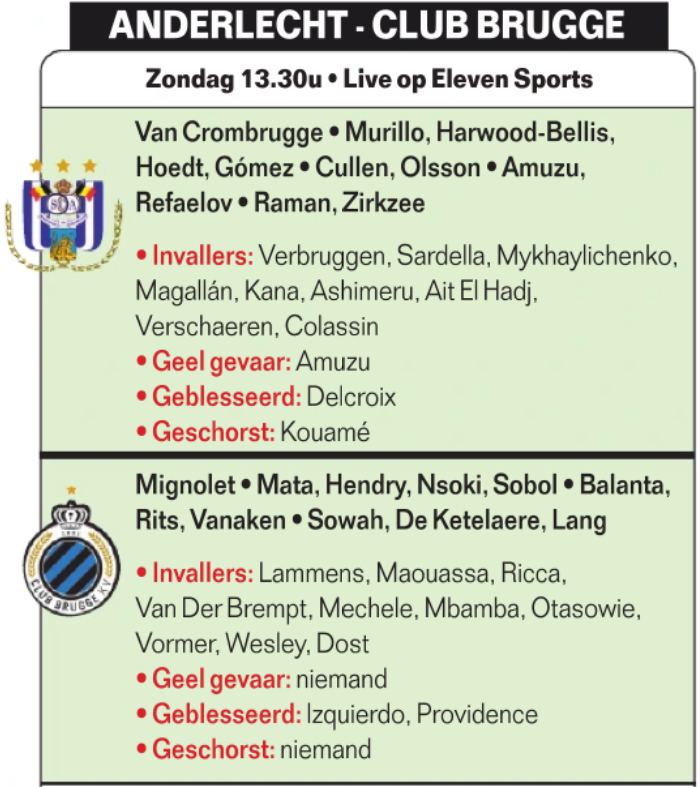 I already took an early bet on this match yesterday taking 0.5 units on
Club Brugge +0 @ 1.824
which I shared in the
SBC Discord
at the time of taking it. I just can't skip on Club Brugge at this line as I just see them as the way more complete and stable team. There are multiple reasons why the line is set the way it is. Anderlecht has actually not been as bad in the previous matches and they haven't lost in their last 4 games. They came back with 10 vs 11 from being 2-0 behind on Oostende (which also says a lot about Oostende). They played a 1-1 draw at home against AA Gent coming good out of the locker room but in the end not creating enough to win. They were played away in the 1st half at home but scored every chance in the 2nd half against Mechelen who played like amateurs for a 7-1 win. They have not lost against Club Brugge in the last 3 matchups also. They will be without new striker and most dangerous player Kouamé today. Club Brugge has mixed excellent performances in the Champions League being unable to really do the same against opponents in the Belgian League despite still topping the Standings. They will have more of a fatigue issue but they are complete and I expect them to take this match as a stand being focussed showing that they indeed just are the much better team and capable of doing it more than once a week. I fully expect a closed match where both teams are not going to be willing to take all too many risks with Club Brugge getting the ball and Anderlecht playing on the counter. Club Brugge did lose 6-1 to AA Gent in a match with a similar handicap. Still, just from the intrinsic quality difference even with some of the factors showing Anderlecht is not without a chance, I would put this match at 40%-60% even feeling I'm very generous for Anderlecht. I also took a tiny 0.2 unit trading position on
1st Half Under 1 @ 2.07
looking for confirmation of a slow start hopefully taking some profit along the way.
---
Seraing vs Zulte-Waregem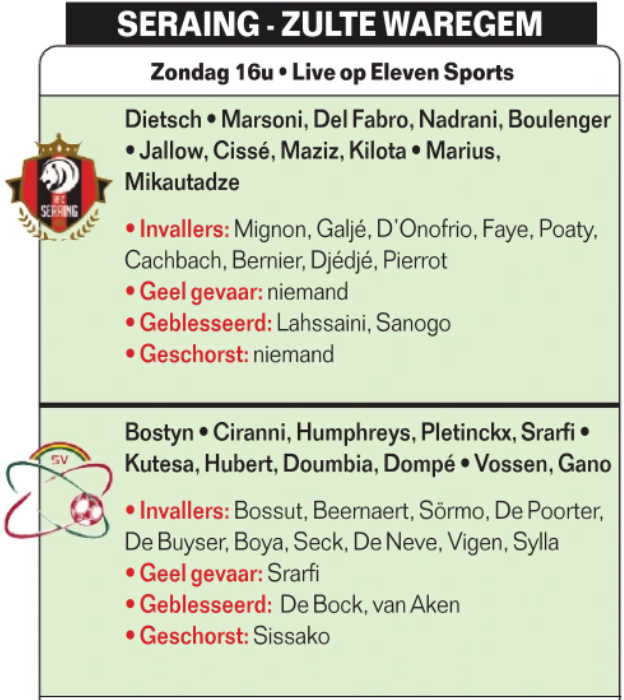 Seraing has shown to be an ok team so far this season who are capable of taking points while not being underrated on the betting markets. They recently got in a 3-game losing streak against Genk 3-0 | Antwerp 2-1 | Standard 0-1 and are now facing Zulte-Waregem who have put up some mixed performances this season. Their away form however is much better than in their home matches and they are now 4W-0L against the Asian handicap away from home. Last week they took a flattering draw at home coming back from 0-2 behind with a very light penalty late in the match. Seraing is a -0.75 favorite in this match after a sharp move up in odds which feels like it is some good value on Zulte-Waregem. My intuition however is screaming to stay away from betting anything on this match at least before seeing the first minutes of the game and that is what I will do. Otherside my bets would have been Zulte +0.75 / 1H Under 1.25.
No Pre-Game Bets
---
Antwerp FC vs AA Gent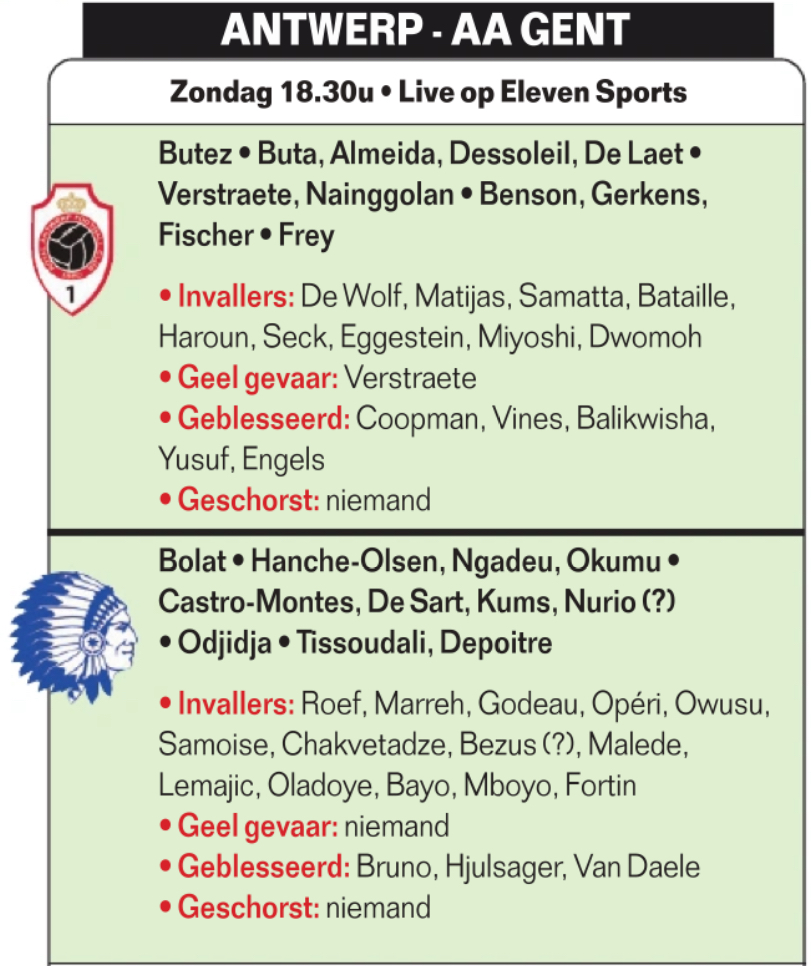 This is a match between 2 teams that had a really busy schedule so far. Both have a good competitive squad with the difference that Antwerp has somewhat been overperforming in their results while AA Gent has been underperforming. Both played a mid-week match on Thursday with Gent taking a fair and easy 2-0 win against a poor Famagusta while Antwerp lost 0-1 in the last seconds to Frankfurt who over the entire match was the better team. Potential fatigue with both teams tends to give a higher chance on goals as it mostly translates into them having a harder time keeping the gaps closed. I do expect this to be a game where both teams just go for it and especially the Antwerp coach doesn't mind getting goals against if it means they can play offensive scoring more than the opponent. AA Gent broke their losing streak in the League last week while Antwerp is on a 4-game winning streak. I do understand why AA Gent is the slight favorite in this match and I don't see any edge there. I do like the over and the potential for this match to have 4 goals or more which makes me willing to take a 0.25 unit gamble on
Over 3.5 @ 2.990
pre-game. Antwerp has been a very high corners team which I have been stating for multiple weeks now and the lines are now starting to catch up as the total is set at 10.5. Antwerp now on average in the league has had 14 corners on average in their matches never going lower than 10 while AA Gent on average had 12 going below 10 just twice. Odds have come down quite a bit and I'll be looking to potentially get in live this time around. Both teams are quite high on 1H goal ratio so I also might add some there.
---
Eupen vs Racing Genk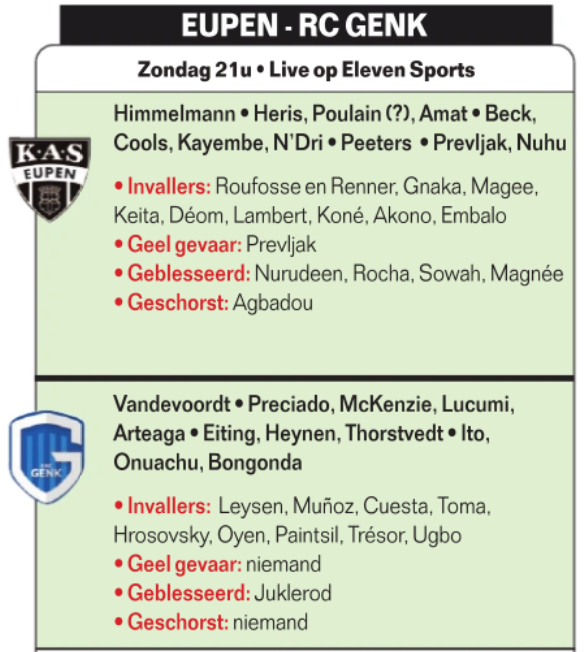 Genk has stood out mainly because they have their Striker Onuachu who just plays way above the average level of the Belgian Jupiler League. Only because of him it is just hard to go against Racing Genk. On the other hand, I see their coach Vandenbrom as their biggest liability and I can see how this team would be a real force if they had a coach like Clement. They have had a really busy schedule and fatigue will most likely after the 0-3 loss against Zagreb who played it smart on Thursday exploiting the counters. Eupen has been a solid team especially away from home where they are 5W-0L so far against the Asian Handicap and they are also with 17 points in the standings similar to Genk which can be seen as deserved points for them. If Genk were without Onuachu, I would be willing to take Eupen in this one. Right now, I do feel my hands are kind of tied. The bet that I am looking at however is Eupen +0.5 corner handicap as they have done pretty well on that wile Genk generally isn't the team that created corner after corner. Eupen won their previous 5 corner matchups. If Genk pushes early and manages to make a couple or if Genk takes the lead, I will most likely have a stab at it. Genk away from home only took 1 point in the 1st half standings systematically getting behind while Eupen has yet to lose the 1st half at home. I'm just going to opt for in-game betting action on this match.
No Pre-Game Bets
---
Late info might change my view on what is written in these previews. I will cover these matches live in our SBC Discord Channel. All my bigger pre-game & Live bets can automatically be followed on Copytip.
---

I take all my Pre-Game & Live bets with my Betting Broker Sportmarket Pro who always provide the best offers on the market with a 1 click solution and don't limit winning players offering high limits. For more info check my Sportmarket Pro Review
---
Pre-Game Preview Bets
I share many of my pre-game bets in all my preview posts as bold selections which are all counted as 1 unit flat bets. See these just as info and not as actual betting advice. Last season I had 236 of these selections which went +13.96% ROI (See Post). So far this season I had 55 bets which went +9.98% ROI
---
Season 2021-2022 Crypto Bets
| Date | Bet | Stake | Odds | Result | Betslip |
| --- | --- | --- | --- | --- | --- |
| 02/10/2021 | Kvk vs Cha DRAW | 3.640 | 250 WGR | +660 WGR | Wagerr.com |
| 26/09/2021 | Uni vs Ant O 3.5 | 2.490 | 20 EOS | -20 EOS | Sportbet.one |
| 25/09/2021 | Zulte-Waregem +0.25 | 1.860 | 1000 WGR | +430 WGR | Wagerr.com |
| 19/09/2021 | Genk -0.5 | 1000 WGR | 1.870 | +870 WGR | Wagerr.com |
| 16/09/2021 | AA Gent 1H O 3.5 CK | 500 TRX | 2.170 | -500 TRX | Wink.org |
| 13/09/2021 | Beerschot 1H CK -0.5 | 500 TRX | 2.000 | +500 TRX | Wink.org |
| 11/09/2021 | Antwerp +0 | 800 WGR | 1.810 | +648 WGR | Wagerr.com |
| 28/08/2021 | Charleroi 1H -2.5 Ck | 100 TRX | 4.040 | -100 TRX | Wink.org |
| 28/08/2021 | Charleroi 1H -1.5 Ck | 300 TRX | 2.500 | -300 TRX | Wink.org |
| 28/08/2021 | Charleroi 1H -0.5 Ck | 600 TRX | 1.750 | -600 TRX | Wink.org |
| 28/08/2021 | Cha vs Bee 1H U1 | 15 EOS | 2.002 | +0.00 EOS | Sportbet.one |
| 14/08/2021 | Eupen HT -0.5 Ck | 600 TRX | 1.850 | -600 TRX | Wink.org |
| 14/08/2021 | Union FT -1 Ck | 400 TRX | 1.800 | +320 TRX | Wink.org |
| 14/08/2021 | Union 1H -0.5 CK | 600 TRX | 1.850 | +510 TRX | Wink.org |
| 13/08/2021 | Frey To Score | 40 USDT | 2.490 | -40 USDT | betfury.io |
| 08/08/2021 | AA Gent TT Over 1.5 | 10 EOS | 1.840 | -10 EOS | Sportbet.one |
| 31/07/2021 | KV Mechelen -0.5 | 20 EOS | 2.140 | -20 EOS | Sportbet.one |
| 24/07/2021 | Beerschot +0 Corners | 500 TRX | 1.800 | +0.00 TRX | Wink.org |
| 23/07/2021 | Genk X2 + Over 2.5 | 1000 TRX | 2.500 | -1000 TRX | Wink.org |
---
Full Guides to Decentralized Crypto Bookies I personally use where no KYC is required allowing anonymous betting from any location without individual limits for winning players...
Sportbet.one

Wagerr.com

Wink.org

Betfury.io

| Month | Bets | Won | Lost | Push | Staked | Profit BTC | ROI |
| --- | --- | --- | --- | --- | --- | --- | --- |
| 2021 | 4 | 1 | 2 | 1 | 0.0250 | -0.002845 | -11.38% |
| 2020 | 1 | 1 | 0 | 0 | 0.0100 | +0.01271 | +127% |
| 2019 | 59 | 24 | 27 | 5 | 0.5900 | -0.02199 | -3.7% |
| 2018 | 136 | 65 | 64 | 7 | 1.233 | +0.112687 | +9.14% |
| 2017 | 70 | 34 | 34 | 2 | 0.658 | +0.006912 | +1.05% |
| Total | 270 | 125 | 127 | 15 | 2.516 | +0.107474 | +4.27% |
---
---