Jupiler League Week 9 Sunday Previews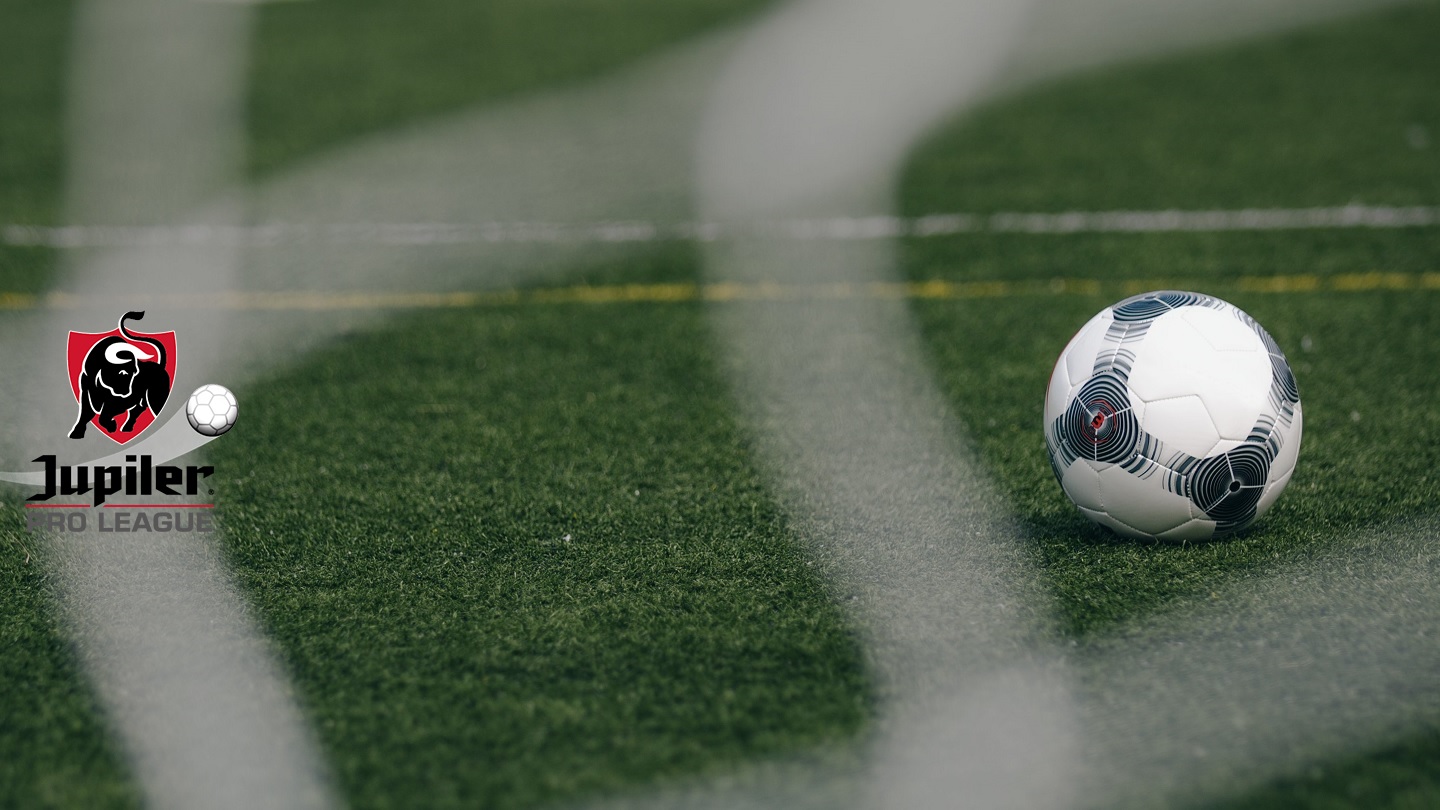 These are previews from matches involving Belgian Teams with all the latest on team news, player form, injuries along with my personal betting angles, ...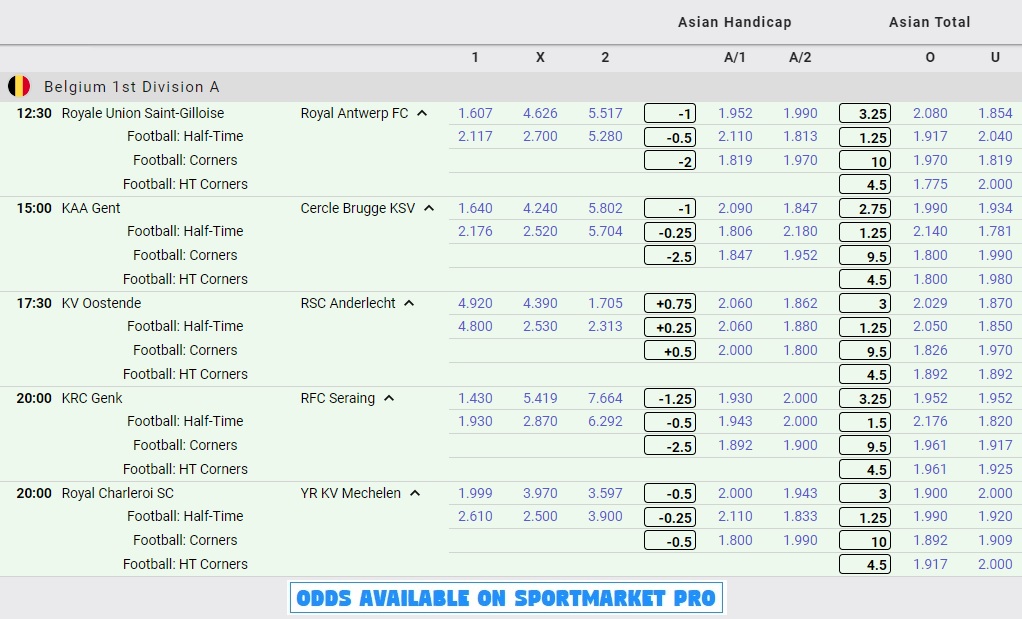 Saturday was a pretty good day making a bit of profit on each of the 3 matches which added up to just over 1 unit in total. Sunday is very busy with 5 more matches so I better get to it...
---
Union vs Antwerp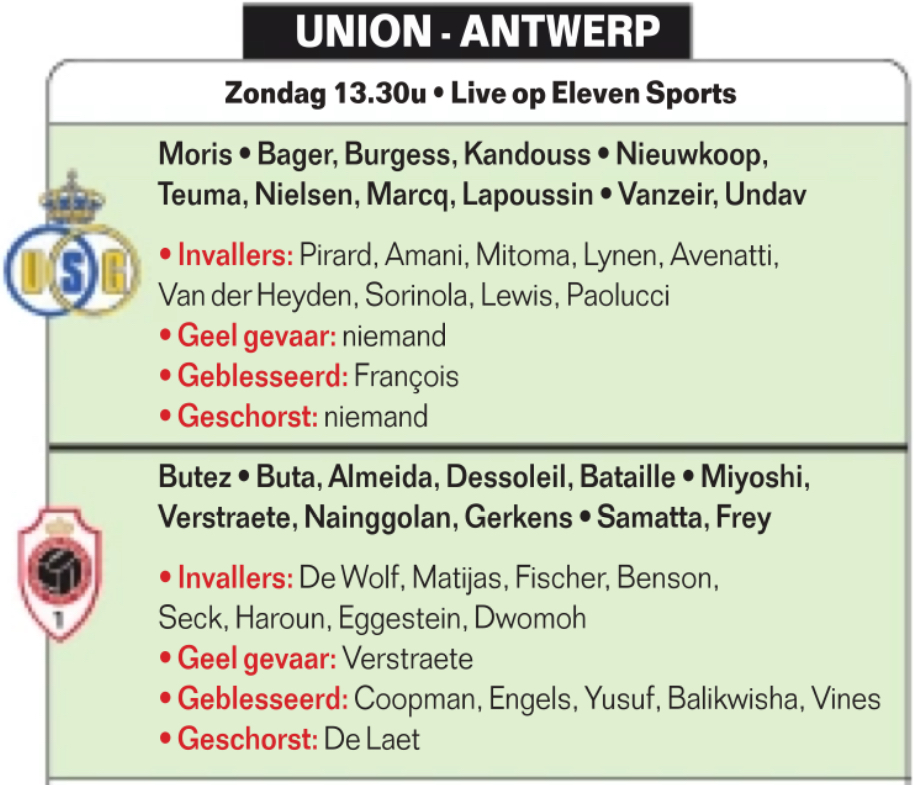 Union by far has been the most reliable team in the league when it comes down to putting up solid performances in their matches never really having an off day. The main problem is that the market is/was overly adjusted to the quality they bring making it so that any off-day will leave them no chance to cover. This is starting to show in their stats against the Asian handicap which came down a lot. Antwerp is a team with a lot of potential and I have been waiting for them to get into a winning streak which kind of happened already as they took 4 wins and a draw in their last 5 league matches and that without overly impressing. They will be without important defender de Laet today and they had a midweek match also having an upcoming Europe League match so some players might be rotated. Both teams have the drive to play forward and have a capable offense so it should be a fun open match. The odds didn't seem fully adjusted to De Laet being out and I did take and share an early 0.5 unit bet on
Over 3 @ 1.970
(now 1.781 on Pinnacle) so it's looking good. I also took a 20 EOS Crypto bet on
Over 3.5 @ 2.49
on
Sportbet.one
.I also like the corners as Antwerp had at least 10 corners in each of their 8 matches so far this season while Union is 5-3 on those. I did take a tiny bet on
Over 11 Corners @ 2.700
looking to take more in-game when limits are higher. I also have a lean on Union but I need a little bit higher odds.
---

---
AA Gent vs Cercle Brugge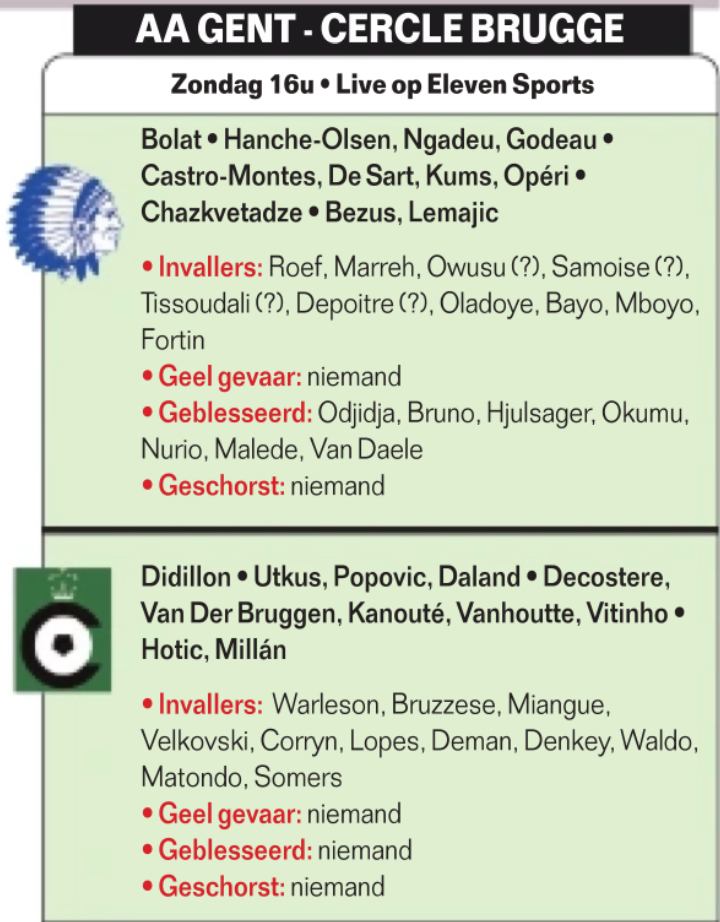 AA Gent is a team that is bound to to on a winning run at some point since they are ranked way below their potential getting wildly unlucky so far. The busy schedule also leaves them with many players that are out (Odidja, Bruno, Hjulsager) and many that aren't at 100% so there by no means is a guarantee for them to play a good match today. Cercle Brugge is also in the same range of many teams in the ranking around 8 points. They played an open match last week losing 1-2 to Eupen. They are a team that doesn't score that easy and generally managed to keep a closed defense and especially away, they have performed quite well. All of their lost matches this season came by 1 goal. They do have their full squad available. There has been a big increase in price on AA Gent which is understandable given the circumstances. Both teams have quite a high ratio of 1H Goals (48% & 55%) which is something to keep in mind for a potential 1H over. A lot will depend on the line-up, but I'm still keeping my eye on AA Gent to get into a winning streak but for now,
No Pre-Game Bets
---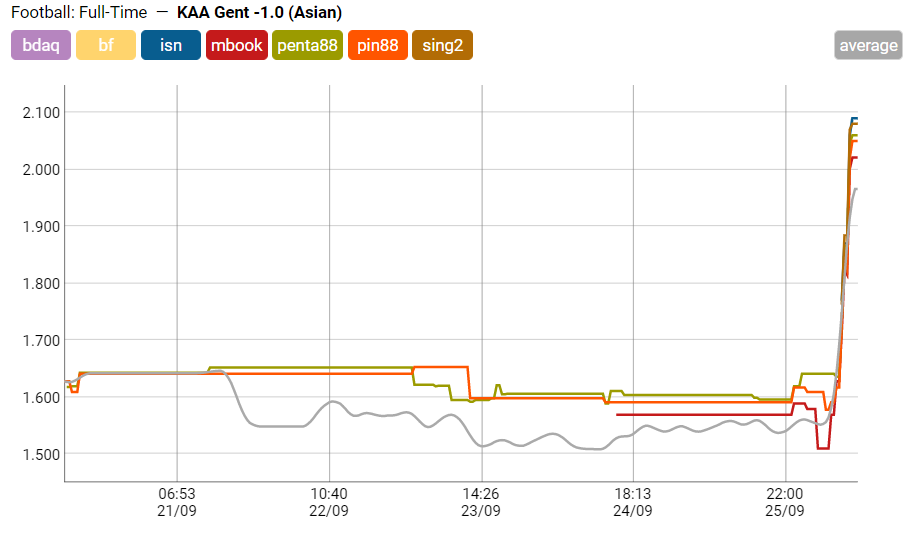 ---
Oostende vs Anderlecht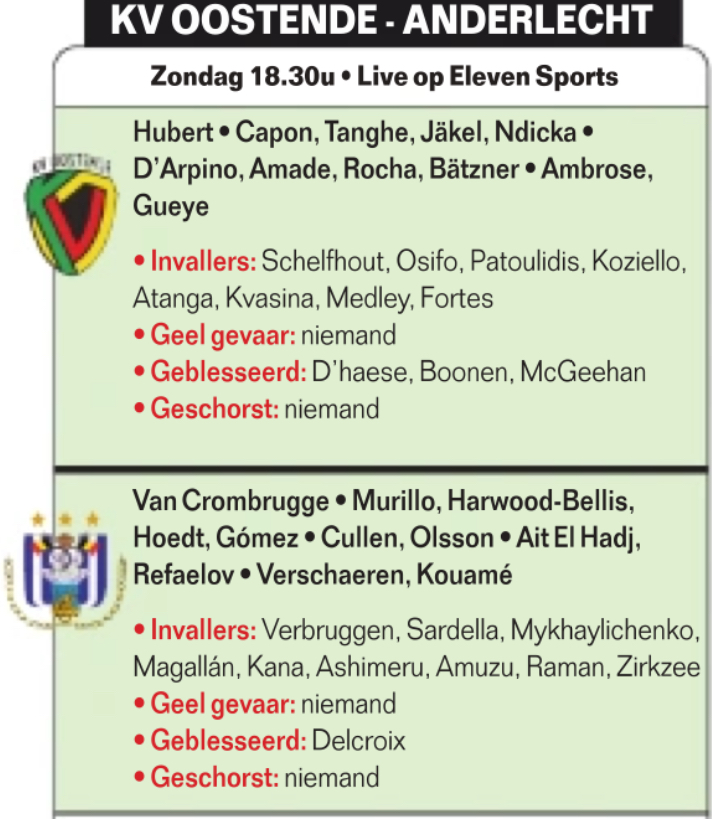 Oostende is a tricky team as they lost pretty much all their best players which weren't replaced yet they still have managed to put in quite some good performances this season. The win against Beerschot last week was not really a reference and the 3 matches before they all lost being without a chance away against Club Brugge, losing at home against Zulte who exploited the counters and getting unlucky against Standard losing with 1-0 away. Anderlecht on the other hand remains a weird team mixing rather poor performances with times where everything looks really easy. Their average performance in the last 4 matches certainly has improved quite a bit. I feel this one might play out in a match where Oostende plays quite good looking like the better team and Anderlecht again somehow going home with the points. I do see Anderlecht as a team capable of losing against anyone and prefer a 'lose-a-little-win-a-lot' approach taking small stakes on high odds. I took 0.15 units on
Oostende +0 @ 3.79
and also got a tiny bit on
Oostende +1 Corners @ 1.80
as they tend to do well on corners while Anderlecht is nothing special in that regard. Should be an interesting match with more in-game betting potential.
---
Genk vs Seraing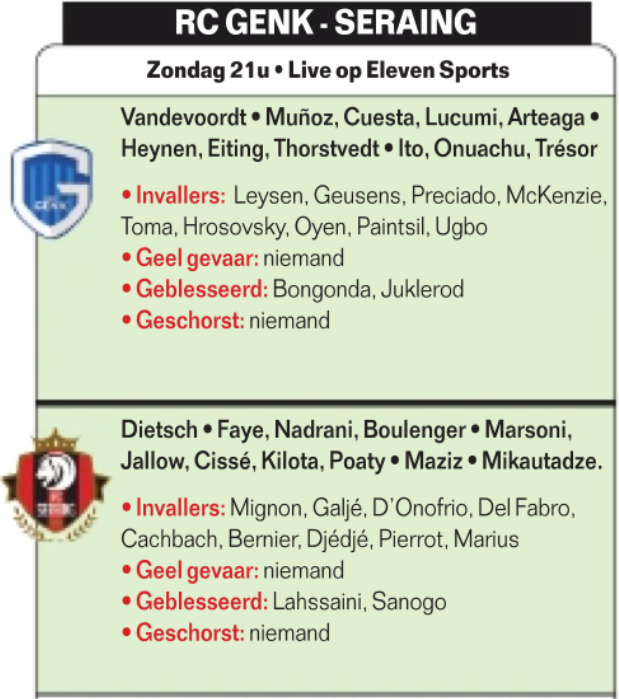 Genk played a weird mid-week match losing 4-2 against Antwerp despite looking in complete control after getting a 0-1 lead the first 25 minutes. Last weekend against Stvv, their coach did some extreme rotation which backfired as they needed the A-Squad players to come in to turn 1-0 into a 1-2 win. So it's hard to trust what Vandenbrom will do in teams of the players that will be fielded. Final line-up is key here and if they are close to complete they are without a doubt one of the squads with the most quality in the league. Seraing has been quite anonymous in the league certainly not being horrible but also not really impressing. I rate them as just an ok team. My hands are tied right now for any kind of bet since the line-up is still unknown for Genk. My lean however is on the home team and I expect them to control the match even if many players are benched with Seraing keeping things closed in the defense.
No Pre-Game Bets
---
Charleroi vs Kv Mechelen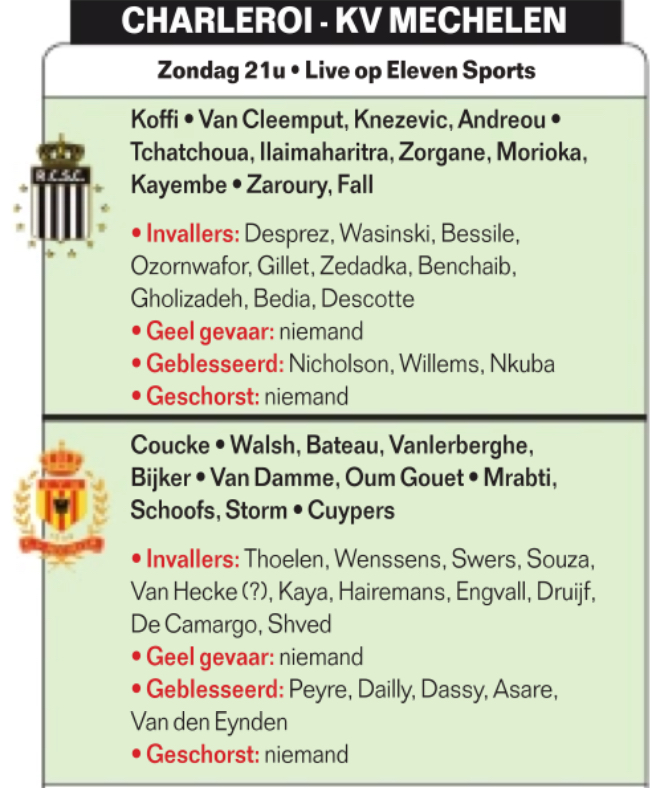 Charleroi is 10th in the league and have shown good things so far who try to play forward while not giving too much away at the same time. They took a 0-1 loss last weekend against Club Brugge being quite unlucky right in the last second of the match. They started the match looking to play and I expect something similar today. Kv Mechelen has given mixed signals so far at times being quite impressive but other times being quite poor with individual mistakes in the defense. Van Damme is back for them which will bring more stability in the midfield. Their 2nd half against Anderlecht where they looked like amateurs makes it hard for me to bet them. They have shown good things in their first halves though and I expect something similar today. The bet I was willing to take 0.25 units on is
Kv Mechelen 1H +0.25 @ 1.835
. Charleroi has gone 7-1 on having at least 10 corners in their matches while Mechelen is 6-2 on that.
Over 11 Corners @ 2.59
is also a tiny bet I took looking to get more in-game.
---
Late info might change my view on what is written in these previews. I will cover these matches live in our SBC Discord Channel. All my bigger pre-game & Live bets can automatically be followed on Copytip.
---

I take all my Pre-Game & Live bets with my Betting Broker Sportmarket Pro who always provide the best offers on the market with a 1 click solution and don't limit winning players offering high limits. For more info check my Sportmarket Pro Review
---
Pre-Game Preview Bets
I share many of my pre-game bets in all my preview posts as bold selections which are all counted as 1 unit flat bets. See these just as info and not as actual betting advice. Last season I had 236 of these selections which went +13.96% ROI (See Post). So far this season I had 48 bets which went +7.93% ROI
---
Season 2021-2022 Crypto Bets
| Date | Bet | Stake | Odds | Result | Betslip |
| --- | --- | --- | --- | --- | --- |
| 26/09/2021 | Uni vs Ant O 3.5 | 2.490 | 20 EOS | TBD | Sportbet.one |
| 25/09/2021 | Zulte-Waregem +0.25 | 1.860 | 1000 WGR | +430 WGR | Wagerr.com |
| 19/09/2021 | Genk -0.5 | 1000 WGR | 1.870 | +870 WGR | Wagerr.com |
| 16/09/2021 | AA Gent 1H O 3.5 CK | 500 TRX | 2.170 | -500 TRX | Wink.org |
| 13/09/2021 | Beerschot 1H CK -0.5 | 500 TRX | 2.000 | +500 TRX | Wink.org |
| 11/09/2021 | Antwerp +0 | 800 WGR | 1.810 | +648 WGR | Wagerr.com |
| 28/08/2021 | Charleroi 1H -2.5 Ck | 100 TRX | 4.040 | -100 TRX | Wink.org |
| 28/08/2021 | Charleroi 1H -1.5 Ck | 300 TRX | 2.500 | -300 TRX | Wink.org |
| 28/08/2021 | Charleroi 1H -0.5 Ck | 600 TRX | 1.750 | -600 TRX | Wink.org |
| 28/08/2021 | Cha vs Bee 1H U1 | 15 EOS | 2.002 | +0.00 EOS | Sportbet.one |
| 14/08/2021 | Eupen HT -0.5 Ck | 600 TRX | 1.850 | -600 TRX | Wink.org |
| 14/08/2021 | Union FT -1 Ck | 400 TRX | 1.800 | +320 TRX | Wink.org |
| 14/08/2021 | Union 1H -0.5 CK | 600 TRX | 1.850 | +510 TRX | Wink.org |
| 13/08/2021 | Frey To Score | 40 USDT | 2.490 | -40 USDT | betfury.io |
| 08/08/2021 | AA Gent TT Over 1.5 | 10 EOS | 1.840 | -10 EOS | Sportbet.one |
| 31/07/2021 | KV Mechelen -0.5 | 20 EOS | 2.140 | -20 EOS | Sportbet.one |
| 24/07/2021 | Beerschot +0 Corners | 500 TRX | 1.800 | +0.00 TRX | Wink.org |
| 23/07/2021 | Genk X2 + Over 2.5 | 1000 TRX | 2.500 | -1000 TRX | Wink.org |
---
Full Guides to Decentralized Crypto Bookies I personally use where no KYC is required allowing anonymous betting from any location without individual limits for winning players...
Sportbet.one

Wagerr.com

Wink.org

Betfury.io

| Month | Bets | Won | Lost | Push | Staked | Profit BTC | ROI |
| --- | --- | --- | --- | --- | --- | --- | --- |
| 2021 | 4 | 1 | 2 | 1 | 0.0250 | -0.002845 | -11.38% |
| 2020 | 1 | 1 | 0 | 0 | 0.0100 | +0.01271 | +127% |
| 2019 | 59 | 24 | 27 | 5 | 0.5900 | -0.02199 | -3.7% |
| 2018 | 136 | 65 | 64 | 7 | 1.233 | +0.112687 | +9.14% |
| 2017 | 70 | 34 | 34 | 2 | 0.658 | +0.006912 | +1.05% |
| Total | 270 | 125 | 127 | 15 | 2.516 | +0.107474 | +4.27% |
---
---